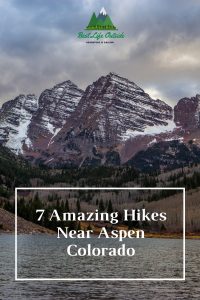 Aspen, Colorado may be known for its skiing, but the town also offers a top-notch group of hiking trails that will satiate anyone's thirst for adventure. The options are seemingly endless, the views are also unbeatable, and the difficulty of the trails varies to meet any hiker at their comfort level.
With so many hiking trails, there are options throughout all seasons of the year. The busiest months for hiking are from June through September, so plan accordingly if you'd like to have some mountain treks to yourself. 
If you're planning a hiking trip to Aspen, this list is a great kick-off point for your planning. Here are seven of the best hikes in the Aspen, Colorado area.
Maroon Bells Scenic Trail, Aspen Colorado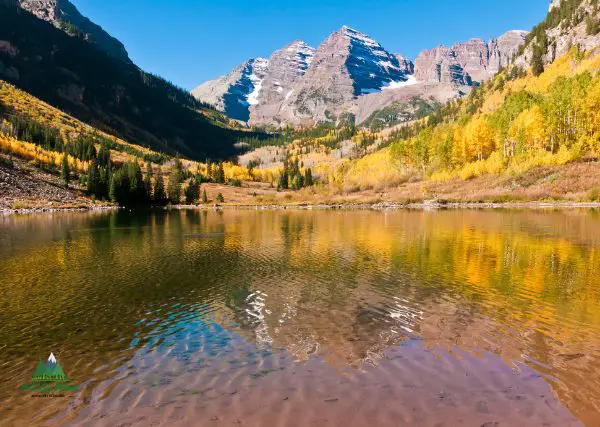 Start: Maroon Bells Scenic Trail, Aspen Colorado
Distance: 1.9 Mile Loop
Difficulty: Easy
Hike Time: 1 hour
Water: Bring water
Summary: Maroon Bells Scenic Loop is a fantastic way to see beautiful scenery, whether you're an avid experienced hiker or a green newbie. The loop circles Maroon Lake and offers supreme flora and fauna sights.
It's an easy hike and at just under 2 miles, the short loop makes it perfect for a family outing. Previous hikers have even noted that most of the trail is stroller-friendly! 
It's pretty easy to get there, either by personal vehicle or public transportation. You'll need to plan, as times and access are dependent on the time of year. 
 This trail is arguably one of the more popular in the area so you'll need to book a reservation to hike the trail in 2021.
Why we love Maroon Bells Scenic Trail: 
Easy access via public transport

Short Loop

Family-friendly trails

Beautiful lake and mountain views
Cathedral Lake Trail, Aspen Colorado
Start: Cathedral Lake Trail, Aspen Colorado
Distance: 5.3 Miles Out and Back
Difficulty: Hard
Hike Time: 3 Hours
Water: Bring your own
Summary: Cathedral Lake is a highly popular, fairly difficult hike; the views from the summit are most definitely worth the effort. The trail is most often used between June and September, but also offers a challenging snowshoe hike.
This hike is not one for the faint of heart, especially if you are visiting in the winter. The trail has some pretty steep spots, and we recommend taking poles along for the tougher spots. Fellow hikers have commented that the pain-to-fun ratio leaned a little more towards the pain side, but overall it's a great hike with a beautiful payoff. Try to make it to see the leaves changing in the fall for the best views.
Cathedral Lake is also dog-friendly, just make sure to keep your furry companion on a leash.  
What we like about Cathedral Lake Trail: 
Challenging but still doable for a day trip

Camping is an option

You can follow the waterfall on the return trip for a change of scenery
Ute Trail, Aspen Colorado
Start: Ute Trail near Aspen Colorado
Distance: 6.2 Miles Out and Back
Difficulty: Hard
Hike Time: 4.5 Hours
Water: Bring your own
Summary: Ute Trail is rated as the 25th best hiking trail in White River National Park, but don't let that rating fool you – this just shows just how many superb trails are in the area. Ute Trail is a difficult 6.2 miler that offers great views at Ute Rock, featuring a great overlook. From there, there's an option to take a gondola down the mountain (as this functions as a double diamond ski trail after Ute Rock), but if you're intent on doing the complete hike, you'll surely feel the burn.
 The trail has a steep incline, where you'll ascend 700 feet in just 0.9 of a mile. The view from the top is well worth the effort. Once you make it, you'll see Red Butte and downtown Aspen. 
This shady hike is a great reprieve from the summer sun, but come prepared with the right footwear. You'll need all the grip you can get, as the rocks are especially slick when dry. You'll also need to stay on your toes and keep an eye out for any falling rocks displaced by hikers at a higher switchback. 
What we love about Ute Trail: 
Offers a great workout

The trip down on the gondola is a unique experience

The mostly shaded trail makes this a great trip for summer
This trail is very popular, so be sure to plan your trip in advance. 
Capitol Creek Trail, Aspen Colorado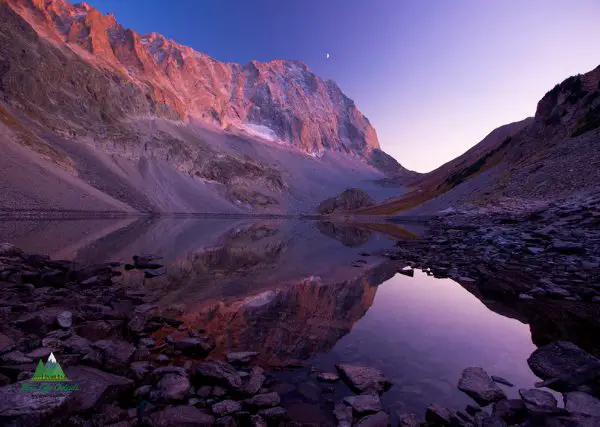 Distance: 16.6 Miles Out and Back
Difficulty: Difficult
Hike Time: 10 hours
Water: Bring your own
Summary: Capitol Creek Trail is another trek located in Maroon Bells Snowmass Wilderness. This 16.6 mile out and back trail is a bit longer and can be viewed as more difficult, but the reward is worth the effort.
Wildflowers abound along the paths, exposing hikers to pristine wildlife views. The lower portions of this trail are located in cattle grounds, so hikers will likely cross paths with cows! Watch out though: the higher areas are often home to bear activity, so be prepared.
You'll follow Capitol Creek on a majority of the path, exposing you to various small ponds, marshes, and other water features.
Be prepared for some elevation changes; you may also want to use hiking poles for the descent back down the trail, as it can sometimes be tricky.
What we love about Capitol Creek Trail: 
It's long, but not too challenging

Great views of the lake and the option to camp overnight before making the return trek

The path along the creek makes for interesting scenery the entire trip
American Lake Trail, Aspen Colorado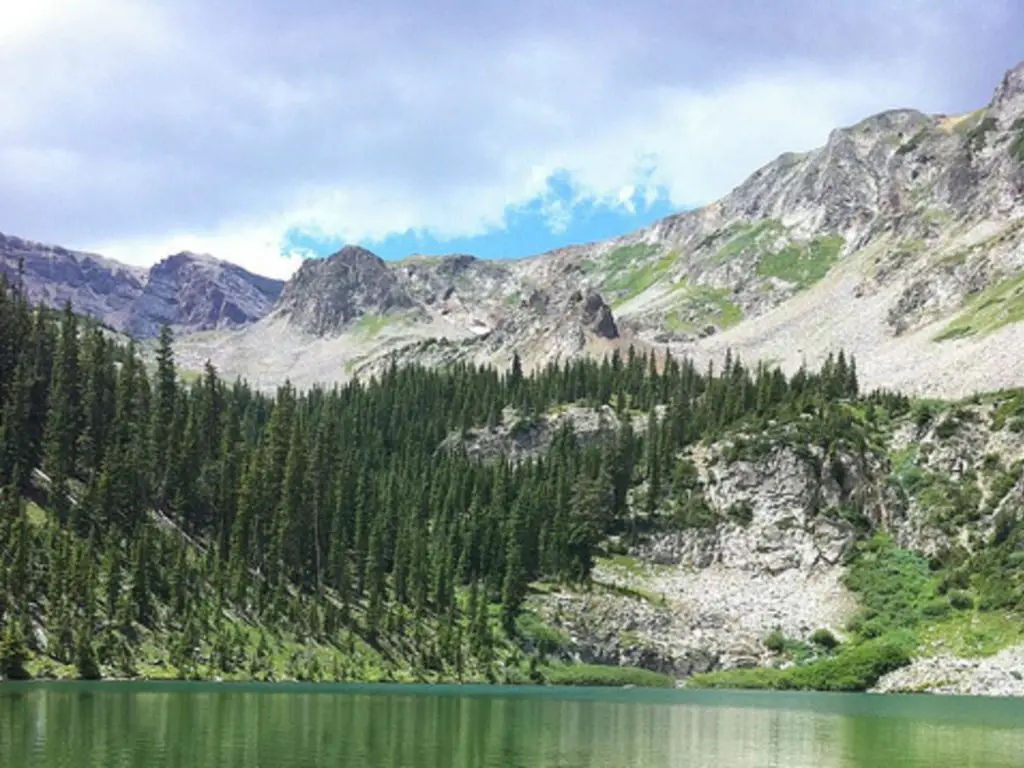 Start: American Lake Trail, Aspen Colorado
Distance: 6 Miles Out and Back
Difficulty: Difficult
Hike Time: 4 hours
Water: Bring your own
Summary: American Lake Trail, found in pristine White River National Forest, offers another great Aspen hike that's well worth the effort. This insanely popular hike is gorgeous, with scenic vistas galore.
Although close in proximity to Cathedral Lake, American Lake is a bit different hike for a variety of reasons. The American Lake Trail is more densely populated by trees, while Cathedral Lake is more open. Likewise, the end destinations are different, as American Lake Trail ends with flawless views around American Lake.
Be sure to start early, as this trail is very popular. If you start early enough and happen to get lucky, you'll have the lake to yourself and will be able to bask in the beauty that nature has to offer.
What we love about American Lake Trail: 
You'll get the most difficult part out of the way at the very beginning of the trail, while you're still fresh

The trail is nicely packed, even in the winter, making it doable for amateurs willing to move at a slower pace

The foliage is a sight to behold at any time of year, and the colors reflecting on the lake at the end are breathtaking
Sunnyside Trail Near Aspen Colorado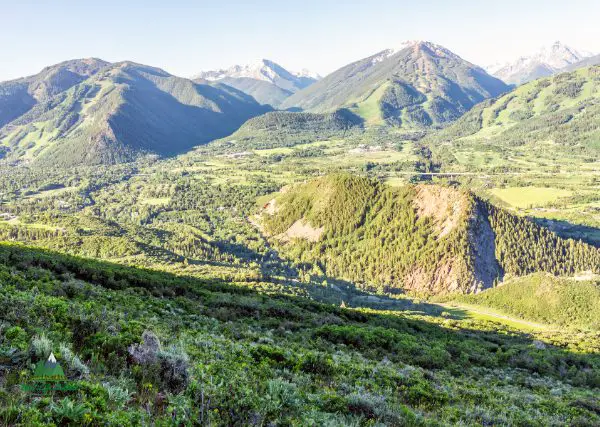 Start: Sunnyside Trail Near Aspen Colorado
Distance: 10.8 Miles Out and Back
Difficulty: Difficult
Hike Time: 6 hours
Water: Bring your own
Summary: Sunnyside Trail is another great hike in White River National Forest, an area filled with classic hikes. Sunnyside represents another more difficult hike, but the path through the aspen groves connects hikers with nature.
If you choose to follow through, this hike will take you right into town alongside Hunter Creek. This out and back should provide enough difficulty without the additional need. Regardless of what you choose, your views of the valley will be superb.
Be aware if you're hiking – this trail is heavily used by mountain bikers, forcing hikers to be alert as they traverse the trail. Be prepared to clear the way, as mountain bikers often fly by on narrow paths without warning.
 What we love about Sunnyside Trail: 
Wildflowers galore

While your pretty exposed to the sun at the beginning of the trail, the aspens and other trees offer shade for most of the way

This trail is also great for mountain biking or trail running if you're looking to mix it up a bit. 
Lost Man Trail, Aspen Colorado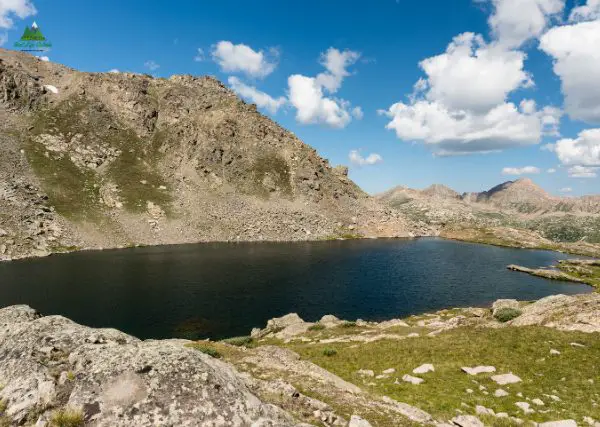 Start: Lost Man Trail, Aspen Colorado
Distance: 8.7 Miles Point to Point
Difficulty: Difficult
Hike Time: 4.5 Hours
Water: Bring your own
Summary: Representing the Hunter-Fryingpan Wilderness exceptionally well (rated as the number two hike in the area), the Lost Man Trail is a glorious trail that offers great scenes almost immediately.
You'll be treated to views of Independence Lake and picturesque views of Lost Man Pass. This trail takes you right by Lost Man Lake. There's no shortage of things to see, or even hear, on this walk through nature. Enjoy the sounds of a flowing creek as you hike among alpine wildflowers and mountain goats. You'll pass multiple bodies of water and have the opportunity to pause at one or more of the numerous passes. 
Be sure to plan for this one. Because this is a point-to-point trail, you will need to arrange for a shuttle back to your vehicle at the start or should turn around mid-trek to return to your car. Attempting to return to your vehicle by hiking along Highway 82 is discouraged, as it's a tight road with narrow shoulders.
 What we love about Lost Man Trail: 
The views from numerous passes along the way

Creeks and mountain lakes offer stunning views
Aspen is a great location to get your hiking fix, as there is a myriad of options when it comes to selecting breathtaking treks. The area also offers a wide range of difficulty levels, so you'll get your heart's desire whether you're a green amateur or a seasoned hiking veteran. Regardless, you'll be treated to world-beating views and connect with nature in ways just not possible elsewhere in the world.
Works Cited
https://www.alltrails.com/trail/us/colorado/maroon-bells-scenic-loop-trail#:~:text=Maroon%20Bells%20Scenic%20Loop%20Trail%20is%20a%201.9%20mile%20heavily,used%20from%20May%20until%20October.&text=For%202021%2C%20A%20permit%20is,access%20this%20area%20by%20vehicle.
https://www.alltrails.com/trail/us/colorado/cathedral-lake-trail
https://www.alltrails.com/trail/us/colorado/ute-trail-aspen
https://www.alltrails.com/trail/us/colorado/capitol-creek-trail
https://www.alltrails.com/trail/us/colorado/american-lake-trail
https://www.alltrails.com/trail/us/colorado/sunnyside-trail
https://www.alltrails.com/trail/us/colorado/lost-man-trail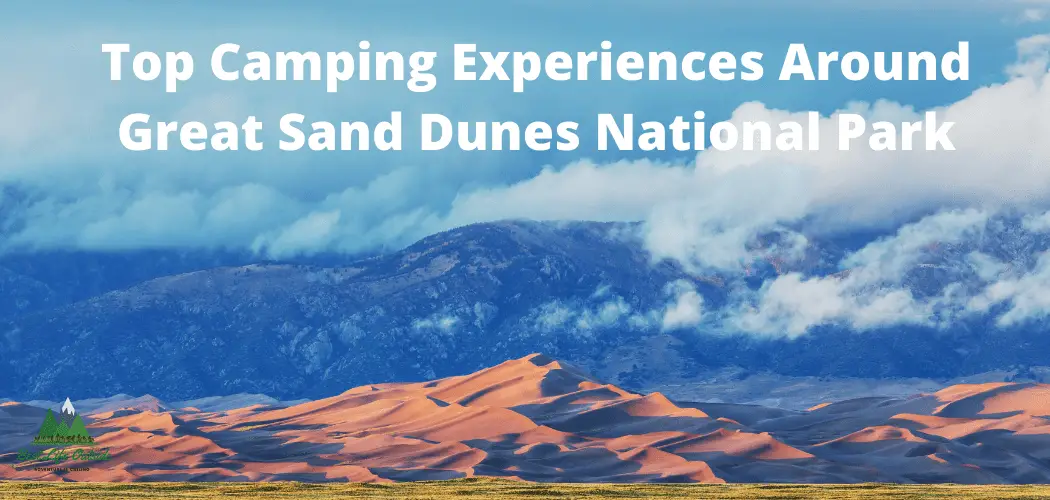 Many people think to see breathtaking wonders they must travel abroad when all they really need to do is explore the land in front of …