With sweeping views of red rocks, craggy mountains, and unique foliage, a desert hike can be a once-in-a-lifetime chance to experience all the desert has to offer.
Though a desert hike may sound a little intimidating, with a bit of planning and foresight, you can make your hike an enjoyable and safe experience. Here are a few tips to help you prepare and plan for the hike of a lifetime.
Choose an ideal time of year
The location of your desert destination will significantly impact the best times to hike.
If hiking in a North American desert, your best bet is to avoid the summer months when temperatures are already scorching.
Winter hikes can be enjoyable, but the moderate seasons of spring and fall will give you the most consistent, comfortable daytime hike. You'll have dry trails earlier in the hiking season and you'll be able to hike longer into the winter months in the desert. 
Consider the time of day your hike will occur
If you plan an early morning or late afternoon hike, you may want to plan your hike for the summer months.
Desert temperatures are notoriously drastic and can vary by as much as thirty degrees throughout the day. For instance, the average daytime temperature of the Mojave desert in the summer months is around 90 degrees, but nighttime lows can dip into the 60's. 
If you are hiking in the warmer season, consider starting early in the morning or later in the evening to ensure that you aren't exercising in the heat of the day. 
If you start the hike in the colder months, you can plan to be hiking in the middle of the day to enjoy the warmer temperatures that the desert has even in winter.
Water, water, and more water
This goes without saying for any outdoor activity in the desert area, but water sources are scarce, and the threat of dehydration is a genuine danger.
Spend a few days leading up to your hike, making sure you are adequately hydrated before you even step foot on that arid land.
Invest in a large, quality Camelbak or hydration backpack to carry your water and clothing layers.
A good rule of thumb is to drink at least half a liter of water per hour in temperatures under 100 degrees and drink at least a liter of water per hour in temperatures over 100.
If you wait to drink until you're thirsty, you are already exhibiting signs of dehydration. Stay on top of things and drink before your body tells you that you need it.
Plan for plenty of rest Breaks
Plan in a 5-10 minute break at least every hour, ideally more if you can.
Find a shady spot, if there is one, out of the beating sun, elevate your feet and enjoy the view.
Use this time to drink your water, grab a snack, and let your body have some replenishment. This will also help lighten the load you are carrying as the more breaks you take, the more water and food you will consume and the less you have to carry.
Elevating your feet will help your legs drain the metabolic waste they've been creating during your excursion. Your body will indeed thank you, and while it may seem counterproductive, the extra rest may help you make better time as you will have renewed strength and stamina.
Wearing the proper attire can make or break any hike, but especially a desert hike. You are already going to be hiking in some pretty unpleasant conditions, don't add chafing or blisters to the list.
Wear cool, comfortable, breathable clothing. Everything about your clothing is essential, from the color to the type of material.
Light-colored clothing will reflect the sun and keep you cooler. Dark-Colorado clothing absorbs and traps the heat from the sun which can be problematic as the temperatures start to climb higher. Clothing made of synthetic fabrics such as polyester will wick away sweat and keep you cool and dry.
One often-overlooked piece of clothing is the type of socks you will wear. Typical cotton socks will trap your feet in their own sweat. Choose a lightweight wool sock instead to absorb your sweat and keep your feet dry.
Consider investing in some for the trek if you don't already own a pair of good-quality hiking boots. Find a pair that are lightweight and comfortable. Also, consider adding a multipurpose head covering to your supplies. You can find some that can double as a towel worn around the neck and are capable of protecting your head from the elements. In the desert, you will face the wind, dust, and scorching sun. This little lightweight piece of apparel won't add any weight to your pack but can make a big difference in comfort.
Wearing long shirts and pants is also a good idea. You will be getting plenty of sun exposure with little to no areas of shade. The less exposed body parts you have, the less risk of sunburn. Or, if you wear tank tops or shorts, apply a good quality sunscreen of at least 50 SPF and reapply often.
Hiking with a partner or in a group is always a good idea, especially in the desert. You have someone to share the burden of carrying supplies as well as an extra set of eyes and ears.
If someone were to get hurt or sick, there is a backup that can get help or help the injured party get to safety.
Be aware of your surroundings
There are many different hazards to watch out for in the desert habitat. It's essential to be observant and aware of every step you take. Needles from spiky cacti can embed in your skin, causing infection or even sepsis. Pustules form the needles can form on the skin that can stick around for months. 
Another reason to be diligent when scanning your surroundings is to keep an eye on any predators. The North American deserts are home to poisonous snakes, coyotes, mountain lions, bobcats, and more. Every step through any undergrowth should be taken with diligence and care to avoid stepping on a snake.
Although you may be tempted to skip packing some of these items to lighten your load, don't make that mistake. Make sure to bring sunscreen, a small first aid kit, a portable cell phone charger, flashlight, extra batteries, salty snacks, and of course, plenty of water. A spare pair of socks, sunglasses, chapstick, and a hat may also come in handy. While you don't want to weigh yourself down with unnecessary items, you don't want to be without the things that help keep you safe and comfortable. 
Other Great Outdoor Related Articles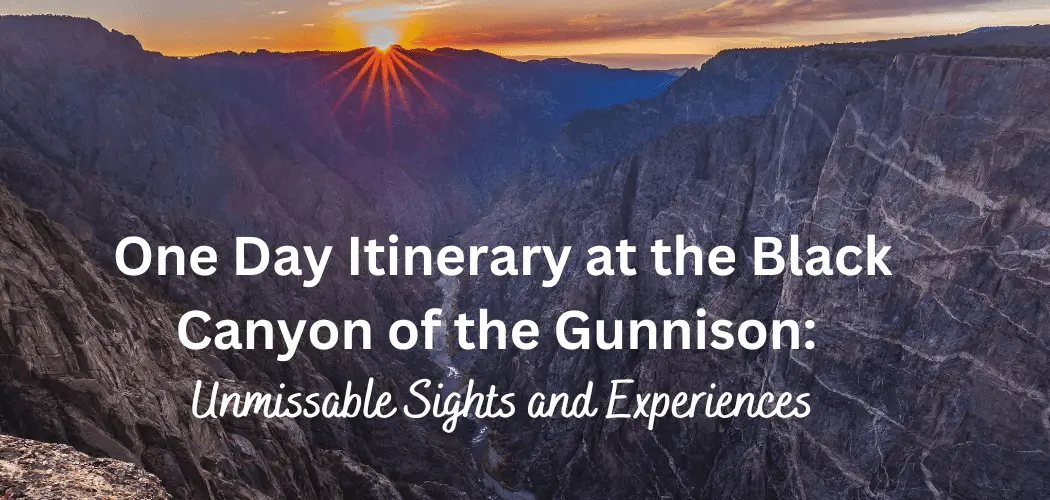 The Black Canyon of the Gunnison National Park, located in Montrose, Colorado, offers breathtaking views and unique geographical features that attract visitors worldwide. This awe-inspiring …