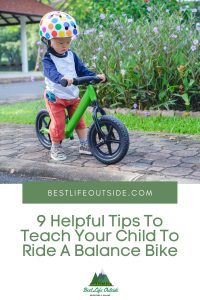 One of the best ways to teach your child balance and bike riding skills is with a balance bike. These bikes allow children to learn how to balance on two wheels without using training wheels.
Balance bikes are a great way to teach kids the importance of side-to-side balance and bike safety. This article will provide you with nine tips that will help make balance biking more successful!
It's essential to remember that balance can be challenging for young children. It will take patience while kids build their balance skills. They'll likely have many falls, but it is worth the wait!
Remember: 
Each child learns at their own pace. Kids may progress quickly or slowly. 

Their focus and interests change pretty quickly. They may go days or weeks without showing interest in the bike. Don't worry, they'll pick it up again. Our daughter left her balance bike collecting dust for nearly a month, but it's currently back in the rotation as one of her favorite toys. 
I'm looking forward to a father/daughter ride down to the park. But, it takes time and development to get to that point; a lot of time, practice, and repetition.
Be Excited About Them Riding a Balance Bike
Kids love balance bikes. It gives them a sense of independence and learning a new skill. It can also be a little frustrating.
There are going to be weeks and days that they will fall quite a lot. The best thing that you can do is be excited. Show enthusiasm each time they use the balance bike. 
Make it fun and interesting for them. No pressure is key to success. 
Each time they use the bike, encourage them. Tell your child how excited and proud you are about the practice they're doing.
Every balance bike rider should wear a helmet every time they ride. It doesn't matter if they are just walking or riding on the balance bike, be sure to have them wear one!
It creates healthy habits in the future as they progress to pedal bikes. It's a good habit to get into now so they'll remember to wear their helmet later. 
Secondly, it does its job and protects their precious heads at this age. You might even try wearing your helmet so that they can see that wearing a helmet is cool and a normal part of biking.
Introduce A Balance Bike Early and Often
You can typically introduce a balance bike a few months before your child turns two. With your support and early introduction, your child will build confidence in their balancing skills. 
After the age of two, children start to develop a fear of new things. By introducing the balance bike before this happens, your child will be comfortable using it by then.  
Encourage your child to use the balance bike daily, or at least weekly. You've probably already noticed that repetition is important for them to learn.
Introduce a balance bike in the same way that you would a normal bike. Teaching "pedaling" and balance at the same time. This will help with mastering balancing on two wheels without having to worry about balance and pedaling.
Start Small and Expect Slow Progress
You want their first time on a balance bike to be successful, so start small. Try walking alongside them or having them balance on the bike with you holding the bike upright and slowly taking a few steps.
Once they feel comfortable taking a few steps with you holding on, transition to holding on with only one hand. Slowly increase the speed at which you are moving the bike.
Don't be alarmed if there is even a regression period where they don't feel comfortable unless you are holding on with two hands, even though you haven't held on for quite a while. This is normal and part of the process.
Be sure to celebrate each success that they accomplish, no matter how small.
Show Videos of Other Kids Riding a Balance Bike
Kids always love to see other kids doing what they are trying to learn. It gives them so much motivation and will make balance biking a lot more fun for them!
You want them excited about riding balance bikes, not scared of it. Showing videos is a great way to do this because they can witness how their friends or others who are younger can balance on a balance bike.
Kids will always want to do what other kids are doing, so it'll make balance biking more fun for them!
How to Teach Your Toddler To Ride a Balance Bike
You may have to Accessorize It
Accessorizing balance bikes are a great way to make biking even more fun for your child.
You can do this in many ways, such as by adding stickers, painting them, or just decorating the bike in any way possible!
It'll not only give them the motivation to hop on the bike, but it will also show that they have ownership over their balance bike! Nothing creates more internal motivation than "my bell on my bike."
A bell worked wonders for my daughter. At first, she only wanted to get on her balance bike to ring her bell, and it slowly turned into her using the bike walking down the driveway, which soon turned into her riding it normally.
It's important to balance safety with fun while teaching balance biking.
An example of this is by taking a walk down the driveway or sidewalk and picking up all the rocks, sticks, leaves that might cause them to trip.
It's also important to make balance biking fun by asking them what they want each week when it comes to biking. You can turn it into a game, play their favorite music, or even try to dance or do "bunny hops" with them on the bike. Put a piece of cardboard down and have them ride over the piece of cardboard.
You can even create an obstacle course that they have to ride through to make it more fun using cones or rocks or even snacks to pick up once they ride past.
Make balance biking as fun and safe for your child as possible because that will help remove any fear they have.
Store the Balance Bike in a Visible Place
It's important to store balance bikes in a visible place to make the kids more likely to use them.
A great idea is putting balance bikes up where they can see them, like in a playroom, living room, or even first thing in the garage when they get home from daycare or school.
A balance bike will never be used if they can't find it, and having one at eye level is an excellent place to store it.
In conclusion, balance bikes are a great way to teach your child balance and how to ride the bike. Starting at an early age will help prepare them for riding a normal bicycle without any hesitation when they're ready. You must have fun with teaching balance biking because it helps take away their fear of it being difficult. Be patient and enjoy the ride!
More Great Outdoor Related Articles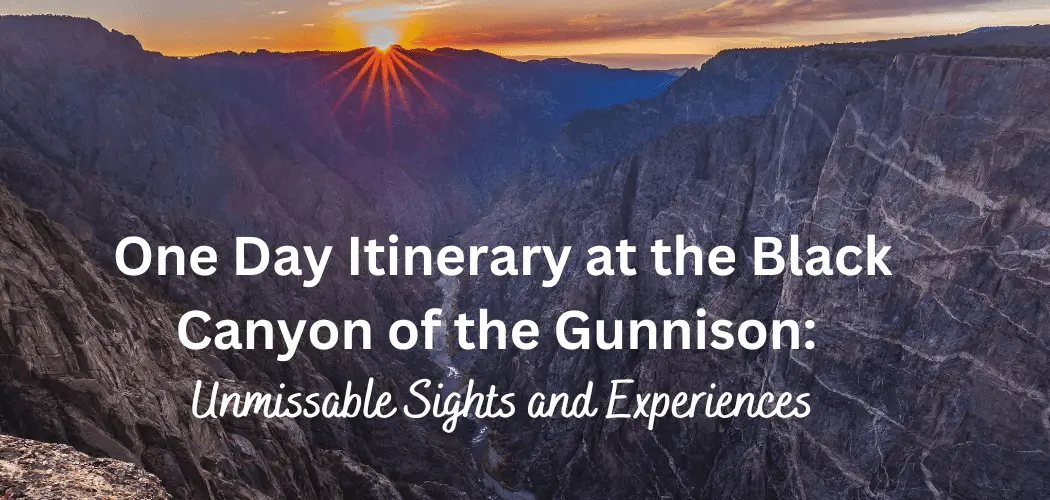 The Black Canyon of the Gunnison National Park, located in Montrose, Colorado, offers breathtaking views and unique geographical features that attract visitors worldwide. This awe-inspiring …