You love the rush you get from hiking. The feel of the sun warming your face, the natural beauty of the trails. However, don't limit your hikes to only the daytime hours. Hiking at night can provide a chance to really engage all your senses. You can view breathtaking starscapes, enjoy the soothing sounds of your footfalls over rustling leaves, and enjoy seeing nature through a different filter.
Why Should You try Hiking at Night?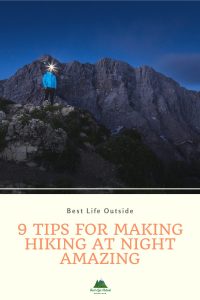 Hiking during nighttime hours can show you an entirely different experience than your daytime treks. However, it may take a little bit of extra thought and planning due to the different obstacles you may face as the sun goes down. Here are some tips on making your moonlit hike as pleasant and safe as possible.
"There is safety in numbers" is an old adage for good reason. While this probably applies to hiking in general, it's even more true for hiking after the sun has set. Having people with you will ensure you have a backup should trouble arise.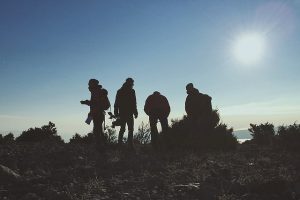 Hiking in groups is safer because: 
A broken bone or sprained ankle can make it hard to return to your car or campsite

A larger group of people will be a harder target for a predator than someone going at it solo

Extra sets of eyes and ears can come in handy, especially during a time of day when light is limited.
Tip #2: Bring plenty of lights (and backup lights)
Probably the biggest challenge of a nighttime hike is the lack of sunlight. While the moon and stars may provide a little illumination on a clear night, it still won't be adequate.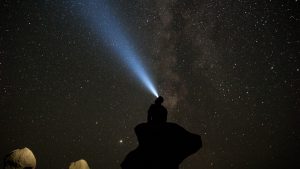 A headlamp is a great tool to have on hand, as well as a few extras in case the batteries go out, to keep your hands free. There are several cost-effective models to choose from and even some with infrared sensors to give you night vision. The Black Diamond Storm 400 has a red light and night vision modes and can light up the sky with a 400 lumen light. 
Tip #3: Pick a familiar trail
A night time hike is not the time to try a new adventurous trail. Stick with a trail you have traveled many times. Not only will you have a better sense of where you are and what to expect, but you will also be more aware of any pitfalls of the trail such as upturned tree roots or any sharp drop-offs. Save the new trails for your daytime adventures when you have better use of all your senses.
Tip #4: Wear adequate layers
Even during the warm summer months, temperatures can drop drastically as the sun goes down. Check your local weather forecast and plan your dress accordingly. It's a good idea to wear a base layer, an insulating middle layer, and an outer layer to help repel the elements. Should a sudden rainstorm happen upon you or if you have to cross any streams, you want to have fabrics on that can dry quickly. Avoid cotton at all costs and instead invest in some wicking material to help dispel sweat away from the body.
Don't forget about covering your head as well. A covering over your ears can protect against the chill as well as strong winds. It's also a good idea to wear clothing with some reflective properties so that you can be as visible as possible.
Tip #5: Go on a clear night and enjoy the stars
You wanted a nighttime hike for a reason, right? Might as well make the most of it and enjoy all Mother Nature has to offer.
A clear night with fewer clouds with the stars shining in all their brilliance is a sight to behold. The farther you get from the city lights, the brighter the stars seem to shine. Soak up all the cathartic fresh air and let it rejuvenate your mind.
Tip #6: Bring plenty of provisions
Regardless of how long your hike may be, it's always a good idea to have plenty of food and water on hand. Think like a boy scout and be prepared for whatever situation may arise. 
Here's a checklist of gear to consider bringing along: 
A water bottle and box of granola bars can easily be stuffed in a backpack. 

Travel first aid kits with things like bandaids, gauze, alcohol wipes, and tape are generally pretty lightweight and don't take up a lot of room. 

A box of matches and/ or torch lighter can be a great tool to have on hand in case you need to build a fire. 

A pocketknife, GPS, or compass can also be handy.
Tip #7: Choose your hike date based on the lunar cycle
Hiking through dense foliage even with a headlamp turned on bright is still going to be difficult to see much around you. Choosing to hike during a full moon means you will have the most illumination possible during those black nighttime hours.
The sounds also seem to come alive when the moon is brightest. The crickets and other animals can make the most amazing sounds to listen to when you are enjoying your hike.
You may be the world's fastest hiker that can amble over tough, rocky terrain without batting an eye or losing your footing. Be prepared to slow your roll a little during your night hike. You want to be as surefooted as possible every step that you take. The edge of a rocky cliff can sneak up on you when you can't see far ahead of you. Upturned, gnarled tree roots can trip you up. It's better to move at a slower pace and appraise your surroundings at all times.
Tip #9: Location, location, location
While we've already covered why hiking a familiar trail is a good idea, it's also worth mentioning the type of trail you pick makes a huge difference. The flatter and easier the terrain is, the safer your night hike will be.
The more open the area is, the more the natural illumination from the moon and stars will be able to reach. Dense, wooded forests will allow little light to penetrate its leafy canopy and will pose more hazards to trip you up.
Consider wildlife in the area, or more specifically, predators to the area. Avoid areas they may frequent at night and try to avoid stumbling upon one asleep.
Hiking at night can be an exhilarating, yet still safe, experience. It just takes a little extra planning to have you enjoying the wonders that only nighttime can provide.
Resources used:
Other Great Outdoor Related Articles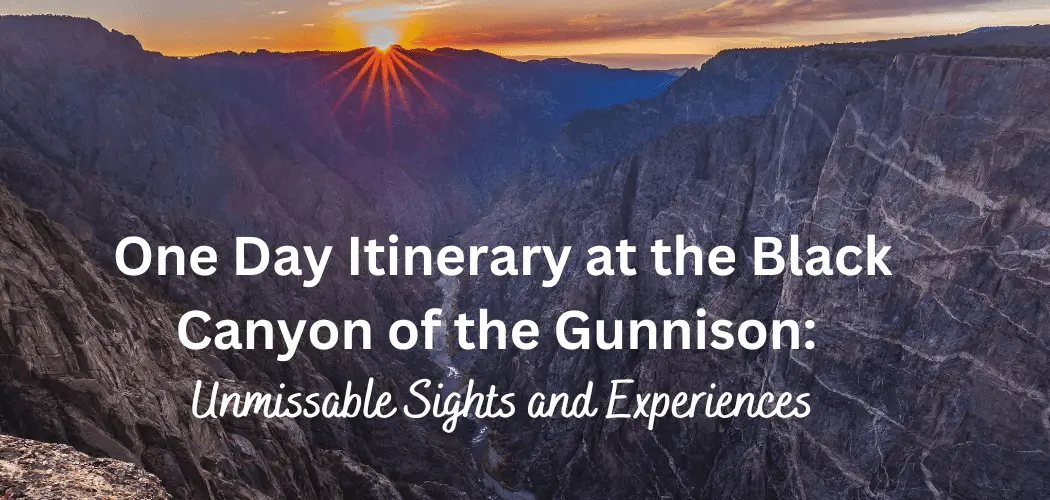 The Black Canyon of the Gunnison National Park, located in Montrose, Colorado, offers breathtaking views and unique geographical features that attract visitors worldwide. This awe-inspiring …