Warmer months bring with them dappling sunshine, clear skies, and annoying pests. One of these things is not like the others and often includes infuriating offenders like the relentless blood-sucking mosquito.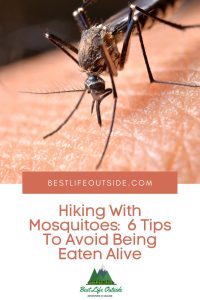 These pests seem to be able to zero in on you as soon as your feet hit the trails. Encounters with them leave you itchy, welted, and even bleeding from your frenzied scratching. But fear not, here are a few tips to help you outsmart these pesky critters so you can get back to enjoying your favorite pastime.
Tip #1: Use Mosquito Repellent
Perhaps the best way to defend yourself against mosquitoes is to try and repel them in the first place. Several different options are available, from sprays to devices you wear on your body. While none of these methods are foolproof, each has its pros and cons to consider.
Tip #2: Avoid trails with standing water
Mosquitoes are often abundant in areas with standing water, but have you ever wondered why? It's because the female mosquito lays her eggs in stagnant water specifically, so the larvae her eggs hatch into can feed on the organic matter found within. So not only are mosquitoes attracted to standing water, it's a breeding ground for them.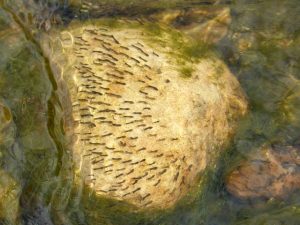 It's a good idea to try and hike during dry conditions. Avoid going after rain if possible. If hiking after rain can't be avoided, try to stay away from hiking trails with lower elevations.
Tip #3: Wear Proper Clothing
While sometimes it's impossible to deter a stubborn mosquito, wearing certain kinds of clothing can help minimize the number of times you get bitten. Mosquitoes can easily bite through cotton and knit clothing, so you'll want to avoid those in the summer months while hiking.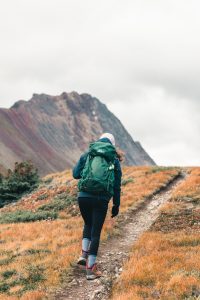 Wear clothing made of nylon or polyester for the best mosquito coverage. Beware that sometimes these fabrics can run hotter and may not be ideal for hiking on hot days. Ideally, wearing long sleeves and pants is best for keeping the mosquitoes at bay but isn't always practical. 
Clothing choices can make a difference, so it's a good idea to: 
Wear light-colored clothing, as dark colors can attract mosquitoes. 

Wear loose-fitting clothes, preferably shirts with a tight neckline and sleeves with snug cuffs.
Another item of clothing to look into is a mosquito net hat like this one. This option is adjustable and offers SPF protection and the chance to remove the netting when needed to turn it into a regular bucket hat.
Tip #4: Avoid wearing scents that may attract mosquitoes
Mosquitoes are naturally attracted to some scents or some people. I could be outside with five other people, and somehow I'm the only one getting bitten.
Most of the time, whatever aromatic scent we emit to mosquitoes is out of our control. However, there are a few things we can do to keep them at bay.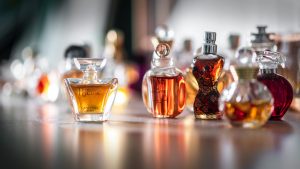 Avoid wearing perfume or cologne, especially those of the floral variety. Any lotions or creams applied to the skin should be unscented as well or even left off altogether.
Many creams and lotions can contain lactic acid, a chemical that we naturally emit when sweating or even eating certain kinds of incredibly delicious food to mosquitoes.
If mosquitoes seem to target you, look at any other scented personal care products you may use, such as shampoos, soaps, and shaving creams.
Tip #5: Don't hike during peak times of mosquito activity
While there is no way you can plan a hike where no mosquitoes will be out, you can make sure not to go during peak times of the day, such as dusk or nighttime.
Many mosquitoes bite during the daytime as well, but the vast majority of mosquitoes seem to strike when the sun goes down.
Mosquitoes are significantly deterred during the middle of the day, but unfortunately, this is usually when the sun and heat are at their worst. It's not the ideal time to be out hiking, so you may have to decide which is the lesser of the two evils.
Tip #6: Be aware of the potential diseases mosquitoes can carry
According to the CDC, there are over 200 species of mosquitoes that live in the US. Of those 200 types, only about 12 spread diseases that can harm you. Let's take a look at the different diseases mosquitoes are known to carry.
West Nile virus

Dengue

Chikungunya

Zika virus (so far, only reported cases have been in Florida, Texas, Hawaii, Puerto Rico, and the Virgin Islands.

Malaria
The majority of mosquitoes you encounter will likely do nothing more than aggravate you; however, always protect yourself from getting bitten the best you can.
Plan and Protect Yourself
Other Great Outdoor Related Articles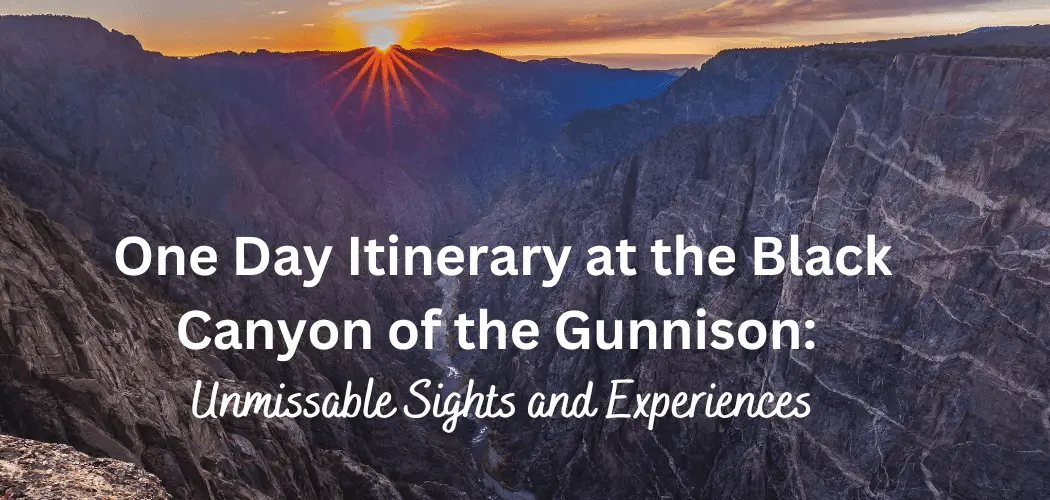 The Black Canyon of the Gunnison National Park, located in Montrose, Colorado, offers breathtaking views and unique geographical features that attract visitors worldwide. This awe-inspiring