You've got your barometer designed for fishing and all of your gear. You've studied the weather patterns and done everything correctly, but those darn fish still aren't biting. Rest assured, we have all been there. Some days you just can't find those sneaky fish and that may have you wondering how to overcome such an issue.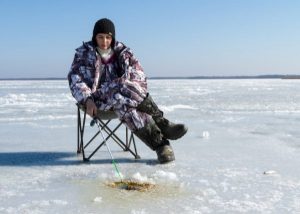 When all of your usual ways of finding and catching fish are coming up empty, there are other tools to make your fishing trip more successful. Flashers and fish finders have revolutionized the way fishermen and women find and catch fish. 
This article will discuss what flashers and fish finders are, and help you determine which is best for you and your style of fishing.
Finding Fish With Some Help From Technology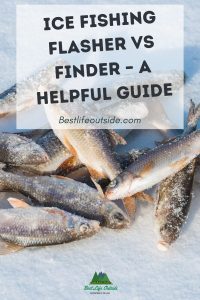 There are some old-school fishermen and women who would find the use of flashers or fish finders to be blasphemous. 
They may even say that it is cheating and that people have been fishing for centuries without the help of such modern gadgets. 
For those of you who are not opposed to using modern technology to catch your supper and earn some bragging rights, this article is for you.
What is a Flasher; how do they work?
A flasher is simply a portable sonar device that allows you to see what is below the surface of the ice and water. A flasher gives you a clear visual of what is going on beneath the surface of the water. 
It will show you the topography of the lake, pond, or whatever body of water you may be on. This allows you to know the lay of the land so-to-speak. It will also show your jig and any fish that pass under its sonar beam. 
A flasher has a screen that will display things in different colors depending upon the: 
Depth

Movement of the object

Size
The more dense an object is the better it will show up on the display screen. 
Pros and Cons of an Ice Flasher
| Pros | Cons |
| --- | --- |
| Long Batterylife | Not good for open water fishing. |
| Easy to read, multi-color LED display. | Not good for GPS or surface mapping. |
| Real-time information no delay, what you see is what is there. | Good quality flashers can be expensive. |
| Easy to see in all lighting conditions. | |
| Easily differentiates between objects such as rocks, weeds, fish, etc. so you know what you are looking at. | |
| Easy-to-use, once you learn how it works. | |
| Easy to carry, very portable. | |
Although it is not unheard of, most people will not use a flasher when they are open water fishing. Flashers are designed to be in more stationary settings whereas fish finders are mostly used while you are in motion (trolling). This is also why so many ice fishermen and women prefer to use flashers. 
How to Use an Fishing Flasher
What is a Fish Finder; how do they work?
A fish finder is similar to a flasher in that it utilizes sonar technology to give you an image of what is below the surface of the water or in this case, the ice. 
When being used for open water fishing, a fish finder has what is referred to as a transducer that mounts to the bottom of your boat, kayak, or whatever sort of water vessel you are using. When ice fishing with a fish finder you will need a transducer that you can drop into your ice hole. 
| Pros | Cons |
| --- | --- |
| Real-time information and sonar history in case you want to review what has been seen | Battery life is not good due to the amount of power the LCD display uses. |
| Capability to view depths of 200 feet or greater | Difficult to see the screen when it's bright outside. |
| Can be used year-round * | Differentiation between objects is okay but not as good as a flasher. |
| GPS and mapping capabilities | Not as portable |
| | Can be costly depending on brand and functions. |
| | More complex to use than a flasher. |
*Although open water fish finders can be used year-round, it can be more tricky to do so. Continue reading for more information regarding multi-season use. 
The previous chart discussed the pros and cons of using a fish finder. Thanks to advances in technology, new versions designed specifically for ice fishing have been created. 
Can you Use An Open Water Fish Finder for Ice Fishing
If you already own an open water fish finder it is possible to use it for ice fishing; however, a few things need to be considered. 
Firstly, you will need to dismount the transducer from the vessel so that you can drop it in your ice hole. 

The other major factor is that you need to be sure your transducer is perfectly level once you drop it in the hole. If your sonar beam is not level, you will have inaccurate results. 
If dismounting your transducer is too much work or not an option for you, there are accessory kits available to transform your open water fish finder into an ice fishing apparatus. 
The models that are used for ice fishing are designed to withstand colder weather conditions. Most models can withstand temperatures down to -20 degrees.
What are the Differences? Flasher vs Fish Finder
A flasher and a fish finder are similar in that they both utilize sonar technology to create an image of what is below the surface of the water.
The largest difference between the two is that a fish finder can use GPS and mapping to help you find the best locations geographically under the water.
Most fish finders allow you to save your data for future expeditions as well, so there is less guessing.
The batteries on a flasher tend to last longer than those on a fish finder. 
Fish finders tend to offer more options and features than a flasher; however, there are pros and cons to both. It is up to you to decide which features are most important to you.
These are our favorite options for a flasher and fish finder designed for ice fishing. 
MarCum M5L Fish Flasher
The MarCum M5L Fish Flasher is an awesome addition to your ice fishing gear. Not only does it look super cool, but it is designed with the ice fisherman or woman in mind. It is easy to carry and an overall great tool to add to your gear bag. 
Additional features of this product include:
It also allows you to zoom in closer to anything that pops up on sonar 

It comes with a battery and a rapid charger  

It is super quiet and easy-to-use

Offers extremely high-resolution imaging with vibrant colors

The imaging is so clear that you can see when a fish is about to bite your jig and tell the difference between the jig and the fish 
Hummingbird ICE H5 Fish Finder
If you are a little more high-tech and want to take a stab at mapping your favorite ice fishing spot then the Hummingbird Ice H5 Fish Finder may be the gadget for you. It offers many features which will be listed below. 
Additional features of this product include: 
Allows you to see greater depths and ranges

CHIRP interference rejection (prevents interference from other sonars in the area)

DUAL Spectrum CHIRP Sonar

Has the ability to be used year-round when a transducer accessory is purchased

Has the ability to charge your glow-painted spoons and jigs

High-resolution imaging allows you to see the difference between fish, geographic features, and your jig

Offers adjustable sonar zoom
Other Great Outdoor Related Articles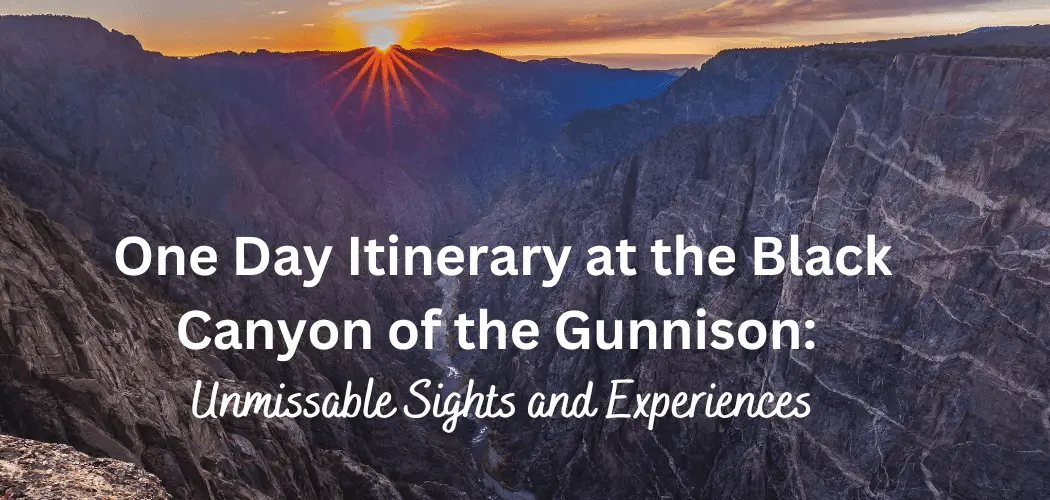 The Black Canyon of the Gunnison National Park, located in Montrose, Colorado, offers breathtaking views and unique geographical features that attract visitors worldwide. This awe-inspiring …