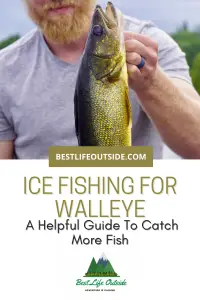 Walleye have become a very popular fish among anglers all around the country. They are known for their tasty filets aggressive behavior, which makes these big-eyed fish fun to catch.
Becoming an expert at catching Walleye can take years of experience. You need to learn their behavior, where they like to hang out, and what they like to eat. Having a calculated plan before setting foot on the ice will help you target their most likely locations and have a better success rate. 
If you would like to know more about how to catch Walleye through the ice, continue reading this helpful article for information and tips to improve your fishing game.
Learn the Layout Before Embarking on Your Expedition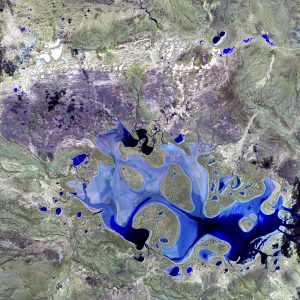 Learn the layout of whichever body of water you plan on ice fishing beforehand. Look at topographical maps or use a GPS to find drop-off points and other underwater features that fish tend to gravitate toward. 
Once you know where these features are located, you can begin to map out where you want to drill your holes. You can certainly go on the ice without planning and take your chances. But, if you are trying to catch the most Walleye, it is best to plan. 
Walleye prefer to linger in transitional areas such as drop-offs. Any area that changes from one feature to another is likely to contain Walleye. Walleye are always looking for food, so it pays to keep moving while on the ice. 
Tips for setting up: 
Experienced anglers recommend drilling 10-15 holes in a location so you can rotate your gear and stay on top of the Walleye. 

Most commonly Walleye will hang in water that is between 15-25 feet, although most fish will go a little deeper during the colder months to get better oxygen levels. 
If you are serious about catching some Walleye, you had better set your alarm clock early. Walleye are most aggressive during the night and at dawn or dusk. If you want to get ahead, start fishing a few hours before the sun comes up.
Attract Walleye With the Correct Bait and Lures
Using live bait, when legal, is most effective during the cold month. The fish are not as aggressive in cold waters as they are in warm.  
However, if you are using artificial lures stick to shiny, silver lures. Try spoons and other spinners to attract their attention. 
If you are fishing in deeper or murky water, it is best to switch to brightly colored lures. Do some quick and slow jigging to create vibrations that will attract the Walleye.
Fast and Slow Jigging Tutorial
Examples of Lures to Attract Walleye
The following list gives some examples of the types of artificial lures that Walleye are attracted to. Using the correct lures is the best way to attract the fish you are after. 
This Jig, and other lures of similar appearance, are a great way to catch the attention of a hungry Walleye. This lure is made from quality materials and designed to withstand cold temperatures while ice fishing. These lures tend to work best when fishing a flat muddy bottom, as opposed to a hilly or weedy area. 
This attractive lure is great for low-light situations. These babies will reflect light in even the murkiest of waters. To make this lure most effective, use heavy jerks and let the lure slowly sink to attract a hungry Walleye. If you are using a fish finder, once you have noticed the Walleye are approaching your lure switch to a more aggressive jig to cause the lure to vibrate. 
This is a newer style of lure but it has created quite a buzz among anglers due to its unique shape and rattle sound. This lure comes in a variety of colors that can be switched out depending upon the clarity of the water and what the fish are wanting that day. When done correctly this lure imitates the movements of live bait and does a great job of attracting those Walleye that you are so hungry for. 
Thanks to the wide triangular shape, this lure takes its time as it is sinking to the bottom. It can attract the attention of hungry Walleye. Its vibrant color and reflective properties make it a tough target to miss for any fish who is on the prowl. Using slow, small jig movements is best when using this type of lure. 
These super-realistic rattlers should be in every anglers tackle box. Using a high-quality rattle bait such as this reduces the number of holes you will have to drill. The fish will come to you with this high-performance lure. Once you have let the lure sink, give it a good yank upward. The lure will move side to side as a real minnow would and drives the Walleye crazy. 
This lure gives the appearance of a realistic minnow head with great action as you jig through the water. The paint job and belly blade are designed to catch the Walleye's attention. This lure comes in different sizes and weights depending upon the depth of water you are fishing. 
Patience and a Variety of Lures Keep Walleye Biting
Other Great Outdoor Related Articles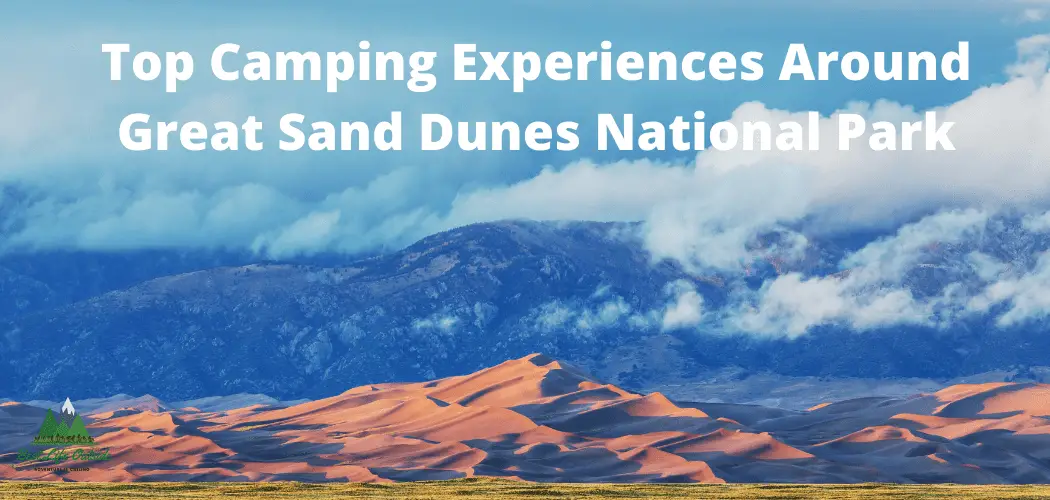 Many people think to see breathtaking wonders they must travel abroad when all they really need to do is explore the land in front of …