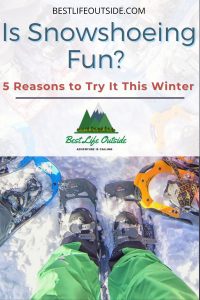 When you think of winter sports, skiing or snowboarding are probably the first things that come to mind, and for good reason! The adrenaline rush they provide is an intoxicating thrill. Unfortunately, most people don't have ski slopes in their backyards. Traveling to partake in the fun gets costly pretty fast.
If you have the snow, but not the hills, snowshoeing is a great alternative. It's also great for the wallet and works for those of us who aren't quite adrenaline junkies at heart. 
Need to know more? Read on for all the reasons you should give snowshoeing a try.
Snowshoeing is extremely versatile
Snowshoeing is one of those rare activities that just about anyone can do. No matter your age or fitness level, if you can walk, you can snowshoe. 
Beginners can get their feet wet venturing out on firm, well-packed snow. Walk, run, or do a combination of both to help get your heart rate up and burn calories. 

People with more advanced fitness levels can venture out onto the powdery white snow. The light, fluffy snow is more of a challenge due to the depths you sink with each step versus very little sinking on packed snow. The added weight and resistance of having to pull your feet up with every step gives a little extra challenge for those that need it!

Snowshoeing can be done in your backyard or you can travel to popular snowshoeing destinations. The world is your oyster when it comes to snowshoeing destinations.

You can even get a great workout by running in snowshoes
Snowshoeing offers a chance to see some breathtaking views
Do you find yourself cooped up inside drinking hot chocolate and wistfully watching the flakes come down when it snows? Snowshoeing gives you the unique opportunity to get out in nature and see the beauty of a winter wonderland from different vantage points. 
Unlike trekking through snow in hiking boots, with snowshoes you practically walk right over all those hidden obstacles you'd usually be tripping over. Get outside and check out all those icy views. 
Snowshoeing has great health benefits
Snowshoeing is a great way to burn off some of that wintertime "fluff" you may have accumulated over the holidays. I'm looking at you, turkey and dressing!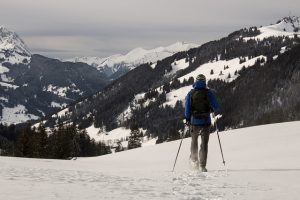 The average amount of calories burned when snowshoeing for an hour is 600 calories according to Snowsports Industries America. When you take on the tougher terrain of powder snow and pick up the pace a bit, you can increase your average calories burned per hour to around 900 or so. You would have to walk on the treadmill for two to three hours to accomplish that feat!
Snowshoeing is also a full-body, low-impact workout. It not only has cardiovascular benefits for your heart, but offers strength training for your muscles as well. While it works the whole body, the muscles of the lower body reap the most benefit from hamstrings to calves to glutes. Your core gets a workout, too. Your body fights to stabilize and balance itself with each step you take. 
In addition to your physical well-being, snowshoeing provides great benefits to your mind, too. It's a great way to get outdoors during those cold, gray winter days and keep the blues and depression away. 
It is estimated up to 10 million Americans are affected by seasonal affective disorder each year. Snowshoeing is a great way to combat those statistics. It helps get all that much-needed Vitamin-D to boost your mood as well as your serotonin levels.
Snowshoeing is extremely safe
When compared to other winter sports like skiing and snowboarding, snowshoeing is a much safer option. People of all ages can enjoy this physical activity with little risk.
Of course, anytime you venture outdoors in the snow there are some hazards to protect yourself against. 
Protect yourself from hypothermia and frostbite by keeping an eye on the weather and dressing appropriately. 

Travel in a group in case someone gets injured and keep your treks short. 

Bring a compass or GPS with you to avoid getting lost.

Carry some emergency supplies with you if you are heading out for a long journey. Be prepared for the worst with an emergency shelter and fire source. 
But all in all, snowshoeing is not any more dangerous than going out for a snowball fight. Its benefits certainly outweigh the risks.
Snowshoeing is Inexpensive to Start
The great thing about snowshoeing is you don't need much equipment! As long as you have proper winter wear, the only thing you have to have is a pair of snowshoes. 
You can choose to purchase your own or rent a pair to try them out instead. A pair of snowshoes can range from as low as $20 to up to around $300, so you can easily find some nice options in your price range. This initial investment isn't much considering all the enjoyment you can get out of them every winter.
A pair of trekking poles or ski poles can be handy, but they're not a necessity. However, if you decide to purchase a pair of those, you will only be set back around $20. If you are venturing out into powder snow, poles can be a great investment and well worth the cost.
Other Great Outdoor Articles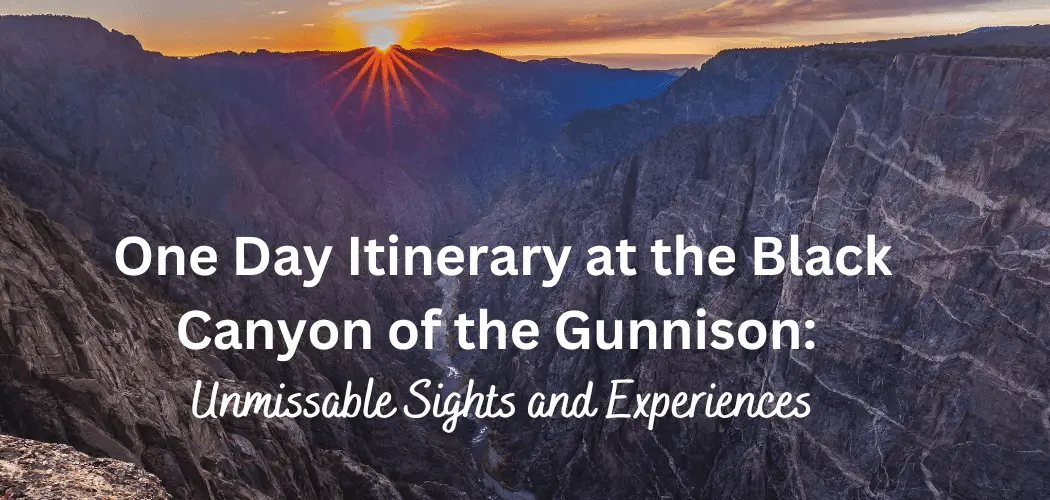 The Black Canyon of the Gunnison National Park, located in Montrose, Colorado, offers breathtaking views and unique geographical features that attract visitors worldwide. This awe-inspiring ...