You went all out this year and got the latest ice fishing gadgets and gear. Now you're ready to get out there and show those fish who's boss! Just one problem… now you have to haul all that gear out to the ice.  
Suddenly it hits you! You were so worried about the other gear that you forgot to get an ice fishing sled! Fear not; for there are many great options available on the market. The hard part is deciding which one to choose. That's where we come in.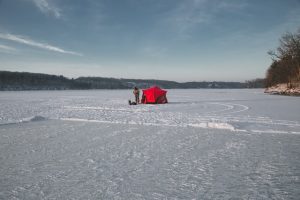 Continue reading to learn about the best ice fishing sleds for getting everything you need onto the ice in one trip.
Our Favorite Ice Fishing Sleds
More to a Sled than Meets the Eye
There are many options to choose from, and most of them will get your gear out onto the ice… eventually. Many people will begin by using an inexpensive snow sled from the nearest big box store.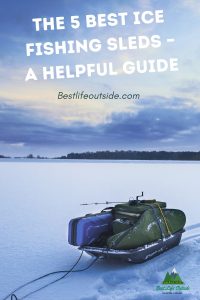 After a few times of pulling an inexpensive sled through rough ice, snow and slush they usually find that sometimes it is better to bite the bullet and pay a little more. 
This is because rough terrain can wreak havoc on the bottom of an inexpensive sled and tear it up in no time. The other issue is that a typical snow sled is not very sturdy. 
If you are going through the hills and hollers to get to your special ice fishing spot, there is a good chance that your poor sled will not be sturdy enough to keep your fishing gear in place. You may even have to stop multiple times to reload or adjust everything. 
If you want to save the time and aggravation associated with using a flimsy traditional snow sled, this next section is for you.
Best Ice Fishing Sleds for Function and Convenience
Summary: This is the cat's meow! If you are looking to go ice fishing like the rich and famous, this is the sled for you! This specially designed ice fishing sled allows you to carry all of your gear; once you get there it transforms into an ice shelter. The great thing about this particular model is that it is designed for you to bring a buddy along. It has plenty of room for two grown people to fish comfortably. 
Additional features of this amazing product include: 
Comes with 2 comfortable seats

Extremely durable sled made of high-quality super thick plastic to endure the rough terrain

The flip-down tent has a door with a zipper for easily exiting so you don't have to keep flipping the tent up every time you want to go outside. 

It is insulated so that your heat does not escape out of the roof

Lightweight and easy to pull

The back of the seats fold down and have pockets for storing your gear

The tent easily folds over and gives you plenty of space to fish while you stay out of the elements. If it's a nice day simply flip the tent back and fish in the open air. 
Summary:  If you prefer to hit the ice on your own then this is another high-class way to get your gear where you want it in one trip. This model is designed a little differently since it is made for the solo fisherman or woman; however, it has the same function and features as the previously mentioned ice sled/shelter combo. 
Features of this individual sled/shelter include: 
Allows you to move your shelter from hole to hole easily

Comes with a comfortable seat that folds down for convenience

Easy to zip door to save from flipping tent when exiting

Includes large pockets inside to store  your extra gear and personal items

Includes windows for a clear view of what's going on around  you

Insulated to keep the heat in

Made by Frabill™ who has been making fishing gear since 1938

Made from high-quality materials
Summary: This is the sled for the hard-core, no-nonsense kind of fisherman or woman. If you just want to grab a lawn chair, auger, tilts, and some bait then this is the sled for you. Keep it simple with this super durable extra-large sled built to be pulled through the roughest winter conditions. 
Features of this no-nonsense product include: 
Designed to withstand being pulled through ice and snow

Extra-large capacity so you can fit everything in one trip

Made from extra strong polyethylene material
Summary: This is the same deal as the sled mentioned directly above; however, it is a little fancier in that it comes with a convenient camouflage cover to protect your gear and keep it in the sled during travel. 
Additional features of this handy product include: 
Can hold all of your gear and protect it from the elements

Constructed with durable polyethylene material

Molded runners for extra durability and gliding through the ice and snow
Summary: Better yet, if you are the adventurous type who likes to travel by ATV or Snowmobile then this handy contraption is for you. This tow hitch mount allows you to tow your sled or portable shanty anywhere you want to go. 
Additional features of this product include: 
Can use with anything that has a tow hitch

Designed to withstand bumpy terrain and quick turns with multiple pivot points

Made from high-quality materials to last for a long time

Quick-release pins for easy removal when not in use

Universal hitch for all types of ice fishing sleds and portable shelters
How to Pack a Sled for Ice Fishing
Other Great Outdoor Related Articles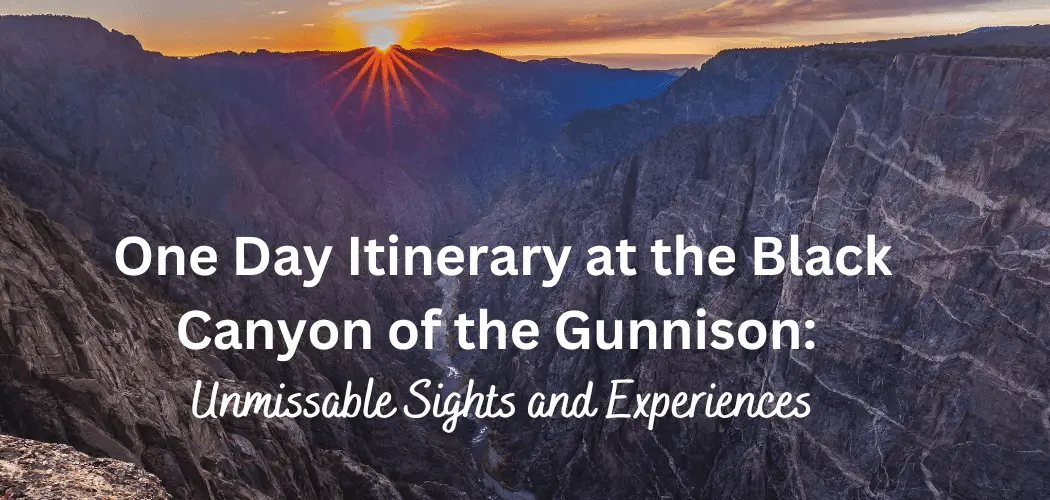 The Black Canyon of the Gunnison National Park, located in Montrose, Colorado, offers breathtaking views and unique geographical features that attract visitors worldwide. This awe-inspiring ...