Breckenridge, Colorado attracts visitors from all around the world for all the right reasons. Each season offers a plethora of activities for visitors and there's no shortage of cozy cabins to call home away from home. The winter brings some of the top skiing in the state, and Breckenridge offers some of the best resorts all sitting at 9,600 feet in the beautiful Colorado mountains. 
Summer in Breckenridge brings perfect hiking weather. Some of the top hiking in the country is found in Breckenridge and its surrounding areas. One foot on the trail and you are sure to head out and find any of the hidden gems the mountains have to offer.
Spruce Creek To Mohawk Lakes Trail, Colorado
Start: 2.5 miles south of Breckenridge 1.1 miles up Spruce Creek Road
Distance: 6 miles round trip
Difficulty: Moderate
Hike Time: 4-4.5 Hours
Water: Readily available in streams
This six-mile roundtrip trail takes you past innumerable cascades following Spruce Creek, a runoff of the Mohawk Lakes. 
This trail sits east of Mt. Helen and passes through beautiful forests. You'll enjoy a hike past the spectacular Continental Falls. Mt. Helen is visible in the west and makes for a majestic mountain view for the hike. 
An optional trek to Lower Mohawk Lake is a great extension of your hike.
McCullough Gulch Trail, Colorado
Start: End of McCullough Gulch Road
Distance: 2.6 Miles
Difficulty: Easy
Hike Time: 2 hours
Water: Readily available in streams
Sandwiched between Quandary Peak and Pacific Peak is the McCullough Gulch Trail. Waterfalls and wildflowers line the path that takes you up past the treeline to the Upper Blue Reservoir where you can rest and enjoy the benefits of the steep hike just completed. 
Off of this trail is a quick detour to White Falls Loop. This trail will take you to even more stunning cascades. If your lucky, you'll see some of the beautiful wildlife the mountains had to offer without adding too much time or difficulty to the trek. 
This trail is incredibly popular due to its proximity to Breckenridge. It's easily accessible and low difficulty, making it popular with nature enthusiasts and beginners alike. With the ease of access and a short time, it's perfect for a quick morning walk.
Blue Lakes Trail Breckenridge Colorado
Start: Blue Lakes Trailhead at the end of Blue Lakes Road
Distance: 1 mile out and back
Difficulty: Easy
Hike Time: Less than 1 hour
Water: Readily available in streams
This family-friendly hike is right outside of Breckenridge, but it feels like you've gone deep into the mountains. The trail puts you right at the most stunning and aptly named Blue Lakes. These gorgeous waters are surrounded by steep rocky slopes with old, wind-battered Dwarf Pines and crowds of Marmots. 
The gravel trail takes you easily to the lake and is fairly accessible for people of all skill levels. Quandary Peak looms above you, seemingly closer than in reality when sitting this high up in the mountains. 
If you're looking for a little more of a challenge, you can always push yourself past the initial trail. Once you've made it to Blue Lakes, keep moving to the unmaintained towards the peak.
Hiking Breckenridge, Colorado
Wheeler Trail, Breckenridge Colorado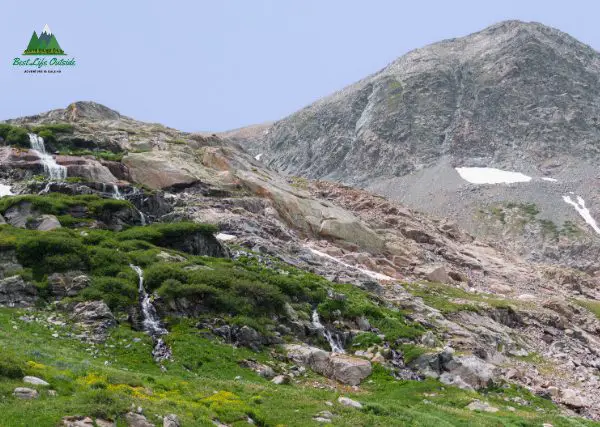 Start: McCullough Gulch Trailhead
Distance: 13.4 Miles
Difficulty: Difficult
Hike Time: 7+ hours
Water: Readily available in streams
The beauty that comes along with hiking this trail is well worth the difficulty of the hike itself. 13,000-foot mountains surround you on this hike. You'll feel like you're on top of the world as you trek through the high alpine terrain.
This trail is incredibly difficult for a few different reasons. First off, there's a high amount of high alpine exposure, with most of the trail being located about 12,000 feet. This should not be the first hike you attempt if visiting from low altitudes. 
Be ready for the leg work out of your life while trekking up the steep terrain. Wheeler Trail is well worth the push if you want to get some experience high in the alpine.
Quandry Peak, Breckenridge, Colorado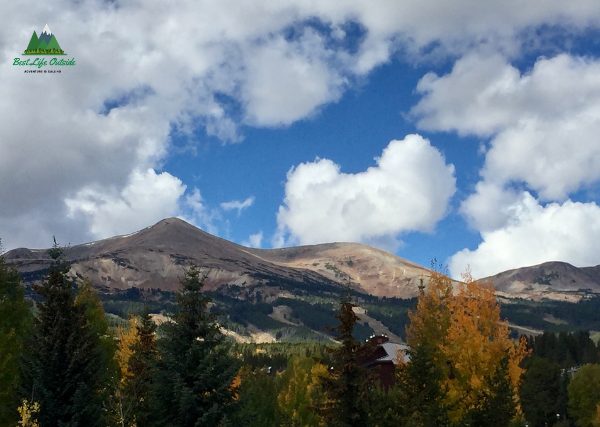 Start: Quandary Trailhead north of Hoosier Pass
Distance: 6.75 miles
Difficulty: Strenuous
Hike Time: 4-6 hours
Water: Bring enough water for the day
Quandary Peak is the only fourteener in the Ten Mile Range and stands at 14,265 feet, making it the 13th highest peak in all of Colorado. It's a must-hike if you're working through the top fourteeners. 
While Quandary is one of the easier peaks on the list of 14ers, it's deceivingly difficult at times. Most of the climbing happens in two short bursts that can leave you panting for air at such a high altitude. 
The accessibility, distance from town, and beauty of this trail mean it's incredibly popular. It's also well worth fighting the crowds to see all it has to offer. It's a great 14er to start with and gives you a great view of the terrain around Breckenridge.
B&B to Reiling Dredge with Minnie Mine, Breckenridge, Colorado
Start: French Gulch Road B&B Trailhead
Distance: 1.5 miles one way
Difficulty: Easy
Hike Time: 1-2 hours
Water: Readily available in streams
This was the first trail completed after the historic conversion of mining land into public use. This trail offers great insights into mining impacts on land.  
The trail is relatively easy, with only a 413-foot elevation gain. It's great to get out and hike when you don't have much time or want to do some laps on a quick trail run.
For the Peak Bagger - DeCaLiBross
Start: Kite Lake Trailhead
Distance: 7.9 miles
Difficulty: Difficult
Hike Time: 5 hours
Water: Bring plenty of water for the entire day
The DeCaLiBross, also known as the DeCaLiBron, is a trail that takes peak baggers up to summit four different 14ers in a single push. Mounts Democrat, Cameron, Lincoln, and Bross are perfectly situated to be completed together in one day with 3,444 feet of elevation gain. 
This is the perfect trail to hit if you're ticking off 14ers at a slow pace and want to knock off multiple in a single day. It isn't the best trail for beginners due to the high chance of encountering thick snow and ice along the way. 
It is an incredibly popular trail and seen as a rite of passage for hikers living in Colorado. That being said, it is a must hike if you want to get the full Coloradan experience.
Breckenridge is more than just a collection of luxury ski resorts. This town has something to offer everyone in every season. The flora and fauna are sure to impress and the seemingly infinite hiking trails give beginners and pros stunning views alike.
Other Amazing Outdoor Articles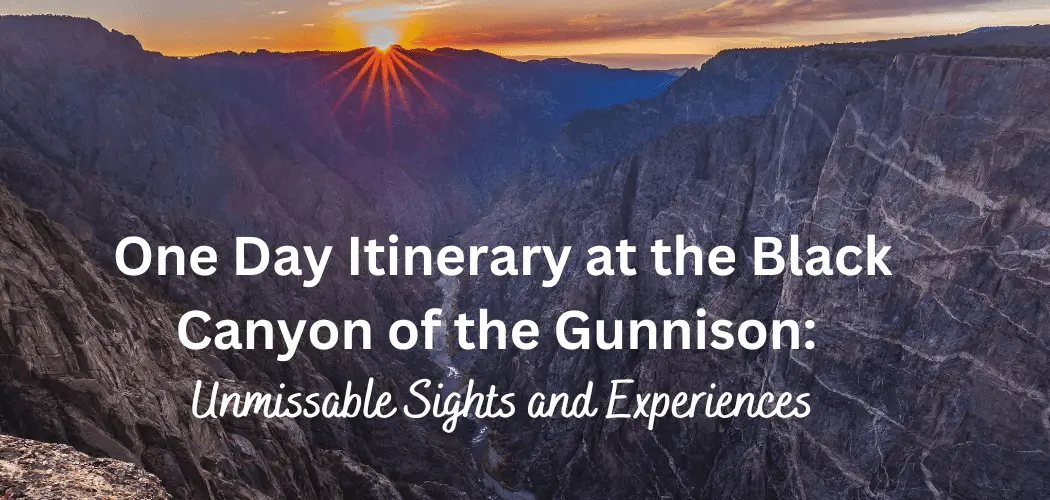 The Black Canyon of the Gunnison National Park, located in Montrose, Colorado, offers breathtaking views and unique geographical features that attract visitors worldwide. This awe-inspiring ...