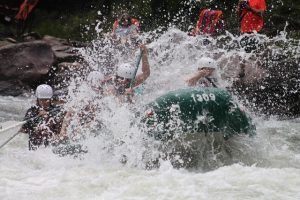 Colorado is arguably the most beautiful state in all of the United States of America.
It's filled with beautiful mountains, adventurous hikes, and scenic views for outdoor enthusiasts. With whitewater parks that offer various recreational activities such as kayaking, Stand Up Paddle Boarding, surfing, rafting, or hiking, you can't go wrong planning a trip to Colorado.
Here's a list of the eight best Whitewater Parks to visit when in Colorado to help get you started. 
Boulder Creek Whitewater Park
Located in beautiful Boulder, the Boulder Creek Whitewater Park has many activities to offer visitors.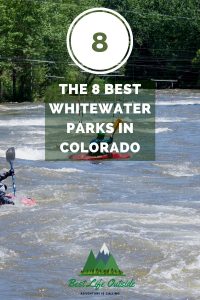 The Eben G Fine Park is three miles long with breathtaking views of nature. American Whitewater has classified the park as an II-III section. The flow range in this urban white water stream is 150-800 cubic feet per second (CFS). 
Boulder Creek is a great after-work run. It's runnable from May – July for most water crafts but offers other great water options for most of the summer. The two most popular locations to put in are at the mouth of Boulder canyon or at Eben G. Fine Park. 
Eben G Park is a popular hang-out for all river lovers including tubers and paddle boarders. There is also a convenient bike path located along the creek for those who enjoy cycling or relax on the grass.
Buena Vista, Colorado Whitewater Park
The Buena Vistas Whitewater Park is a great adventure for summertime! Visitors will have different options of technician wave levels to choose from. The park features five different waves to cater to anyone from beginner to advanced levels. 
Uptown Wave – This fairly easier wave has a flow of 425-1000 CFS with a relaxing recovery pool.  
Staircase Wave – This wave is arguably the best surf wave in the park, especially for paddleboards. The optimal flow of the wave is 300-2000 CFS.
Pocket Wave – This wave can be more challenging and has a flow of 500-2000 CFS.
Downtown – The downtown wave/hole is best for surfing between 300-1000 CFS.  
Lodo Wave – This wave is located near the South Main Town Square. Visitors should surf the flows between 600-1600 CFS for the Lodo Wave.
The Buena Vista Whitewater Park is surrounded by other fun activities nearby. Those looking for more adventure can venture off into the Midland Hill or Arkansas River Hike.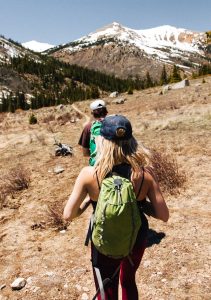 Montrose Colorado Whitewater Park
This beautiful park is relatively new, having just opened in 2015!
A unique advantage of this whitewater park is that it can go year-round due to the park's dam-controlled water flows. The park offers six distinct features with a wide variety of flows for surfers.
Surfers can enjoy flows as low as 200-250 CFS and go well above 750 if they want to. One of the rarest features of this park is that surfers will find decent flows even in late summertime or fall due to the location's irrigation needs.
Access to rapids is easy with a few steps from the car. Montrose is booming right now and is going to be one of the next great Colorado towns.
South Platte Next to REI, Denver Colorado
The South Platte White Water Park next to REI, Denver, is classified at an II-III difficulty level.
The park offers five human-made features designed specifically for those who want to boat down the river-right side of a low head dam.
The flow rate as of one hour is 98 CFS, and the length is one mile long. This beautiful park features an old bridge that forms a hole/wave that is excellent for surfing.
The park also features the South Platte River Trail along the river-right bank that can be used for walking. Visitors can find parking in between REI and Ocean journey.
Clear Creek Whitewater Park, Golden Colorado
This classic waterpark is one of Golden, Colorado's most popular attractions.
It was opened in 1998, and the course goes for one-quarter of a mile. This adventurous park is separated into sections with built-in boulders for an exciting surfing experience. The whitewater park caters to a wide range of experience-level surfers. Classified at a II difficulty level, the Clear Creek Whitewater Park has a flow range of 70-2000 CFS.
Glenwood Springs, Colorado Whitewater Park
This beautiful Whitewater park has float levels for all experience levels. The Glenwood Springs Whitewater park has challenging waves and is most popular from the months of May to September.
The site was chosen as the first for the U.S. Freestyle Kayaking Team Trials in 2009. The most famous attribute of the park is a standing wave called the G-Wave. This flow can vary anywhere from 4,000 to 22,000 CFS. 
Salida Whitewater Park, Colorado
The Salida Whitewater Park features lots of fun along the Arkansas River.
Located in the heart of downtown Salida, this park features various man-made features that can be used for tubing, paddleboarding, rafting, or kayaking. The water is usually cold since the park is at an elevation of over 7,000 feet. It is best to wear warm clothing during your visit to this park.
The park includes four whitewater waves with two big holes. The waves and holes differ in size depending on the season and water level. The streamflow discharge of this park is 136 CFS.
There are also several riverside trails located in the Salida Whitewater Park for those who want to enjoy a nice stroll. The scenic views at this park mimic a beautiful Rocky Mountains beach scene during the summer months.
River Run South Platte River, Denver
The River Run Park located along South Platte River features several high-performing surfing waves.
This urban park features useful park amenities such as a running trail, playground, and biking trails. Two human-made waves were built in 2016 in order to restore the environment and provide more recreational activities.
The river enhancements of the park include a low flow channel, six wave features, and habitat structures that support fish passage. The flow range of this park is 100 – 2000 CFS.
Other Great Articles for Outdoor Adventure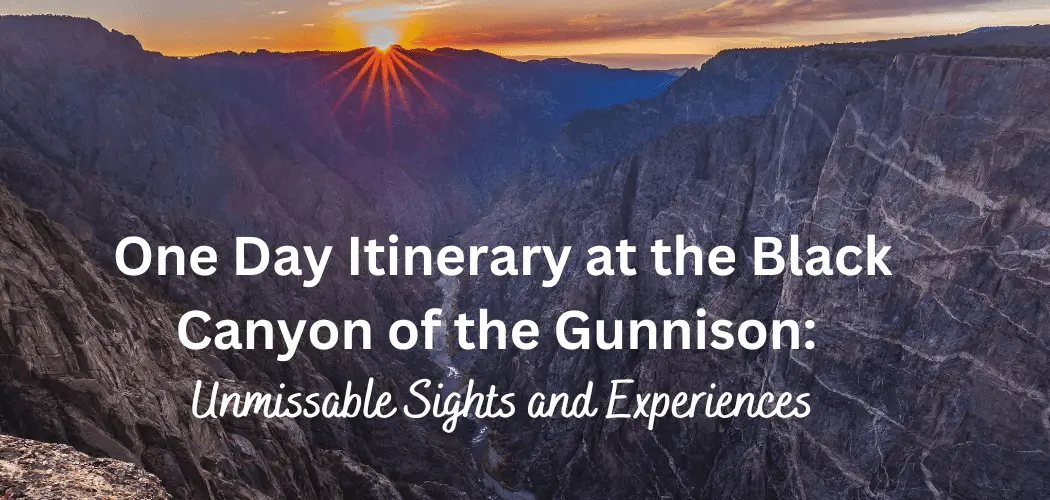 The Black Canyon of the Gunnison National Park, located in Montrose, Colorado, offers breathtaking views and unique geographical features that attract visitors worldwide. This awe-inspiring