A short hike is a great way to immerse yourself in nature and soak up all the wonders Mother Nature has to offer. Maybe you're just traveling a few miles to get your feet wet in the world of hiking. Or maybe, due to time constraints, you don't have time for a longer hike but are still feeling that pull into nature and need that fresh air to cleanse your lungs.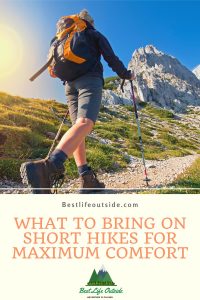 Whatever your reason, short hikes can be just as enjoyable as a longer hike but still require a little planning. 
What do you need, and what can you leave behind? Here is a list to get the bare essentials covered for short hikes. It's essential to not skimp on your supplies, thinking that it's just a short hike and you won't need that much. That can be asking for trouble.
Probably one of the essential parts of hiking is wearing a good-quality shoe or boot. Quality shoes can either make or break your hike. You are weight-bearing the entire time you hike, and an ill-fitting shoe can quickly escalate an enjoyable experience into a miserable nightmare.
Now, if you are only going a short hike, you probably don't need to invest in an expensive pair of boots just for hiking. Instead, just a good pair of tennis shoes can do the trick.
A good pair of hiking shoes should have all (or most) of these qualities:
A good fit

Lightweight

Breathable (for warm climates)

Fast drying

A good grip

Durability

Good support or cushion
You want a shoe that fits well and will allow you to scale uneven terrain comfortably. You may be passing through creeks or streams or even enduring a quick rain shower.
Did you know that you can make any pair of shoes waterproof? Even if you have regular tennis shoes, using a waterproof shoe spray on them can help keep your feet comfortable during short hikes.
The better protected your feet are, the more successful your hike will be. A bonus with hiking shoes over boots is that shoes are more versatile, so even if you have to purchase a new pair, you can wear them in other places as well.
Choose The Proper Clothing
Wearing the right kind of clothing is key to your comfort on a hike. What can feel like a warm day can quickly change when the wind starts blowing. On the other hand, you can bundle up in layers only to realize you are way overheated once you start walking.
The right pieces of clothing can help you navigate these changes in temperatures throughout the day.
One of the main things you need to look for in hiking clothes is the type of material. Stay away from cotton clothing.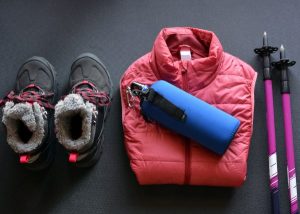 While it's comfortable lounging around the house, it's not ideal for hiking as it can trap and retain moisture. This will leave you overheated in the summer and dangerously cold in the winter.
Opt for dri-fit or synthetic materials that help wick away sweat and moisture. These materials are favored by athletes for the same reason and can be easily found in sporting and outdoor stores.
As far as what actual kind of clothes to wear, customize these essential pieces to fit your climate needs:
T-shirt ( no cotton)

Hiking shorts or pants (or convertible pants if you're hiking in-between seasons)

Insulating jacket or sweatshirt

Waterproof jacket (Specific weight of jacket will depend on climate)

Wool socks or moisture-wicking socks
Something as simple as checking the weather can make your hike such a more enjoyable experience.
For example, once you know the predicted temperatures of the day, you know what kind of clothing you will need. You know, if there's a chance of rain to make sure your outer layer of clothing is water-resistant. (Always bring along a rain jacket anyway.) 
Did you know that you can get a rain jacket that weights less than 1-pound? The Columbia Watertight 2 Jacket is lightweight and easily stuffable at only 12-ounces to take on any hike.

Also, keep in mind that weather can abruptly change when hiking different ranges in elevation, or temperatures can vary greatly when the sun rises and sets. Plan accordingly for these variations in temperature so that you are covered if weather conditions fluctuate.
You may be tempted to skip the emergency supplies on a short hike. After all, what are the chances you would need something like this? You're only going to be gone a few hours!
Hopefully, you will never need your emergency supplies, but anytime you venture out into the great outdoors, you open yourself up to the unknown.
It's better to be prepared just in case. It doesn't have to be cumbersome or expensive, either. Here are some great options to consider:
Water is probably one of the most important provisions you need to bring along for your hike. A good rule of thumb is to drink ½ to 1 quart of water for every hour you hike (especially in hot climates). Your body can only absorb 1 quart of fluid per hour, so drinking this amount can help keep you nice and hydrated. 
 This Nalgene water bottle is an excellent, lightweight, wide-mouth bottle that can hold 32 ounces. You can also find collapsible water bottles or water bottles with a filter inside to take advantage of any natural water sources you may pass by on your hike, which is always a good idea as water can weigh you down quickly. 
Remember, if you wait to drink until you're thirsty, you are already on your way to becoming dehydrated. 
If you're only going on a short hike, chances are you can time your walk between meals. Probably the most you will need are a few salty, protein-rich snacks to help you through.
Protein bars, trail mix, beef jerky, and granola are all good ideas to have on hand. But like anything else when hiking, bring along more food than you need. You will thank yourself should you come across any trouble that keeps you out longer than anticipated. 
The last item on our list today is a multi-purpose backpack. You are going to need something to corral all your supplies.
Your backpack doesn't have to be a fancy, expensive backpack explicitly made for hiking, especially if you are a beginner.

Just a simple backpack can do the trick. You do probably want one with an exposed holder for your water to keep that handy. Mainly one that fits comfortably with adjustable straps that can withstand the elements for a few hours is all you need.  
Other Great Outdoor Related Articles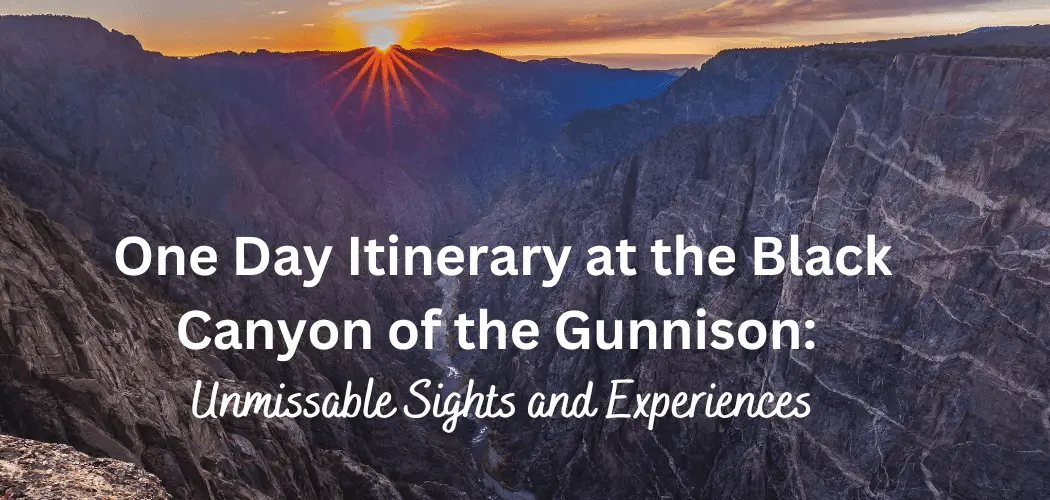 The Black Canyon of the Gunnison National Park, located in Montrose, Colorado, offers breathtaking views and unique geographical features that attract visitors worldwide. This awe-inspiring …