Grand Junction, Colorado, nestled in the western part of the state, serves as a gateway to an astounding array of national parks that showcase the diverse landscape and rich history for which the region is famous. With its prime location, visitors and locals alike have the opportunity to explore some of the most breathtaking and awe-inspiring natural wonders. This article takes you on a journey to this vibrant city's five closest national parks, offering unforgettable experiences for outdoor enthusiasts and casual travelers alike.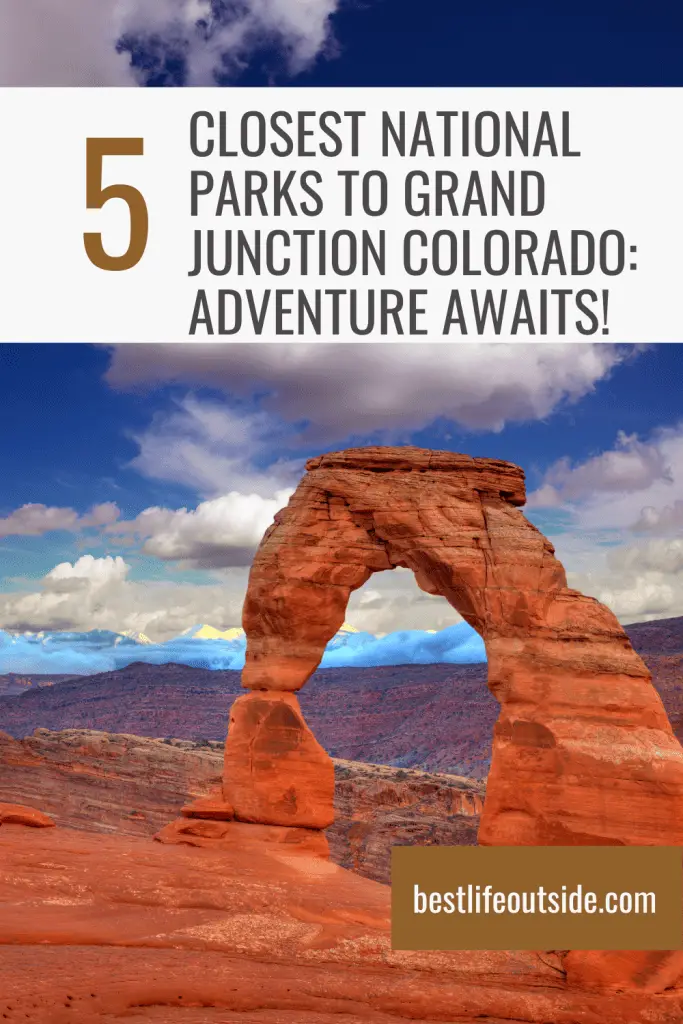 Each of the national parks near Grand Junction showcases unique features and remarkable ecosystems, ranging from rugged canyons and towering sandstone cliffs to diverse wildlife habitats and captivating geological formations. Embarking on an adventure to these destinations allows you to immerse yourself in the captivating beauty and natural heritage of the American Southwest.
So, strap on your hiking boots, grab your binoculars, and get ready to discover the five closest national parks to Grand Junction, Colorado. These parks are waiting to enchant and inspire you with their stunning landscapes and captivating history that will leave an indelible impression in your heart and mind.
Colorado National Monument
Nestled near Grand Junction, the Colorado National Monument is a hidden gem of natural beauty and outdoor adventure. With its breathtaking canyons, unique rock formations, and stunning scenic drives, this remarkable destination is an essential stop for anyone exploring Western Colorado.
Visitor Center
At the Visitor Center, you can learn more about the area's fascinating history, including its formation, the rich Native American heritage, and the important role that the National Park Service has played in its preservation. Be sure to interact with park rangers who can provide you with helpful tips on how to make the most of your visit.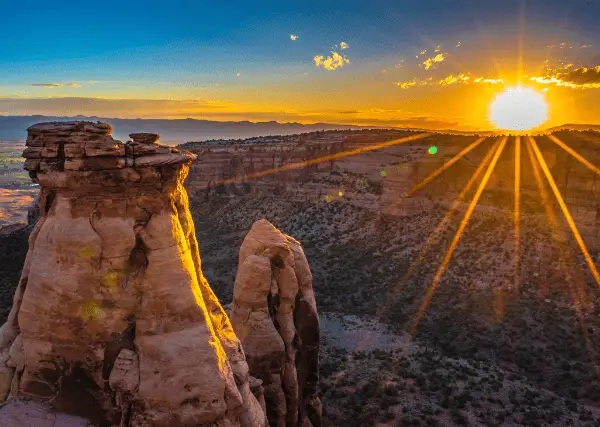 Rim Rock Drive
One of the main attractions at the Colorado National Monument is the 23-mile Rim Rock Drive. This famous scenic road takes you around the perimeter of the park, offering awe-inspiring views of the Colorado River, canyons, and majestic rock formations. Whether you choose to drive or cycle, the Rim Rock Drive is an unforgettable experience every visitor should have on their itinerary.
Hiking Trails
For those seeking a more immersive adventure, the monument offers various hiking trails that cater to different skill levels, ranging from easy to strenuous. Some notable trails include:
Monument Canyon Trail: This 5.9-mile trail brings you up close to the Independence Monument, the park's tallest and most iconic rock formation.
Ute Canyon: A relatively level 4-mile hike, Ute Canyon explores a lush, green canyon with spectacular views.
Serpents Trail: Known as the "Crookedest Road in the World," Serpents Trail is a short but steep 1.75-mile trail that rewards hikers with exceptional vistas.
Camping
If you want to extend your adventure and truly experience the nighttime splendors of this magnificent park, camping is available at the Saddlehorn Campground. Here, you can enjoy the tranquility of the desert park and marvel at incredible stargazing opportunities provided by some of the country's darkest skies.
Overall, the Colorado National Monument offers visitors an unparalleled opportunity to connect with nature and appreciate the stunning landscapes that make Western Colorado so special. So, lace up your hiking boots, pack your camera, and get ready to soak in the extraordinary sights of this unforgettable destination.
Arches National Park
Utah's Natural Beauty
Arches National Park, located just 110 miles southwest of Grand Junction, Colorado, is a stunning showcase of Utah's natural beauty. This amazing national park is characterized by its unique sandstone arches, canyons, and Colorado River views. Visitors can marvel at the park's breathtaking landscapes and catch a glimpse of the starry night skies.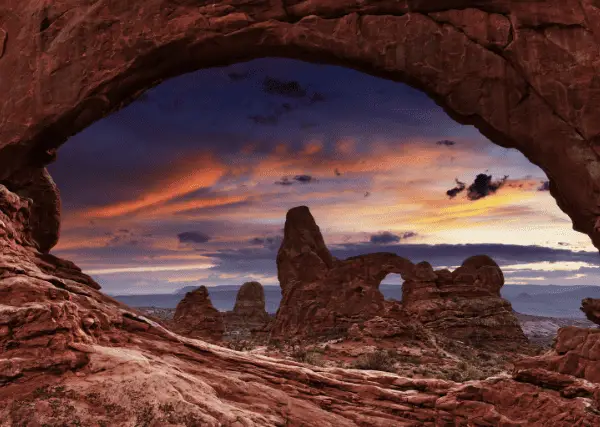 Hiking and Exploring
For those who love hiking and exploring, Arches National Park is a paradise. The park offers various trails that cater to different fitness levels, from leisurely walks to challenging hikes. One of the most famous hikes is the Delicate Arch Trail, where you'll come face-to-face with the iconic Delicate Arch, a must-see symbol of Utah.
Arches National Park is also perfectly situated near Moab, Utah, providing easy access to other incredible outdoor adventure opportunities. From Moab, you can explore the surrounding areas, such as the picturesque La Sal Mountains and the majestic Canyonlands National Park.
When you visit Arches National Park, prepare to be amazed by the incredible beauty of Utah's natural landscapes, complemented by exciting hiking and exploring adventures. It's no wonder that this park is a favorite among outdoor enthusiasts!
Canyonlands National Park
Canyonlands National Park, located in Utah, is a breathtaking destination not too far from Grand Junction, Colorado. This awe-inspiring national park is known for its stunning canyons, dramatic sandstone pillars, and the mighty Colorado River that winds through its heart. The natural beauty of Canyonlands National Park makes it a must-visit spot for outdoor enthusiasts and adventurers.
Outdoor Activities
Canyonlands offers an exciting array of outdoor activities for visitors of all skill levels. One of the main attractions is the park's extensive hiking trails that cater to both casual and experienced hikers. Some popular routes include the Mesa Arch Trail, Grand View Point Trail, and the thrilling Syncline Loop Trail that takes visitors around the Upheaval Dome!
The park's proximity to Moab makes it an excellent base for exploring the region's canyons and red rock formations. There are off-roading and mountain biking opportunities for thrill-seekers on the park's challenging terrain.
Boating and fishing enthusiasts won't be disappointed either, as the park offers scenic waterways like the Colorado River and Green River. These rivers provide the perfect setting for canoeing, kayaking, rafting, and fishing opportunities in designated areas.
Canyonlands National Park is also close to other beautiful natural sites. For example, Highline Lake State Park is located in nearby Colorado, offering even more outdoor activities like swimming, fishing, and bird-watching.
The combination of diverse landscapes, exciting adventures, and unmatched natural beauty make Canyonlands National Park a must-experience destination for anyone visiting the Grand Junction area!
Black Canyon of the Gunnison
A Hidden Gem
Just a short drive from Grand Junction, Colorado, lies the spectacular Black Canyon of the Gunnison National Park. This awe-inspiring natural wonder is often considered a smaller version of the Grand Canyon and is sure to leave you speechless with its immense beauty and dramatic landscapes.
The park offers a wide variety of activities for nature and adventure enthusiasts, including hiking, rock climbing, and wildlife spotting. The Black Canyon of the Gunnison National Park is home to some of the steepest cliffs and craggiest spires in North America, making it an unforgettable destination for those who seek excitement and breathtaking views.
Hiking in the park will immerse you in its unique geological formations and vibrant ecosystems. There's the popular 7-mile round trip Green Mountain hike, taking you to the top of Green Mountain for panoramic views of the canyon and beyond. A more challenging option is the trail that descends below the rim to the Gunnison River—a true test of endurance for experienced hikers.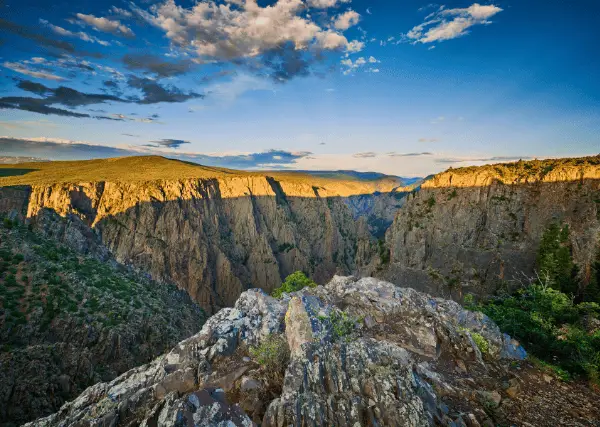 Accessible from both the North and South Rims, visitors can marvel at the power of the Gunnison River that has carved its way through the earth for millions of years. The stunning canyon walls expose ancient rock formations, allowing visitors to witness the passage of time and the forces of nature.
In addition to its breathtaking scenery, the Black Canyon of the Gunnison National Park is a haven for wildlife lovers. Keep an eye out for majestic golden eagles, swift peregrine falcons, and shy bighorn sheep while exploring the park's diverse landscapes.
Black Canyon of the Gunnison National Park is a hidden gem that perfectly combines adrenaline-pumping activities with serene moments of awe in the presence of nature's grandeur. This must-see destination is an ideal addition to any Grand Junction adventure, promising an unforgettable experience for all who venture into its depths.
Mesa Verde National Park
Mesa Verde National Park is a stunning destination located approximately 267 miles from Grand Junction, Colorado. Known for its breathtaking natural beauty and extensive cultural heritage, the park offers visitors a unique experience like no other.
Cultural and Archaeological Significance
Mesa Verde is home to a wealth of archaeological sites and cultural heritage. For over 700 years, the Ancestral Pueblo people built thriving communities on the mesas and in the cliffs of this area. Today, the park protects the rich cultural heritage of 26 Pueblos and tribes, offering visitors a window into the past like no other.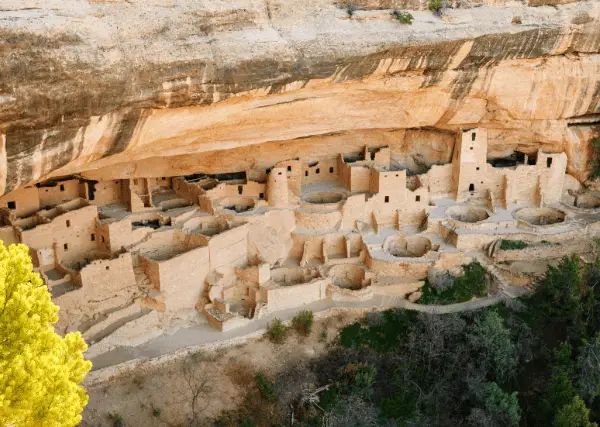 Exciting discoveries await as you explore the stunning cliff dwellings and ancient structures hidden within the park. As you hike through the park, it is easy to imagine the lives of the people who once called this place home – a true testament to this area's resilience and ingenuity. The natural beauty surrounding these archaeological sites adds to the captivating experience, making Mesa Verde National Park the perfect destination for nature enthusiasts and history buffs alike.
For those who love to hike, Mesa Verde National Park offers a variety of hiking trails that cater to different skill levels. As you venture along these trails, you'll find yourself immersed in the beauty of the park's landscapes, gazing upon the awe-inspiring structures left behind by the Ancestral Pueblo people. Each trail promises a new and unique adventure to embark on – whether you're a seasoned hiker or just beginning your journey into the world of hiking.
In summary, Mesa Verde National Park provides a unique experience for those who wish to delve into this region's incredible history and natural beauty. With its rich cultural heritage, fascinating archaeological sites, and diverse hiking trails, Mesa Verde is a must-visit destination for anyone looking to experience the excitement and allure of a Colorado national park adventure.
Additional Nearby National Parks
More Adventures Await
Apart from the two closest national parks to Grand Junction, Colorado – Black Canyon of the Gunnison National Park and Arches National Park, there are several other magnificent national parks in the region worth exploring.
For those seeking adventures in Utah, consider visiting Capitol Reef National Park, Bryce Canyon National Park, or Zion National Park. These parks are known for their stunning red rock formations, canyons, and diverse ecology.
In the neighboring state of Colorado, you'll find other awe-inspiring parks, such as Rocky Mountain National Park and Great Sand Dunes National Park. The former is renowned for its majestic mountain peaks and abundant wildlife, while the latter boasts striking sand dunes, offering unique outdoor experiences like sandboarding and horseback riding.
A short drive away from Grand Junction, Grand Canyon National Park in Arizona is an iconic destination for travelers worldwide. The vast, breathtaking landscapes and geological history attract millions of visitors annually. And for those interested in exploring the portion managed by the Bureau of Land Management, it offers additional areas to experience the park's beauty.
Other nearby national parks that adventurers should consider include Great Basin National Park in Nevada, Grand Teton and Yellowstone National Parks in Wyoming, and Wind Cave National Park in South Dakota. These parks have unique natural features like caves, geysers, and diverse ecosystems, providing ample outdoor exploration and learning opportunities.
For something more distinctive, consider visiting Petrified Forest National Park in Arizona, White Sands National Park in New Mexico, or Badlands National Park in South Dakota. Each of these parks offers a one-of-a-kind experience, be it exploring ancient petrified forests, marveling at glistening gypsum sand dunes, or traversing stunning geological formations.
Finally, for those willing to travel a bit further, Saguaro National Park in Arizona, Death Valley National Park in California, and Carlsbad Caverns National Park in New Mexico offer unforgettable experiences. These parks are home to fascinating flora and fauna, including threatened plant species, making each visit an exciting and enriching adventure.
Escaping the Crowds
The coronavirus pandemic has led to record crowds flocking to national parks, as people seek outdoor activities and solitude away from densely populated areas. Knowing the closest national parks to Grand Junction, Colorado can help you find that escape. Let's dive into a few options where you can avoid the crowds while still experiencing the natural beauty and excitement of the great outdoors!
One possibility is the Black Canyon of the Gunnison National Park in Colorado, just 51 miles from Grand Junction. With its stunning canyons and hiking trails, visitors can find moments of peaceful solitude even amidst the park's growing popularity.
Another nearby national park is the incredible Arches National Park in Utah, just 64 miles from Grand Junction. Although it may have higher attendance, Arches is known for its expansive views, making it feel less crowded than smaller parks. In fact, Arches boasts over 2,000 natural sandstone arches and a variety of trails, providing plenty of space for visitors to find their own corner of solitude.
Apart from these two, consider visiting lesser-known parks and attractions in the Grand Canyon region mentioned by the U.S. National Park Service, as they are also likely to offer more isolation from the crowds.
Remember, timing is also an essential factor when seeking solitude. Opt for visiting during weekdays or early mornings when fewer people visit the parks. Embracing the unknown and exploring more remote trails can provide you with an intimate connection to nature and a much-needed escape from the hustle and bustle.
Get excited, adventurers! There is still so much to discover and enjoy amidst the growing popularity of national parks. By strategically choosing lesser-known locations, visiting less busy times, and venturing off the beaten path, you can find the peace and escape you're craving in the great outdoors.
History of National Parks
The story of American national parks is an exciting tale that spans over a century. It all began with the establishment of Yellowstone, the world's first national park, in 1872. This groundbreaking action sparked a movement in the United States and across the globe, inspiring countries to create protected areas for their most stunning landscapes and unique wildlife.
Years passed, and more national parks were gradually added, but it wasn't until President Woodrow Wilson signed the National Park Service Act in 1916 that a unified system for managing these magnificent spaces emerged. This momentous decision led to the birth of the National Park Service, an organization tasked with preserving and maintaining the natural beauty of these American treasures.
Today, there are over 60 national parks across the United States, each celebrating the diverse landscape and fascinating history of their respective regions. Visitors can marvel at towering redwood forests, explore vast desert expanses, or witness stunning geological formations while trekking through these great lands.
Grand Junction, Colorado, is fortunate enough to be situated in proximity to several incredible national parks, such as Black Canyon of the Gunnison National Park and Arches National Park. These parks, like all others in the system, have benefited from a rich history of conservation and passion—courtesy of visionaries who were excited to preserve America's natural wonders for generations to come.
Tips for Visiting
Are you excited to explore the national parks near Grand Junction, Colorado? We've got some helpful tips to make the most of your adventure! The National Park Service manages these gorgeous parks, and each offers unique features and activities.
First, make sure to check the operating hours for each park, as they may vary seasonally. The nearest park to Grand Junction is Black Canyon of the Gunnison National Park, located just 51 miles or a 1.6-hour drive away. Another popular choice is Arches National Park, 64 miles away, and it takes about 2.3 hours to drive there.
While visiting these parks, remember to respect the environment and the wildlife. Be sure to follow the Leave No Trace principles:
Plan ahead and prepare
Travel and camp on durable surfaces
Dispose of waste properly
Leave what you find
Minimize campfire impact
Respect wildlife
Be considerate of other visitors
Each park offers various activities, such as hiking, biking, wildlife watching, and more. Take the opportunity to explore different sections of the parks and their unique landscapes. Some parks may have ranger-led programs available, so check the park websites or visitor centers for schedules.
Always carry plenty of water, especially during the summer months. Drink at least one gallon of water per day to stay properly hydrated. Don't forget to bring sunscreen, hats, and sunglasses!
If you're planning a multi-day trip, consider purchasing an annual National Park Pass for $80, which will provide entry to all national parks in the United States. Otherwise, you can pay a one-time entry fee that varies depending on the park, such as $15 for vehicle entry at Colorado National Monument.
Now you're ready to embark on an incredible adventure in the national parks near Grand Junction, Colorado! Happy exploring!
Conclusion
Visiting Grand Junction, Colorado, offers a wonderful opportunity for outdoor enthusiasts and nature lovers alike. With several national parks within a short drive, one can experience the beauty and diversity of the American West's landscapes.
First on the list is Black Canyon of the Gunnison National Park, located just 51 miles away from Grand Junction. This awe-inspiring park is home to stunning, steep cliffs and the picturesque Gunnison River. Its relatively fewer visitors make it an ideal destination for a peaceful and fulfilling day trip.
At only 64 miles away, Arches National Park in Utah offers an incredible collection of natural sandstone arches and rock formations. This popular park never fails to amaze visitors with its unique geological wonders and picturesque desert landscape.
The Colorado National Monument is another must-see destination near Grand Junction. With its breathtaking Rim Rock Drive, visitors can explore 23 miles of the monument's perimeter, discovering various hiking trails and lookout points along the way.
While not as close as the aforementioned parks, travelers shouldn't overlook attractions like Grand Canyon National Park, Wupatki National Monument, or Zion National Park—all of which, although a bit further, offer unforgettable experiences.
In summary, Grand Junction serves as a fantastic hub for exploring the incredible beauty and variety of nearby national parks. Regardless of which parks travelers choose to visit, they're sure to find stunning landscapes and unforgettable outdoor experiences. Happy exploring!