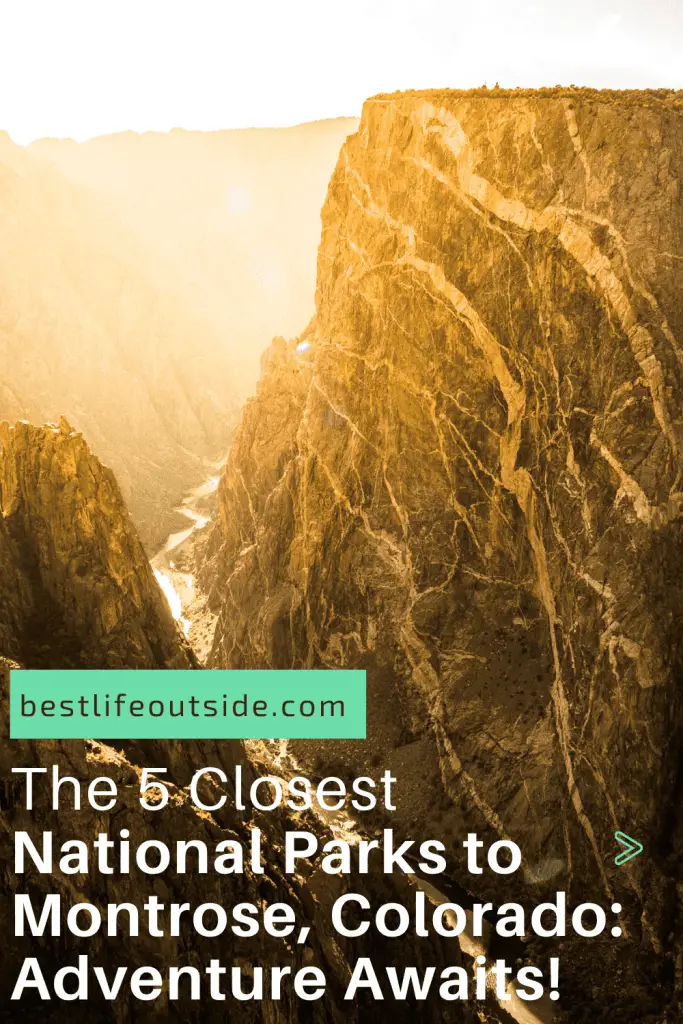 Nestled in the southwest of Colorado, Montrose is a picturesque gateway to some of the state's most awe-inspiring national parks. This charming town offers easy access to a diverse range of natural wonders, from the dramatic landscapes of the Black Canyon of the Gunnison National Park to the desert beauty of Arches National Park. Visitors to Montrose will find themselves immersed in breathtaking sights and outdoor adventures as they explore these magical wilderness areas.
Each national park near Montrose showcases its own unique characteristics and attractions, providing outdoor enthusiasts with countless opportunities for hiking, wildlife viewing, and more.
The close proximity of these parks also allows visitors to take in the stunning diversity of Colorado's natural beauty in a single trip or a multi-day adventure. Montrose, Colorado, is a true hub for the great outdoors.
So, pack your bags and get ready to embark on a thrilling journey into the heart of Colorado's magnificent national parks, with Montrose as your starting point!
Black Canyon of the Gunnison National Park
Just a short drive from Montrose, Colorado, lies the awe-inspiring Black Canyon of the Gunnison National Park. This stunning natural wonder is known for its dramatic, sheer black cliffs that plunge 2,000 feet to the Gunnison River below. With an array of recreational activities and breathtaking views, it's an ideal destination for nature enthusiasts.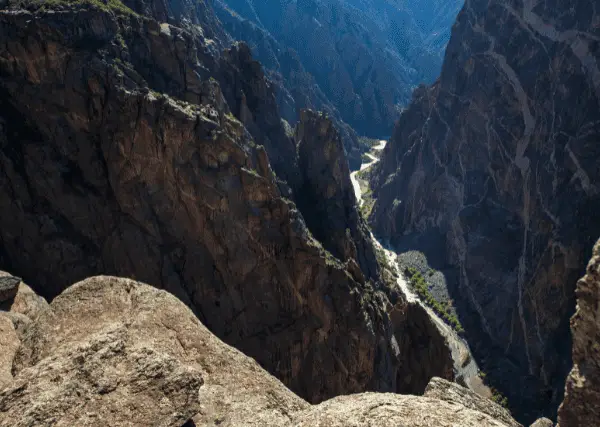 Formed by volcanic activity and the erosive force of water, the Black Canyon of the Gunnison houses the immense Painted Wall, which, at 2,250 feet in height, stands as Colorado's highest cliff. This amazing geological feature is just one of the many picturesque spots in the park, easily accessible by the South Rim Road, which offers 12 viewpoints over a 7-mile stretch.
Visitors to the park can marvel at the grandeur of the canyon from both the North and South Rims. For the more adventurous, there is the opportunity to hike down to the Gunnison River, allowing for a thrilling experience of the park's rugged terrain. Additionally, the park's untamed wilderness allows for activities such as kayaking and climbing.
While exploring the park, guests can choose from three available campsites, including the South Rim Campground, which offers amazing vistas of the Painted Wall. Despite being relatively smaller compared to the Grand Canyon, the Black Canyon of the Gunnison National Park retains an undeniable charm and allure worth experiencing.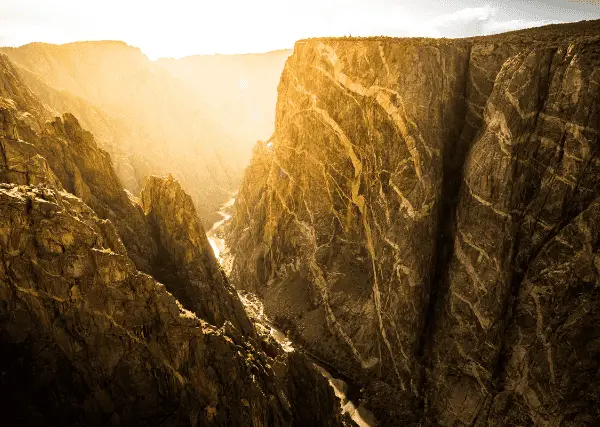 So, if you're in Montrose, Colorado, don't miss out on the chance to witness the impressive beauty and unforgettable adventure that awaits at the Black Canyon of the Gunnison National Park!
Mesa Verde National Park
Mesa Verde National Park is an awe-inspiring destination located in southwestern Colorado. Known for its stunning ancient Puebloan cliff dwellings, this park offers visitors a unique opportunity to explore and learn about the lives and culture of the Ancestral Puebloans.
The most famous site in the park is the Cliff Palace, which boasts more than 150 well-preserved rooms in a remarkable cliffside structure. This incredible feat of ancient architecture and engineering is not only a national treasure but also a UNESCO World Heritage Site. One can't help but feel excited and amazed by the sheer size and complexity of this ancient marvel.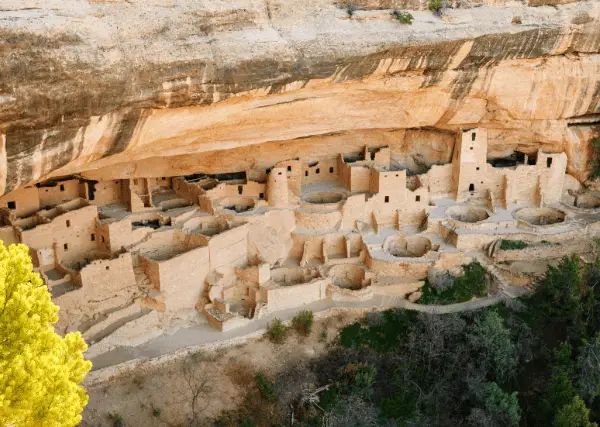 Besides the Cliff Palace, Mesa Verde National Park is also home to over 600 other cliff dwellings that showcase the ingenuity and resourcefulness of the people who once lived there. Visitors can also enjoy the Petroglyph Point Trail, the only place in the park where ancient rock art can be observed. Hiking the 2.4-mile roundtrip trail is an experience you won't forget, with breathtaking vistas and intriguing petroglyphs at every turn.
Exploring Mesa Verde National Park is more than just an adventure into the past; it's also a chance to appreciate the beauty of Colorado's diverse landscapes. From the park's lush green mesa tops to the deep, rugged canyons that cradle the cliff dwellings, there is always something new and exciting to discover. So, whether you're an archaeology enthusiast, a history buff, or just someone who appreciates nature's wonders, Mesa Verde National Park promises a thrilling and unforgettable experience for everyone.
Arches National Park
Arches National Park is a breathtaking destination filled with natural beauty and awe-inspiring geological formations! Located just a 3.5-hour drive from Montrose, Colorado, this park is home to an astonishing array of more than 2,000 natural sandstone arches, including the world-famous Delicate Arch. Visitors will be mesmerized by the unique shapes and vibrant colors that set this park apart from the rest.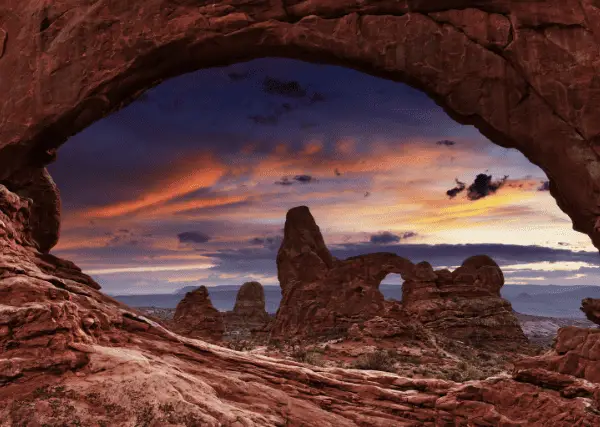 The park features a wide variety of outdoor adventures to suit any traveler's interests. For those who love to hike, there are plenty of hiking trails to explore, ranging from easy, flat strolls to more challenging paths that lead to stunning views of the arches and surrounding landscape. Wildlife enthusiasts will find the area teeming with animals such as mule deer, jackrabbits, and numerous bird species. Don't forget to bring your camera to capture the breathtaking scenery and magnificent sunsets!
Visiting Arches National Park isn't limited to just the warmer months; it remains open year-round, offering a different experience in each season. Winter provides a unique opportunity to see these extraordinary structures dusted in a layer of snow, creating a serene and tranquil atmosphere. In the spring, wildflowers burst into life, coloring the landscape with vibrant hues that contrast against the red rocks.
A trip to Arches National Park truly offers a once-in-a-lifetime experience that will leave visitors with lasting memories of the incredible natural beauty and wonder that lies just a short drive from Montrose, Colorado. So pack your bags and embark on an unforgettable adventure to this remarkable destination!
Canyonlands National Park
Canyonlands National Park, located in southeastern Utah, offers a breathtaking landscape of deep canyons, towering mesas, pinnacles, cliffs, and spires stretching across 527 square miles. This awe-inspiring park is divided into four districts: Island in the Sky, The Needles, The Maze, and the rivers themselves, each with its own unique features and attractions.
Visitors to Canyonlands can marvel at the fantastically formed buttes carved by the Colorado River and its tributaries. From hiking and biking to river rafting and stargazing, there's no shortage of activities for outdoor enthusiasts to explore and enjoy.
One of the most popular areas within the park is the Island in the Sky district, providing scenic drives and stunning vistas, such as the famous Mesa Arch. The Needles district, on the other hand, offers challenging hiking trails bordered by colorful sandstone spires. For the more adventurous, The Maze is the most remote district of the park, presenting a complicated labyrinth of canyons and dead-end trails that's perfect for experienced backpackers.
Just a three-hour drive from Montrose, Canyonlands National Park is an ideal destination for those looking to experience the vast beauty and wilderness of the Colorado Plateau. Don't forget to add nearby attractions, such as Arches National Park and Dead Horse Point State Park, to complete your unforgettable trip to the area.
Great Sand Dunes National Park and Preserve
Imagine a breathtaking landscape with towering sand dunes, diverse wildlife, and thrilling recreational activities! The Great Sand Dunes National Park and Preserve offer all that and more. Located near Alamosa, Colorado, this unique park is home to the tallest sand dunes in North America, surrounded by majestic mountain peaks, wetlands, and forests.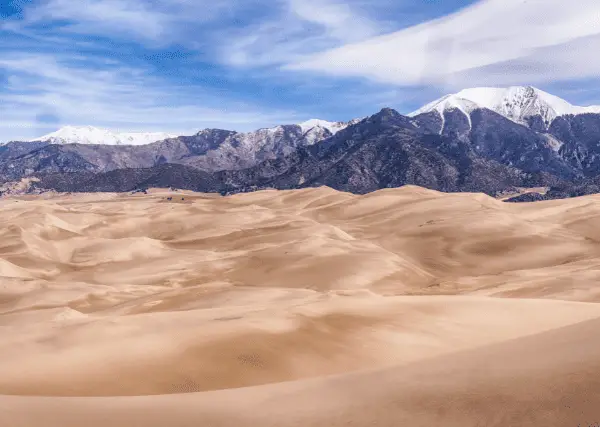 Adventure awaits as you explore the 30 square miles of dunes with no designated trails, inviting you on an unforgettable journey. The park's diverse ecosystem offers a haven for wildlife, including Alamosa's deer, elk, and various bird species. Take a leisurely stroll, or try sandboarding and sand sledding on the dunes for a one-of-a-kind experience.
The fun doesn't stop there! The Great Sand Dunes National Park is also nearby several other noteworthy attractions. The beautiful Zapata Falls is a must-visit if you're in the area. Don't forget to get a glimpse of the San Luis Wildlife Area, providing ample opportunities for nature enthusiasts.
In conclusion, the Great Sand Dunes National Park and Preserve is a true gem for those looking to explore the diverse beauty of Colorado's landscapes. With thrilling activities like sandboarding, awe-inspiring sights like Zapata Falls, and a vibrant wildlife scene, this park promises an exciting and unforgettable adventure.
Rocky Mountain National Park
Rocky Mountain National Park is a true gem, just a short drive of 5-6 hours away from Montrose, Colorado. This breathtaking park is well known for its stunning mountains, diverse wildlife, and countless opportunities for outdoor recreation. Visitors cannot help but feel excited as they explore this majestic landscape!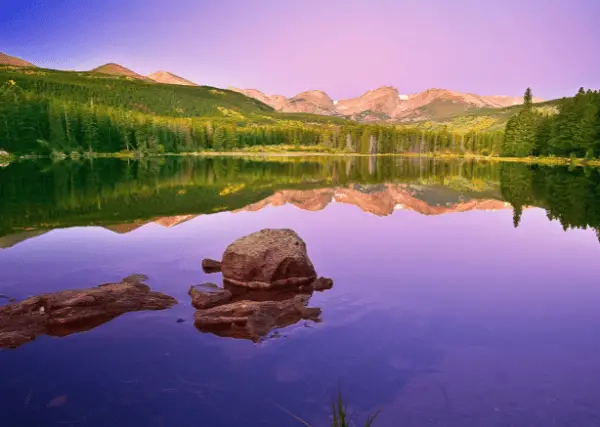 Nestled between the charming town of Estes Park and the awe-inspiring Continental Divide, this national park offers endless activities for outdoor enthusiasts. Hikers have their pick of over 300 miles of trails that weave through the park, ranging from leisurely strolls to challenging climbs. Among the park's many peaks, Longs Peak stands tall as the crown jewel, drawing adventurous hikers to conquer its 14,259 feet altitude.
One of the most popular and scenic drives in the park is the Trail Ridge Road. This incredible road, peaking at an altitude of 12,183 feet, offers visitors breathtaking views and close encounters with the park's diverse ecosystems. As you wind through the Alpine tundra and subalpine forests, keep your eyes peeled for the elk herds that call this area their home. Be prepared to pull over, snap a few photos, and simply marvel at the beauty surrounding you.
From admiring majestic elk to ascending toward Longs Peak, Rocky Mountain National Park offers an unforgettable experience for anyone lucky enough to explore it. So grab your hiking boots, pack your camera, and get ready to immerse yourself in the excitement and wonder of this must-visit destination.
Colorado National Monument
The Colorado National Monument is a breathtaking destination located near Montrose in Grand Junction, Colorado. It offers incredible views and unforgettable experiences that will leave you excited and in awe of nature's picturesque beauty!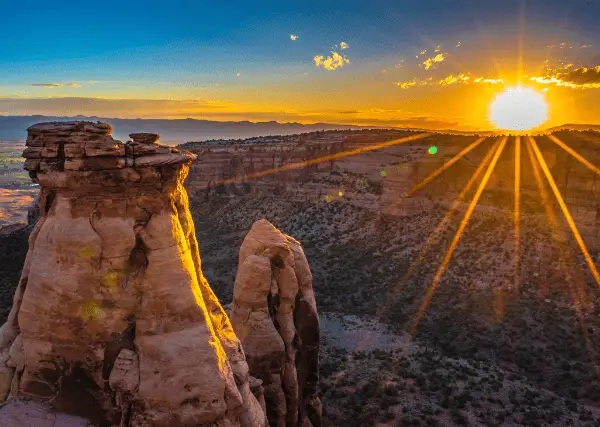 One of the highlights of the monument is the Rim Rock Drive. This 23-mile scenic drive offers jaw-dropping views, winding through the stunning red rock canyons and towering cliffs. Both driving and cycling enthusiasts will find immense joy as they venture further into the heart of these majestic landscapes, stopping at various lookout points along the way.
The monument also features a variety of hiking trails, with one of the most popular being the Ute Trail. As you embark on this trail, you'll soon find yourself immersed in the untamed beauty of the preserved landscape, which ranges from sparse plains to lush greenery. The captivating Ute Trail allows you to delve into the rich cultural history of the area while also appreciating the remarkable geological formations all around.
Don't be surprised if you spot some bighorn sheep grazing in the area. These magnificent animals are quite common in the Colorado National Monument and are a delight to observe as they navigate the rugged terrain with grace and agility.
Lastly, the Colorado National Monument sunsets are truly a sight to behold. Imagine witnessing the sky painted with an array of vibrant colors as the sun disappears behind the awe-inspiring red rocks – an experience you will not want to miss! So, grab your camera and capture these memorable moments while you immerse yourself in the beauty and excitement of the Colorado National Monument.
Itinerary and Road Trip Planning
Embark on an exciting adventure to the five closest National Parks to Montrose, Colorado! This breathtaking region boasts unforgettable sights and experiences, making it an ideal destination for your next road trip.
Begin your journey in Montrose, a bustling small-town hub in Colorado that offers easy access to each of these awe-inspiring National Parks. If you're flying in, you can choose to land at the Montrose Regional Airport or the Denver International Airport and rent a car for your trip and do it in reverse.
The first stop on your itinerary should be the Black Canyon of the Gunnison National Park, just a short drive away from Montrose. Here, you can marvel at the stunning steep cliffs, witness dramatic rock formations, and explore the depths of the canyon.
As you continue your Colorado road trip, head towards the Mesa Verde National Park. This park is a treasure trove of ancient cliff dwellings, and you'll be amazed by the rich history and unique architecture preserved in this World Heritage site.
Next on your list should be the Great Sand Dunes National Park and Preserve, a captivating landscape where you can experience the towering sand dunes and the mysterious vibe it possesses. Whether you choose to hike, sandboard, or simply soak in the beauty of the surroundings, this park will not disappoint.
From there, set your sights on the Rocky Mountain National Park, one of America's most iconic destinations. A playground for outdoor enthusiasts, the park features majestic mountains, serene lakes, and an abundance of wildlife-watching opportunities.
Lastly, venture to a neighboring state and visit Arches National Park in Utah. The stunning rock formations, natural arches, and vibrant red colors make this park a must-see during your trip.
To make the most of your adventure, you can purchase an America the Beautiful pass, granting unlimited access to all National Parks and other federal recreation sites. Remember to have a reliable map with you and plan stops along your route to rest, refuel, and enjoy local attractions.
In summary, this Colorado road trip takes you through a diverse range of landscapes and offers unforgettable experiences. Embark on this journey with enthusiasm and make memories that will last a lifetime!
Additional Activities and Experiences
Apart from the magnificent national parks near Montrose, Colorado, there are numerous other activities and experiences to be had, sure to excite any outdoor enthusiast.
The region's stunning canyons, such as the Black Canyon, offer not only breathtaking views but also a wide range of outdoor adventures.
Visitors can try their hand at rock climbing, camping, or hiking along the canyon trails. Wildlife viewing is a popular activity in these canyons, providing a glimpse into the diverse fauna of North America.
Camping enthusiasts won't be disappointed either, as the region offers several camping options, from well-equipped campgrounds to primitive sites amidst the wilderness. Embrace the spirit of exploration while reconnecting with nature in these serene settings.
The culture of Montrose and surrounding areas is deeply rooted in the great outdoors. For history buffs, there are plenty of monuments to visit, showcasing the rich past of the state and its people.
Telluride, a picturesque mountain town near Montrose, is another must-see destination, perfect for enjoying the local culture and participating in some of Colorado's best hiking and mountain biking.
As you can see, Montrose, Colorado and its surrounding areas are abundant with things to do and explore. From hiking to waterfalls, visiting monuments, or simply soaking in the beauty of North America's breathtaking canyons, there's a unique experience waiting for everyone in this outdoor paradise. So, pack your bags and embark on an unforgettable journey of adventure and discovery!