If you've been to Telluride, there is no part of you that ever wanted to leave. It is nestled in a spectacularly gorgeous box canyon surrounded by mountains capped with snow in the winter. With a stellar ski resort and top-tier backcountry skiing, it is constantly getting named as the best ski city in the country, and it's for all the right reasons. Sitting at 8,750 feet, Telluride gives avid and novice hikers some of the highest quality hikes in the US with an unforgettable backdrop while passing through nature's landscape. 
There is simply no other city quite like it here, there, or anywhere else. The hikes found on this list are some of the best hikes near Telluride, but also are just the tip of the iceberg. The experience of going to Telluride changes like the seasons. The winter will bring you back for skiing, the spring and fall for alpine climbs, and the summer for absolutely everything else.
Bear Creek Falls, Colorado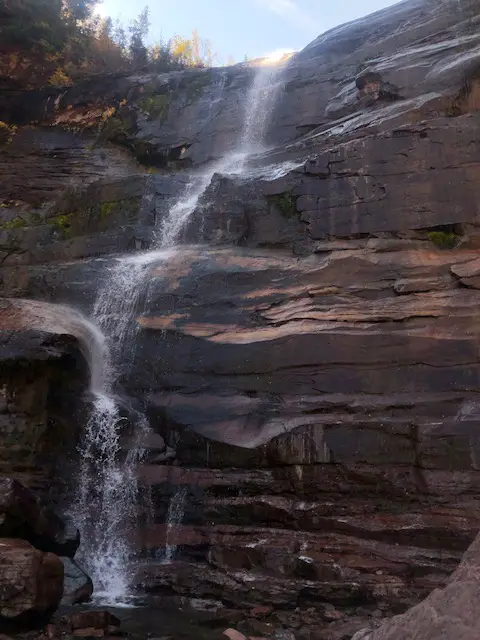 Start: Downtown Telluride, the trailhead is at the end of South Pine Street
Distance: 5.1 miles out and back
Difficulty: Moderate
Hike Time: 3 hours
Water: Readily available in streams
Dog Friendly: Absolutely, with a leash
Straight out of downtown Telluride brings visitors galore to the Bear Creek Falls Trail. Due to its easy access, it is one of the most popularly hiked trails in all of the Uncompahgre National Forest. As soon as you get out of Telluride's downtown, you will be surrounded by aspen and pine groves on a trail that takes you past one waterfall to eventually hit the main attraction, the 80-foot Bear Creek Falls. 
If you choose, continuing on from Bear Creek Falls will take you up to the Wasatch Trail. It will take you along the cliffs of Bear Creek Canyon that holds Telluride. This is a prime trail to understand why the San Miguel Conservation Foundation goes through so much effort to keep Telluride and its surrounding areas the pristine preserve that it is. 
Blue Lakes Trail, Colorado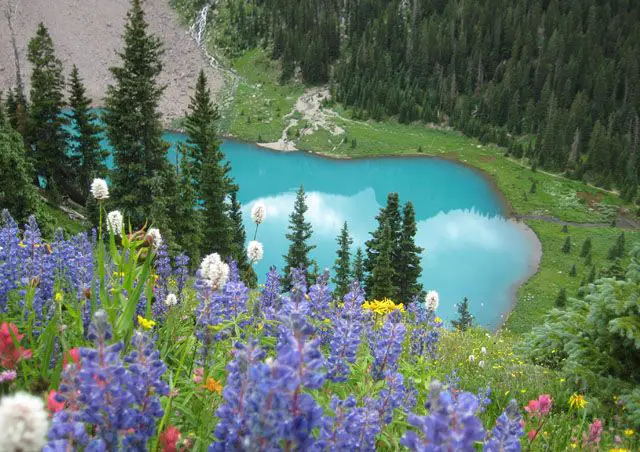 Start: Blue Lakes Trailhead (off Hwy 62 between Ridgway and Telluride)
Distance: 3 miles out and back to the first lake/13 miles out and back to summit Mt. Sneffels.
Difficulty: Difficult
Hike Time: 3.5 hours for the first lake. 11 hours for the summit.
Water: Readily available in streams
Dog Friendly: Yes, on leash.
The Blue Lakes Trail can be difficult, or it can be incredibly difficult. No matter what though, it will be one of the most beautiful and breathtaking hikes you can experience.
Hikers can choose to attempt a summit of Mt. Sneffels, which will be much closer to the end of incredibly difficult. The loose volcanic rock makes the last mile climb to the top, not for the faint-hearted but the views are hard to beat. 
Three lakes are spread across the length of the trail and hikes can be cut short for anyone. This trail is perfect for anyone that wants to see the landscape just outside of Telluride's borders and feels like challenging themselves at the same time.
Summit Mount Sneffels, Colorado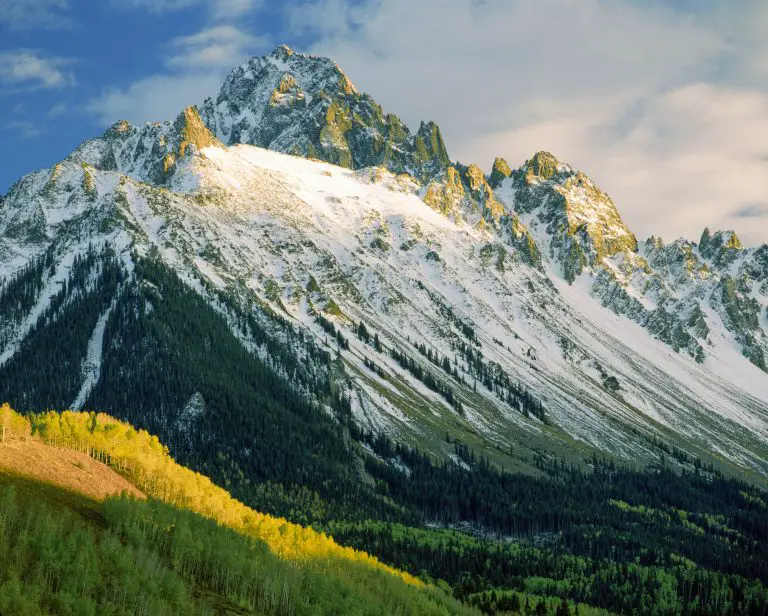 Start: Yankee Boy Basin, south scramble route
Distance: 6 -7 miles RT depending on parking
Difficulty: Difficult
Hike Time: 4-7 hours
Water: Near Trailhead and beginning of trail
Dog Friendly: Not recommended due to terrain
Getting to the peak of Mount Sneffels can be accessed by the Blue Lakes Trail, as mentioned previously, or through the "standard route" in Yankee Boy Basin. As it is one of the biggest and most prominent peaks in the area of Telluride, there are multiple ways to do the summit. While it is one of the most popular ways to go about summiting, it is also quite possibly the most difficult trail in the Telluride area. 
It's suggested to take on this trail via the counterclockwise route in order to use your fresh legs to hit the hardest elevation gain first. Depending on how high your vehicle can make it up the jeep road it can drastically shorten your trip. We recommend parking at the pit toilet area to refresh and easier vehicle maneuvering. The entire trail is at or above tree line so be prepared for exposure most of the day.
A good portion of the trail is ascending 2 large scree fields that take time to navigate both ascending and when descending. Be sure to take care not to kick rocks to those below. After the second scree field there is a "V" shaped notch that is worth concentrating on a little harder than other areas of the trail.  
From the top,  the view is unrivaled. Lizard Head, Wilson Peak, all the different ski areas, Dallas Peak, and Gilpin Peak are all easily picked out from atop Mount Sneffels. Looking directly south you can see the face of the Telluride Ski Resort.
Give yourself a few days in Telluride to accustom your body to the elevation, then mentally prepare yourself for a full day of arduous trekking that is definitely not recommended for beginners. 
Hope Lake Trail, Colorado
Start: 45 minutes south of Telluride at Lake Hope trailhead
Distance: 4.5 miles to Hope Lake and back, 5.9 to pass above lake and back
Difficulty: Moderate-Easy
Hike Time: 2-3 hours
Water: Readily available
Dog Friendly: Yes
The western skyline view from the Hope Lake hike is filled with 14ers and the magnificent colors of Vermillion Peak. Just a quick 45-minute jaunt south of Telluride is the Hope Lake Trail. It is an easy-moderate trail that is rather popular due to its majestic beauty. 
The high alpine lake only 2.25 miles up gives you stunning panoramic views of 13 and 14,000-foot mountains that make Colorado what it is. Once you have reached Hope Lake you can continue going another mile to reach the unnamed pass above the lake, giving an even higher altitude perspective of your surroundings. 
Pick a day of the week and you're sure to be in good company on the trail here. It has easy access to Telluride and isn't too demanding of a trip. 
Navajo Lake Trail, Colorado
Start: Navajo Lake Trailhead near Dolores, CO
Distance: 9.2 miles out and back 
Difficulty: Moderate
Hike Time: 4-5 hours
Water: Readily available in streams, but bring plenty of your own
Dog Friendly: Yes
Want to be surrounded by 14,000 foot peaks all around you? Then this is your trail.
About a two hour trip through the mountains will bring you to the Navajo Lake Trailhead. From here, you have a vast array of different hike options, with the trip up to Navajo Lake as the primary destination for day hikers. Many people use the lake as a basecamp in order to submit the two 14ers accessible from this trail area. 
Almost half of the elevation gain happens in .9 miles of the trail about four miles into the hike. Be prepared to hit steep climbs near the middle of your hike, meaning don't forget the Snickers bars in the car this time. 
El Diente (14,159 ft), Wilson Peak (14,017 ft), and Gladstone Peak (13,913 ft) all surround the basin that Navajo lake sits in, making for a dwarfing experience and a very humbling place to be in. The end of the hike for most will be at the lake, but make this a campsite and tackle one of the surrounding peaks the next day if you are up to the challenge.
Eat at: Telluride has an amazing variety of restaurants that have to survive being in a tourist town. Meaning if they aren't good then they won't make for long. Our favorite is eating at Smugglers Brewery. It's close to the Gondola and has outdoor seating in the summer. 
Drink At: Just north of town is a hidden gem, Telluride Brewing Company. Famous for it's Facedown Brown TBC has a great selection of craft beer. 
Shop at: Downtown telluride. Even though there are plenty of shops at Mountain Village at the base of the Telluride Ski Resort, you simply can't beat the views of walking down the street with massive mountains surrounding you.
Enjoy Some Space: At the south end of town is the Town Park, which is famous for hosing the Blue and Brews festival each year. Its an excellent place to the let kids run around and relax while you enjoy the views.
Camp At: There are some excellent camping opportunities within a short drive of Telluride. For a well maintained campground be sure to check out Woods Lake. For anyone looking for dispersed camping near a high mountain look into Alta Lakes. Just make sure you have a 4-wheel drive vehicle to get Alta Lakes.
There aren't enough words in the English language to describe the beauty of Telluride. Walking directly from a restaurant downtown into the woods and up to a huge waterfall is easily done any day of the week. Each one of these trails makes the "best of" list, but the same list for the "worst of" would be worth going and ticking off the list. Nothing absent of beauty can be found in this down to earth, in the clouds, box canyon dwelling city.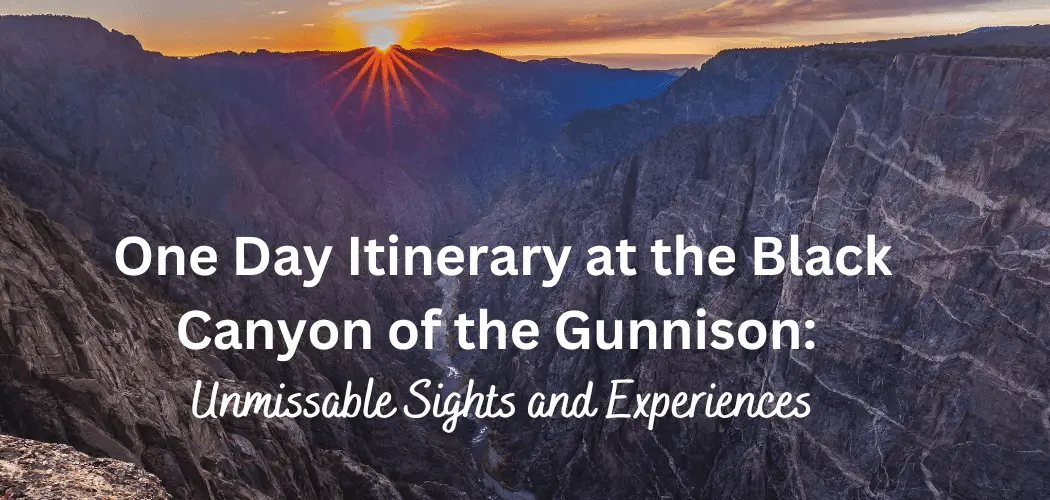 The Black Canyon of the Gunnison National Park, located in Montrose, Colorado, offers breathtaking views and unique geographical features that attract visitors worldwide. This awe-inspiring …