Summertime is fast approaching, and you want to find a vacation location that has something for everyone. With over 2.5 million acres of protected forest surrounding Pagosa Springs, it will take you a lifetime to explore everything it offers. Pagosa Springs is a hotspot for outdoor adventurers and offers a variety of activities for people of all interests year-round.  
If you are looking for a new vacation spot this summer, continue reading for ideas on how to have the maximum amount of fun in Pagosa Springs, Colorado.
What's So Great About Pagosa Springs? 
If you are not from Colorado or the closely surrounding areas, you may not know about Pagosa Springs. You may be wondering why you should go there and what fun things you can do while visiting. Get comfortable because you are about to get schooled on the many activities that keep people coming back summer after summer.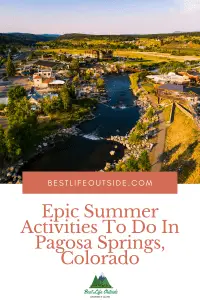 What to Expect When Visiting Pagosa Springs
When traveling to Pagosa Springs for some summertime fun, you can expect to experience any of the following things and possibly more. 
Simmer Your Stress Away
If you need some relaxation and healing, then taking a soak in the hot springs should be what you need to melt your stress and aid your body's recovery. Enjoy picturesque views as you simmer in the hot, steamy water and feel your worries disappear. 
The hot springs have different pools that are at different temperatures to soothe everyone's needs, including the lobster pot which as you can guess can get quite warm. There are larger pools for families to enjoy the springs as well as smaller and more intimate pools to share with a loved one. Just make sure to keep the clothes on as suits are required at these hot springs.
They've done a great job on the springs and this is consistently rated as one of the best hot springs in all of colorado.
4×4 Off-Road Experiences
If you like to take your adventuring off the beaten path, 4×4 rentals are available to see where your curiosity takes you. There are over 10 facilities that rent 4×4 equipment, so you should have no trouble finding one right for you. 
Pagosa Springs is surrounded by mountains and ample off-road opportunities. Check out Pagosa Adventure Rentals for advice on where to go and what type of rentals are best.
Water Activities
Summertime is not complete without some water action. Whether you prefer a motorboat or a quiet kayak, or a paddleboard ride, you will not be disappointed with the beautiful waters that surround the area. 
White water rafting is another great activity for those who prefer a little more adrenaline in their activities. Colorado is well known for its amazing rafting experiences. Whether you want a wild whitewater experience or a calm floating trip, there is something here for you. 
Get Your Brew On
If you enjoy the flavor of an excellent hand-crafted brew, you will be happy to know you can visit multiple breweries and see what the local flavor has to offer. 
Some of our favorites include:
Communing With Nature
Of course, when visiting Pagosa Springs, you will need a place to lay your head at night. Consider trying out one of the many campgrounds in the area. Often campgrounds offer additional activities and services to enhance your stay further. 
Some of the more popular campgrounds in the area include:
Pagosa Riverside Campground – This is a full-service RV campground located just 2 miles from the center of Pagosa Springs. This is perfect for those that want to camp in their trailer or RV but still enjoy walking or a short drive to town.
East Fork Campground – This campground is your more traditional campground. It has vault toilets, fire pits, and is an angler's dream.
Catch of the Day
Don't feel left out if you like to fish. There are plenty of places for avid fishermen and women to drop their lines or cast a fly. Open waters and winding rivers offer a variety of opportunities for anyone trying to catch their supper the old-fashioned way. 
Pagosa Springs has amazing access to the world-famous San Juan River as well as many other options. We recommend stopping in to our favorite fly fishing shop, Let it Fly, to get the low down on what's working. If you are new to fly fishing you can also book private guided trips to make sure that you catch a big one.
Hiking and Mountain Biking
This area is well known for its beautiful mountain trails. Whether on foot or cycling, there are numerous paths for people of all experience levels to enjoy. If you are not comfortable going out on your own, guided tours are available. 
For mountain biking, we recommend checking out the Turkey Springs Trail System. It's got a variety of different terrain and you can loop together a great ride with the whole family of different skill levels.
Horseback Riding
There is nothing better than seeing the beautiful countryside while sitting on the back of a well-trained horse. If you want a genuine western experience that takes you through some of the most beautiful sights in the country, you won't be disappointed. 
Up, Up and Away!
If you want to see Pagosa Springs from a bird's perspective, wait no longer and book yourself a ride on a hot air balloon! Riding in a hot air balloon is a super cool experience, but you will be able to take the most beautiful photographs of the area from an angle that most people only dream of.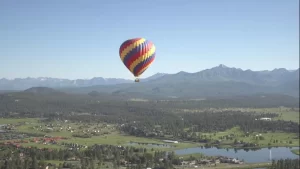 Check out Pagosa Views for different packages, times, and packages.
Cultural Experiences
For art and history lovers, there is more to Pagosa Springs than outdoor activities for art and history lovers. Multiple galleries and museums are available, many displaying the history and artwork of the Puebloans. 
Sight-Seeing and Scenic Railway Tours
Enjoy guided tours of the area that highlight the most popular and historical places in the area. Take the family on a historical train ride along railways with views to take your breath away if you want to step back into time. 
Wildlife Parks
For a truly educational and interactive experience, you and your family can visit any of the wildlife parks in the area. They feature animals that are local and native to the site and keep them thriving. These parks strive to educate visitors on the importance of co-existing with wildlife and preserving the current population. 
Wolfe Creek Pass to Treasure Falls
One of the most popular natural attractions in this area is Wolfe Creek Pass which will take you to Treasure Falls. A well-groomed path will lead you to the 100-foot falls, where you can enjoy nature's beauty and peace.
The hike to the falls is fairly easy and can be completed in around 30 minutes depending upon your level of physical fitness.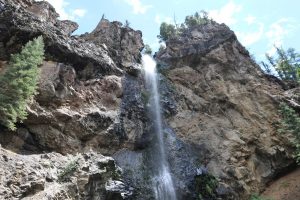 No Shortage of Fun Activities in Pagosa Springs
When vacationing in Pagosa Springs you will never be bored or feel like there is nothing to do. This area has activities and events to keep everyone busy no matter what time of year it is. If you are planning a summer trip and want to have some epic fun, don't pass up Pagosa Springs! 
Sources: 
(https://www.colorado.com/articles/10-things-do-pagosa-springs-summer), 
(https://visitpagosasprings.com/things-to-do-activities), 
(https://www.tripadvisor.com/Attractions-g33584-Activities-Pagosa_Springs_Colorado.html), 
(http://pagosa.com/adventureguide/summer/), 
(https://dayhikesneardenver.com/treasure-falls-near-pagosa-springs-colorado/), 
(https://www.google.com/search?q=four-by-four%20rentals%20in%20Pagosa%20Springs%20Colorado&gs_ivs=1&tbs=lf:1,lf_ui:2&tbm=lcl&sxsrf=ALiCzsZZlzCpaZeqjbhgYlR1Rrj7kIba5A:1653266566601&rflfq=1&num=10&rldimm=3800892240547730178&lqi=Ci9mb3VyLWJ5LWZvdXIgcmVudGFscyBpbiBQYWdvc2EgU3ByaW5ncyBDb2xvcmFkb0jzxcrin66AgAhaSxAAEAEQAxAFEAYQBxgAGAIYBRgGGAciL2ZvdXIgYnkgZm91ciByZW50YWxzIGluIHBhZ29zYSBzcHJpbmdzIGNvbG9yYWRvKgIIA5IBC2plZXBfZGVhbGVymgEjQ2haRFNVaE5NRzluUzBWSlEwRm5TVVJ4TVRSeVYyRjNFQUWqARwQASoYIhRmb3VyIGJ5IGZvdXIgcmVudGFscygA&ved=2ahUKEwjHkK_zsfT3AhUPmGoFHds8A2gQvS56BAgIEAE&sa=X&rlst=f#rlfi=hd:;si:3800892240547730178,l,Ci9mb3VyLWJ5LWZvdXIgcmVudGFscyBpbiBQYWdvc2EgU3ByaW5ncyBDb2xvcmFkb0jzxcrin66AgAhaSxAAEAEQAxAFEAYQBxgAGAIYBRgGGAciL2ZvdXIgYnkgZm91ciByZW50YWxzIGluIHBhZ29zYSBzcHJpbmdzIGNvbG9yYWRvKgIIA5IBC2plZXBfZGVhbGVymgEjQ2haRFNVaE5NRzluUzBWSlEwRm5TVVJ4TVRSeVYyRjNFQUWqARwQASoYIhRmb3VyIGJ5IGZvdXIgcmVudGFscygA;mv:[[37.8615791,-106.8787577],[37.1175187,-107.57969840000001]];tbs:lrf:!1m4!1u3!2m2!3m1!1e1!1m4!1u2!2m2!2m1!1e1!2m1!1e2!2m1!1e3!3sIAE,lf:1,lf_ui:2),