It is no secret that Colorado's natural beauty has attracted people from all over the globe. With so much to do and see, it can be difficult to decide where to begin. Cortez is a hot spot for archeology fanatics, hikers, and campers. This may have you wondering where the best campgrounds are near Cortez and what the area offers. 
When visiting Cortez, you will have the chance to experience breathtaking scenery, explore ancient cliff dwellings, and see many other fascinating historical and archeological sites. There are multitudes of hiking trails for all experience levels or guided tours for those who prefer to stay on the beaten path.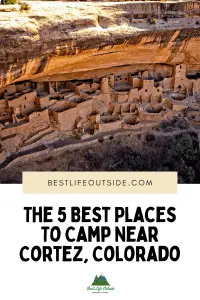 To learn more about how you can maximize your experience while visiting the Cortez area, continue reading for a list of the most popular campgrounds that keep people coming back year after year. 
Top 5 Campground Experiences Near Cortez
This list of popular campground destinations should make planning your camping trip easier. You can see what the area offers and why people are so eager to come back. 
For those who prefer a truly off-grid camping experience, the Canyons of the Ancients allows people to camp off the side of certain dirt roads which are listed on the website. 
There are, of course, certain restrictions in place, such as you must be a minimum of 300 feet from any historical site and you must be on a road that is deemed acceptable for camping. When camping off-road style, it is important that you follow a strict carry-in, carry-out policy to ensure that the natural habitats are preserved and can remain beautiful for years to come.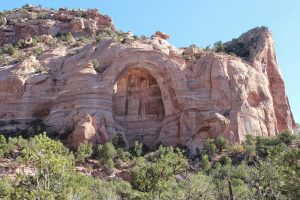 Leaving trash and human waste behind will ruin the beautiful scenery as well as harm the environment. If people are not respectful while camping the BLM will have to restrict this style of camping. So do your part and take out whatever you bring in.
Let's face it, and Colorado is not famous solely for its breathtaking views and amazing outdoor experiences. Many people flock to this state for the simple reason that they can legally enjoy cannabis. 
If you are one of the many people who like to explore what nature has to offer while relaxing your mind and body with the help of your favorite herbal remedy then Camp Kush is the place for you. This is a place for adults to relax and enjoy some of the finer things in life as you stay in a campground designed for the cannabis lover. 
Bring your pets along if you wish, and enjoy what Colorado offers. Camp Kush offers different styles of campsites depending upon your preferences. If you are a people person there is a community kitchen where you can prepare your food and gather with like-minded campers. 
Camp Kush has so much to offer it is best to visit its website to get the full picture. You can rest assured you are in for a camping experience that you will never forget, whether you prefer to rough it or camp in luxury. 
Other Related Topics:
For those who want to be surrounded by a lush forest of trees with a picturesque river flowing, look no further than the Dolores River Campground. 
Get your waders and your fishing gear as this is a location that no true fisherman can resist. Head on down to the river for a day of fly fishing or visit the on-site pond for some rod and reel time.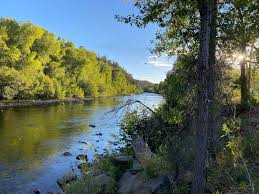 Enjoy your spare time in the recreation hall, which can be reserved for private functions. Dolores RiverCcampground has all the comforts of home, including:
A general store for much-needed essentials, snacks, and souvenirs
Large bathrooms
Laundry facilities
For those who can't leave their pets with a sitter, you can enjoy the dog walk and nature trail through Bullwinkle Woods. Throughout the season, there are different events and fun social gatherings to enjoy. 
Visit their website for more information and scheduling. This is a family-owned and operated campground that will have you coming back season after season. 
Owned by the Bureau of Land Management the Mesa Verde National Park Boundary offers some of the most fantastic views and campsites in the area. Whether you are in a camper, a tent, or your van, you will find a spot that works for your needs. It is guaranteed that the views will not disappoint.
There are over 267 campsites in the Mesa Verde National Park!
Campsites can range from fully hooked-up to completely off-grid depending upon your style. Visit the website for more information and options and get your adventure started. 
If camping in a beautifully preserved canyon with views that will leave you speechless sounds like your cup of tea, then Morefield campground needs to be on your list of campgrounds to visit. 
You will see fields of wildflowers and wildlife happily grazing surrounding over 250 campsites. There is plenty of space for everyone to enjoy the natural wonders that surround the campground. Every campsite has a grill so you can enjoy your favorite food whenever the mood strikes.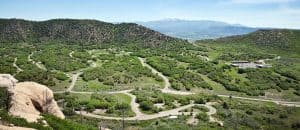 The campground is conveniently located a little over four miles from the entrance of the amazing Mesa Verde National Park. Campers have plenty of options for hiking, guided bus tours, and more.
After you have exhausted your curiosity for the day, it is time to relax under the endless stars before slipping off to dreamland and on to your next day of adventuring. 
Bring your appetite in the morning as you can enjoy a plentiful pancake breakfast and browse the gift shop while your food settles before setting off on your next expedition.
Other Fun Activities to Do Around Cortez, CO
Cortez is a great place to explore the outdoors. There are many hiking and biking trails in the area, as well as several national parks and monuments to visit.
In town, there are also several museums and historical sites to check out. And, of course, don't forget to try the local food and drink. There are many great restaurants and breweries in Cortez.
Mesa Verde National Park
Mesa Verde National Park is a must-see for anyone visiting Cortez. The park is home to many ancient ruins, as well as stunning views of the surrounding area.
There are several guided tours available, as well as hiking and camping opportunities.
Be sure to bring your camera – you'll want to capture the memories of your visit to Mesa Verde. The park and the history of the area are truly spectacular. The cliff dwellings in the canyons will leave you in awe.
Mountain Bike Phil's World
Phil's World is a great place to go mountain biking near Cortez. The trails are well-marked, and there is something for everyone, from beginner to expert. The scenery is beautiful, and the views of the surrounding area are stunning.
Phil's World is famous for the fun and flowy terrain people travel from all over to ride. With nearly 27 miles of single-track mountain bike trails, you'll be glad you brought your bike and thinking of when you can return again.
Crow Canyon Archaeological Center
The Crow Canyon Archaeological Center is a great place to learn about the history and culture of the area. The center offers many different tours and programs, as well as a museum with exhibits on the archaeology of the region.
There are also many opportunities to learn more about the Native American tribes and cultures that inhabited the area.
Eat and Drink in Cortez
After a full day of playing in the outdoors, we recommend stopping for a cold drink and a bite to eat. Some of of personal favorite include the Wild Edge Brewing Company for local beer and refreshing drinks.
For replenishing your energy we are a sucker for good and authentic Mexican food. We always try to stop by La Casita De Cortez for their delicious food and they also have great customer service.
Perfect Bucket List Destination
If you are working on a bucket list, we highly recommend adding Cortez Colorado and the surrounding areas to your itinerary. When visiting the historical sites you can feel the energy of those who came before you.
This is a sacred area that will keep you coming back for new exploration adventures year after year. Whether taking an adult trip or bringing the whole fam, the camping and adventures will keep everyone entertained. 
Sources:
(https://www.uncovercolorado.com/camping-near-cortez-dolores-mancos-co/), 
(https://www.visitmesaverde.com/lodging-camping/morefield-campground/), 
(https://www.tripadvisor.com/Hotel_Review-g33391-d1644528-Reviews-Dolores_River_Campground_and_Cabins-Dolores_Colorado.html), 
(https://www.campkush4corners.com/), 
(https://www.blm.gov/programs/national-conservation-lands/colorado/canyons-of-the-ancients), 
(https://www.uncovercolorado.com/national-lands/canyons-ancients-national-monument/), 
(https://rjourney.com/locations/co/dolores/dolores-river-campground-and-cabins/?type=all),