Whitewater rafting is an exhilarating way to enjoy the great outdoors. From the beautiful scenery and the light mist of water on your face to the adrenaline coursing through your veins, it's a beloved sport that anyone can enjoy- including your favorite four-legged friend.
While your dog can have as much fun as you out on the water, a few considerations do have to be kept in mind.
Here we share our top tips on helping you gear up and prepare for a memorable and safe day out on the rapids.
Humans aren't the only ones who need to wear a life preserver while out on the water.
Doggy flotation devices, or life jackets, will help your dog stay afloat in case they go overboard. However, don't wait until the day of your outing to try it on your dog for the first time.
Instead, introduce it several times beforehand with the goal in mind of getting your dog used to having it on. If they show discomfort or aggravation, take it off and try again another day.
When it comes to doggy floatation devices, there are a few things to look for with maximum safety in mind, such as a D-ring for a leash and a grip handle on the back, a brightly colored jacket, or one with a reflective stripe for easy visibility, and ensure it's an actual life jacket not a vest for maximum buoyancy. 
The handle on the back of the jacket is excellent for helping your dog get back onboard the raft and gives you something to grab ahold of if your dog has trouble making its way back to you.
*Important note: never leash your dog to the boat. Only use D-ring during breaks if needed.
Bring Dog Friendly food (and treats!)
Not only will being out in the sun and on the water help your dog work up an appetite, but you'll also likely need a stockpile of treats to coax your dog on the raft for the first time.
Give yourself plenty of extra time on this first outing and take it slow.
Allow your dog time to get comfortable on their own terms and if need be, bribe them with some treats.
Trust us, you're pups is going to have to adjust to the feeling of the bottom of the boat. 
You'll also need to bring along an abundance of patience, especially if your dog isn't used to being around water.
Reward your dog often with their favorite treat for ideal behavior such as putting on their floatation device and sitting calmly on the raft. Don't forget to bring some regular kibble for those rest stops.
Your dog won't be able to move around too much while on the water, and they can get pretty restless if they don't have a chance to burn off some of their boundless energy.
It's a good idea to play a game of fetch with your pup before you take off for the day and during breaks.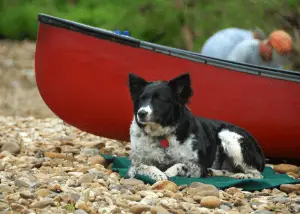 Your dog will also need to use the bathroom and eat and drink, so plan for ample break time for your dog.
The more time you spend on breaks, the more successful your whitewater rafting trip will be.
Take it Easy When the Dog Goes Rafting
The first time rafting for your dog should be a short and easy trip.
This is a time just to get your dog's feet wet -pardon the pun- and allow them to become accustomed to the raft and water.
This should not be an all-day excursion; there will be time for that later. Rafting is not for everyone, nor will it be for every dog. 
Take cues from your dog and pay attention to their mood. If the first time out goes smoothly, you can slowly start to increase the length of your trips and the difficulty of the rapids.
Keep in mind that Class 3 and 4 rapids are about as difficult as you should go with your dog in tow. Anything above that would be too dangerous and could result in injury.
Account for your dog's nails
Your air-filled raft and the sharp nails of your dog will likely prove not to be compatible.
Keeping your dog's toenails clipped regularly will help keep your raft puncture free, and for smaller dogs, this may be the only precaution you need to take.
Larger dogs will need to wear booties, especially on the back feet, as the back nails are usually the ones to do the most damage.
This is where the bulk of your dog's weight rests, which can be enough to puncture even the sturdiest of raft material.
These booties will probably come in handy along the river's banks during breaks, as well as sharp rocks and discarded fishing hooks can damage the delicate pads on the bottom of your dog's feet. 
Provide plenty of drinking water
As always, make sure you have plenty of clean drinking water for your dog. Unless the water you're rafting on is suitable for drinking, bring along some bottled water (and a dish).
Being out in the sun for extended periods may mean they need even more water than normal.
A good practice to get into is providing water during rest breaks to ensure your companion stays well hydrated.
Plan ahead for time spent on the raft
So you've let your dog exercise as much as possible, and you've done your homework to get them accustomed to the life jacket; now, what do you do with them while onboard?
It can be irritating if your dog is constantly running around the raft as well as distracting.
Bring along a pad for your dog to lie on that gives them something to grip with their paws. They will likely prefer this texture to the slickness of the raft and hopefully be encouraged to claim this as their spot.
Once the newness of the pad wears off, you can give them one of their favorite rawhide bones to chew on or a favorite blanket to encourage them to drift off to sleep.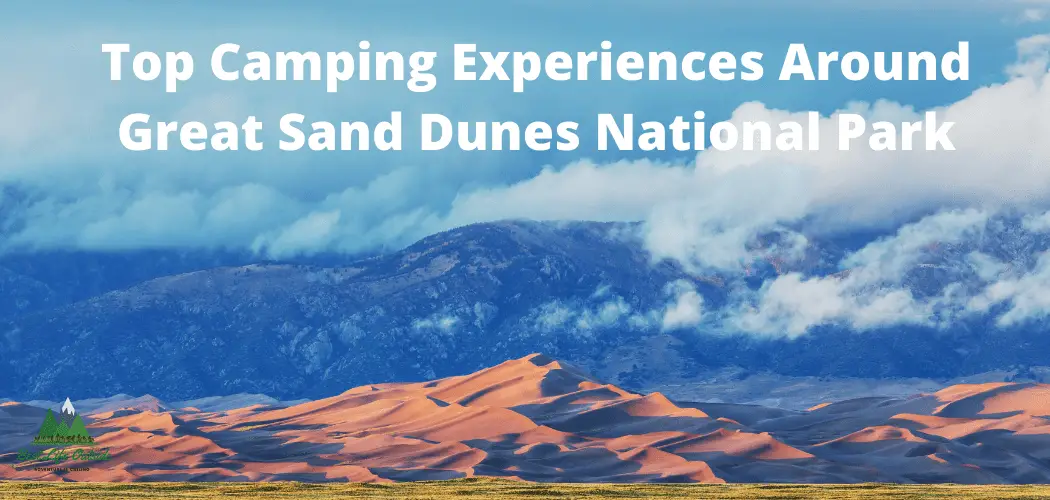 Many people think to see breathtaking wonders they must travel abroad when all they really need to do is explore the land in front of …