You'd be hard-pressed to find a young kid who doesn't enjoy being out on the water. What better way to create memories than trying something new such as rafting with your child.
While this can be a safe and fun-filled day for your family, you will need to put a little extra thought into planning and preparing for this outing.
Is it safe to raft with young kids?
Rafting is safe for young kids, but only when your homework has been done and proper precautions have been taken. You know your child better than anyone and that includes how they will do sitting on a raft for extended periods of time.
While it's agreed by most experts that babies are too young to go on a rafting excursion, there's not really a clear-cut answer on the minimum age a child should be before they head out on the water.
The maturity level of the child as well as the ability to listen and follow directions should be taken into account.
Of course, if booking a rafting excursion with a club or organization, you will have to follow their age guidelines so always consult with them ahead of time. Nothing can ruin a fun-filled day more than not being able to go at all due to age restrictions.
Another factor in the safety of rafting with young kids is how calm the water is and what season you are rafting in.
Typically, certain times of year will be calmer than others though not always. Late summer and fall typically tend to be pretty mild with more tumultuous waters occurring in the springtime.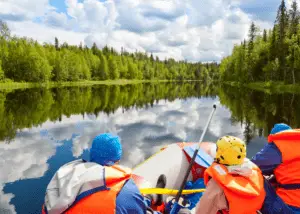 Nature is not black and white and things are always changing, such as water levels which will undoubtedly affect the roughness of the rapids. 
Proper fitting life jackets should be worn on the raft at all times. Even if your child is an accomplished swimmer, the unpredictable currents of moving water can quickly tire them out in the event they go overboard.
Teach them not to panic if they do end up in the water and that they need to rest with noses and toes pointing upwards until someone can get them back on the raft. 
Choosing a raft trip for young kids
With young kids, it's best to start on a flat river or Level 1 or Level 2 rapids. Get them accustomed to being on the raft, how to behave, and what to expect.
Encourage their love for the outdoors while teaching them to respect the water. This is not the time of your child's life for action-packed, adrenaline junkie rapids.
That can come later when they've mastered rafting in general and once they're the appropriate age or maturity level. 
What to bring rafting for young kids
Kids generally don't enjoy being wet unless they're actually in the water. Bring along a change of clothes and plenty of towels.
Your child will likely get cold at some point out of the water with the breeze in the air even on warm summer days.
A dry towel or blanket to cover up with can make all the difference.
Also, make sure to pack plenty of sunscreen and reapply often. When you are out on the water sometimes you don't realize how much sun you're getting which can lead to some nasty burns later on.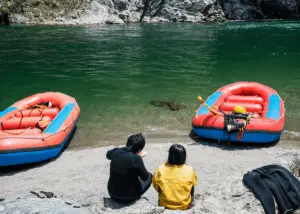 A pair or two of cheap sunglasses is also a good idea especially if your child's eyes tend to be sensitive to the sun as the reflective nature of the water can cause a glare.
Make sure your child stays well hydrated and bring along plenty of water and snacks. Hungry children can quickly cause your fun outing to derail.
You may be limited with space on a raft but protein bars, bananas or apples, peanut butter crackers, or small, non-refrigerated sandwiches are some good options. 
Tips to Make it Fun and Safe
1.) Prepare, prepare, prepare
Prepare your children as much as possible for what lies ahead. Explain the dangers of the water while emphasizing the ability to have a safe trip when the rules are followed.
So much in a child's life is unknown and they like to know what to expect. Sometimes it's easy to forget how scary the unknown can be.
Pull up Youtube videos to show them or whatever you can think of to help them be prepared as possible. 
2.)Plan Frequent Breaks
With young children in tow, you will have to stop much more frequently than you would for an adults-only trip. Though some children may be able to hang in there, they will have a much more enjoyable time if they are allowed ample time to get the wiggles out, use the potty, and fill their bellies. 
3.) Special Treats
Speaking of food, try bringing some special snacks along that your kids don't usually get to eat. Not only will they enjoy the indulgence, but it will also help break up the monotony of floating along the river.
Kids have very short attention spans. What may seem like a peaceful float to us can quickly lose the interest of your child. 
4.) Don't Expect Too Much
This brings us to our next point, know ahead of time that your trip may not be a long one. Whether due to your child's temperament or how quickly they tire out, you may have to call it a day before you had planned.  And that's okay.
We are simply introducing them to the world of water sports and trying to develop a love of being out on the water.
Focus on fun. If you have to deviate from the plans, that's okay too.
Conclusion
Rafting on the water can create lifelong memories for you and your family. When introduced to rafting at a young age, you are cultivating the interest in the outdoors for your child which is a lifelong gift for them to enjoy. Water excursions are also a relatively cheap way to have some nice, wholesome family fun regardless of your age. 
Sources used:
https://www.tarasportrafting.com/blog/rafting-children-safe-and-what-age-limit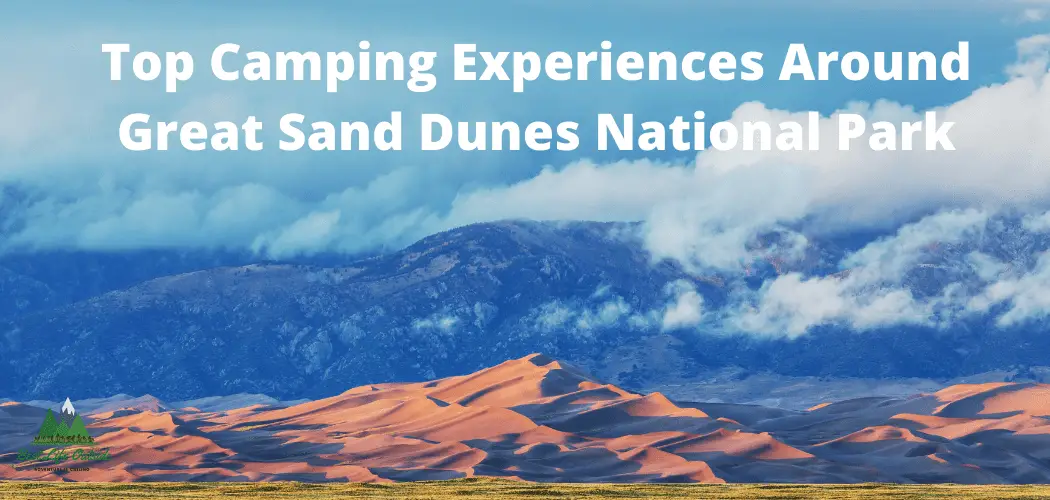 Many people think to see breathtaking wonders they must travel abroad when all they really need to do is explore the land in front of …