It's easy to glamorize camping in the wilderness. Waking up to a nice fire, brewing coffee over an open flame, and enjoying the fresh scents of nature are all very appealing.
Unfortunately, campers often forget to plan for one very important thing when heading off the grid… personal hygiene. 
All the fresh air and forest scents might be hard to smell over your own or, even worse, someone else's stinky body odor. It might be time to consider a camping shower for your sanity and for your companions.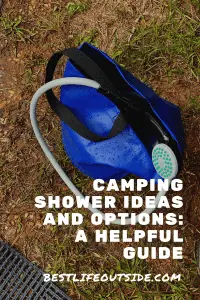 If you're here, you're already planning for a clean as can be a camping experience. We've got all the tips and handy supplies you'll need to keep up with personal hygiene in any camping situation.
How Often Do I Need to Shower While Camping?
This isn't a one size fits all question. It depends on your body, the conditions where you're camping, and even the clothing you choose.  
I prefer showering every day, which seems to be a popular opinion. But, when conserving water is a concern, it's not always possible.
So ask yourself, "Is a full shower every day necessary?" 
If you're camping near public showers, great! Shower away! If you're heading a little further off the grid, you might not have unlimited access to water. If that's the case, you'll need to keep showering to a minimum. 
Skipping a day or two between showers might sound like a stretch, but we've got some tips to keep you smelling fresh in the meantime.
How to Stay Fresh Between Showers
Option 1: Sponge Baths
I know you're picturing an uncomfortable hospital situation right now, but a sponge bath is super convenient while you're camping. 
Warm a small pot of water on a camping stove. 

Apply a couple of drops of eco-friendly soap to a quick-drying loofah or silicone shower brush after dipping it in warm water. 

We recommend

Dr. Bronner's

Pure-Castile Liquid Soap. It's biodegradable and multi-purpose. You can use it to clean your face, body, hair, laundry, pets, and even dishes! The peppermint scent is a house favorite around here. 

I love taking these

soft silicone shower

brushes on camping trips. They are quick-drying and provide great exfoliation, too! 

Cleanse one area of the body at a time, and rinse after. 
Option 2: Biodegradable Cleansing Wipes
Warming up water and rinsing after a sponge bath might sound like a hassle. If you'd prefer a quicker wash up between showers, these SURVIVEWARE Biodegradable Wet Wipes are a great option. 
Multi-purpose is a must for camping, and these can be used on your face and body. You can even use them after bathroom breaks. They are unscented, alcohol-free, and start to decompose after just 28 days if buried in the ground. 
Pro-Tip
Sponge baths and cleansing wipes take care of your body, but if you have long hair, you'll probably want a way to clean that, too. 
Dry shampoo is an excellent option. My current favorite is Act+Acre Plant-Based Dry Shampoo. It's unscented and completely natural, making it perfect for camping. 
Sponge baths, cleansing wipes, and dry shampoo can only get you so far. If you're camping for more than a weekend, you'll need to shower or bathe at some point. 
So, what's the best way to shower in the wilderness? You'll be surprised to find how many options are out there.
Option 1: Take a Dip
Camping near a fresh water source? Springs, creeks, rivers, and lakes are all great ways for a quick rinse. Just remember to leave the soap packed away. While Dr. Bronner's and others like it are biodegradable, it's always best to keep soaps and cleaners out of natural waterways. 
Unless you're camping in an RV with a full shower set-up, you're probably thinking a luxury shower experience is out of the question. 
Luxury might be a strong word, but with the right portable propane water heater and shower pump, it's not too far off. 
The Hike Crew is an all-in-one water heater and pumps with adjustable heat settings up to 125 degrees Fahrenheit. It even features 3 adjustable spray patterns. Hook it up to a small propane tank for ultimate portability or plug it into a 12V Cigarette lighter or AC/DC adapter for on-the-go convenience.
Looking for something a little more reasonably priced? This Helio Portable Pressure Camp Shower is perfect for the camper looking for a no-nonsense, easy-to-use, and super portable shower. 
The simple design comes in two sizes, holding 11 liters or 22 liters. While it doesn't auto-heat your water, a warm shower is still possible. Simply fill it in the morning and leave it in the sun throughout the day or fill it directly with warm water heated on your camp stove. 
My favorite part? The water pressure! No propane tanks or plugs are needed. The simple foot pump provides 5-7 minutes of water pressure. 
This low-priced option is brilliant in its simplicity. The Sportneer Shower Bag holds 5 gallons of water and uses solar power to heat water to a toasty 113 degrees Fahrenheit in just 3 hours of full sun exposure. 
The hanging design lets gravity do all the work, and the small shower head is great for showering, hand washing, and even dishes while camping. 
The Perfect Camping Shower Set-Up
You've got the gear, but what about the set-up? Choosing the right spot to set your camping shower up is vital. Some things to consider: 
Privacy

Safety

Environmental factors
Privacy 
For the ultimate privacy, we recommend a shower tent. Something like the Texsport Instant Portable Outdoor Camping Shower is easy to set up and provides privacy and space to shower and change. This model even has a built-in 5-gallon shower bag, hanging mesh storage, and removable towel bar. 
Safety & Environmental Factors
To ensure your safety and to keep waterways clear, it's important to set up at least 200 feet from camp and 200 feet from any water, including lakes, rivers, creeks, and springs. 
Soap runoff can be harmful to plants and animals in and around water sources. It's best to keep all soap out of the waterways. 
You'll also want to keep your campsite dry and ensure that you're water isn't running into any electrical items you might have set up around camp.
Other things to Consider
Depending on where you are, water could be scarce. Always check for clean water sources ahead of time. If it looks like water will be hard to access, you'll need to take your own with you. 
Drinking water should always be a top priority. Make sure you have ample drinking water for each person.
A good rule of thumb is at least half a gallon of water per person, per day.
Keep in mind, you'll need more if you'll be exerting yourself hiking or during hotter times of the year. 
You'll also need enough water for showering. This WaterPrepared 35 Gallon Water Storage Tank holds 35 gallons of water and is even safe to carry extra drinking water. 
Conclusion
Being off the grid doesn't mean you should start smelling like a wild animal. With the right gear and supplies, you can wash that stink right off. Just remember, choose eco-friendly materials and conserve as much water as you can by stretching shower days with sponge baths or cleansing wipes.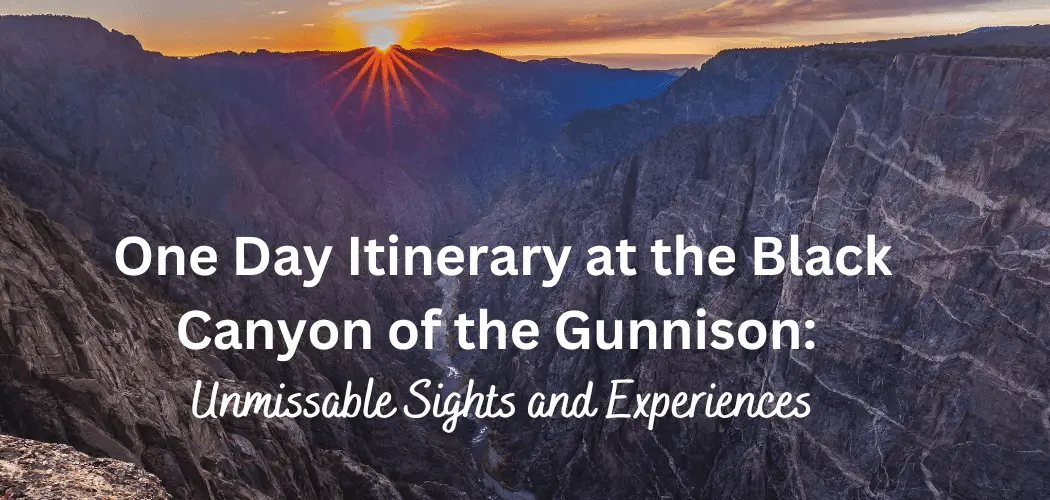 The Black Canyon of the Gunnison National Park, located in Montrose, Colorado, offers breathtaking views and unique geographical features that attract visitors worldwide. This awe-inspiring ...