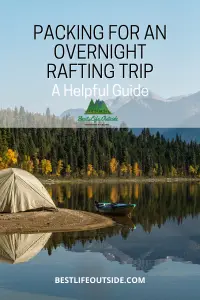 If you love rafting and camping, then you will love an overnight rafting trip. Enjoy a night of sleeping on the river bank with a group of people as crazy and adventurous as you. 
There is nothing better than drifting off to the sound of the river running accompanied by the midnight sounds of nocturnal creatures. 
If you've never taken an overnight rafting trip, you may be wondering what you should pack to stay comfortable, safe, and happy while on your voyage. Packing for such a trip can be overwhelming if you are not experienced in river rafting excursions. 
This article will give helpful information on what to bring, as well as what not to bring, on an overnight rafting trip.
What to Pack for an Overnight Rafting Trip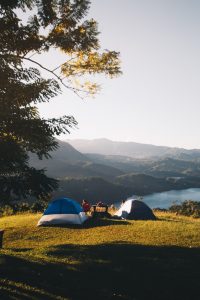 The key to packing for any trip is to stick to the essentials. The last thing you want to do is overpack. This is especially true for an overnight rafting trip. You will have limited space for your gear, so it's important to be selective when choosing what to bring on your trip. 
You also have the added challenge of keeping certain items dry, which can be difficult when you are on any kind of water expedition. The following list is meant to give you the basic items that you should take on an overnight rafting trip. 
Basic toiletries:

Dr.Bronner's™ Soap

can be used to wash your body, your dishes, your teeth, your laundry, and anything else you can think of. It is a great space saver and safe for the environment.

Biodegradable toilet paper and toilet system

Bug spray

Camp chairs/stools and table* (a luxury item, can always pull up a log or nice rock if you don't want the added weight) 

Camping knives

Cast iron skillet

Chapstick

Cooking supplies

Coolers

Firepan

First Aid Kit

Games*

GPS and waterproof map

Lighters/matches

Lightweight, warm layers

Personal floatation devices, aka PFDs

Pillow* (if you are trying to pack light and wish to avoid carrying a pillow you can roll a towel or spare article of clothing to use as a modified pillow for the night.) 

Plenty of food and snacks. It is ideal to prepare large meals ahead of time that can be thawed and reheated over a fire, or prepackaged/dehydrated foods that are easy to prepare and provide the nutrients and energy you need to keep going. If you are able to obtain MRE kits, they are convenient and taste pretty good. Just be sure to take all of your trash with you when you go. 

Quick-dry towels

Rain gear

Rope

Satellite phone for remote areas with no cellular service

Shorts

Sleeping bag

Sleeping pad* (not mandatory but does make your sleep quite a bit more comfortable, especially if you are over 35 years of age) 

Strap for eyeglasses or sunglasses to keep them from forever living on the river's bottom

Socks

Sunhat/baseball cap

Sunscreen

Swimsuit

A strong tape for repairing shoes, clothing, holes, etc

Tent*

Trash system

Umbrella or another form of shade

Water

Water/hiking shoes

Waterproof camera*

Waterproof containers and dry bags for things that absolutely cannot get wet

Waterproof headlamp and/or another source of light for when the sun goes down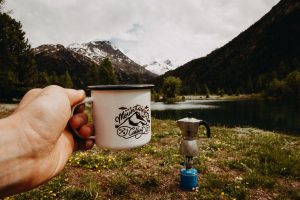 Some of these items may not be mandatory but will make your trip more comfortable. The items in the list above with an asterisk are examples of items that you can live without, but make your trip easier and more comfortable. 
To save space and have a true outdoor experience, skip the tent and camping furniture. Pull up a log and sit around the fire and sleep under the stars. 
If you are taking a guided rafting trip, many of these items will be brought by the guide. You will only have to worry about your personal items, rather than supplying everyone with food and other supplies. 
Now that you know what items you should pack for an overnight rafting trip, you may be wondering what items are not recommended to bring along. Continue on to the next section for helpful tips. 
How to Pack for a Multi-Day Rafting Trip
What NOT to Pack for an Overnight Rafting Trip
When setting out on a rafting trip, less is more when you are packing. Avoid packing unnecessary items that will weigh you down or potentially get lost and/or damaged. 
Don't bring things of great value. If you do, make sure you have a good quality dry bag or waterproof container to store them in while you are bobbing along with the current. 
Avoid purchasing inexpensive footwear, such as flip-flops from the local discount store. They will not hold up and you will likely be left barefooted before the end of the trip. Instead, use a quality water shoe or strap on sandals that will stay on your foot and keep you safe. 
Don't opt for the thin overhead rain poncho. Not only do they look like a giant yellow trash bag, but they will not keep you dry or protect you from the wind. This is one area where it is okay to spend a little extra cash and get some quality waterproof rain gear. You will be glad you did when unexpected inclement weather pops up.
Other items to avoid bringing along on your overnight rafting trip include:
Books

Electronics such as smartphones, tablets, and Bluetooth speakers

Expensive sunglasses

Jewelry

Makeup or other foofy items

Mirrors
Keep it Simple by Packing Light
Other Great Outdoor Related Articles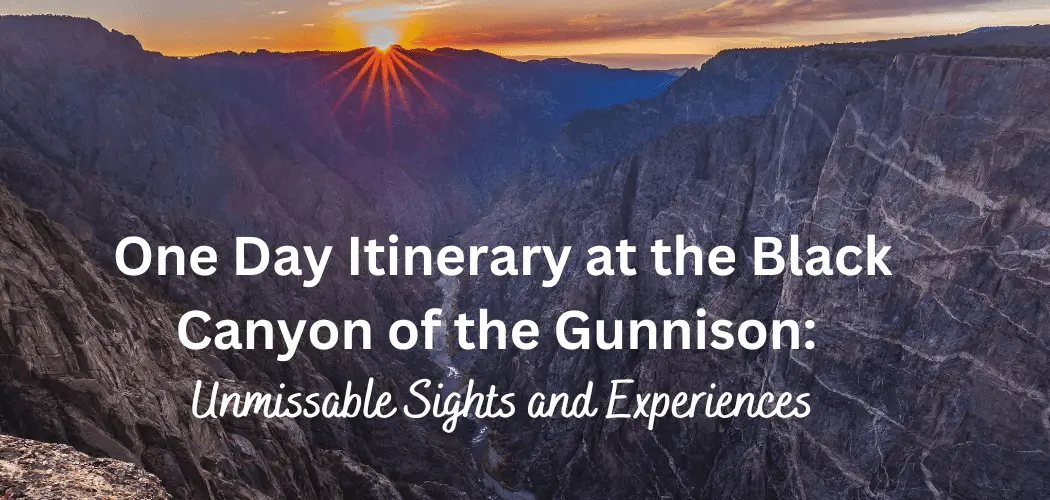 The Black Canyon of the Gunnison National Park, located in Montrose, Colorado, offers breathtaking views and unique geographical features that attract visitors worldwide. This awe-inspiring ...