Have you ever been rafting barefoot, fallen out, and cut your feet so bad that you couldn't walk for days?! Ok, us either because we've always worn proper shoes for whitewater rafting. They can make a huge difference in your overall rafting experience and safety. 
Plus, no one wants to look like a "goober" and not be prepared with the right equipment right? 
When choosing shoes for whitewater rafting, you'll want options that are made to get wet, durable, and will stay on your feet. Whitewater rafting is a thrilling sport, and with a little preparation and the right footwear, you'll undoubtedly have an unforgettable adventure.
Our Favorite Shoes for Rafting
Shoes to Wear Whitewater Rafting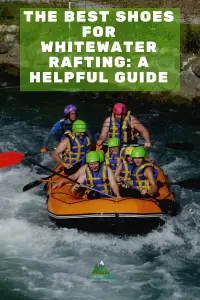 When choosing shoes for whitewater rafting you will want to consider a few important factors.
The most important thing is to wear shoes that can get wet. You don't want to wear anything that will be ruined in the water, and shoes with leather can be heavy and uncomfortable. 
Choose shoes that have a good grip on the bottom so that they aren't slippery on the wet boat or the mossy rocks around the shore.
Finally, make sure that they are sturdy enough to protect your feet from rocks.
Can you Go Rafting Barefoot?
Paddlesports like whitewater rafting require that you wear some type of protective footwear.
Whitewater rafting barefoot is strongly discouraged, because unseen rocks, sticks, and potentially even broken glass under the water can pose a serious hazard.
The last thing you want is for your raft trip to end early due to a painful cut. 
Can you Wear Tennis Shoes Rafting?
If you aren't looking to purchase new shoes for your whitewater rafting expedition, then an old pair of tennis shoes is a fine choice. You'll want them to be the lightweight type, as they will become heavier once waterlogged.
Of course, don't wear a pair that you would prefer to stay dry. It's impossible to keep your feet dry whitewater rafting.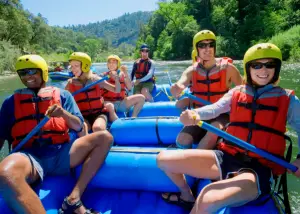 Besides being slightly less comfortable than our other choices, old tennis shoes provide the protection you need and are a great choice for budget-conscious rafters. 
Tips for Picking Shoes to Wear for Rafting
Choose shoes that can get wet

Bring another pair of shoes to wear onshore or at camp. Especially if you're rafting in an old pair of tennis shoes. 

Avoid loose-fitting shoes, especially if they're open-toed. 

Avoid shoes that will be heavy and waterlogged. 
Shoes to Wear Rafting in Cold Temperatures
When it is chilly out, you'll want your feet to stay as warm as possible, but they're still bound to get wet.
The best option is to pair your water shoes with super warm wool, fleece, or neoprene socks that will keep your feet warm even when they're wet. 
Another option would be to find a wetsuit that has boots with it and then put water shoes over that.
You will still want to have the protection of a shoe.
Also, when it is cold out, make sure to bring a change of dry shoes and socks for when you get off the water.
Whitewater Rafting Shoes: 5 Great Options
Astral Loyak Barefoot Shoes for Water
Summary: Our top choice for whitewater rafting is the Astral Loyak Barefoot Shoe. This sneaker-like hybrid looks stylish while also having the benefits of being lightweight, flexible, and designed especially for water sports.
It has breathable holes that drain water and a canvas-like upper that dries quickly. The outsole is made with extra-grippy rubber to avoid slips and slides. These are the perfect choice for travel, whitewater sports, and can still be worn every day. 
Pros: 
Lightweight

Anti-slip

Protective 
Cons
Need breaking in

Expensive

Run a little small
Best Closed Toe Rafting Sandal
Summary: If you're looking for a sandal that protects your toes from painful stubs, look no further than the Keen Newport Sandal. This is a classic choice for whitewater rafting and other water sports, and it is also comfy for hiking. Quick-drying, anti-slip, and super comfy, Keen's make an awesome water shoe! 
Pros:
Comfortable

Multi-purpose

Breathable 
Cons
Slightly bulky

Not the m

ost stylish 

Pricey
Chaco Men's Z1 Classic Sandal
Summary: The classic Chaco is an all-time favorite of paddlesport enthusiasts. These fun sandals come in a variety of styles, prints, and colors so that there is an option for everyone. They are comfortable, made for the water, and have a grippy Vibram sole perfect for walking on rocks. The straps are adjustable for a perfect fit, and they have an excellent warranty. 
Pros:
Cool prints

Comfortable

Extremely breathable 

Dry very fast
Cons:
Expensive 

No Toe Protection
Best Rafting Shoe for Kids
HOBIBEAR Boys Girls Water Shoes
Summary: For your little whitewater boaters, we suggest the Hobibear Closed Toe Aquatic Sports Sandal. This lightweight and quick-drying shoe protects your child's toes from bumps on rocks. They're flexible and grippy and come in a variety of styles. Plus they're super cute! 
Pros:
Great price

Cute styles

Foot protection 
Cons
Still a little slippery 

Don't dry as quickly
Least Expensive River Shoe for Rafting
DOUSSPRT Water Shoes Quick Drying
Summary: For a budget-friendly option check out Doussprt Water shoes. These have a tennis shoe-like style, and like our other choices, they are quick-drying and have anti-slip soles. 
They're breathable and have great reviews on Amazon. Best of all you can purchase them for around $25! The low price point makes these shoes a perfect option if you don't think you'll wear them all the time. 
Pros:
Cons:
Won't last as long

Lower quality
Key Takeaways
Rafting is one of the ultimate water sports but it can quickly turn south if you don't have the proper footwear. 
From our helpful list you'll be able to enjoy the river each and every time that you go out.
Other Great Outdoor Related Articles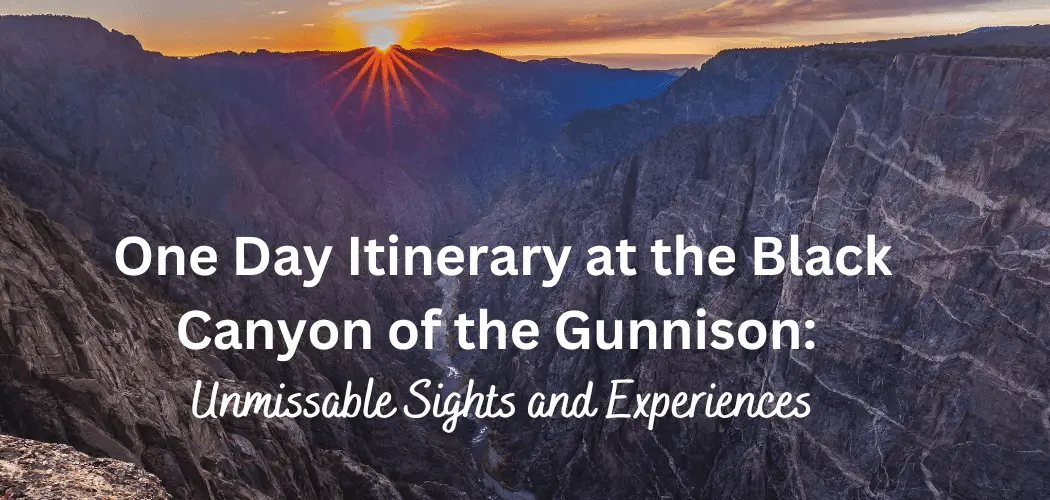 The Black Canyon of the Gunnison National Park, located in Montrose, Colorado, offers breathtaking views and unique geographical features that attract visitors worldwide. This awe-inspiring ...