Blisters, cuts, calluses, abrasions, friction burns, and sunburns are just a few of the myriad horrors that will potentially befall the gloveless kayaker. Gloves are a lot more important than you think. But you don't want to get gloves that are too bulky, cheap, or just flat-out inefficient. 
You want something that's going to last, protect your hands, and that doesn't get in the way of your superhuman kayaking skills. So you can't just buy any kayaking gloves. You have to know a little bit about them first, especially if you're a novice out there on the water. 
Our Recommendations for Kayaking Gloves
What Are Kayaking Gloves?
They're gloves that you wear while kayaking which, of course, you already knew. But there's more to it than just that. There are neoprene gloves, summer gloves, fingerless gloves, gloves for women and gloves for men, winter kayaking gloves, and half-finger gloves just to name a few. 
The vast majority of kayaking gloves are designed using neoprene or spandex materials, however, there are a select few that are made with soft leather or synthetic leather, depending on preference.
How To Choose Kayaking Gloves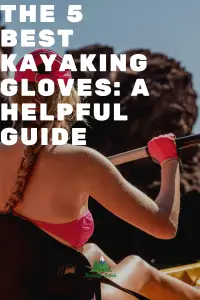 Choosing kayaking gloves is a matter of preference and what you want to do when you're out on the water. If you've ever raked a yard for more than 30 minutes, you know the dramatic effect a lack of gloves can have on your hands.  
If it's warm weather, you should consider spandex for its breathability.
For winter weather, you should stray towards neoprene.
There are also kayaking gloves made with a mixture of the two materials so that they're functional for winter or summer. 
Stay away from thick gloves during the summer and look for gloves that are largely waterproof if you plan on engaging in anything that is going to get your hands wet significantly and consistently.
Lastly, you want a glove that fits. Something too tight will end up giving you the sort of blisters you hoped to avoid and ones too large will inevitably do the same when they're not driving you bananas.
Kayaking Gloves: Fingerless Vs. Full-Finger
The only real advantage with fingerless gloves is the dexterity that you retain while being able to protect your palm area from blistering and friction heat. 
 If you find that you need to be able to tie knots and use your fingers to open things frequently, fingerless gloves are probably the gloves for you. 
Otherwise, there's no real reason to avoid full-fingered gloves as they are going to be necessary on those long kayaking trips—not to mention that they're far more resilient and protective.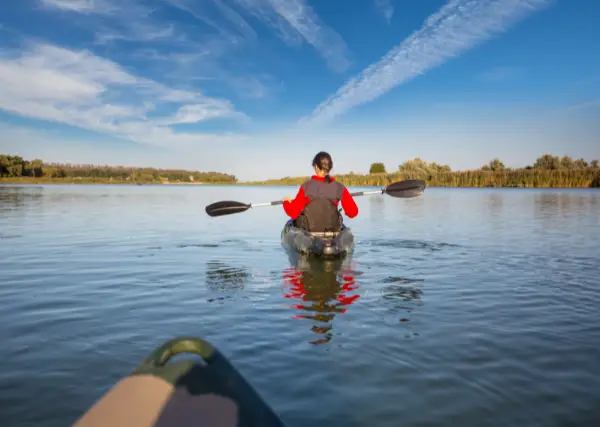 FAQ About Kayaking Gloves
Are Kayaking Gloves Waterproof?
Most of the gloves for kayaking are not waterproof or water-resistant. 
Instead, these gloves provide warmth and protection should your hands get wet. They also provide protection from the sun, chafing, and provide extra grip.
Do Kayaking Gloves Prevent Blisters?
Yes! Kayaking gloves help prevent blisters. This is especially important once your hands get wet as this can speed up the process of blister formation. 
Kayaking gloves not only protect form blisters but help improve the grip on the paddle as well.
Can you use your Phone with Kayaking Gloves?
You can certainly use your phone with half-finger kayaking gloves and some of the gloves that include a touch sensor on the tip of the Finger. 
Be sure to check with the individual glove to make sure.
Do you need gloves for Kayaking?
Gloves are not a necessity to go kayaking, especially on short trips. However, if you plan to be on the water for a long period of time or are doing any repetitive paddling then it is recommended to use kayaking gloves.
Can Kayaking Gloves helpful against Sunburn?
Absolutely! This is one of the least sought out reasons initially but maybe the best reason to wear kayaking gloves. If you've ever had a sunburn on your hand you know that it hurts!
The 5 Best Gloves for Kayaking
Best Summer Kayaking Glove
NRS Skelton Kayaking Gloves
Summary: This ultra-breathable, H2Core, Rashguard material is designed to eliminate moisture and protect your hands from the relentless sun. It's super grippy as well, with silicone padding that both protects your palm and helps you grasp the paddle with confidence. 
It's also an open-finger design, so you're fingers will retain their dexterity while increasing the cool effect on a hot, summer day.
Best Kayaking Glove For Women
Summary: A great pair of gloves for cold rivers and the winter season, this one is tailored with ultra-thin Hydroskin and a four-way PowerSpan outer layer. 
The silicone linings on the fingers and palms give you superior grip, along with the titanium laminate adhesive. If you hate cold knuckles, these are the gloves for you, with a thermal plush inner lining that fights back the cold.
Best Neoprene Kayaking Gloves
Summary: These gloves are designed for a superior level of grip. Just looking at the palm grip pattern—that's completely rubberized—screams "anti-slip." These gloves are made for cold weather, with the added wrist strap to seal out the cold air and moisture. 
This is a double-neoprene lined glove so you can expect it to last for a whole lot of kayaking adventures before wearing down. They're not the prettiest gloves in the world but they'll keep their grip on nearly every surface and are dependable for the long term.
Best Half-Finger Gloves For Kayaking
WaterLine Halfinger Paddling Gloves
Summary: Waterline combined the super, grippy-textured palms of the BPS Water Gloves with a half-finger alternative, giving you a little bit of the best of both worlds. Your fingers maintain their dexterity while you will still achieve superior grip on any surface. 
They're super flexible as well, with pull-off loops to help get them off of your hands in a hurry. There are extra wide wrist straps that help keep them on your hands.
Best Winter Kayaking Gloves
Summary: This is a great pair of wetsuit-type gloves that are completely designed with neoprene material. All-around hand protection with superior design and thermal, elastic fabric. The palms are printed with rubber for extra grip.  
This is a unisex glove as well, sized for either men or women. Although its design aesthetics suggest a heavy glove, they are far more flexible than they look, giving you the maximum amount of dexterity that you can find in a full-fingered glove.
Key Takeaways
Kayaking is a great and amazing hobby. There is nothing better than when you are out floating on the water and spending time with friends and family in nature. However, after too long the hands can start to chafe or get blisters. This guide will help you find the best kayaking gloves to get you out on the water more often and for longer periods of time.
Other Great Outdoor Related Articles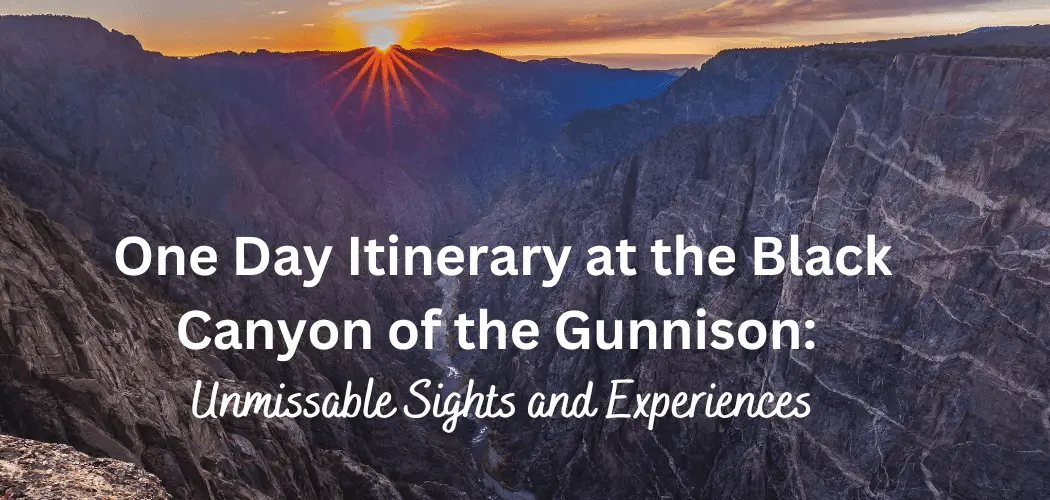 The Black Canyon of the Gunnison National Park, located in Montrose, Colorado, offers breathtaking views and unique geographical features that attract visitors worldwide. This awe-inspiring …