This buying guide will teach you how to choose the very best pair of polarized sunglasses for kayaking. I have also reviewed the top 5 pairs on the market. Here's what you'll discover: 
Why do you need floating sunglasses?
What lens type is best for kayaking?
What is UV protection, and why is it important?
Does lens color matter?
Tips for using sunglasses while kayaking
Reviews of the top 5 floating polarized sunglasses
Sunglasses probably aren't high on the list for many kayakers when they think of safety equipment, but they certainly should be.
By purchasing a quality pair of polarized sunglasses, you will protect your eyes, reduce glare, and improve your overall visibility when you're out on the water. Continue reading to find out which pair of sunglasses will be best for you.
Comparison Table of Floating Sunglases
Why do You Need Floating Sunglasses for Kayaking?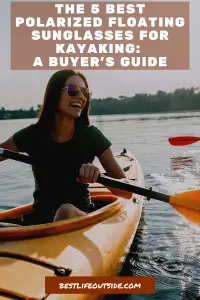 Even though it seems like an obvious consideration, a lot of kayakers forget to purchase a pair of sunglasses that will float should they be dropped into the water.
Having a pair that floats means you are less likely to waste money by losing a pair of sunglasses in the water. Floating glasses can also be considered an additional safety precaution since trying to retrieve a pair of sinking glasses could put you in danger.
If your kayak flips, the last thing you want is to be panicking and hurrying to get after a pair of sinking sunglasses. If your glasses float, you'll have a better chance of being able to find them once you are back in the boat and safe.
What Lens Type is Best for Kayaking Sunglasses?
There are a few very practical elements that manufacturers can incorporate into kayaking sunglasses. The first thing to ensure is that you purchase a pair with polarized lenses.
Polarized Lenses
Polarized lenses are an absolute game changer and give you much more visibility than standard lenses. The main benefit to a set of polarized lenses is the reduction in glare from the water.
Not only does reduced glare make it more comfortable and easier on your eyes, but you'll also be able to see further beneath the water's surface. As a result, you can recognize obstacles and hazards that could otherwise be impossible to see.
Having that extra time to steer clear of potential hazards could significantly affect your overall safety.
Mirrored Lenses
Mirrored lenses are not just there to look cool and hide your eyes from people; they serve a crucial purpose for eye health.
Sunglasses with a mirrored coating over the lenses let less light through than the more transparent lenses.
If you spend a lot of time outdoors, exposing your eyes to so much intense light can cause some degeneration over time, especially if that includes bright sunlight reflecting from the water's surface.
Anti-Fog Coatings
Although not essential, fog-resistant lenses will be a convenient addition to your glasses. Sunglasses fogging up can be a real pain during sudden temperature and weather changes.
If you regularly kayak during colder temperatures, the heat from your face can cause glasses to fog, so fog-resistant lenses might be necessary for you.
What is UV Protection, and Why is it Important?
Lenses that protect your eyes from the sun's ultraviolet rays are crucial. Everybody knows just how important it is to wear sunscreen when you're out in hot weather.
Well, your eyes are subject to just the same harmful ultraviolet rays as your skin. You can think of your glasses as sunscreen for your eyes as long as they have a strong UV-protection rating.
The best sunglasses will state a 100% UV protection rating to keep your eyes safe from those damaging rays.
Does Lens Color Matter?
Lens color can make a difference to your overall visibility, but it will depend on the conditions.
Darker lenses like greys and blues will make it difficult to see on gloomy, cloudy days but are perfect for when it is very bright.
On the other hand, lighter brown and yellow lenses can brighten up help brighten things up, making them perfect for dull days.
Tips for Using Sunglasses While Kayaking
Use a Leash
Even the best-fitting glasses can fall from your face when water is involved. Having a leash will help keep them safe and means you'll know exactly where they are if they fall off.
Just make sure the leash you buy also floats as some can get heavy when wet and may cause your sunglasses to sink.
Avoid Getting Sunscreen on your Glasses
Sunscreen on your glasses can be a nightmare to wipe off, and at best, will smear your lenses and run into your eyes, making it difficult to see.
At worst, the sunscreen could damage the protective coatings on your glasses, so do what you can to keep sunscreen and your sunglasses away from each other.
Use a Cloth Instead of a Shirt to Avoid Scratches
Sometimes, it can seem more straightforward and convenient to give your glasses a quick wipe with your shirt. Using your shirt to wipe them is a bad idea as tiny pieces of dirt, sand, or grit could be present on the fabric and scratch your lenses.
Sunglasses come with a soft, dedicated cloth for a reason.
Wear a Hat with Your Glasses to Increase Sun-Protection
Even though the top lenses will protect your eyes from UV rays, some sunlight could still enter your eyes through the gaps above the frame.
Wearing a peaked hat will cover this gap and give your eyes even more protection.
The 5 Best Polarized Floating Sunglasses for Kayaking
Best Overall Floating Sunglasses
Rheos Coopers Floating Sunglasses
Summary: These sunglasses have been designed specifically for use on the water and feature everything you could need for kayaking. The glasses are comfortable and lightweight thanks to the composite frame and feature super-clear lenses for ultimate visibility.
Pros:
Ultra-lightweight

Anti-fog lenses

100% UV protection

Lab-tested "clearer than glass" lenses

Multiple color options
Cons:
Some complaints of hinge failures
Best Casual Floating Sunglasses
Hobie Polarized Sunglasses
Summary: Not only are these glasses lightweight and super-buoyant, but they also ooze style. You won't look out of place on the water or out in the town with these sunglasses.
Pros:
Lightweight

Very buoyant

Stylish design

Mirrored coating
Cons:
Most expensive on this list

Only one color option
Best Kayaking Sunglasses for Women
Merry's Wooden Floating Sunglasses
Summary: If you're looking for something slightly different from the norm, these unique wooden floating sunglasses could be ideal.
The cool vintage styling isn't all they have to offer. Merry's glasses are polarized, comfortable, and UV-resistant.
Pros:
Unique retro styling

Multiple lens color options
100% UVA/UVB protection
Cons:
Not as buoyant as other options

Could be too large for smaller faces
Best Bamboo Floating Sunglasses
RawWood Originals Bamboo Sunglasses
Summary: If wooden sunglasses are your thing, look no further than this stylish bamboo offering. The sunglasses' frame is handmade from 100% bamboo. Being made from bamboo makes them naturally strong, light, and buoyant.
RawWood also plants a tree for every pair purchased so you can look and feel good when you buy a pair of their sunglasses.
Pros:
Handmade, so each pair is unique

A tree planted for every pair purchased

Stong, light frames

Multiple color choices for frames and lenses
Cons:
Chunky wooden frames may not suit everybody

Lenses could be more scratch-resistant
Least Expensive Floating Sunglasses
Skadino Polarized Sunglasses
Summary: These sunglasses from Skadino are perfect for the budget-conscious water sports enthusiast. The glasses are the cheapest on this list but still offer the key features you will need.
The frames arms are handmade from 100% walnut wood, and the frames are durable plastic.
Pros:
Extremely cheap

A vast selection of colors to choose from

Lightweight design
Cons:
The wooden arms can be slightly brittle

Cheap packaging
Key Takeaways
Kayaking is a great way to enjoy the outdoors and spend some time on the water. However, without proper eye protection, it could be trouble for your eyes. Now you don't have to worry about losing your favorite pair of sunglasses with our helpful review of the best floating and polarized sunglasses to spend more time kayaking and less time worrying.
Other Great Outdoor Related Articles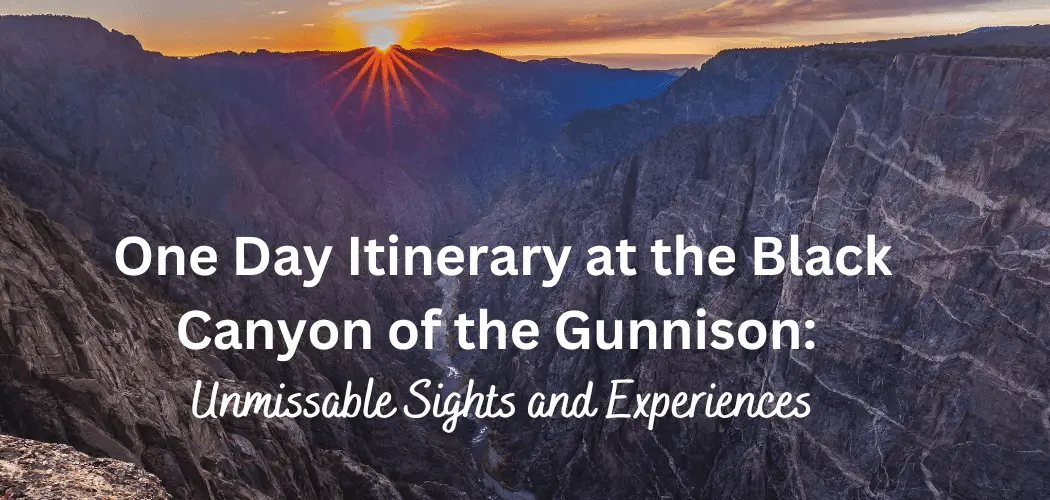 The Black Canyon of the Gunnison National Park, located in Montrose, Colorado, offers breathtaking views and unique geographical features that attract visitors worldwide. This awe-inspiring …