If you're looking for a new hobby, then kayaking might be a perfect choice for you! You can go at your own pace and explore many different settings. Plus, it's fun and adventurous. There are 6 main reasons why you should go kayaking if you've never given it a try.
These include: 
Getting good exercise

Exploring unique scenery

It's good for mental health

You can fish in new ways

You can eat a picnic on the water

It's just plain, good ole fun. 
If you want to know more about this fantastic sport, or if you need some help deciding if you should get into this fun sport then look no further.
Kayaking is Great Exercise
Kayaking is a great way to get exercise. It improves your cardiovascular health and works muscles in many different parts of the body, including
Biceps and triceps for paddling

Quadriceps and hamstrings for keeping yourself balanced on top of the kayak

Your core muscles help to keep you stable and upright and your back muscles as well as shoulder muscles for paddling
If you go out on a longer trip, it can be a great way to build up muscular endurance and tone your upper body and core.
Another great thing? It's a low-impact workout on your joints! So if you have a history of joint pain, including back pain, then kayaking is a great way to exercise without aggravating it.
You can go as fast or as slow as you want. You can paddle in intervals to build up muscle or slowly glide across the water. Once you need a break, all you have to do is float and enjoy the rest. All in all, kayaking is excellent for exercise.
There are Many Unique Scenery Options While Kayaking
Another reason why people like kayaking is that you can see unique scenery. You might be wondering how it's different from, say, hiking or camping with all the trees and water around, but there are a few things about kayaking that make this an ideal option.
You get the reflection on the water with trees, mountains, fall colors, and clouds that you don't get anywhere else

You can see and get closer to the collection of wildlife on the water including fish, birds, and large animals that use the water for drinking

The sunrises and sunsets are more colorful and spectacular when you're on the water.

You have so many different water options including lakes, rivers, ponds, oceans, and small streams.

Kayaking is excellent for catching the perfect picture with the colors and stability of the kayak
Kayaking is a Great Way to Relieve Stress
Stress relief is another great reason you should try kayaking. When you're out on the water, your mind has time to relax and get away from all of the stressors in life that bog you down.
You can focus on what's going on around you, instead of constantly thinking about work or school. The sounds of the water and nature provide a calming influence. Exercise has been shown as a great way to reduce stress, too. 
Spending as little as 10 minutes outside in nature has been shown to have positive effects on your mental health. Research has shown that being outdoors helps decrease cortisol levels, improve Vitamin D intake which helps with mental health, and decreases levels of depression.
You Can Fish While Kayaking
Another reason why people enjoy kayaking is that it's a great way to catch fish! In a kayak, you can get to fishing holes that you wouldn't be able to get to from the shore. You can try many different fishing holes in one trip.
One of my favorite ways to catch fish from a kayak is with a fly and bubble. You can cast far and catch a ton of fish with the right fly combination. Be sure to bring a net to get the fish in the kayak so you don't tip it over.
It's another great way to relax and have fun on the water.
Eating on the Water Is Fun
Finally, eating on the water is very enjoyable! Many people like taking food out onto their kayak and having picnics or a cold beverage. It can be fun because you're far away from the land and it's something that you don't do every day.
Not to mention, a cold beer or adult beverage tastes so much better on the water. There is something about being on the water on a hot day with a cold beverage that hits the right spot.
Our favorite kayaking cooler for keeping the drinks cold is the Earth Pak Heavy Duty Waterproof 20-Can Soft Cooler.
In short, kayaking is simply fun! It can be a great way to get exercise and it allows you to relax your mind from the stressors of everyday life. You can go fast, you can explore, and you can do it with friends and family.
If you're looking for a fun new hobby that you can customize to your own preferences, then we recommend trying kayaking!
You'll Meet Some Awesome People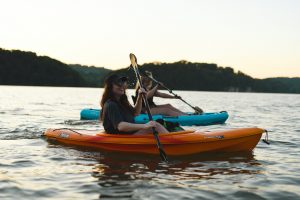 Kayaking is simply one of the most enjoyable sports you can do. You'll meet some awesome people who might even become your best friends, so there's no better reason to get out on the water with them!
The kayaking culture is rich with people who are good people and kind-hearted. The social group that you can establish is a great place to make life-long friends.
Kayaking is great exercise, you get unique scenery options, it's good for your mental health and well-being, you can fish while kayaking (it even has its own dedicated fishing equipment!), eat on the water which isn't possible in other sports like swimming or surfing and boat tours are fun. If you want to know more about this sport, feel free to visit our website. In short, kayaking is a great way to get exercise and relieve stress while also being fun!
Other Great Outdoor Related Articles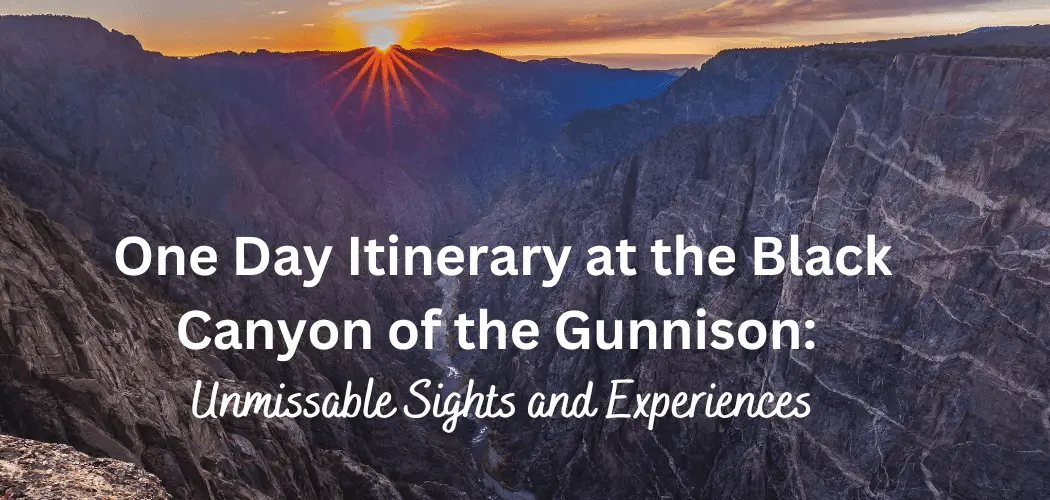 The Black Canyon of the Gunnison National Park, located in Montrose, Colorado, offers breathtaking views and unique geographical features that attract visitors worldwide. This awe-inspiring