Camping with the whole family can be great fun, especially when there are little ones running around adding to the excitement. But what happens when those little ones are ready to take a break and sit down? 
You want your kiddos to feel included and also have a comfortable place to sit but you may not be sure what chairs are best for camping with a toddler. 
This article will give some examples of camping chairs designed for the little ones in your life so everyone can sit back and relax as they enjoy the natural scenery that surrounds them.
Why It's a Good Idea to Pack Camping Chairs for Toddlers 
After reading this article it is likely that you will find that the pros far outweigh the cons to bringing a chair for your little adventurer.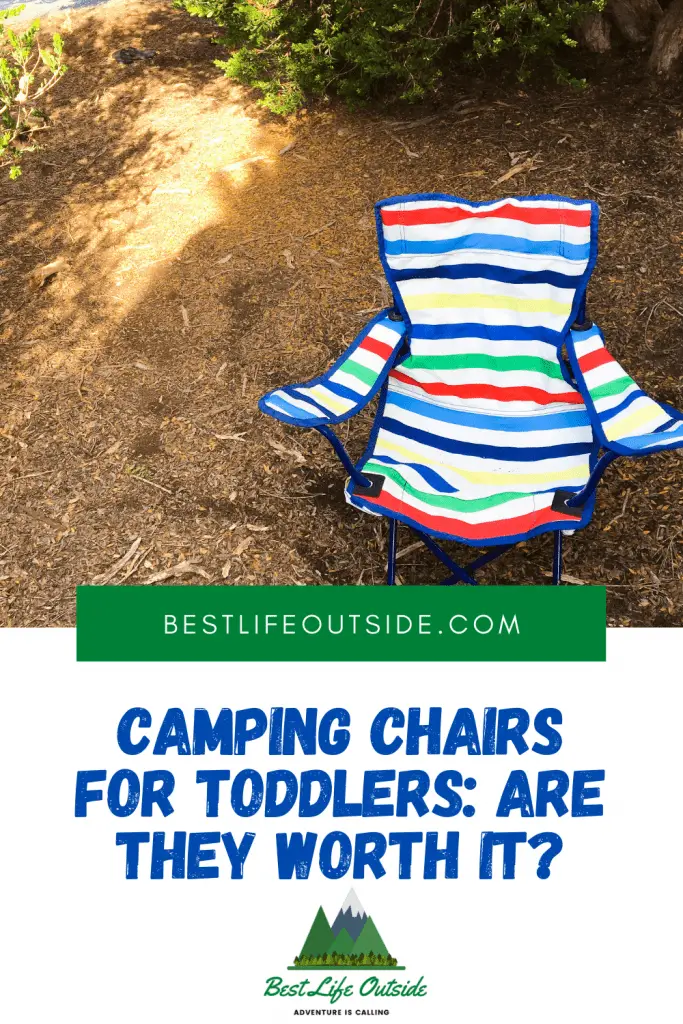 When packing for a camping trip of any length you want to pack as lightly as possible. Nobody wants to haul unnecessary gear, so here are some reasons why you should consider keeping a toddler camping chair on the packing list.
Preserving Your Personal Space
For one, it is common practice for toddlers to seek out a lap to sit on which is fine when you are feeling up for a snuggle until you would rather not have a boney butt digging into your lap or be continuously elbowed and kicked as they try to get comfortable.
Having a special place for your little companion can make your camping experience more enjoyable for everyone. Especially for moms, if your toddler is stuck to you like white on rice then consider getting a camping chair for a respite from having your personal space invaded. 
Monkey See, Monkey Do – Toddler's Want to Be Like You
Toddlers want to fit in with everyone and be included in whatever is going on so for that reason alone it is beneficial to have a chair for your toddler because it gives them a designated space that is solely theirs. This can be good for when you need to calm everyone down when things get too rowdy. You can send them to their chairs to decompress.
The chair also is a perfect place for them to wake up and get going in the morning, just like mom and dad. When you are sitting in the camping chair having that refreshing cup of coffee, let them enjoy a warm cup of hot chocolate and soak in the surroundings from their chair.
Camping Chairs Make Meal Time Easier
Another added benefit of a camping chair for your toddler is you can keep mealtime from being a roaming adventure with bits of food being left behind for wildlife to find. The right camping chair can keep your kiddo contained so you can down your dinner in peace.
Most of the toddler camping chairs come with a tray that can act for two purposes.
The first is that it is perfect for meals and you can put food and drinks on the tray making meal time so much easier in the wilderness.
Second, the trays often lock your kiddo into their chair so that they aren't wandering off playing with cactus 5 minutes into dinner time. It's a perfect sneaky way to keep the toddlers locked into their chairs without them knowing it.
Sitting Right Means Campfire Delight
When it's time to wind down at the end of the day and enjoy a campfire you can be assured your tired toddler will be grateful for their comfy chair as they sit and watch the flames dancing until they drift into dreamland. 
How many great memories do you have as a kid of sitting around a campfire talking, singing, and being with loved ones? It's one of the best places to make lasting memories, period.
Continue reading to learn which chairs we recommend for your next camping trip with little ones.
Our Favorite Camping Chairs for Toddlers
Anyone with children knows that if your kiddo is not comfortable they will let you know about it and if your children are like most others they will not stop letting you know until something is done to ease their discomfort.
Having one of these handy camping chairs packed in your gear can save your ears from a lot of bellyaching when your little ones are ready to relax. 
If you are in the market for a portable camping chair that your child can grow with then this is right up your alley. This chair is transformable to accommodate a three-month-old baby all the way up to a 75-pound child which means you shouldn't have to think about buying a new chair every year. 
This chair comes with a detachable eating tray and canopy for times when you need to keep your kiddo dry or out of the direct sun. Other features that make this a great option are: 
A 5-point harness for babies that can be removed as they grow
An angled platform to keep your child comfortable and stable
Can be used virtually anywhere
Comes with a carrying bag for convenience and neat storage
High-quality fabric designed to last and withstand being cleaned frequently
Simple and effective is the way of this portable camping chair. No fancy bells and whistles on this chair, but it gets the job done and is designed to last for years. Features that are sure to keep you and your kiddo happy are:
Can hold babies from 10 pounds up to 3 years old or 50 pounds 
Easy to wash 
Includes a 5-point harness for babies until they can sit on their own
It is constructed of high-quality materials designed to last
This chair is super light and folds easily into a handy carrying bag with a shoulder strap
This portable folding booster seat is designed for little ones who want to be close to the ground. It provides just enough elevation to stay out of the dirt and sand while providing a comfortable seat and eating spot for your little camper. Other benefits of this toddler travel seat are:
Comes with a storage pouch for bibs and other accessories
Convenient cover that is machine-washable
Easy to fold and transport
Has a safety harness for little ones who are not ready to sit on their own
Includes a sturdy carrying bag with a shoulder strap
The chair is designed so it won't tip over even with the most active kids
The tray is dishwasher safe and can be removed easily
This super cute folding travel chair is designed for children from 3 – 6 years old. The adorable bumblebee design will keep your children entertained and feel extra special because it is unlikely anyone else will have a unique camping chair like this one. Features that will keep you and your child happy on your next camping trip are:
Comes with a matching carrying bag that can easily be carried by the shoulder strap
Easy to fold and store
It is resistant to water and easy to keep clean with stain-resistant fabric
Made from high-quality materials and designed to last
Offers a unique theme that children love
Super sturdy to reduce the risk of tipping
Last, but certainly not least is this folding camp chair with a canopy to keep your little one cool when the sun is too hot. This chair is a great option for camping or any other outings where you find yourself in need of a seat for your toddler. Other advantages of this chair are:
It is made from water and stain resistant materials to last for many years
Provides shade from the sun so your little camper does not get over-heated or burned
Quickly and easily folds up for convenient storage
Comes with a sturdy carrying bag to keep it neat when not in use
Provides a cup holder to avoid spilled drinks
Keep in mind that these are just a few examples of camping chairs for toddlers, there are oodles of popular television and movie characters and themes to keep your toddlers entertained and comfortable while away from home.
For cleaning tips and other ways you can get good use out of your toddler's camping chair continue to the next section. 
Getting the Most Out of Your Toddler's Camping Chair
Although originally intended for camping, these portable chairs can be used anywhere. Many common uses for folding camping chairs include:
Barbeques and other outdoor gatherings
Going to the beach
Music festivals
Parades
Sporting events
Now that you know the many uses for a camping chair you may be wondering how to clean up after all the fun has been had. 
When you are camping and find that your child's camping chair is collecting more food and debris than anything else you can simply rinse the chair off with water until you get home.  
If you ask five different people how to clean a camping chair it is likely that you will get five very different answers, but here are three great options that work well for many. 
When at home many say that the best way to clean a camping chair is with a good old-fashioned scrub brush and some dish soap. If you find that you have stains on the fabric Shout™Stain Remover Spray is a miracle worker. 
Some people swear by making a mixture of warm water and vinegar as a cleaning spray. Either way, your chairs are sure to come out looking new. 
Comfort is Key When Camping With Kiddos
As you can see there are many great options available for your little campers to enjoy. The samples provided in this article should be a good starting place for you to find the camping chair that is just right for your kiddos. Camping is a blast when everyone is comfortable. Best luck on your adventures and happy camping!
Sources
(https://kamui.co/how-to-clean-a-camp-chair/), 
(https://www.amazon.com/Baby-Delight-Outdoor-Portable-converts/dp/B01M8QX73S/ref=sr_1_12?crid=JRMSM9AFG850&keywords=camping+chair+toddler&qid=1646697317&sprefix=camping+chair+toddler%2Caps%2C129&sr=8-12), 
(https://www.amazon.com/ciao-Baby-Portable-Chair-Black/dp/B0072IINY8/ref=sr_1_23?crid=JRMSM9AFG850&keywords=camping+chair+toddler&qid=1646697315&sprefix=camping+chair+toddler%2Caps%2C129&sr=8-23), 
(https://www.amazon.com/Quik-Shade-161885-Adjustable-Folding/dp/B07GL66DFY/ref=sr_1_41?crid=JRMSM9AFG850&keywords=camping+chair+toddler&qid=1646697301&sprefix=camping+chair+toddler%2Caps%2C129&sr=8-41), 
(https://www.amazon.com/Melissa-Doug-Giddy-Buggy-Chair/dp/B01AD1TU2O/ref=sr_1_3?crid=JRMSM9AFG850&keywords=camping+chair+toddler&qid=1646697320&sprefix=camping+chair+toddler%2Caps%2C129&sr=8-3),