One of the best things about camping is being out in nature and away from the regular hustle and bustle of your everyday life. Although it can be great to decompress and be at peace with nature you may be wondering if you can sleep on a cot rather than roughing it on the lumpy ground with a tree root in your back. 
Cots can be a handy addition to your camping gear and while they may not be 100% necessary they can improve the quality of your camping experience and reduce the risk of needing a chiropractor when you get home. 
If you would like to know more about sleeping on a cot and other suggestions for camping continue reading this helpful article. 
Camping Cots - Who Should Use One and Why?
Although some of the more hard-core nature and camping fanatics may argue that sleeping on a camping cot is for sissies don't be discouraged. There is no shame in bringing the comforts of home on a camping trip especially if you are over thirty years old! 
SO, if you are wondering who should sleep on a camping cot the answer is anyone and everyone who wants to improve their sleeping experience while camping.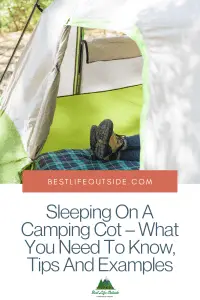 In addition to a more comfortable night's sleep getting up off of the ground can reduce the instances of unwanted creepy crawly creatures joining you in your sleeping bag. 
Review of the benefits of using a cot when camping: 
Better support for those suffer back pain

Can be used in conjunction with an air mattress or mattress pad for extra comfort

Cooler when sleeping in hot weather as the elevation of the cot allows for better airflow

More restful night's sleep with no lumpy ground or tree roots 

Reduces the chance of bugs and other creatures entering sleeping bag
Drawbacks of using a cot when camping: 
Added gear to pack and carry

If not careful the feet of the camping cot can potentially rip or damage the floor of a tent; it can be a good idea to lay something beneath them or use something to cover the feet to be on the safe side. 

Not as warm to sleep on in cold weather; requires extra insulation because the cold air is flowing beneath you. 
Continue reading for tips to help you decide if a camping cot is right for you. 
Deciding If You Want to Pack a Camping Cot
When deciding if a camping cot is right for your next expedition consider a few things.
How long do you plan on camping, if it is just for a night or two you may not want the hassle of packing a cot.
If staying for a longer period it may be worth packing one and your back will thank you. 
Will you have to hike to get to the campsite and if so, how difficult of a hike will it be.
Will there be access to water, electricity or fire at the campsite?
If not you will likely be carrying more gear which may mean you don't want to carry the extra weight or bulk of a camping cot. 
Who Will Be in Your Camping Crew
Don't forget to consider that you are likely not the only person attending the camping trip which means extra gear. You need to decide if everyone wants or needs a camp cot. How many adults and/or children will be accompanying you on this trip? 
Is anyone extra tall or maybe on the heavier side? These are things you will need to consider when purchasing a cot to ensure that everyone has a comfortable place to sleep. 
You don't want to have a person who is over six feet tall sleeping on a cot that is too short for them or have someone sleeping on a cot that is not designed to hold a larger-sized person as they may end up on the ground anyway.
Thankfully there are multitudes of options when it comes to purchasing camp cots that will be discussed further along in the article. 
Be Cautious When Sleeping on a Cot in Cold Weather
Another thing to consider is if you are camping in cold weather you may not want to bring the cot unless you are able to pack ample insulation which equals more gear to pack. The cold air that will be flowing under your cot will suck any body heat that you may have if it is not properly insulated. 
The best way to insulate your cot is to get an oversized sheet/blanket that can hang down on both sides to act as a barrier and use a quilted mattress pad in conjunction with a good quality sleeping bag that is rated for cold weather.
Camp Cot VS Air Mattress – Things to Consider 
You may be wondering if a cot is better than an air mattress. Here we will discuss some reasons why a camp cot can be better than simply using an air mattress. 
Air mattress weighs more than a camp cot

Air mattresses can be bulky and difficult to pack

You don't have to mess with inflating/deflating a cot

You don't have to worry about your cot getting a hole and waking up on a flat mattress
That is not to say that air mattresses and inflatable mattress pads are a bad thing. They can actually be a really good thing when used in conjunction with a camp cot. Try it out if you plan on going for a long camping trip and you will feel like you are sleeping in your bed at home. 
To see some great examples of camping cots available today continue reading so you can decide if a cot is right for your next trip to the wilderness. 
Camping Cots to Enhance Your Time With Nature
Here we will discuss the different camping cot options and provide a few examples to inspire you. There are too many options for us to list them all so when shopping, take your time and pay attention to details such as: 
Can it be folded for easy carrying and storage? 

Is it comfortable and easy to use?

Is it long/wide enough for you and/or your companions?

Is it made from durable materials?

What is the total weight of the cot?
Children's Cots
We all know the saying if the wife isn't happy, then nobody is happy, but the ugly truth is that if the kiddos aren't happy, no one will be happy.
So if you plan on bringing your little bundles of joy camping you may want to consider investing in some child-sized camp cots to prevent hearing them complain about the hard ground and lumpy roots in their backs.
Multi-Person Cots
If you can't fathom the thought of sleeping without your honey by your side, you are in luck because double-size camp cots have arrived.
Worry not love bugs, you can rest assured that your sleep routine will not be disrupted no matter where you are in the world.
This particular example comes with an air mattress included; however, there are many options available with or without depending upon your preferences. 
If you have a large group of camping it can be helpful to invest in bunk camp cots.
Yes, folks, that's right we said it! There are now bunk camp cots available! If you are lacking on floorspace build up and pack a few more people in your tent. 
If you are sleeping solo all this single cot should be sufficient for providing you a good night's sleep.
This example comes with a built-in end table which is just one of the many options available. Some cots come with pockets and other accessories for improving your camping experience. 
Solo Camping All-In-One Cot
If you prefer to hit the trail alone then this cot is the cat's meow! Skip the hassle of packing a tent. 

This cot is a tent and cot all-in-one which means you can easily fold it up to store it when not in use. You will be elevated from the ground and protected from the elements with this awesome individual tent cot.
Let's not forget your best four-legged friend who likely attends the camping party as well.
If you have the space and don't mind packing a little extra gear you may consider investing in a camping cot for your loyal companion to enjoy.
There are many versions available, here is one to give you an idea of what to look for.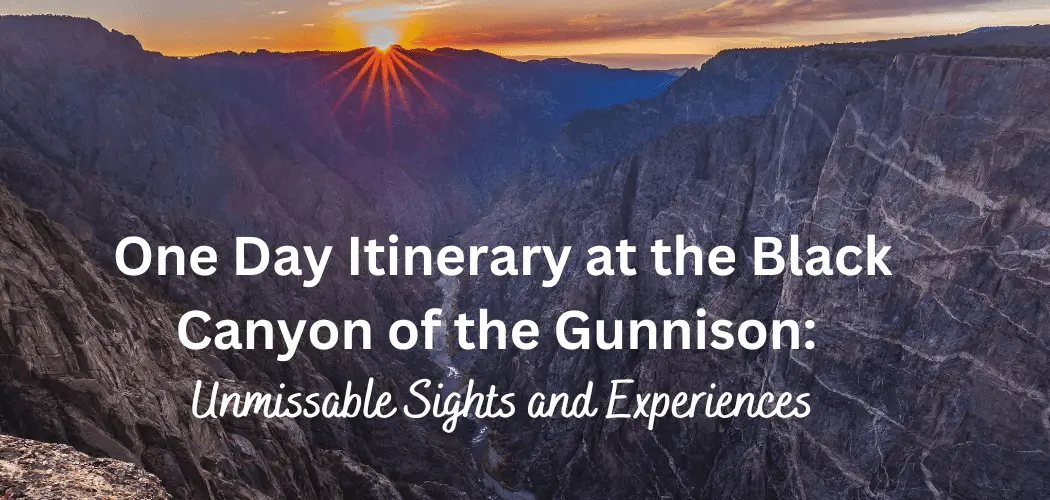 The Black Canyon of the Gunnison National Park, located in Montrose, Colorado, offers breathtaking views and unique geographical features that attract visitors worldwide. This awe-inspiring …