Many people think to see breathtaking wonders they must travel abroad when all they really need to do is explore the land in front of them. A perfect example of this is the Great Sand Dunes National Park located in southern Colorado where the scenery changes with the wind. 
When visiting Great Sand Dunes National Park you can expect to see:
A virtually endless range of sand dunes
Hiking trails through the Sangre De Cristo mountains
Astrological exploration, and more 
There are enough activities and attractions here to keep you busy year-round. 
If you are interested in learning more about Great Sand Dunes National Park and the best places to camp while visiting continue reading.  
Camping Near Great Sand Dunes National Park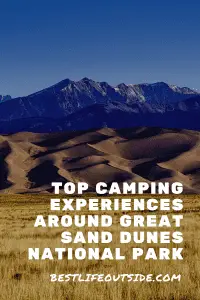 The following section gives a brief overview of the most popular places to camp while visiting Great Sand Dunes National Park and surrounding areas. Keep in mind when we say "near" to the Great Sand Dunes National Park we use the term loosely as most camping areas and facilities are located within 10 – 40 miles from the actual park entrance. 
Since this is such a remote area with so many amazing sights to see and things to do, campsites tend to fill up fast regardless of which campground you opt for. Keep this in mind when planning and give yourself plenty of time to acquire reservations so you can have the optimum camping experience while visiting the natural wonders of the area.
If you want to see the dunes and have a camping experience that offers all the comforts of home then the Oasis Campground is the place to go. To get a reservation you need to act quickly and plan ahead as this campground will fill up quickly, and for good reason. 
The Oasis is conveniently located about three miles from the park entrance and the only campground within 20+ miles that has full hookups and everything else you need when you are traveling away from home. 
You can have as primitive or primped an experience as you desire when staying at the Oasis. From tent spaces to pull-through RV sites with full hookups there is truly something for every style of camper. Although the park can be enjoyed year-round, the Oasis is only open from April through November each year. 
Whether you are just passing through for supplies or plan on staying for a while you can expect the following from the Oasis Campground: 
A fully stocked market
Amazing views in every direction
Cabin rentals
Clean showers with plenty of hot water
Firewood 
Fuel/service station
Full-service restaurant
Gift store 
Motel accommodations
Pull through RV sites with full hookups
Sandboard and sled rentals
Tent sites with and without water/electric 
You won't be disappointed if you are lucky enough to book a stay at this popular camping destination. There is something for every style of an adventurer at the Oasis. 
Zapata Falls Campground is a prime example of the fact that there is more to do and see than magnificent piles of sand. Located around 11 miles away and owned by the BLM, this campground is nestled between the San Juan Mountains, Great Sand Dunes National Park and the mountain range of Sangre de Cristo. 
You are sure to get an eye full no matter which way you are facing. This campground is one step up from being in the same category as primitive camping. Although this is a spectacular place to stay with plenty of things to explore you had better come prepared with everything you need.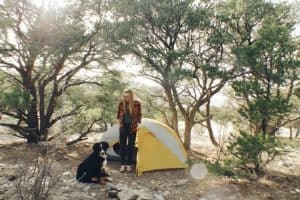 Zapata Falls does not provide any source of electricity or drinking water. What Zapata Falls Campground does offer is: 
Amazing stargazing experiences
Beautiful views in every direction
Easy to read signs 
Fire rings
Food storage lockers (to deter bears)
Great cell phone signal
Hiking and horseback riding trails
Newley graveled roads for easier travel
Open year-round
Over 20 rustic camping sites for tents, RVs, or tow-behind campers 
Parking
Picnic tables
Pit style outhouses
Tent pads
Trash cans
The great thing about Zapata Falls is it is fairly close to the entrance of Great Sand Dune National Park in comparison to its competitors, many of which are over 20 miles from the park. 
If you do happen to forget some essentials you are not too far from Oasis Campground market where you can fill up on any missing supplies. 
The KOA of Alamosa is a fantastic option for camping. Here is yet another area surrounded by views of sprawling mountain ranges and brilliant flowing sands of the nearby dunes. 
It is about a 30-mile drive to Great Sand Dunes National Park, but if you want a variety of activities that will keep you entertained while traveling through this beautiful area then the KOA is perfect for you and your companions. 
If you choose to stay at the KOA of Alamosa you can expect: 
A chance to visit nearby historical towns
Alligator Park and multiple wildlife refuges
Basketball court, corn hole games, horseshoe pit
Bike rentals
Dog park and doggy daycare
Electric hookups
Firewood
Full hook up RV sites
Golf course
Hiking trails
Hot springs
Laundromat
Museums
Pancake breakfasts offered
Pavillion
Pool area
Propane filling station
Scenic railway rides
Tent, RV, Tow behind camper sites
Wi-fi access
For a new adventure every day, try to stay at the KOA. These and other activities are sure to keep you and your travel companions entertained for the duration of your visit.
Honorable Mentions
There are so many great places to stay while visiting Great Sand Dune National Park and its surrounding areas that we cannot detail all of them. The following list highlights some other great options that were not discussed today but definitely worth mentioning. 
Continue reading to learn about camping without all of the bells and whistles. 
A Note on Dispersed Camping Near The Sand Dunes
As a whole Americans have gotten quite comfortable with their camping experiences. You may be the type of person who feels that camping is an experience that should not include every modern comfort that man has devised. 
If so, you will be pleased to know that there are loads of places to have a truly primitive camping experience in and around Great Sand Dunes National Park. You can visit the BLM website to see roads that are deemed acceptable for primitive camping and learn all of the rules. 
This area is beautiful and has a lot to offer, sometimes pulling off the side of the road when you see a nice spot is better than any five-star hotel.
Just remember to carry out whatever you carry in.
If we don't all do our part to preserve our natural wonders they won't last another hundred years for others to enjoy. 
Be Prepared For More Than An Oversized Sandbox 
Although the main attraction may include a whole lot of sand, there is more to this area than the magnificent dunes to keep you entertained. If you thoroughly research the area and plan in advance you are sure to have an unforgettable experience that will have you ready to come back for more.  
Sources: 
(https://www.colorado.com/articles/national-park-profile-great-sand-dunes-national-park-preserve), 
(https://www.nps.gov/grsa/index.htm), 
(https://www.offpathtravels.com/great-sand-dunes-national-park-camping/), 
(https://www.hipcamp.com/en-US/discover/colorado/great-sand-dunes), 
(https://www.nps.gov/grsa/planyourvisit/area-campgrounds.htm), 
(https://www.alamosa.org/travel-tools-tips/a-travelers-blog/874-rv-parks-and-campgrounds-near-the-great-sand-dunes-national-park), 
(https://thedyrt.com/camping/colorado/colorado-pinon-flats-campground), 
(https://www.blm.gov/visit/zapata-falls-campground), 
(https://koa.com/campgrounds/alamosa/), 
(https://www.usatoday.com/story/travel/advice/2019/09/20/primitive-camping-what-you-need-to-know/2385364001/),