If the Upper Peninsula of Michigan is on your bucket list of places to ice fish, it's easy to see why. There are so many beautiful lakes with abundant supplies and varieties of fish that it would take you a lifetime to visit them all and experience everything they have to offer.
Fun fact: There are approximately 4,300 inland lakes in the Upper Peninsula of Michigan.
This article will highlight some of the most popular lakes on the Upper Peninsula of Michigan that ice fishermen and women love to visit.
5 Popular Lakes to Ice Fish in the Upper Peninsula of Michigan
Cass Lake is one of the most popular lakes in Michigan to fish any time of the year. It is not as large as some of the others mentioned but it makes up for that with its wide variety of fish. 
The deepest point of Cass Lake is approximately 120 feet. This lake has plenty of sloping banks and bays for fish to gather in, so there is always plenty of action for everyone. 
Locals say that the best Panfish location is just off of Dodge #4 State Park Public Access Road. They also say that if you are wanting to catch Crappie, the best time is when the water is frozen over. The average size of a Crappie in this lake is 10" – 12".
Cass Lake Catch of the Day
Black Crappie

Bluegill

Largemouth Bass

Northern Pike

Smallmouth Bass

Trout

Walleye

Yellow Perch
Cisco Chain of Lakes Michigan
The Cisco Chain of Lakes is made up of 15 lakes, with approximately 270 miles of shoreline. This is a great place to ice fish because there is so much room to explore. 
You have the option of finding a remote spot away from everyone else if you choose to do so. There is plenty of room for everyone to claim their own territory without encroaching on someone else. 
The Cisco Chain, like so many other lakes, offers multitudes of options such as:
Cabin rentals and resorts that cater to fishermen and women

Equipment rental services for those who want to go it alone

Guided ice fishing excursions and more
It is highly recommended that you bring a map and compass or GPS with topographical features along with you on your trip as there are so many little inlets and places to explore. It can be easy to get lost if you are not paying attention. 
Additionally, it is good to bring a topographical map or GPS to help you pick the best locations for your ice holes. It is always good to bring these things on any ice fishing trip.
Cisco Chain Catch of the Day
Bass

Muskie

Northern Pike

Panfish

Walleye
Crystal Lake has been named the 9th largest lake in Michigan with an average depth of 70 feet and 165 feet at its deepest part. 
Years ago in the 1800s, there was a plan to make a channel between Crystal Lake and Lake Michigan; however, that plan failed and resulted in lowering the water level at Crystal Lake. 
The lowered water level created a great sandy area where multitudes of resorts have been established for those who wish to experience all that lake life has to offer. 
This lake tends to attract avid Lake Trout fishermen and women. Many times people will fish at night for smelt to use for bait the next day to catch the Trout. This lake, like so many others, also offers guided tours and other services for those who like to ice fish.
Crystal Lake Catch of the Day
Bass

Muskie

Northern Pike

Panfish

Walleye
This man-made lake is approximately 12 miles long and has 5,000 acres of water surface to fish. It was created many years ago during the logging days to float logs. 
It has since become a very popular destination year-round. During the open water months, there are no motorized water vessels allowed on this serene lake. There are multiple fishing tournaments offered throughout the ice fishing season. 
If you are looking for Walleye the locals recommend that you try jigging around the drop-off of the northern bayou. 
Bluegill tends to stay around the south bayou whereas night fishing for crappie tends to happen on the drop-offs of the northern and southern ends of the lake.
Hamlin Lake Catch of the Day
Bluegill

Crappie

Muskie

Northern Pike

Perch

Walleye
This lake has over 13,000 acres of water surface to fish so there is plenty of room for everyone to get their little piece. Lake Gogebic offers a great range of clay, rocky and sandy banks, and shorelines to fish. 
Learn where everything is by using your map or GPS so you can catch the type of fish you are looking for. 
Lake Gogebic is known for its multiple fishing tournaments throughout the year. They offer thousands of dollars in prizes and attract a great deal of attention. There are guided tours and other services geared toward the avid fisherman or woman as well.
Lake Gogebic Catch of the Day
Jumbo Perch

Northern Pike

Smallmouth Bass

Walleye

White Fish
Other Lakes Worth Mentioning
As mentioned at the beginning of this article, there are so many lakes it would take a lifetime to visit and explore them all. The following list is comprised of other lakes that are popular amongst fishermen and women. Feel free to give them a Google and see what they are all about. 
Cadillac and Mitchell
Lake Huron
Lake of the Clouds
Lake Superior
Manistique Lake
Muskellunge Lake
Ottawa National Forest
Saginaw Bay
Sylvania Wilderness
Upper Peninsula - More to Offer Than Ice Fishing
Even though we are discussing ice fishing in this particular article, it is worth mentioning that the Upper Peninsula of Michigan offers great fishing all year round along with many other fun activities for you and your family to participate in while you are visiting.
Overall the Upper Peninsula of Michigan is a great place to visit any time of year.
Other Great Outdoor Related Articles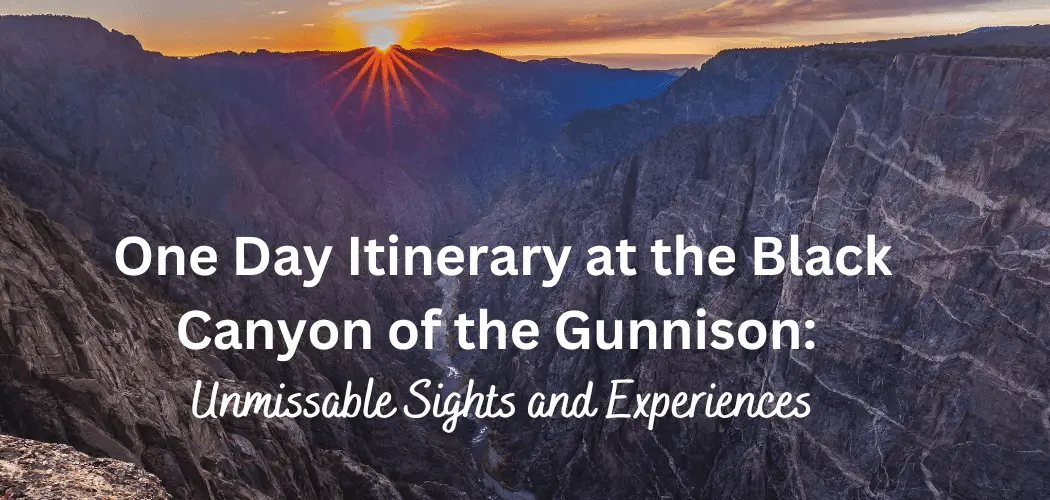 The Black Canyon of the Gunnison National Park, located in Montrose, Colorado, offers breathtaking views and unique geographical features that attract visitors worldwide. This awe-inspiring ...