If you've ever packed for a trip, you know it doesn't take long to fill up a suitcase. Similarly, it's easy to fill up a backpack when you find yourself prepping for a long hike into the unknown. You want to bring all the essentials in a way that won't weigh you down.
When packing for a long hike, always start with a checklist. Not sure what to put on it? No worries!
We've got a list of great products designed to maximize function and minimize poundage.
Hiking backpacks are designed to fit you to a tee, providing comfort and exceptional functionality. They also help prevent aching shoulders and back problems down the road if long hikes are something you see yourself doing regularly. 
How do you know which one is the "right one"? Some things to consider in a good hiking backpack are:
How much does the pack weigh on its own?

Lightweight options are available for people with limits on how much they can carry. The downside to these lightweight packs is you may have to sacrifice some functionality.

How accessible are its external pockets?

Can you easily access your water and snacks?

Would you benefit from a brain (convenient top lid) or extension collar?

A brain provides easy access to things you need multiple times throughout the day. An extension collar is handy if you have things you only need for a portion of the hike. Both of these options can add weight to your pack, so choose wisely.

Consider the number of straps and buckles

. How easily do you want to be able to slide your pack on and off? If you opt for the easier option, you'll want fewer straps. How snugly do you want the pack to fit against your body? If the answer was snug, you may need more straps. Occasionally you may have an odd-shaped item that won't fit in your pack. Some packs allow you to attach this to the exterior of your backpack.

Is it waterproof?

If your pack is waterproof, great! If not, you may have to stop mid-hike to dig a rain cover out of your pack to throw over it.

The comfort of suspension. 

The suspension of your pack will determine if and how your backpack rests against your body. There are all kinds of bells and whistles when it comes to the suspension of your pack, from comfortable padding to suspended-mesh backpacks designed to keep you cool and dry.

How much does it cost?

The answer here is usually… a lot. However, you get what you pay for. Look for used options on places like eBay or Facebook marketplace if you are unable to find any packs in your price range.
Our favorite hiking backpack manufacturer is Osprey Packs. They have been making great hiking packs for a long time and pay great attention to detail and comfort.
How to Pack for a Long Hike
We all know how important it is to stay hydrated during our hikes. For shorter hikes, bringing an adequate water supply is usually no big deal. However, bringing enough water on longer hikes is a bit trickier considering a quart of water weighs around two pounds. This is quite a lot considering you should be drinking ½ a liter of water per hour. So what options do you have on a long hike?
Use a hydration bladder

: A hydration bladder is a backpack-style reservoir typically made of rubber or flexible plastic that you place in your hiking backpack near your back. A hose runs out of the reservoir and up to your mouth for hands-free drinking, usually activated by a bite valve. It can be difficult to know when the reservoir is running low and refilling can be a pain.

Carry water bottles

: Several different types of water bottles exist to choose from. They are easy to refill but usually require you to slow down or even stop to drink. This can deter you from drinking as much as you should depending on how cumbersome it is.
Water treatments

: This one is kind of a necessity. At some point during a long hike, you will have to refill or replenish your water supply. There just simply isn't a way to carry it all. There are several options available on the market, from water filters and water tabs to filtering straws.
Emergency supplies are always important to have on hand, but even more so on long-distance hikes. The longer you are out, the more chances you have of something going wrong. Having a survival kit on hand is a necessity. Yours should include:
Easy to set up shelter

Navigational tools: maps, compass, GPS, etc.

Light Source: flashlight, headlamp

Extra Batteries

Way to Start a Fire: firestarter kit, matches, lighter, etc.

First Aid Kit

Knife/ Multi-tool

Paracord

Duct tape

Rescue signals: whistle, signaling mirror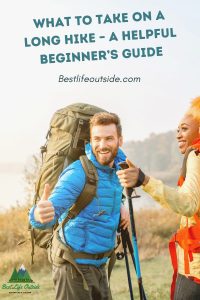 These hiking sticks allow hikers to maintain their normal walking rhythm and help with stability on rocky or uneven terrain. These poles can help with knee pain, are collapsible, can be used to measure the depth of water, and can even serve as poles to tents.

Sleeping bags are an important consideration as this will likely be one of the heaviest, and priciest, items you'll have in your pack. You will want to find a balance between weight and warmth. Usually the warmer you go, the more your sleeping bag will weigh and vice versa.
Most things that fill up your pack during a long hike usually have to work hard for you, and food is no exception. You need good nutrient-dense choices that are easy to transport. You also need to pack quite a bit.
Breakfast
Instant oatmeal

Dried fruit
Lunch and Snacks
Protein-rich meats like tuna, salami, and beef jerky. 

Tougher bread like bagels, pitas, and flatbreads paired with healthy fillings, like peanut butter

Fruits

Hard cheeses

Nuts and seeds

Dinner 
Instant potatoes

Instant rice

Freeze-dried meals
Comfortable shoes with great support are a must on a long-distance hike. A comfortable shoe that fits well and is breathable is key. You want something with a good grip and cushion. Other factors to consider are price, ankle support, lug pattern, and material of the sole.
Your clothing needs for a long hike will likely be similar to what you wear on a regular hike. Think about the following: 
You want synthetic clothing that will wick sweat and moisture away. 

Avoid cotton at all costs. 

Bring an insulated jacket and a repellant type of rain jacket. 

Wool socks are a great choice for your feet. 

You will need to bring an entire extra outfit for a long hike. One to wear and one to keep in your pack. You can rotate outfits as needed. 

Clothing made of synthetic materials will dry quickly ensuring that you have dry clothing at all times.
Other Great Outdoor Articles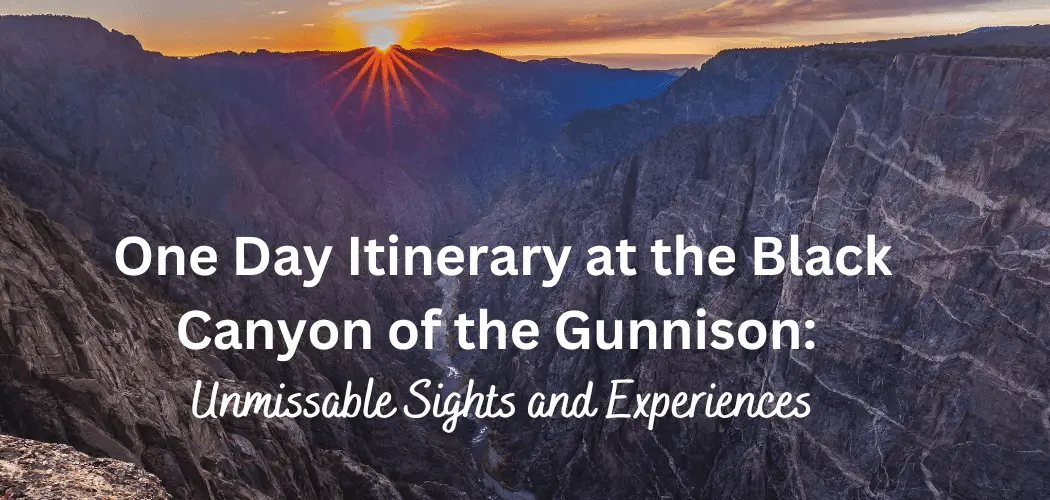 The Black Canyon of the Gunnison National Park, located in Montrose, Colorado, offers breathtaking views and unique geographical features that attract visitors worldwide. This awe-inspiring