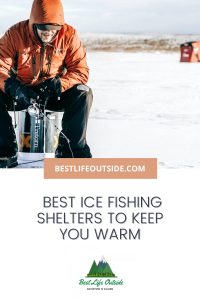 You're ready to hit the ice and catch some trophies to brag about, but you've heard it's going to be unseasonably cold and windy this winter. In the past, you could make it with no shelter. But, maybe you're a little older and wiser and now you realize that it's nice to get out of the weather and warm up. You may be wondering what shelters are the best for keeping warm on the ice. 
When shopping for an ice fishing shelter to keep you warm, you want to keep the following things in mind.
Does it have additional pockets for storage?
Does it have windows for light and ventilation?
How easy is it to set up if you are alone?
How easy is it to transport it to and from the ice?
How many people can fit inside?
The quality of materials used and the amount of insulation.
The size and weight of the shelter.
To learn more about the best insulated ice fishing shelters, keep reading. 
Comparison Table of Ice Fishing Shelters
Do You have to Have an Ice Fishing Shelter?
Ice fishing is an individual pastime that has grown into a popular family sport. It's no surprise, considering how much fun it can be sitting in a small shelter on the ice – or 'shanty' as they're often called – chatting with friends and searching for fish. However, there are many different kinds of ice fishing shelters on the market. Some are expensive, while others are inexpensive and easy to build yourself.
If you're an experienced ice fisherman who knows what works best for you, then a prefabricated shelter might do the job just fine. But, if you're new to the sport and trying to decide whether or not a shanty is right for you, then the fact that there are so many different sizes and styles of ice fishing shelters will probably be confusing.
You don't have to have an ice fishing shelter, especially on gorgeous days where the risk of bad weather is low. However, those gorgeous days are also the toughest to catch fish. The foul weather days are where you really end up killing it fishing.
An ice fishing shelter will help you stay warmer, stay out on the ice longer, and be more comfortable on those days where the fish are basically hopping onto your pole.
How Long Do Ice Fishing Shelters Last?
You should be able to get many seasons from an ice fishing shelter and something that you should only think about replacing every 5-10 years.
When storing it after use, make sure that it is completely dry and cleaned off. This prevents mold and other bacteria from growing on the surface of the tent.
It's also best to keep it out of direct sunlight when storing it between trips to avoid early breakdown of the outer coating.
To help cut down on the chances of mice destroying an ice fishing shelter, store it off the ground during summer.
How Much Warmer is an Ice Fishing Shelter?
The difference between sitting in an ice fishing shelter and sitting on the ice in bad weather is like night and day.
On a cold, windy day, you might be miserable at only 40 degrees, but when your body heats up underneath the thick fabric of an ice fishing shanty, you could actually feel warm enough to take off a layer.
The actual temperature inside of a shanty is somewhere between 10-20 degrees warmer than outside. This is especially true if your shanty has a heater, which actually puts off more heat which can quickly heat up the small area in no time.
Those who fish in shanties with a heater will need to make sure that they have enough fuel to keep the heater running for the duration of their trip, which can be from 4-10 hours depending on how long it's needed.
Can you use an Ice Fishing Shelter in the Wind?
Yes. Ice fishing shelters are rated to withstand winds up to 90 miles per hour.
We do recommend anchoring the fishing shelter to ice through anchors or other means.
One clever way to anchor the fishing hut in the wind is to drill a small hole and tie the shanty to the 2×4 that is put through the whole. It's spreading the force over a greater area underneath the ice.
FAQ About Ice Fishing Shelters
Can you use a heater in an Ice Fishing Shelter?
Some ice fishing shelters come with an included heater, but the majority of ice shanties do not have one. If you would like to use a heater in your shelter, we recommend using an electric one for easier control of the temperature.
It's best that you bring a thermometer inside with the heater running so that you can make sure that it doesn't rise above 45 degrees. If you're using a kerosene heater, we recommend bringing two thermometers with you and having the heat set so that one is registering a temperature of 35 degrees and another of 55 degrees.
It's important to remember that there are little windows on these ice fishing shelters, which means they lose heat very quickly.
Do Ice Fishing Shelters have a floor?
While it's always possible to put a floor inside your ice fishing shelter if you want one, they are typically sold without a floor. Most do not come with a floor except for a select few.
Most of our customers choose not to bother with a floor, because the fishing shanties are very easy to carry with you. They open up wide enough so that you can just roll them out on the ice in case you need to move! Ice fishing shelters are pretty simple to use whether they have a floor or not.
Are Ice Fishing Shelters Waterproof?
Yes most ice fishing shelters are waterproof. These are made of high strength material that will stand the test of time against the elements and weather.
They are designed to withstand snow storms, rain and other potentially wet conditions. The materials they are made with is waterproof but it is always best to check your specific ice fishing shelter that you plan on buying.
5 Best Insulated Ice Fishing Shelters
The following section will give some details on some of the best-insulated ice fishing shelters on the market. Of course, no product can satisfy every customer, so take any review you see with a grain of salt.
Be your own judge. Pay attention to the quality of materials used and the construction of an item versus how fancy it looks. 
Clam™ Legend XL Thermal Single Person Ice Fishing Shelter
Sometimes you just want to go it alone. For times when you don't have your buddies around, this ice shelter is super handy and offers plenty of space to get some serious ice fishing done. 
Product features overview: 
Comes with a deluxe swivel seat for maximum comfort and support while you are fishing

Comes with a tow rope for easy transporting

Easy to set up, includes 4 windows, 4 vents, and 2 doors which allow you to move around easily and give proper ventilation

Fits one person comfortably

Includes a hammock under the seat to store additional gear

Made from high-quality durable thermal materials

The dimensions of this product are 7.7' x 3.7' x 5.6'. When folded up the dimensions are 44" x 36" x 24" and it weighs around 60 pounds
Good luck trying to find a negative review for this product. So far all customers who have purchased this single-person ice shelter have been totally satisfied. 
If there was one negative thing about this setup, it may be the price. Although it is a high-quality product, it is not inexpensive. If you ice fish by yourself frequently, then it will be worth the money.
Eskimo™ FatFish Series Pop-Up Ice Fishing Shelter
You won't have to worry about losing your shelter on the ice with this bright red pop-up ice fishing shelter. There is enough room to comfortably fit yourself and two or three of your buddies. 
Product features overview: 
All materials are designed to last and made with durable materials

Easy to pack and carry

Fully insulated with high-quality quilted material

Has removable and adjustable window panels to control your ventilation

Includes self-tapping ice anchors and everything you need to set up and carry 

Offers mesh storage pockets for additional gear

Thanks to the wide-bottom design you have more interior space to sit and fish with your friends
Thunderbay™ Ice Cube Three Person Ice Shelter​
Forget about cold winds and drafts with this ice shelter. It is designed to protect you from the elements so you can have the best ice fishing experience possible. 
Product features overview: 
Coated in a special blackout material to block the light when you want it to be dark

Comes with everything you need to set it up as well as a handy carrying bag

Comes with extra-wide skirting to prevent drafts from sneaking in

Comes with windows that are easily attached with hook and loop material. They can be adjusted and replaces in seconds

Made from high-quality materials designed to block the wind and keep your warm and toasty

The dimensions of this shelter are 90" x 90" x 80"
The customers who have purchased this ice shelter have been satisfied overall with the quality and ease of setup. Adversely, there have been several reports that when the tent was delivered, it was assembled incorrectly at the factory and many had to be sent back or taken apart and reassembled correctly. 
Nordic™ Legend Wide Bottom Shelter Fits 3 Adults
Just looking at this shelter should make you feel warm with its high-quality quilted design. Its extra-wide bottom allows for more interior space, giving everyone room to fish.
Product features overview: 
Everything you need is included and it comes with a convenient carrying bag with shoulder straps

Features attractive quilted material that is insulated to keep you warm even on the coldest of days

Made from high-quality, durable materials with super-strong stitching to withstand normal wear and tear for a long time

Simple to set up

This roomy ice fishing shelter offers 40 square feet of space
Frabill™ Bro Series Hub Ice Fishing Shelter
Three is not a crowd when it comes to this handy, portable ice fishing shelter. You and your buddies will have plenty of room to fish as well as store your extra gear. 
Product features overview: 
Large enough to hold three adults comfortably

Made from high-quality, durable materials that are designed to withstand the elements and the regular wear and tear that occurs while on the ice. 

Made with a high-quality full zipper door

Offers 44.5 square feet of fishing space

Poles have been upgraded for additional strength and support

Roof and walls are insulated to prevent cold air from coming in

The dimensions of this product are 80" x 80" x 80"

This product weighs 36 pounds

This shelter was designed by professional ice fisher Brian "Bro" Brosdahl hence the name Fabrill "Bro" Series

When folded up the dimensions of this product are 56" x 10.375" x 10.375"
Overall this product has had pretty good reviews. Some have been happy with how well this shelter withstood the wind. One customer did complain that they were missing parts and could never get in touch with a person to resolve the issue, so they were dissatisfied with the lack of customer service. 
How to Set Up an Ice Fishing Shelter
Stay Warm to Extend Your Fishing Time
Hopefully, this article has shed some light on the best ways to get out of the winter elements while ice fishing. Take your time and consider what things are most important to you in an ice shelter. The products listed in this article are all high-quality and will surely make your fishing trip more enjoyable.
Other Great Outdoor Related Articles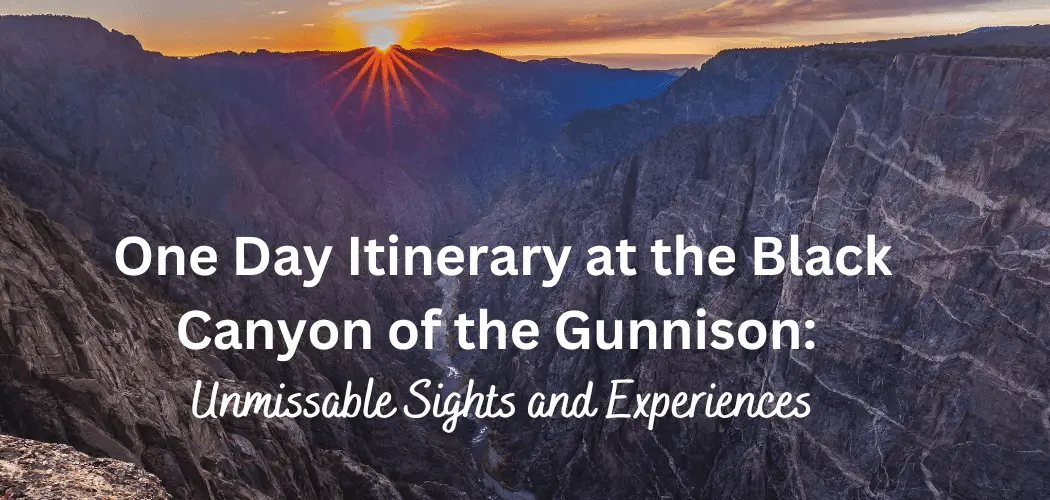 The Black Canyon of the Gunnison National Park, located in Montrose, Colorado, offers breathtaking views and unique geographical features that attract visitors worldwide. This awe-inspiring …