Snowshoeing is a great way to get out in nature for a little exercise throughout winter. Deciding what to wear working out in the cold winter is always a little challenging. If you dress too warm, you will soon overheat as you begin to exert yourself. If you dress too light, you risk hypothermia. 
The answer lies in wearing layers. Layers allow you to start out dressed for warmth. As your body begins to warm up, you can remove layers as needed to stay at a comfortable temperature. So what layers do you need?
Let's start at the bottom or base layer. The base layer sits closest to your skin and serves one main purpose: to wick away moisture. 
Simply put, this wicking layer is long underwear that repels moisture away from the skin, keeping it dry and protected. Ideally, you wear a base layer on your upper and lower body. 
Make sure this base layer fits snugly against your skin and that you find the material comfortable. The most popular types of fabric for a base layer are synthetics, merino wool, and silk.
Synthetic materials are the most durable and silk options are the least. Merino wool naturally provides more warmth because of its insulating properties.
Base layers also come in different weights, ranging from lightweight, mid-weight, and heavyweight. Investing in a couple of different pieces is a good idea so that you can choose a heavyweight baselayer on extremely cold days or go with a lightweight blend for the warmer winter days. 
Not sure you want to invest a whole lot of money into this yet? No problem. You should be fine with just a versatile, midweight layer. The most important factor is that your base layer keeps you dry. Your warmth will come from the next layer.
The middle layer is also known as the insulating layer. This layer helps to retain your body heat. This is also the layer you shed when your body starts to warm up from the workout. 
For your top half, think of wardrobe pieces like fleece pullovers, down jackets, or puffer jackets. It's also possible to double up here if needed. Consider wearing a fleece pullover under a down jacket. 
For your bottom half, you will want to invest in a pair of hiking pants. The main attributes of hiking pants are that they are weather resistant and dry quickly.
Look for 100 weight fleece tops for a little extra warmth. Fleece is a great option for a mid-layer as it is usually relatively cheap and durable. 
Most fleece consists of polyester material that can dry quickly and that can retain heat even when wet. 
The great news is most of us already have a fleece or two in the closet that will get the job done. No need to go out and buy anything fancy. Simple is just fine.
Down jackets are rated by their "fill power". The higher the fill power, the more insulating the jacket will be. Most jackets range anywhere from 400- 900 fill power. 
These jackets are filled under a shell-type outer layer and are usually good at resisting wind. However, if these jackets get wet they lose their ability to insulate as efficiently. If you are wearing a good outer layer that does its job, this won't be an issue.
Puffer jackets are similar to down jackets, but instead of a shell layer filled with down material, it's filled with a synthetic material. 
This synthetic material usually weighs less than down. The degree of "puffiness" ranges from jacket to jacket. Puffer jackets are usually more wind resistant than down jackets and can remain insulated even when damp. 
The downside is puffer jackets usually don't compress as well as down jackets.
A good mid-layer pair of pants will be weather-resistant, meaning it repels water, wind, and snow, and also provides some insulating properties. A bonus is if your pants can button or zip down the side for the ability to remove them easily should you get too warm.
Your outer layer of snowshoe gear is the one that helps protect you. It protects your inner layers from the elements like wind, snow, ice, or rain. This layer is extra tough and works hard.
Your outer jacket will be made of a waterproof hard or softshell jacket, depending on the temperature. 
Your hiking pants will usually be able to suffice here as an outer layer, especially if it contains DWR (durable water repellant) or Gore-Tex.
One important consideration to keep in mind here is wearing clothing that can allow you to cool down if you start getting too warm. Some jackets come with underarm zips that allow you to easily cool down without having to lose layers. Clothing with half zip and quarter zip capabilities allows this same ease in cooling down.
Don't forget to wear something to cover your hands, ears, head, and any other exposed skin. Lightweight socks and underwear made of wicking material are also ideal and will help keep you comfortable. 
Winter Hiking and Snowshoeing Gear
One last consideration is whether or not you will bring a pack with you and what type you should have if you decide to use one. 
The ideal snowshoeing backpack will be lightweight and made of weatherproof material. Should you choose to bring one with you, your backpack will give you somewhere to store the layers you shed as you start to warm up. You will also have somewhere handy to store water and snacks.
Other Great Outdoor Related Articles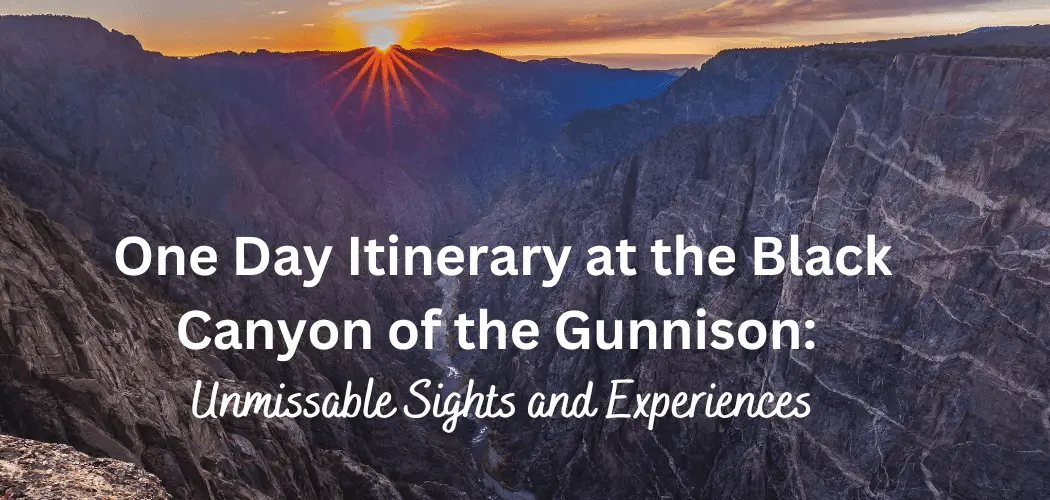 The Black Canyon of the Gunnison National Park, located in Montrose, Colorado, offers breathtaking views and unique geographical features that attract visitors worldwide. This awe-inspiring ...