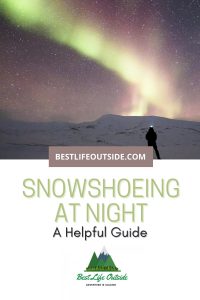 Unless you've been snowshoeing yourself, it's hard to explain how soothing to the soul it can be. From the crisp air and snow coating the tree branches to the crunch of the snow beneath your crampons, it all adds up to a wonderful assault on your senses. 
If you've been snowshoeing for a while, it might be time to shake things up a bit. Have you ever tried snowshoeing at night?
Let the moonlit snow and twinkling stars guide your way and be transfixed by the serenity of the nighttime scene. Before you head out on your nighttime voyage, there are a few things you will have to consider to ensure a happy and successful trip.
Snowshoeing at night is a different beast than snowshoeing during the day. You will need a few extra provisions to ensure an enjoyable trek. 
Headlamp: While you may have some illumination from the moon and stars above, you will also need more direct light to see where you're going.

A headlamp

is probably your best bet. It will keep your hands free for trekking poles and retrieving supplies as needed. 
GPS or Compass:

Navigating snow in the daytime can be tricky as familiar landmarks are obliterated by the snow. This is even more true in the dark of night. It can be hard to differentiate any landmarks with the snow and lack of light. Bring along your navigational tools such as your GPS or compass and look for any identifying landmarks to help guide your way back. 

Trail Markers:

You can purchase trail markers to make sure you can easily find your way back. 

Emergency Supplies:

While you may not be planning on spending the night outdoors, an unforeseen injury or accident could quickly change your plans. Stock your backpack with: 

extra batteries

emergency shelter

a first aid kit

sleeping bag

change of clothes

extra food and water

fire source 
With caution and any luck, you won't need these supplies. But anytime you venture out into the cold, especially at night, it's important to be prepared. Stick to areas that you know well and take precautions to avoid being lost in the snow at night.
Venture Out During a Full Moon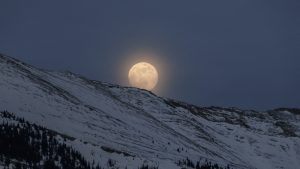 Being outside in the snow with a full moon is magical. The moonlight is reflected in the fallen snow providing extra illumination for an experience unlike any other. The only sounds you hear will be the crunching of the snow under your feet and the wind whispering through the trees. Enjoy the expansive views that seem to be highlighted by the moonlight. 
Make a Bonfire At Your Halfway Point
Snowshoeing is cold during the day, but once the sun goes down, freezing temperatures can turn glacial. What better way to mark the halfway point of your journey than settling down in an open clearing to enjoy the warmth of a bonfire?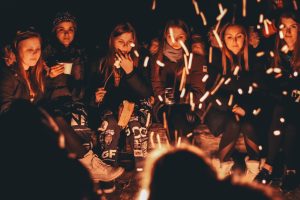 Bring along some friends and a thermos or two of hot drinks to enjoy as you unthaw. Once everyone is recharged, head back to your starting point. 
A lot of guided tours incorporate this into their nighttime snowshoeing tours, so it may be worth a shot to see if there are any local tours near you. Let someone else take care of all the planning and provisions.
Snowshoeing at night can be especially dangerous if you are venturing out by yourself. There is a multitude of things that can go wrong. In freezing temperatures, even a sprained ankle can be an emergency. 
Having at least one other person with you who can go get help if needed is ideal. The more people you have, the more you can spread out your emergency supplies among your packs and the more hands-on-deck that are available if needed. Stick together and be smart.
Dress Appropriately and Know the Warning Signs of Hypothermia
As we've said earlier, once the sun goes down the temperatures are going to drop drastically. Know the importance of dressing appropriately. Consider wearing: 
A moisture-wicking base layer

An insulating middle layer

A top layer designed to block moisture. 
Try to avoid sweating and remove or add layers as needed. 
Hypothermia occurs when your core body temperature drops down to dangerous levels. This happens when you are exposed to cold for lengthy periods. Keep in mind that hypothermia can even occur in temperatures above freezing if you are drenched in sweat or moisture, which is why dressing appropriately is so important.
Here are a few warning signs to watch out for:
Shivering

Exhaustion

Confusion

Fumbling hands

Memory loss

Slurred speech

Drowsiness
The biggest danger with hypothermia is that the affected person is unlikely to realize what is going. This is another reason why you should use the buddy system. 
Make sure everyone in your party is aware of these symptoms and how to treat them. If you or someone in your party begin to show signs of hypothermia: 
Set up an emergency shelter to get the affected party out of the elements. 

Remove any wet clothes and concentrate on trying to warm them up by adding layers and blankets if available. 

Skin-to-skin contact can be beneficial as well. Drinking or eating anything hot can help warm the body up from the inside out.
Know the Signs of Hypothermia
Other Great Outdoor Related Articles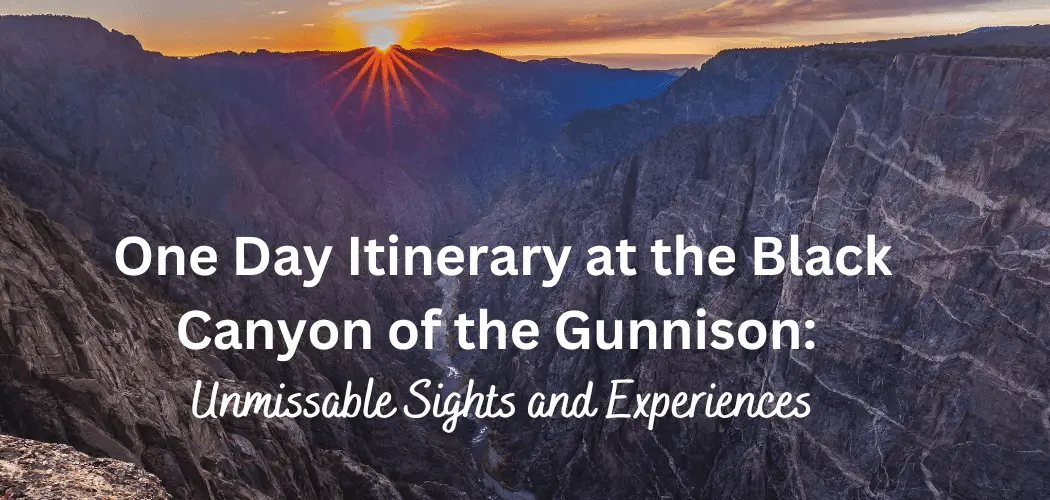 The Black Canyon of the Gunnison National Park, located in Montrose, Colorado, offers breathtaking views and unique geographical features that attract visitors worldwide. This awe-inspiring ...