If you are heavy, camping can be challenging. This is particularly true if you are trying to sit down and enjoy a campfire in a chair meant to fit a tiny person. You're either going to feel cramped and stuck, or have corners and edges poking into you every which way.
You need to find heavy-duty chairs that will accommodate your weight and provide comfort during long periods of sitting. These chairs offer a wider seat, more back support, and are easier to get out of.
We have reviewed some of the best heavy-duty camping chairs for overweight people on the market today.
5 Best Heavy-duty Camping chairs
What to Look for in a Camping Chair for Big Guys
When you are looking for a camping chair to fit a bigger boned individual there are a few things that you shoulder consider.
Type of Chair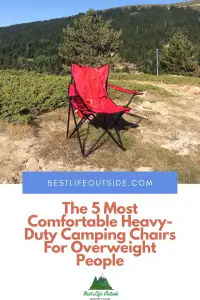 The first thing that you need to consider is the type of chair. There are several different types that have been designed for heavy people.
You will find traditional camping chairs, oversized recliners, and folding heavy-duty chairs. Each has its own set of pros and cons depending on your needs so it is important to understand them before making a purchase.
Chair Material and Weight Capacity
The second thing that you should consider is the type of material used to make it. This will be accompanied by a weight capacity, which can range from 300 lbs to 600 lbs and higher depending on the chair design and materials used. The heavy-duty camping chairs for overweight people we have listed above all provide good weight capacities ranging from 300 lbs to 500 lbs.
Chair Portability and Ease of Carrying
An additional thing that you should consider is the portability of heavy-duty camping chairs. You will find heavy-duty camping chairs for bigger people that are heavier and bulkier than traditional camping chair designs because they have been made with more durable materials to accommodate a larger weight capacity.
This means it may not be as easy to transport these types of heavy-duty camping chairs for heavy people. However, they will usually be more durable and able to stand up to heavy use over time.
Seat Width
The best heavy-duty camping chairs also take into consideration the seat width.
You will find that many of these heavy-duty chairs have seats that are several inches wider than normal camp chair designs making them a good choice if you need more room to accommodate your size and weight.
This is important because for comfort and to prevent pressure sores or areas of discomfort where the chair is poking into you.
Chair Warranty
It is also good to look for heavy-duty camping chairs that offer a warranty. If you find heavy-duty camping chairs with warranties, it shows they are built well and made of quality materials which should give you more confidence in your purchase moving forward.
Let's face it, these chairs are going to get lots of pressure on them when they are getting used. It's best to get one that can also be replaced should anything go wrong.
What's the Difference Between a Normal Camping Chair and A Heavy-Duty Chair?
The heavy-duty camping chairs are designed to hold more weight, which is usually 300 lbs or more.
They also have a wider seat width and backrest for added comfort when sitting down in them. This makes heavy-duty camping chairs ideal for overweight people looking to enjoy their time outdoors in the sunshine.
What Makes Camping Chairs Ideal for Big Guys?
Camping chairs are ideal heavy-duty camping chairs for heavy people because they offer a wide range of support that is important when sitting in one place for long periods of time. This includes extra back and lumbar support which will make your outdoor experience more comfortable while you enjoy the great outdoors.
What's the Weight Limit on Camping Chairs?
There are heavy-duty camping chairs that can hold up to 800 lbs.
These heavy-duty chairs for heavy people offer the best support and comfort when sitting down in them because they have extra durable materials built into their design which will help prevent any damage over time!
Normal camping chairs may have a weight limit between 225 lbs – 300 lbs.
FAQ About Heavy-Duty Camping Chairs
Do Larger Chairs Weigh More?
Larger heavy-duty camping chairs do not always weigh more than other types. However, because they are made with a wider seat width and strong materials to hold more weight capacity for extended periods of time without cracking or breaking, heavy-duty camping chairs tend to be bulkier and heavier compared to normal camp chair designs.
How Much Do Heavy-Duty Camping Chairs Cost?
Heavy-duty camping chairs cost around $90 and up depending on the design and materials used. This includes chair designs with weight capacities of 300 lbs to 500 lbs!
What's nice is that heavy-duty camping chairs offer a comfortable sitting experience for people who may not be able to fit comfortably into a normal camping chair design.
Are Heavy-Duty Camping Chairs Expensive?
The heavy-duty style of camping chairs tends to be more affordable compared to other types because they have been designed with comfort and durability in mind rather than being lightweight, compact, and easy to carry around.
This makes them great for people who need durable camping chairs that offer a high weight capacity and comfort when sitting down.
How Long Do Oversized Camping Chairs Last?
Oversized heavy-duty camping chairs can last for many years depending on how often they are used and the materials built into their design. A durable camping chair with a weight capacity of 500 lbs or more will typically last longer than normal camp chairs because it takes much more effort to break one compared to lighter, smaller options.
The 5 Best Large Camping Chairs for Large People
KingCamp Heavy Duty Camping Chair
Summary: The Kincamp Heavy-Duty camping chair is a great option for a lightweight yet durable chair set. At only 19. 6 × 19. 6 × 5. 9 inches it's easy to carry with the handle.
The heavy-duty chairs are made from a sturdy steel frame that can support supports up to nearly 400 lbs;
We love some of the added features such as the padded armrests and the side table with cup holder. 
ALPHA CAMP Oversized Camping Chair Heavy Duty Support 450 LBS
Summary: This Alpha Camp Chair has a size of 25.20″L x 36.61″W x 39.37″H and weighs 13.2 pounds.
This chair's large seat area with 600x 300D comes with padded oxford fabric and the cushioned armrest provides comfort. 
The powder-coated finish on this chair resists rusting and fading. The bottom of the chair is strengthened with four heavy-duty steel frames. You'll be able to enjoy it outside all year long because of the sturdy steel frame construction, which can support up to 450 pounds.
With a deluxe design and sturdy mesh cup holder, you can rest at ease while on the go. The ideal height for the seat and armrest allows you to unwind comfortably.
Timber Ridge Camping Chair 400lbs
Summary: The Timber Ridge Camping Chair provides sturdy support in a lightweight package.
The weight is 13.67 lbs. The width is 22.5 inches. 
Made of high-quality polyester and a steel frame that can support up to 400 pounds, the folding outdoor chairs are robust.
The seat is padded and comes with a detachable cushioned armrest and swivel cup holder on the side.
This outdoor chair is ideal for a wide range of activities, such as trekking, camping, traveling, fishing, and watching sports events. It comes with a one-year manufacturer's warranty on all of their goods.
Guide Gear Oversized XXL Rocking Camp Chair, 600-lb. Capacity
Summary: The Guide Gear Rocking Camp is a heavy-duty camping chair that can support weights up to 600 pounds, which is incredible.
This outdoor camping rocking seat has a pull pin that locks/unlocks it for sturdiness and safety.
With the added benefit of being a camping rocker chair, this outdoor camping seat is 25-inches wide, giving you more room to sit on.
The ergonomically molded armrests and a cushioned seat and back that provide comfort for lengthy periods of time, this camping lounge chair is extremely supportive and comfortable.
This folding camping chair is portable and lightweight; it folds flat for easy storage or transport.
ALPS Mountaineering King Kong Camping Chair
Summary: The ALPS Mountaineering King Kong Chair is one of my favorites because of the wide seat and the ability to hold 800 lbs. 
The durable powder-coated steel frame and 600D polyester fabric provide stability and comfort.
Each adjustable armrest has a cup holder and side pocket for extra storage.
The ALPS Mountaineering King Kong is on our best sellers list; you'll understand why as soon. 
Dimensions: 38″ W x 20″ D x 38″ H, Weight: 13 lbs. ; Weight Capacity: 800 lbs
Key Takeaways
Heavy-duty camping chairs are great for larger people because they provide comfort and durability, all at an affordable price! Heavy people should look for a more comfortable camping chair to help them enjoy outdoor activities without worrying about their chair breaking, poking them, or not being able to support their weight.
Other Great Outdoor Related Articles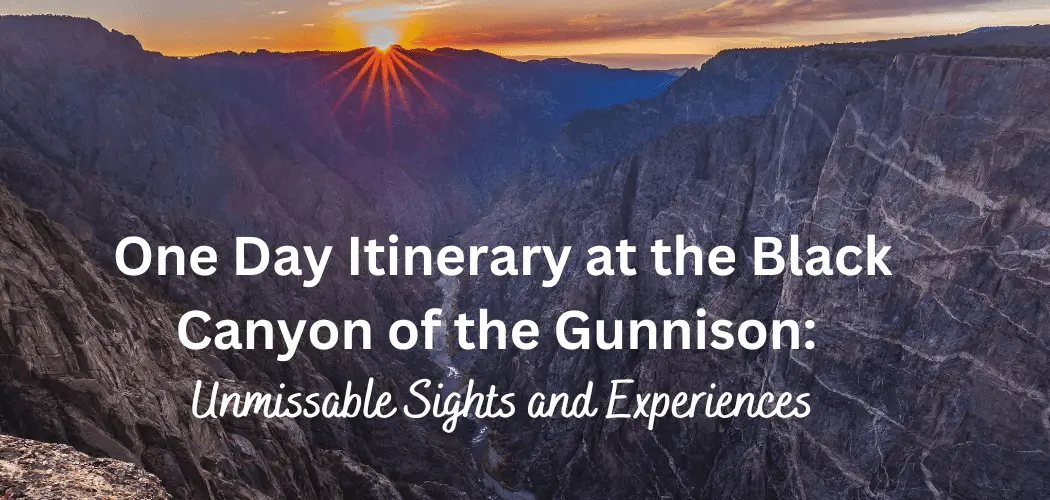 The Black Canyon of the Gunnison National Park, located in Montrose, Colorado, offers breathtaking views and unique geographical features that attract visitors worldwide. This awe-inspiring …