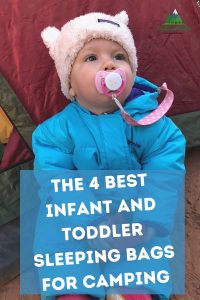 Expectant parents get a ton of advice from well-meaning family and friends. Most of it's appreciated, but some of it might make you want to roll your eyes. "You better sleep now while you still can!" isn't helpful, but my personal favorite was always "Enjoy doing what you love now, 'cause you can't do that once the baby gets here!"
Guess what? I'm still doing all the things I love, including camping. With the right gear, it's easy to bring the baby along anywhere. Since baby sleeps a lot, one of the most important things is an Infant Sleeping Bag.
What are the Benefits of Using a Sleeping Bag for an Infant?
At home, you won't be in control of the temperature when camping. Loose blankets and overstuffed sleeping bags meant for older children pose a threat to infants while sleeping. It's essential to choose a sleeping bag made for infants.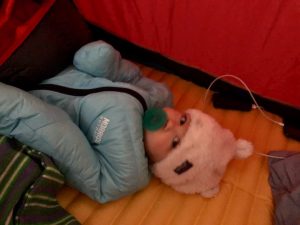 Infant sleeping bags are designed with safe sleeping conditions in mind. Many even meet all of the AAP guidelines for safe sleep. Choosing the right one ensures a good fit and will help your baby stay warm through the night.
Where Should Baby Sleep When Camping?
It's important to continue following safe sleep guidelines when camping. According to the American Academy of Pediatrics, your infant needs a firm surface to sleep on with no loose or soft bedding. There are many portable options to choose from, including: 
Playard or Pack and Play: This is a versatile option as the pack and play can be used for safe sleep and safe play. It's the largest option, so consider your tent size before purchasing. Pack and plays can also be used through the toddler stage, so you'll get the most use out of one of these. 
Infant travel beds: Great for infants not yet rolling or sitting; these lay directly on the floor and have low sides. The firm bottom provides a safe and comfortable sleeping spot for babies. 
Travel bassinets: These are typically on a stand and are also great for infants not rolling or sitting. Consider tent size when purchasing, as well as price. If you have space, a pack and play are often easier to fold and store, cost about the same, and be used longer. 
No matter which option you choose, consider safety, size, and ease of use when deciding where your infant will sleep while camping. 
Think About How Cold the Temperature Will Be
Check the weather forecast before each trip. Optimal temperatures for infant sleep are between 68 and 72 degrees. If the temperature is in this range, you probably won't need anything special. A sleep-sack or footie pajamas will be just fine.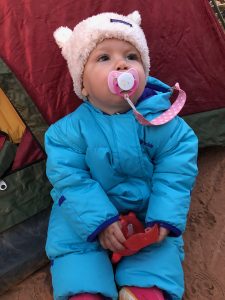 If temperatures are expected to be lower, you should consider using an infant sleeping bag. Choose the sleeping bag based on the temperatures you expect. Some sleeping bags are designed to keep babies warm at temperatures as low as 20 degrees Fahrenheit. 
Additional Items to Bring When Camping with an Infant
The Basics: Diapers, wipes, washcloths, extra clothes. 
Mosquito Repellent: Make sure it's baby safe. 
Sun Protection: Baby safe sunscreen and sun hats
Feeding Essentials: Bottle cleaners, supply of clean water, formula, etc. 
How to Use the Lil Mo Sleeping Bag
FAQ About Infant Sleeping Bags and Camping
What is the TOG Rating?
TOG stands for 'Thermal Overall Grade', which is a unit of measurement used to calculate the thermal insulation of a product and overall warmth. It's a common measurement used in the clothing and baby industries. 
The greater the TOG the greater amount of thermal insulation and the warmer the baby will be camping.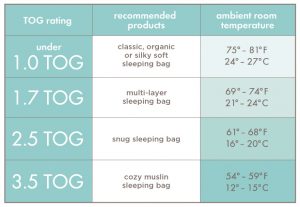 What Should a Toddler Wear to Sleep with a Sleeping Bag?
This all depends on what the temperature is that evening and which sleeping bag you are using. When we camped and the temperatures dropped into the 40's, we had our daughter in long sleeve polyester pajamas and her Lil mo sleeping bag.
If the temperature is going to be 50's or greater then consider short sleeve options if using the Lil Mo 20 or long sleeves with the Lil Mo 40.
Can You Co-Sleep with an Infant in Your Sleeping Bag?
You can and some people have made this arrangement work with older kids, however, we like our sleep. The quality of sleep when you are worried about your infant in the same sleeping bag is terrible. Plus they feel and move every time you move then as well. It's an option but not one that we've had success with.
Should An Infant Wear a Hat to Bed When Camping?
I'm recommending that they don't wear a hat while sleeping in the sleeping bag but this can depend on their age. If they can reach up and have their hands free to move the hat if it gets twisted then it's probably fine. You just don't want the hat to fall down or fall off and become a suffocation risk.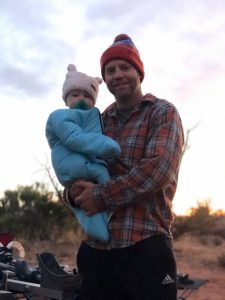 We used a hat when camping with our 1 year because of the temperature but it's not recommended.
How Cold is Too Cold to Camp With an Infant?
You can camp in surprisingly cold temperatures with an infant as long as you have the correct gear. 
If you have a good sleeping bag, a warm hat, and can dress them in layers then you can camp in temperatures as low as into the 20's or 30's. 
We've camped two times when it got as cold as 41F and 39F and she was actually quite toasty in her sleeping bag and layers that we brought. 
The Best Infant Sleeping Bag for Camping
Morrison Lil Mo 20 Sleeping Bag
Summary: This down-filled sleeping bag meets all AAP-recommended guidelines for safe infant sleep and is rated for temperatures as low as 20 degrees Fahrenheit. It keeps babies warm in dropping temperatures, fits babies from 6-24 months, and zips from the bottom up for easy diaper changes. It's also lightweight and can be folded down to the size of a water bottle for packing. 
Pros: Customers reported it kept babies warm in temperatures below 40 degrees, felt comfortable, and well-made. 
Cons: This sleeping bag does not have the option for hands to be out or in, which may be an issue based on the baby. 
baby Deedee Sleep Nest Baby Sleeping Bag
Summary: This quilted sleeping bag sack is made to fit babies from 6 to 18 months and can be used indoors or out. The material is water-resistant and the sleeves are removable. 
Pros: Customers say this sleeping bag is easy to clean and is perfect for sleeping in or wearing while outdoors in the stroller. 
Cons: Baby's hands are not covered in this sleeping bag. 
Morrison Outdoors Little Mo 40°
Summary: This sleeping bag is filled with down-like synthetic material and is suited for temperatures as low as 40 degrees Fahrenheit. It's lightweight, meets all AAP safety guidelines, and is machine washable. 
Pros: Baby's hands can be tucked in or out; it's safe for smaller infants but also allows room to grow into. 
Cons: This sleeping bag is not well suited for use in a stroller, and babies that don't like to be swaddled may not be comfortable in it
OuYun Baby Organic Sleeping Bag
Summary: This wearable blanket features removable sleeves and is suited for temperatures from 32 degrees to 68 degrees Fahrenheit. It's available in three sizes, has a zipper closure, and is made from 100% organic cotton. 
Pros: This sleep sack is very soft and well constructed, and the removable arms make it worthwhile for all seasons. 
Cons: This sleep sack is hand wash only, which is a bit of a hassle.  
Key Takeaways
Don't quit doing what you love just because you have a baby. If you plan appropriately and invest in the right gear, you'll be able to keep going on all of your outdoor adventures. 
Plan for safe and comfortable sleep by checking the weather and getting an infant sleeping bag designed to keep the baby comfortable at the expected temperatures. Make camping a safe and fun activity for the whole family. 
Works Referenced:
https://www.aap.org/en-us/advocacy-and-policy/aap-health-initiatives/safe-sleep/Pages/Safe-Sleep-Recommendations.aspx
Other Great Outdoor Related Articles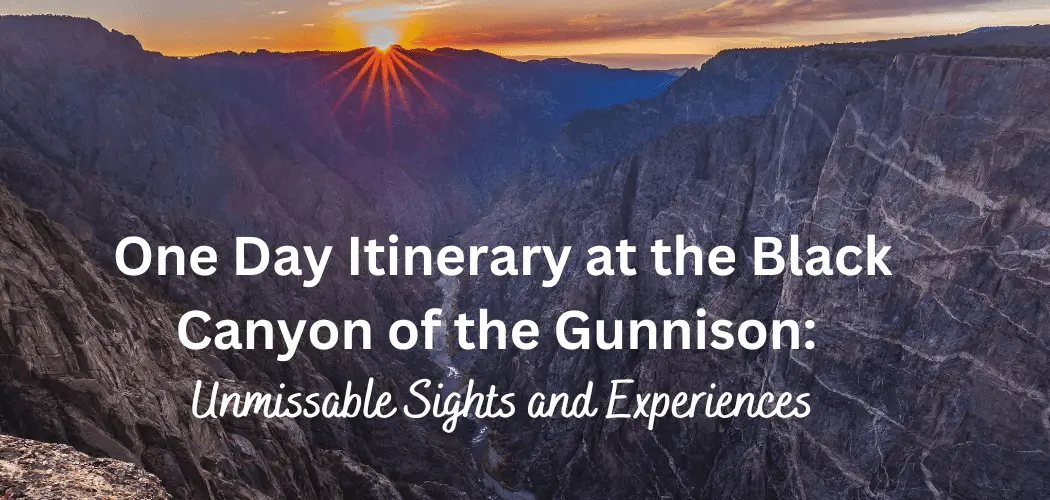 The Black Canyon of the Gunnison National Park, located in Montrose, Colorado, offers breathtaking views and unique geographical features that attract visitors worldwide. This awe-inspiring …