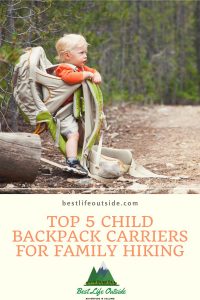 Ready to trade house slippers and spit-up shirts back in for your hiking boots and mountain views? Are you worried that taking your baby along is going to be more hassle than it's worth? Don't be!
Bring baby along and start enjoying the great outdoors again. But first, let's talk about some critical gear before you hit the trails. If you want to enjoy your hikes again, you're going to need a Child Carrier Backpack. 
Our Favorite Child Carriers
What is a Child Carrier Backpack?
It's all in the name. Child carrier backpacks have straps like a backpack, but instead of a bag for books and things, you'll have a comfortable harness seat for a baby on your back. 
Child carrier backpacks keep your hands free and give the baby a great view of the world around them. Many can be worn in the front or back and with the baby facing inward or outward. These versatile carriers are great for on-the-go parents and have become a staple piece of gear for hikers with kids.
What are the Benefits of using a Child Carrier Backpack for Hiking?
Most hiking trails are not known for being stroller-friendly, and if your child is new to walking or is too young to walk, this is a problem. It's not feasible or enjoyable to carry a baby on a long hike. Child Carrier Backpacks have many benefits for the hiking parent, including: 
Comfort: It's the best way to carry your child without tiring out your arms. 
Safety: Keep your hands free for balancing and navigating the trails. 
Mobility: Unlike a stroller, you aren't limited to flat trails. 
Extended hikes: Child carrier backpacks make long hikes possible again. 
Considering the above, you're sure to get a Child Carrier Backpack that makes hiking with the baby enjoyable. Get back to doing what you love and see just how great hiking with a baby can be.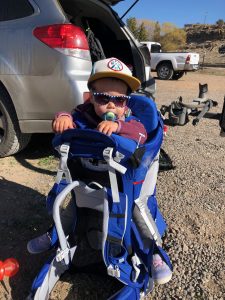 What to Look for in a Child Carrier?
As with most things, not all Child Carrier Backpacks are created equally. When shopping for the right Child Carrier Backpack for you, consider the following. 
Comfortable straps: If you're planning on long hikes, look for adjustable straps with padding.
Amount of storage: Pre-baby, you probably carried everything you needed for a hike in your backpack. With baby, you'll need to take along even more. Make sure your Child Carrier Backpack has enough room to store the necessities for you and your baby. 
Included sunshade: Keep baby protected from the sun. This feature is huge for us!
Stirrups for baby's feet: These will help keep the baby's feet from falling asleep during long hikes.  
Amount of padding on the back: Padding will provide comfort for you. 
Amount of padding in the seat: The last thing you want is a screaming child 3 miles from the trailhead. Make sure the seat will be comfortable for the baby or kiss long hikes goodbye. 
The weight of the pack: The lighter, the better. Keep in mind; you'll be carrying your supplies, baby's supplies, and baby. 
Ventilation: Keep baby cool and comfortable on warm days, and keep airflow to your back for your comfort, too. 
Adjustability: Look for something adjustable for the baby's growth and the wearer. If you are hiking with your partner, you may want to switch occasionally. Easy adjustability will make this a breeze. 
What Should Your Baby Wear in a Backpack Carrier?
This obviously depends on the time of year and where you are hiking but in general, we like to have our daughter wear long sleeve pants and shirts that are lightweight. This helps with both sun protection and preventing any straps from rubbing her skin in an uncomfortable way. There is also plenty of room in our Osprey Poco pack to add a jacket when we hike in the winter.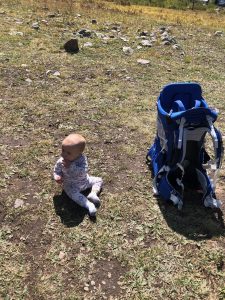 Should you let Baby Sleep in a Backpack Carrier?
Absolutely, it's one of the best ways to get some exercise for mom and dad while baby sleeps. 
Make sure that the nap fits into your daily schedule and routine but it's almost a guarantee that our daughter will nap on our hiking trips. The sun shade on the Poco is actually a great head support for sleeping kiddos.
How Much Does a Child Carrier Weigh?
It depends on which model you get but most backpack child carriers will weigh in the 6-7 pound range.
The max weight of any kid to ride in a backpack carrier is around 48 pounds. You'll probably stop carrying them in the backpack long before they reach 48 pounds though.
Hold Young Can You Take a Baby Hiking in a Child Carrier?
You want to make sure that your son or daughter has reached certain milestones before you hike with them in a child carrier. Here are some helpful points that we found on REI.com.
Make sure your child can sit upright without assistance.
Kids who are at least 16 lbs.
We recommend waiting until at least 6 months or so. Prior to 6 months an Ergo Baby works best.
They have full head and neck control.
Make sure your child plus the gear in the pack weighs no more than 48 lbs.
How Long Can you Hike with Baby in a Carrier?
There is really no time limit and depends on your kids endurance. We recommend starting with small hikes so that your kids learn to like the backpack and aren't scared of it every time you put it in the car.
Our 2-year old can go about 1.5 hours in the backpack before she is over being strapped in and wants out. 
It's also a good reminder, as far as you go out, you have to return the same distance so plan accordingly.
What Size of Baby Carrier to Buy?
This is one of the genius things about the baby carriers on the market today. They all have a quick adjustment to change the frame size between mom and dad and are a one size adjustable. You can even adjust the frame size with your baby in the backpack.
 
Are the Budget Baby hiking Carriers as Good as the Name Brand Carriers?
I wish that I could say yes, that the less expensive models were just as good as the traditional name brand carriers, but it just isn't the case. Osprey, Deuter, and Kelty have been making a gear a long time and know what they are doing.
The Clevrplus and the Luvdbaby just aren't as comfortable to wear with the straps, our daughter was less secure and bouncing around more, and I have concerns about long term durability. These issues were found in similar reviews on child backpack carriers.
How to Use a Child Carrier from Osprey
The 5 Best Child Backpack Carriers
Osprey Poco Plus Child Carrier
Summary: This nylon carrier has a built-in sunshade, removable stirrups and drool pad, and an easily adjustable hip belt. It supports up to 48.5 pounds and has an external hydration sleeve for water storage.  We love the extra storage and our daughter falls asleep on the sunshade all of the time.
Pros: This carrier is lightweight and comfortable for the wearer and the child. It offers plenty of ventilation and can be adjusted, so the child is not sitting against the wearer's back.  
Cons: It is not easy to adjust or carry for those with petite frames. 
Deuter Kid Comfort Child Carrier and Backpack
Summary: This carrier is perfect for kids from ages 1-3 and has an optional sunshade attachment. It has v-shaped multi-chambered stays to distribute weight evenly to the hips, air contact backpacks to reduce sweating, and an adjustable footrest to maintain blood flow. 
Pros: The air pockets on the back do reduce sweating and make it comfortable for the child and wearer. It's sturdy and well made. 
Cons: It's a little challenging to adjust the kid portion to make it fit comfortably.
Kelty Journey PerfectFIT Elite Child Carrier
Summary: The Kelty Journey PerfectFit has a 5 point safety harness and aluminum roll bar for extra protection. It's easily adjustable for mom and dads alike, has a reservoir sleeve, sunshade, and zippered storage that wipes clean. 
Pros: Keeps baby comfortable and secure. 
Cons: The shoulder straps are too thin to distribute the amount of weight they are meant to carry. 
Luvdbaby Baby Backpack Carrier for Hiking with Kids
Summary: The Luvdbaby  has a comfortable harness for the baby, an easy to use to sun shade, and plenty of storage for all of the baby items. It's at a discount price compared to the normal brands. It even comes with a changing pad.
Pros: Lower price, comes with a changing mat, good storage and a sun shade.
Cons: Some complaints about durability long term
ClevrPlus Canyonero Hiking Backpack
Summary: The ClevrPlus features a lightweight aluminum frame for safety and comfort, features an insulated pocket for baby bottles or cold drinks, and had breathable padding. This pack is suitable for children up to 42 pounds and comes with a portable changing pad. 
Pros: It's effortless to adjust for different sized children, comfortable to carry, and the changing pad, overhead cover, and plastic cover are valuable additions. 
Cons: There is no place for the child to rest head while hiking, making sleep less likely. 
Key Takeaways
Leave the stroller at home and venture back out onto all your favorite hiking trails. Choose a Child Carrier Backpack that provides comfort for you and your baby, as well as storage space for all the essentials. With the right gear, you can get back to your favorite pass time. I'm sure you'll quickly find that baby enjoys all the new views just as much as you do. 
Other Great Outdoor Related Articles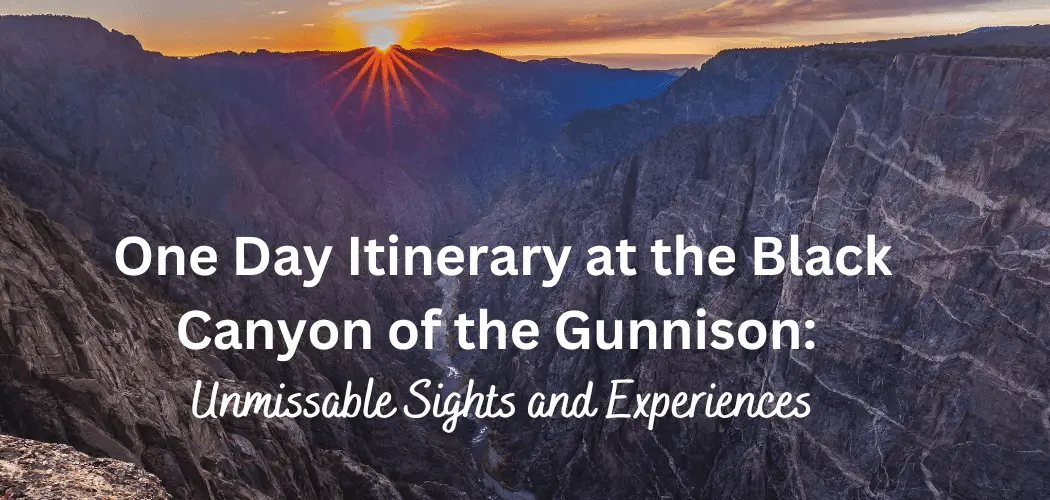 The Black Canyon of the Gunnison National Park, located in Montrose, Colorado, offers breathtaking views and unique geographical features that attract visitors worldwide. This awe-inspiring ...