We recently vacationed Hawaii with our 19-month-old daughter and if you can believe it… we almost canceled the trip! We were nervous about flying with a toddler and had envisioned a nightmare 7-hour flight. 
However, don't be afraid! It was much easier than we thought. We had an absolute blast on vacation and want to share what we did to make traveling and flying with a toddler and a car seat so easy. Let's face it, as a parent with small kids you deserve a vacation!
Make Sure the Car Seat is Airplane Approved
Before taking a car seat on a plane make sure that it has an airplane-approved sticker on it. There would be nothing more disappointing than being turned away at the last second of your vacation because of a car seat issue. This sticker is your get on a place free card.
Not only is a car seat the safest place for a toddler to be on an airplane but the FAA recommends using an Approved Child Restraint system. The key is that a seat must be purchased for the flying child. If a separate seat has been purchased then the FAA has clear guidelines that no child would be prohibited from using an approved CRS. 
If the seat that the child has purchased is not in an allowed location (due to blocking the exit of other passengers) then the airlines much relocate the child and the accompanying parents to a different seat location.
Use a Lightweight Car Seat for Flying
If you don't already have a car seat for flying then we recommend getting on that is lightweight and easy to carry through the airport. We already had a Graco 4Ever DLX 4 in 1 Car Seat
car seat which we love for the comfort and safety in the car. However, it's bigger and too bulky to try and carry on vacation.
After reading many other reviews and personal recommendations, we bought the Cosco Scenero car seat for our vacation. It's not fancy, but it only weighs 10 lbs total. Compare that to our Graco car seat at nearly 19 pounds and you can see why it's easier to lug around. 
Not only is it lighter, but it has less depth, is less bulky, and some that you can easily carry with one hand.
Getting a Car Seat Through the Airport
We had nightmares of my wife and I lugging a car seat through the airport, bumping into passengers, and a crying toddler having a tantrum on the floor. This wasn't the case at all and our daughter had a blast with all the new experiences of traveling.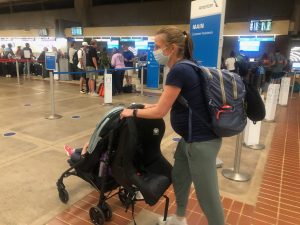 Getting a car seat through the airport is much easier than we anticipated. We simply hung the car seat on top of the lightweight stroller. There are 3 main ways to transport a car seat through the airport.
Use a Car Seat Stroller
Wheels – One option is to use a car seat stroller. These are fold-up dolly cart-looking strollers that you can strap your car seat to and easily wheel through the airport. The cart is lightweight and easy to maneuver. If money is no option this is what we recommend as the easiest options. 
Car Seat Backpack
 Another option is using a car seat backpack.  They come in different sizes and were actually recommended by close friends as their favorite way to carry a car seat.

Be sure to get one that fits your car seat. The benefit of a backpack is that you have your hands free to do other things like carrying your child. The one drawback is that you have to carry your purse or carry-on backpack in your hand
Car Seat Luggage Strap
We bought a luggage strap to go around a carry-on roller back that you can connect and carry a car seat with. We didn't end up using it because we thought it was going to be too much work to manage carry-on luggage and small children. We ended up checking bags for ease.

We were wrong, it would not have been that bad.
Carry it on a Lightweight stroller 
What we did instead was bought and used a lightweight umbrella stroller. We used the Chico Lite Way Stroller and it worked out great. By pure luck, the car seat would fit on the handles and rest. We simply pushed the stroller and the car seat through the airport with no problem. 


At the gate, we dropped off the stroller to be gate-checked. It folds down and locks into an extremely small profile and carried the car seat the rest of the way to our seats. No problem.
How to Install a Car Seat on an Airplane
We were more nervous about this than we should have been. Here are a few tips. 
Board early when they offer anyone traveling with young kids. Also, it never hurts to ask to make sure you can board early to figure out the car seat

If you rear-face the car seat then you might need to ask for a seatbelt extender from the stewardess. It can go around the back of the car seat or over the top

In a forward-facing setup, you might be able to get the airplane seatbelt through the same area as the car seat belt without the extender.
What We Did:
We wanted to have our daughter rear-facing but when we got to our seats there was no way the seat was going to fit rear-facing. The seats on airplanes are so close together, it's crazy.
We bit the bullet and faced my daughter forward-facing.  When forward-facing, the seatbelt goes through the back of the chair similar to a seat belt restraint in the car. 
It was really easy. One tip is that on the first flight we forgot to adjust the length of the seat belt and it was hitting my daughter in the middle of her back. For the remaining flights, we adjusted it so it stayed off to the side and made it more comfortable.
Should the Car Seat Face Forward or Backward on an Airplane
If you currently have your child rear-facing in the car, then we recommend having them rear-facing on the airplane. At that age, it's nice because they can easily see you and it's easy to cover them with a blanket for a nap. Plus, should you unluckily encounter serious turbulence then rear-facing is the safest position.
One problem is the person in the seat in front of the car seat may not be able to recline their seat in a rear-facing position. Don't worry about it, your kid's safety is much more important than their comfort level on a short flight. 
We ended up switching the car seat around and did forward-facing. Our daughter was intrigued by the entertainment systems in the seat in front of her which was a great distraction on our long 7-hour flight. It was just easier for us to get the seat belt just right which the car seat forward-facing.
What is the Best Seat for a Car Seat on an Airplane
The best seat on the plane for a car seat is easy. Look for seats either toward the rear of the plane or next to the bathrooms in the middle of the plane. You'll enjoy having easy access to the bathrooms to change a dirty diaper and to use the extra room near the bathroom to get up and stretch your legs.
If you can afford it, paying for the extra legroom is nice. Our daughter was able to kick the seat in front of her so we wish we had an extra 6-8 inches of room. It was a pain to get her to stop when she can easily touch the seat in front of her.
Finally, the car seat should be placed in the seat next to the window. This is for safety reasons to let people out without being blocked in an emergency. 
The window seat in the back of the plane is money.
Helpful Tips for Flying with a Toddler and a Car Seat
Board Early
We thought that every airline let "families with young kids or those in need of assistance" can board now," however we were wrong. It's really helpful to get on the plane early without hitting passengers in the head trying to get the car seat on the plane and holding everyone up while you get it strapped in.
You May Need to Ask for a Seat Belt Extender
If you plan on attempting the car seat in the rear-facing position, just go ahead and as the flight attendant that greets you for a seat belt extender. This will make rear-facing easier and you won't' be anxious about holding people up boarding the plane. 
Put the Car Seat Next to the Window
When board the plane go ahead put the car seat and little one in the seat next to the window. It will save you time when the flight attendant tells you it can't be in the middle of the aisle seat. 
Also, putting them near the window will help them sleep easier. There is nothing worse than the drink cart waking up the baby.  
Nurse, Bottle Feed or Use a Pacifier During take-off and Landing
Take off and landing can be tough on little ones. As an adult, we simply yawn or open our jaws to adjust to the change in pressure but trying to explain to a 1 year that they need to pop their ears is impossible
Give them a pacifier, allow them to nurse, or even have a bottle ready to help with ear pressure. It also may distract them from the potentially scary experience of take-off and landing in an airplane. You don't want a toddler getting upset at take-off and then have to try and calm them down for the rest of the flight.
FAQ About Flying with a Car Seat
Does an Infant or Two-year-old Need a Car Seat for the Plane?
No, you do not have to use a car seat for your little one. You can have any kid under 2 sit on your lap during the flight. In this instance, you would not be able to use a car seat.
For flights longer than a couple of hours we recommend purchasing an actual seat and using a car seat. It's more comfortable for them and you. You can also go without a car seat for your 2-year old and let them sit in the seat by themselves.  
Can you Take a Car Seat on all Airlines?
Yes, for all US Airlines you can take an airplane-approved car seat on board if you pay for a seat. 
Will a Car Sit Fit in the Overhead Bin of an Airplane
If you decide you don't want to use the car seat there is not any good place to store it. A car seat will not fit in the overhead storage bin of most airplanes. 
If you decide you don't want to use the car seat then you will have to gate check it before take-off.
Does that Car Seat go Through the Security Scanner?
Yes, the car seat does go through the security scanner and yes it does fit in most scanners. You would be surprised at what people try to hide and sneak through security in their baby items. 
Can you Gate-Check a Car Seat?
Absolutely, if you decide not to use it on the flight then you can gate check the car seat. Just be aware that checking your car seat at any point of the flight does expose it to potential damage from transportation. 
Do you have to Pay to Check a Car Seat?
No, you do not have to pay to check a car seat. You can check at least one baby item without incurring a charge on most US airlines. 
Does a Car Seat Count as a Carry-On?
No, this does not count as a carry-on and is considered necessary for the baby's safety and travel. You can still take the car seat and the diaper bag without incurring a charge.
If you have been unsure if you should travel with a car seat, just go for it. It is not that bad at all. The most important part is deciding how you are going to transport it through the airport and which direction to face the car seat. Other than that, it's pretty simple. The best advice I can give you is to breathe, be patient, and enjoy the vacation because it will all work out. 
Other Great Rehab Related Articles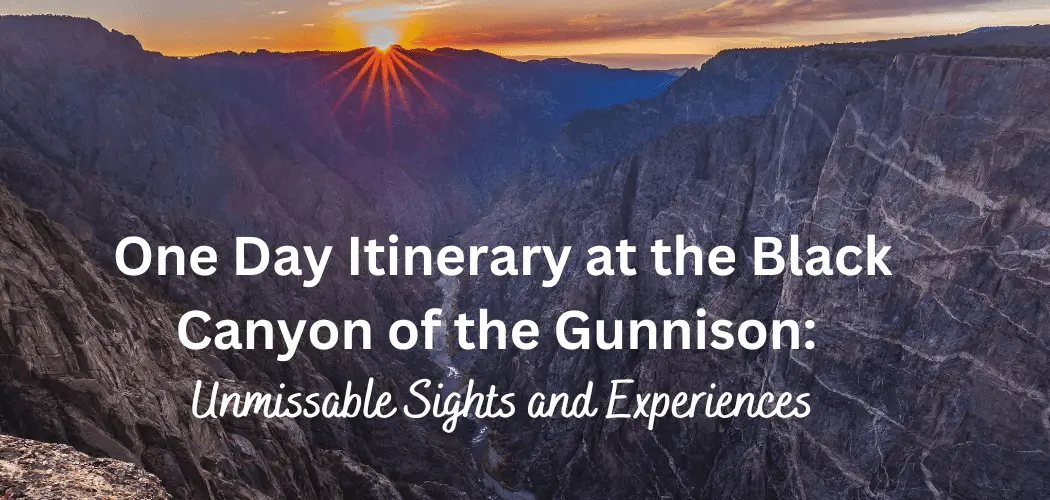 The Black Canyon of the Gunnison National Park, located in Montrose, Colorado, offers breathtaking views and unique geographical features that attract visitors worldwide. This awe-inspiring ...