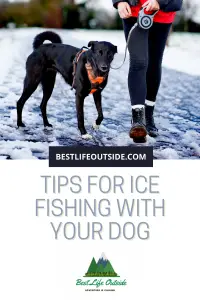 Ice fishing can be fun for the whole family, so why not bring the dog along? After all, dogs are part of the family too. 
You may be wondering if you can bring a dog ice fishing and what precautions should be taken to ensure that they are safe, comfortable, and entertained while you are on the ice. 
Bringing a dog ice fishing can be a lot of fun, but it is important to take proper safety measures so your four-legged friend doesn't get frostbite or run into other dangerous situations. Being properly prepared ensures that you and your doggo will have the best ice fishing experience possible. 
If you want to learn more about how to keep your pup safe while having a fun experience, keep reading. 
Getting Ready Before Hitting the Ice with Your Dog
Before hitting the ice with your four-legged fishing companion, be sure you have everything you need to keep your dog safe, comfortable, and entertained. 
Make a list of items you'll need for your pup. Consider packing a small bag just for them, or add the items to your own. 
Need some help deciding what to take for your four-legged friend? Let's take a look at all the necessities.
Keeping Your Dog Safe While Ice Fishing
Being out on the ice for hours is a lot more intense than a quick morning walk through the snow. You'll need to pay close attention to them and set boundaries to keep them safe and happy. 
Stow Your Hooks and Gear Out of Mouths Reach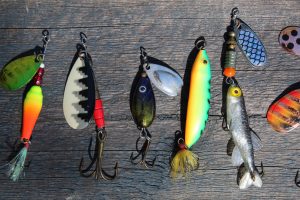 Be sure not to leave fish hooks and other gear lying around where your dog can pick it up. You don't want to have to cut your trip short to make a trip to the veterinarian because your dog has a fish hook in its face. 
Keep your dog away from the open holes to prevent them from slipping in and breaking a leg. Keep in mind, if you have a tiny dog you'll need to keep them at a safe distance so they don't fall into the ice hole. 
It is good practice to train them to stay away from the hole anyway so they don't mess with your tip-ups or anything else you may have going on. 
Teaching your dog the "leave it" command can help you more than anything when they are not in arms' reach.
Discourage Wandering - Use a Leash
No matter how well you think your dog is trained, it is always recommended to keep them on a leash, at least for the first little while to see how they are going to react to being on the ice. 
For many dogs, when they get out onto the ice they become overwhelmed with excitement and it can be easy for them to go farther than they should. 
It can be dangerous to let them run loose if they do not respond to your verbal commands. There are risks of them falling in holes or through ice that is too thin. There is also the risk of other fishermen not being open to having a strange dog romping around their fishing areas. 
A Comfortable Dog is a Happy Dog
This section will discuss ways to keep your dog comfortable while on the ice.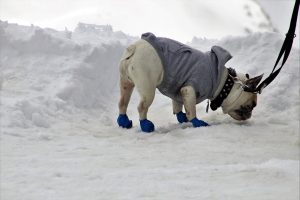 Keeping your dog safe while out on the ice is a top priority. No matter how accustomed your pooch may be to the great outdoors, no dog is impervious to the dreaded ice balls that can form between their toes while romping in the ice and snow. 
These ice balls cause a lot of discomfort for your dog. To combat this issue, you can purchase dog booties to protect their toes from getting frozen together. Some dogs may take a little time to get accustomed to wearing booties, while some may not tolerate them at all. 
If your dog refuses to keep booties on, be sure that you have a space for them to get off of the ice and thaw out from time to time.
Fresh Water and Sustenance
Keeping your dog comfortable is key if you want to stay out on the ice for any length of time. Be sure that you provide plenty of freshwater, food, and treats to keep their bellies full and discourage wandering to find something to eat or chew on, such as the fish you just caught. 
If you have a large enough ice shelter, be sure to provide a rubber-backed floor mat or some sort of raised dog bed to give them a barrier between them and the ice. This will allow them to warm up and be happier for longer.
If your dog is not a Husky and does not have a super thick undercoat, it may be good to invest in an insulated jacket to provide your pooch with some extra heat. Not only will your pooch be comfortable but super stylish and cute in their jacket and booties. 
Entertainment Prevents Wandering and Negative Behaviors
This section will discuss ways to keep your precious pup entertained while ice fishing so everyone can have a good time. 
If you take a road trip with your small children, you aren't going to forget their toys because if you do, you know you will be pulling your hair out by the time you reach your destination. The same goes with our four-legged friends. 
Be sure to bring some form of entertainment for them, whether it be a bone, tug-rope, or another favorite item that keeps them entertained. Bringing toys will ensure that they are not out looking for something to get into, such as the fish you have laying on the ice. Providing toys can also prevent them from wandering. 
Taking the Dogs Ice Fishing
Other Things to Consider When Taking a Dog Ice Fishing
Oftentimes when catching fish through the ice we will simply throw the fish on the ice until it's time to go home. 
This may not be a great idea if you have a curious dog running around. If your dog has not mastered the "leave it" command be sure to cover your fish with snow so they are out of sight or store them in a cooler or bucket so your playful pup doesn't run off with your supper. 
Keep the Noise to a Dull Roar
In some cases, children and dogs can scare the fish with their active selves. The sound of their feet running across the ice transfers to the waters below and can potentially scare some fish away. Do your best to keep everyone calm and quiet to prevent scaring away your next meal. 
Even if your dog is an expert at staying out in the cold, keep an eye on them and how they are acting. If you notice that your dog is lethargic or shivering it's time to get off of the ice and get somewhere warm. Even though they have thick fur coats they are not completely immune to the cold weather and its effects. 
Other Great Outdoor Related Articles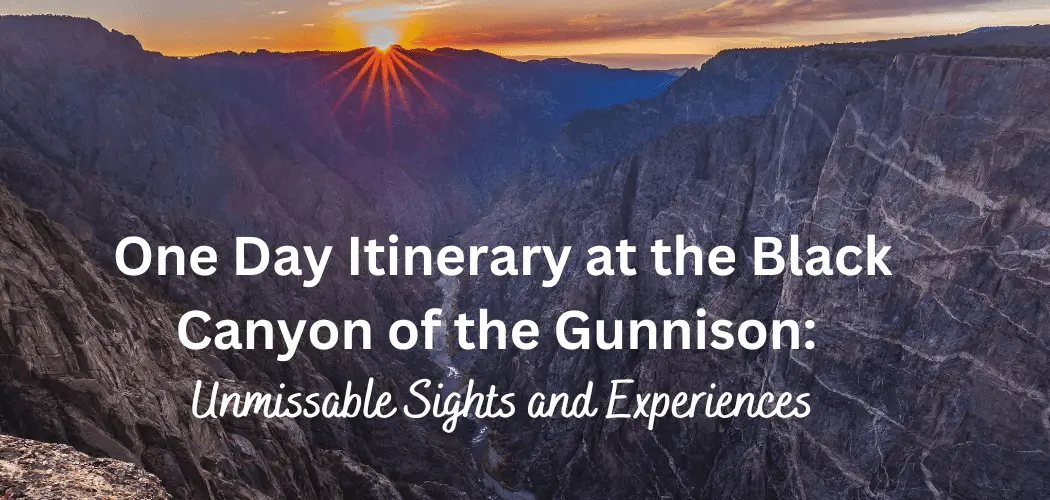 The Black Canyon of the Gunnison National Park, located in Montrose, Colorado, offers breathtaking views and unique geographical features that attract visitors worldwide. This awe-inspiring ...