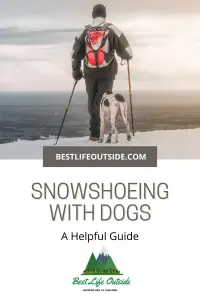 Snowshoeing is a favorite pastime of many, and for good reason. From the beautiful winter scenery to the exhilarating physical exercise it provides, it's no wonder this versatile winter sport is so beloved. 
For even more fun in the snow, take your four-legged friend on your next snowshoeing adventure. Don't worry, we've thought of everything you'll need for your dog so you don't have to. Check out these top tips for how to snowshoe with your dog, and enjoy some quality time together!
Have your dog wear booties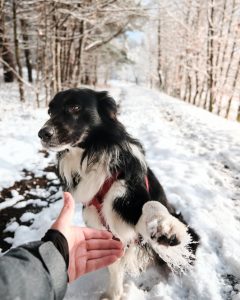 While your dog's feet are made for the outdoors, they still get cold. They're even at the risk of frostbite in winter snow, especially when exposed to the elements for long periods of time. 
This is especially true for dogs with long hair as snowballs can develop between the toes and freeze to ice.
Dog booties are waterproof shoes that slip over your dogs' paws. They come in a variety of sizes and price points. They range from adjustable, rubber-soled shoes to boots with special treads or even gaiters. Some are sold as a four-pack, while others only come in sets of two. Keep that in mind when placing your order. Always measure your dog's feet to ensure accurate sizing.
Another thing to consider when prepping your dog's feet for the snow is to make sure longer hair around their feet and between their toes are trimmed up nicely. Ice can ball up and accumulate in excess hair in these areas, which can be painful for your dog.
Another way to prevent ice from gathering around your dog's foot is by applying paw wax. Paw wax is usually made up of different types of oil such as olive, coconut, and sunflower oils. It provides a barrier to your dog's paws, particularly the pads of their feet which can become cracked when exposed to the harsh winter temperatures for long periods of time. This protective barrier also prevents ice balls from forming.
Avoid venturing near frozen water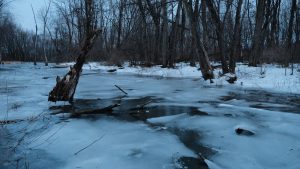 If at all possible, stay away from any nearby water sources that could potentially freeze. If waterways can't be avoided, or if you aren't sure what your surroundings will be, put your dog on a leash. A leash is probably a good idea, anyway, especially if you are snowshoeing on public land. More importantly, it will prevent your dog from taking off somewhere dangerous. 
Even water that looks to be completely frozen can prove to be a treacherous situation. There are some great hands free versions of leashes to try out if you choose to go that route.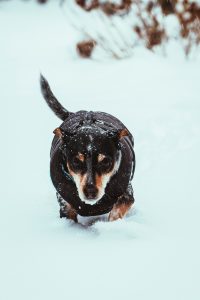 Your dog's legs are a lot shorter than yours, not to mention they aren't wearing any snowshoes. Your pet is basically working twice as hard as you with every step they take. 
Depending on the size of your dog, some deep snows will be completely impassable for them. Even if they can maneuver through some deep snow, they will likely tire out quickly. 
For smaller breeds of dogs, it would be best to avoid powder snow altogether and stick to packed snow so their smaller legs don't have to work so hard.
Don't forget water (and a bowl)
You may be so used to your dog drinking water from natural sources outdoors that it might not cross your mind to pack them some water when you pack your own. 
Any natural source of water you may encounter will more than likely be frozen and you are trying to keep them away from potentially frozen lakes and streams. 
Also, don't forget a bowl or other container to put the water in. Your dog will probably appreciate a few snacks during rest breaks as well.
Despite the cold weather, your pup will still need to drink plenty of water as they are working twice as hard as you.
Tips For Snowshoeing With Dogs
Try to keep them from getting wet
Dogs can get frostbite during extremely cold temperatures. Try to keep them as dry as possible during your outing. 
Yes, they will be trouncing through the snow, and getting a little wet will be inevitable. Using booties can help keep their feet dry, though you may need to periodically check and make sure any snow isn't seeping in. Depending on your dog's temperament and breed, you may want to bring some warm clothes or a jacket for your dog for some extra warmth. 
Like humans, areas that are located furthest away from the heart are at greater risk of getting frostbite. So your dog's ears, nose, paws, and tail need to stay as dry and warm as possible. Bring along a few towels to help keep your dog dry, especially in these areas.
Break Trail and Pack Down Snow Ahead of Your Dog
This is especially true on trails with deep snow as your dog has to jump each step to go further. Instead, break trail with your snowshoes and have your dog follow behind you until you get back to groomed trails or an area with less snow.
Pro Tip: Have your dog follow behind you far enough that they don't keep stepping on the back of your snowshoes. You may even have to have them sit and "stay" in certain sections to break down the trail and then have them follow at certain points.
Just like any other time you walk your dog, scoop up any messes your dog may make and dispose of all waste properly. No need to get fancy, just stuff a few plastic bags in the pocket of your coat and you're ready for whenever nature calls.
Don't leave their feces to freeze and stay there all winter as this can spread disease as it freezes and thaws repeatedly into the spring. For a list of biodegradable dog bags you can see a review guide here.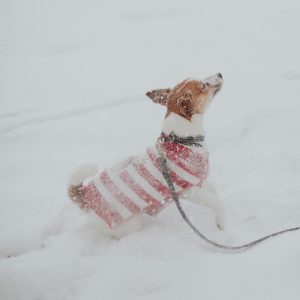 Watch your dog for signs of overexertion and frostbite. Just like people, dogs can tire out quickly, especially in deep, powder snow. 
The first time you venture out with your pooch, take it slow and don't try a long hike right out of the gate. Your dog may surprise you and match you step for step, or your normally physically fit dog may have more trouble than you think. Pay attention to your animal's behavior and adjust your plans accordingly.
Other Great Outdoor Related Articles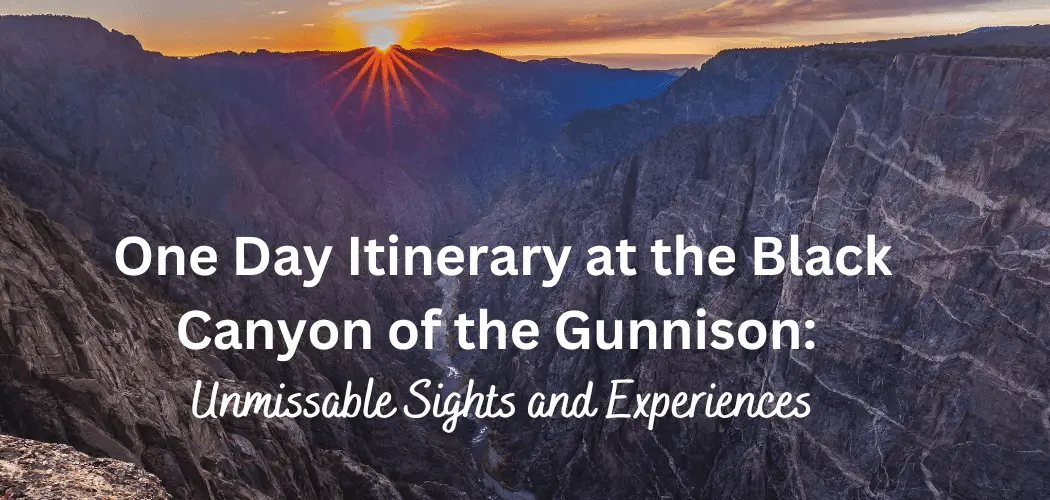 The Black Canyon of the Gunnison National Park, located in Montrose, Colorado, offers breathtaking views and unique geographical features that attract visitors worldwide. This awe-inspiring …