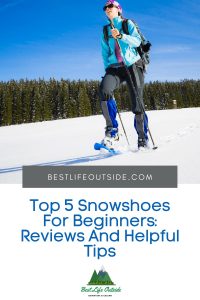 Snowshoeing is a great way to enjoy winter and the outdoors. But if you are new to snowshoeing, it can be hard to choose which snowshoes are right for you! There are many different types of snowshoes, each with its own benefits and drawbacks.
In this article, I will review five of the best snowshoes for beginners and give helpful tips on buying your first pair of snowshoes from reputable brands like Atlas or Tubbs.
Our Favorite Snowshoes for Beginners
Why is Snowshoeing is a Great Family Sport?
Snowshoeing is a great family sport and increasing in popularity for good reasons. If you venture out to our local trails in winter, you are bound to find multiple groups of snowshoers enjoying a great day outside and easily walking through the deep snow. here are some of the reasons you should try snowshoeing.
It's an Inexpensive Way to Enjoy the Outdoors
Snowshoeing is a great way to enjoy the outdoors without breaking your budget. A quality pair of snowshoes can be had for less than $100, and they will last you many seasons if properly cared for. Compare that with skiing or snowboarding which costs between $200-$500 per day just to rent equipment!
Once you have your snowshoes and limited additional gear, the only cost is traveling to the trailhead or if you want to go to certain parks, golf resorts, or trails that have an admission fee. Otherwise, it's a really low-cost sport to get into.
Snowshoeing is Easy to Get the Hang of
If you are a beginner snowshoer, don't worry! Snowshoeing is actually very easy to learn. It's been said that the learning curve for snowshoeing is about two hours and then it becomes second nature.
There are many resources online or at your local library on how to get started but once you have the basics down, you'll be comfortable in no time! The learning curve is fast and you'll quickly be able to adventure on a variety of different trails.
It's Great Exercise and Good for Your Health
This is one of my favorite things about snowshoeing. It really challenges your muscles as you are constantly going up hills or moving through deep snow. Snowshoeing is hard work and burns calories fast! This makes it great to work on strengthening those muscles and getting a good cardio workout while you're at it.
It's also very easy on your joints which means snowshoeing is great for people with arthritis or other joint problems that may be sensitive to more intense activities like skiing or running.
The Whole Family Can Snowshoe Together
Snowshoeing is a sport that is accessible for everyone, young or old. It's really easy to get the hang of snowshoeing and it can be a great way to spend quality time together as a family outside in nature!
There are not many sports that the entire family can do together at the same skill level. This is important if you have kids of different ages.
Young kids love to get out and play in the snow and throw snowballs together and teenagers like to get all dressed up in their new snow gear and take pictures to show their friends. It's an easy, inexpensive way to spend quality time together as a family.
Snowshoeing is a winter activity, which means the season varies depending on your location. There are many places to go snowshoeing such as national parks or trails close to your home but you should always consult a map beforehand just in case there has been recent weather that may have changed conditions on the ground where you're going.
Places that are great for snowshoeing:
National and State Parks
National Forests and BLM Trails
Golf Courses
Nordic Centers
Ski Resorts
Winter Tourist Towns
Favorite Hiking Trails
When Do You Need for Snowshoes?
Snowshoes are a great way to get through deep snow, but you'll need at least three inches of fresh snow for the best traction. The best conditions for snowshoes are after fresh snow with an already decent base of snow and if there are 5-6 inches of snow or more.
5-6 inches of snow or more for a good base
Fresh snow
If you step and sink with normal hiking boots
If it's colder outside and there are more than a few inches of snow on the ground, then this will provide a better grip which makes your hike much easier!
In general, the longer and bigger the snowshoes the more surface area you have and the less you'll sink. However, the bigger the snowshoe the more awkward and difficult it can be to walk.
Snowshoes typically come in lengths of 25, 30, and 36 inches in length. The recommended length and size of snowshoes are based on the user's weight. If you are between sizes we recommend sizing up to account for any additional weight.
Pro Tip: When Buying snowshoes and thinking about sizing. Use your estimated weight with all of your gear and backpack on including water. This may add another 10-15 lbs in some instances.
Check with your specific manufacturer for their sizing guide.
A Beginner's Guide to Snowshoeing
Helpful Tips When Buying Snowshoes
For those that are looking for their first pair of snowshoes, there are few helpful tips to consider to make sure that you get the right pair to get you started.
Think About Terrain
Most snowshoeing is done on relatively flat or groomed trails and thus just about any snowshoe will work for this type of terrain. If you plan to go snowshoeing in an area with lots of ice make sure to look for good metal traction on the bottom. Also, if you plan to snowshoe on trails with steep elevation gains then you may look for more advanced snowshoes. Otherwise, most snowshoes do well for many people.
Size
Snowshoe sizing is based on your weight and snowshoes typically come in lengths of 25, 30, and 36 inches for adults. Kids' snowshoes are sized a bit differently. We recommend sizing up to account for any additional weight such as carrying a backpack with gear or water.
Shoe Size
Snowshoes come in a variety of sizes from kids to adults. However, one mistake that we have seen people make is buying a pair of snowshoes based on weight but not checking if there is also a recommended shoe size and they couldn't get their feet into the snowshoes. Check the weight and the shoe size recommendation.
A snowshoe is a great way for beginners and experienced snowshoers alike to get outside in the winter! It's always important to make sure that you have appropriate clothing. This includes waterproof gloves, warm socks or toe covers, water-resistant pants (or gaiters), sunglasses with UV protection, and a warm hat. Here's a helpful list of what to take snowshoeing.
waterproof pants
waterproof shoes or boots
Gloves, mittens, and a winter hat
Sunglasses or goggles
Layering with lightweight moisture-wicking, warm layer like a vest, and weather-resistant shell jacket
Water in an insulated pack
snacks and energy bars
map, cell phone, and first aid kit
How Long Do Snowshoes Last?
A good pair of snowshoes should last for a few seasons. The straps might need to be replaced every so often as they can break down or get saturated with water and wear out quicker than the rest of the snowshoe that you are using.
If you clean off the snowshoes with occasional soap and water and do not leave them out in the elements they should last for many years. We've had our snowshoes for 8 years and they are still going strong for many more.
The 5 Best Snowshoes For Beginners
Summary: The Atlas Access is a great overall snowshoe from a trusted leader in the industry with Atlas. The Wrapp bindings are excellent to provide stability and support when walking. The "V" frame helps with a more normal walking pattern which is excellent for beginners. The Twin-Trac crampon provides great traction for hiking uphill or with icy conditions underneath snow. These snowshoes would last years and are a great options for beginners.
Summary: Tubbs is another giant in the world of snowshoes. This Xplore recreational snowshoe is a top-notch option for beginners. The Soft Tec Decking provided effortless floating when walking on snow. The crampons is great in icy and uphill conditions and we personally love the quick pull bindings which can be tightened with a glove still on so you don't freeze your hands.
MSR Evo Trail Hiking Snowshoes
Summary: The MSR Evo Trailis a lightweight yet extremely durable option. We love our MSR snowshoes. These are great for the beginner that wants to get a little more adventure. The carbon steel crampons provide excellent traction in tricky conditions. The bindings are glove friendly and we actually like the material and weight of the snowshoe. 
The only downside is this model is sold at 22 inches which supports a 180 pound hiker.
Summary: The Alps snowshoe kit is a great lower cost option for both men and women. These come with adjustable length trekking poles. The snowshoes have an aluminum frame and buckle enclosure bindings similar to a snowboard binding. Decent crampons and pivot system for hiking uphill. 
Winterial Highland Snowshoes
Summary: The Winterial Highland snowshoes are another great option for the beginner because it comes as a kit. At 30-inches long they have a versatile range to accommodate a weight range of  140 lbs – 240 lbs. The aluminum frame is strong and durable to survive most any conditions. 
Key Takeaways
When looking for snowshoes it is important to consider your weight, the terrain you will be walking on, and if you are buying a pair of snowshoes as a beginner or more experienced user. Snowshoeing is a great winter activity with a lost cost of entry and a great way to get outside with the whole family. Happy snowy trails!
Other Great Outdoor Related Articles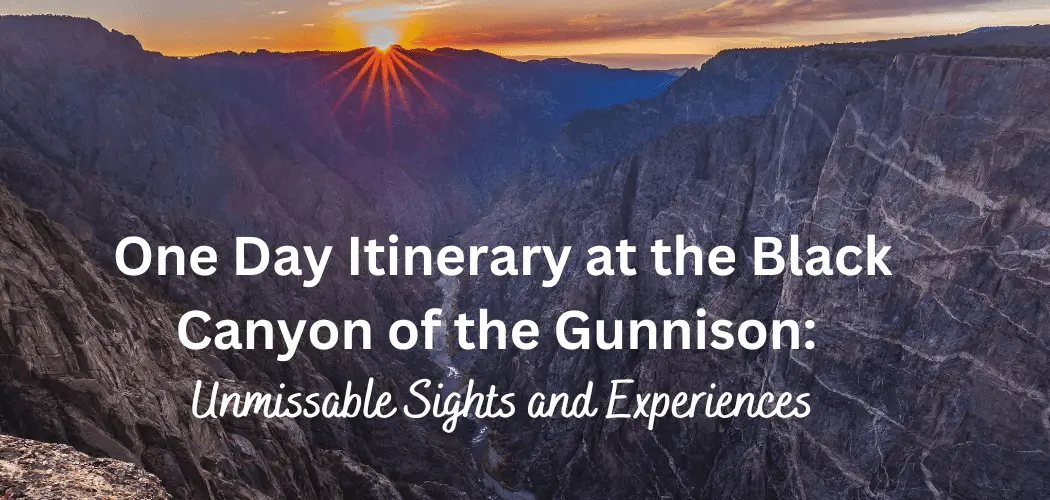 The Black Canyon of the Gunnison National Park, located in Montrose, Colorado, offers breathtaking views and unique geographical features that attract visitors worldwide. This awe-inspiring