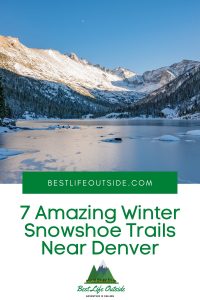 Winter is the perfect season to enjoy winter activities like snowshoeing. Not only does winter offer beautiful snowy landscapes, but it also offers a chance to explore new winter trails and environments.
Snowshoeing is the perfect way to get exercise, see landscapes in a whole new way, and enjoy being outside. The mountains and trees look much more majestic in the winter with snow hanging on them. Some of the best snowshoe trails in the country are in Colorado near Denver Colorado.
If you live in Denver or are visiting this winter, here are 7 of the best winter snowshoe trails near Denver that are a must see!
Golden Gate Park, Golden CO
The Golden Gate Park is an excellent option for snowshoeing. This is perfect for anyone that is short on time and can't spend the time driving out of the city. The park has more than 35 miles of trails that are perfect for beginner snowshoers or families with young kids. The trails are mostly flat with multiple short options.
To get some of the best views in this area we recommend trying the Mule Deer Loop. At 4.7 miles long the Mule Deer Loop is more strenuous but the views are worth it at Panorama Point.
How far is Golden Gate Park From Denver?
Golden Gate Park is only 15 miles from downtown Denver!
Rocky Mountain National Park, Colorado
The winter trails in Rocky Mountain National Park offer visitors breathtaking landscapes to explore with winter activities like snowshoeing.
The winter trail system offers more than 200 miles of scenic routes and is accessible from the north, south, east or west side of the park so no matter where you are there will be a variety of paths just for you. For winter snowshoeing trails near Denver, we recommend trying out Ouzel Lake Trail to get away from it all which is approximately 9.8 miles long.
Our Personal favorite winter trail is snowshoes to Emerald Lake. At 3.2 miles long it's a great workout with fantastic views but not overall hard to take family or friends on the trail.
How far is Rocky Mountain National Park From Denver?
Rocky Mountain National Park is about 60 miles from Denver.
Mayflower Gulch, Frisco CO
If winter snowshoeing is your thing, this area will be too tempting to pass up. The Mayflower Gulch area has trails for all skill levels and varying lengths from .25 miles long to 12 miles long so you have options! You'll also find some of the best winter views in the region on these winter trails.
The work to views ratio on Mayflower gulch is fantastic and can be a great snowshoe trip for the family. We love taking our toddler snowshoeing here for the relatively easy trail. The trip takes you to a scenic gulch where the old Boston townsite used to be.
An amphitheater is a spectacular place for photos. There are options to continue to beautiful 13'ers of Atlantic, Pacific, Drift, and Crystal mountains
The parking lot is on the east side of Highway 91, approximately 6 miles south of Copper Mountain
There is one main trail that starts up towards the amphitheater. Continue up the road for a little over two miles until you reach the basin. The trail is tree-lined on top of a covered 4×4 road in the summer.
Once at the basin, the views will really open up and you can see a panorama of snow-capped peaks. The old buildings of Boston are on the right side and the open bowl in front. Feel free to explore the basin as much as you want and get different viewpoints.
For the really adventurous, you can climb one of the many surrounding 13,000 foot tall peaks. Winter climbing gear such as ice axes and crampons are suggested if your goal is to summit.
How far is Mayflower Gulch from Denver?
Mayflower Gulch is approximately 75 miles from Denver.
St Mary's Glacier Colorado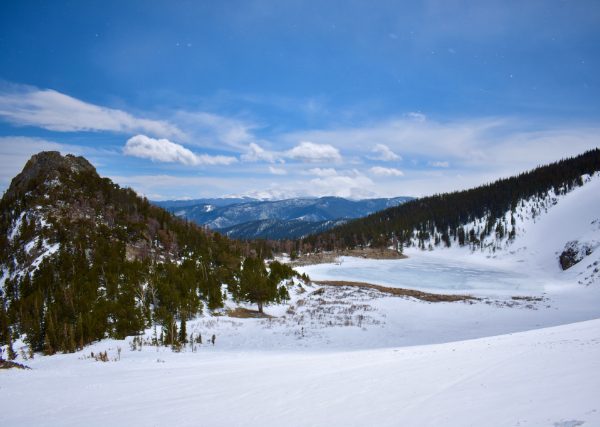 If winter snowshoeing is what you are looking for, this area will be perfect. You can snowshoe well into May during years with good snow cover.
The St Marys Glacier trail is relatively short at only 1.5 miles roundtrip and it only takes about 2 hours for a moderate snowshoer. The terrain in the winter can be quite different than the summer as the winter offers a winter wonderland.
The winter trails in this area offer some of the best winter views around and some are very short so you can get a lot done in a small amount of time if that's what you're looking for!
How Far is St. Mary's Glacier From Denver?
St. Mary's Glacier is about 70 miles from Denver but winter snowshoeing in this area will not disappoint you!
Echo Lake is a terrific place to play outside in the winter. It is easy snowshoeing and hiking that the whole family can enjoy. We love being able to hike around the whole perimeter of the lake as a family and enjoy the views and solitude in winter.
The hike starts off of Chicago Creek Road (103) as the normal parking lot is often closed in the winter. Once you reach the lakeshore, you can go in either direction. Starting off going to the left as you follow the normal trail along the west side of the lake. 
Heading to the right has you following the hopefully frozen lake bed along the north side of the lake. Be sure to test the ice and make sure that it is indeed fully frozen.
There is no official trail along the north shore so hiking in winter means that you will have to hike over frozen lakes and wetlands. The best mountain views can be found on the north shore where Mt. Evans, Mt. Spaulding, and Grey Wolf Mountain can be seen in the distance.
Follow the north shore until you reach the natural area. Here you can either follow the tracks through the natural area (generally closed but less impactful if there is a lot of snow cover) towards the Echo Lake Lodge to meet up with the official trail along the south shore or you can follow the frozen rim of Echo Lake to the south shore. Continue following the lakeshore or find the official trail to return to the parking area.
Echo Lake provides a flat trail with good mountain views at roughly 10,000 feet of elevation making this a great introduction to winter alpine hiking. 
How Far From Denver is Echo Lake Park?
Echo Lake Park winter trails are about 70 miles from Denver.
Brainard Lake winter trails are one of our favorite places to snowshoe. These trails sit just north of Ward, Colorado making it a short drive from both Boulder and Denver Colorado.
The trail, which starts from Brainard Lake Road (143) and climbs to 11,900 feet in elevation is about 12 miles roundtrip with an average snowshoe time of around four hours. The best part about this hike is the amazing views that you get as you climb up.
One of the best parts of this trail system is that there are many different options for all skill and fitness levels. Another great option for easier and relatively flat snowshoeing is a 5.3-mile loop that includes the Sourdough, South St. Vrain, and Waldrop Trails.
Dogs are allowed on the trails in the winter but on certain ones including the Sourdough Trail, Brainard Lake Road, and Lefthand Park Reservoir Road.
In the winter the recreational gates are closed. You can park here and snowshoe up the road to the start of the trailhead.
How Far From Denver is Brainard Lake?
Brainard Lake winter trails are about 65 miles from Denver.
Have you ever wanted to summit a 14,000-foot peak in winter? Then Quandry peak is the best trail for you and is one of the most popular winter hikes near Denver.
Quandry Peak is a class 1 climb near Breckenridge Colorado and is popular due to its short distance and low avalanche risk. At only 7 miles round-trip and around 3500 feet of elevation gain, it's one of the easiest 14er's to summit in Winter in Colorado.
Due to the high usage and easy access off of Highway 9 the trail is often packed down pretty well to where you can usually get away with hiking boots and yak tracks. However, we highly recommend taking and using snowshoes. This is especially true after a fresh snowfall or if you plan to venture off the normal trail for any reason such as to take better photos.
The snowshoe up Quandry Peak is pretty easy to follow and well defined. To reach the summit is only 3.5 miles with the majority of the hike above timberline. There are a few false summits along the way but don't get discouraged because the view from the top is totally worth it.
Once you are at the top you'll be able to see for miles at snow-capped peaks across the continental divide. A view that you won't forget and want to see again.
How Far From Denver is Quandry Peak?
Quandry Peak Trailhead is about 90 miles from Denver.
Berthoud Pass winter trails are one of the best winter hikes near Denver. Berthoud Pass gets over 500″ of snow each winter and is a local favorite for backcountry skiers and snowboarders.
Our favorite hike is on Second Creek Trail at the top of Berthoud Pass. This takes you 2 miles to Broome Hut which you can rent and stay overnight.
The trail quickly gains elevation and climbs 700' in the first mile from Highway 40. After a decent climb, the trail traverses through treeline to the opening of a classic snow-covered Colorado Alpine bowl.
As you continue toward Broome Hut you'll be able to see Vazquez Peaks, Mount Florea, and Winter Park in the Distance.
Dogs are welcome but they must be leashed once across the Vasquez Peak Wilderness boundary.
To Make reservations at Broome Hut Call or visit huts.org and click on the 10th Mountain Division Hut Link
How Far From Denver is Berthoud Pass?
Berthoud winter trails are about 70 miles from Denver.
What Gear Do you Need to Take Snowshoeing?
Shoes that are winter-appropriate.
Snowshoes for winter hiking (learn more).
Hiking poles.
A winter jacket and winter pants with synthetic insulation or down fill as well as gloves, hat, and a warm winter headlamp in your pack should you get stuck out on the trail after dark.
A Winter camelback for water storage, snacks, first aid kit, and additional layers to the ever-changing conditions in Colorado
What are the Winter Trail Ratings?
– Winter trails rated "easy" offer a gentle walk on flat terrain with minimal snowpack or ice and no steep inclines for beginner winter hikers and families looking to enjoy winter hiking near Denver without too much exertion.
– Winter trails rated as "moderate" provide an exciting hike with winter views and are more challenging for intermediate winter hikers looking to enjoy winter hiking near Denver. There may be periods of elevation gain and sidehill traversing.
– Winter trails rated "difficult" offer a steep incline with deep snowpack or ice for advanced winter hikers, kids, teens, and adults who want an exciting adventure winter hiking near Denver.
Denver is a winter paradise for snowshoers and adventurers alike. There are so many different options for all skill levels that you could be busy all winter long. Whether you want to get out for a quick day trip or even stay overnight in Brooke Hut, you've got so many options. Get out and enjoy the fresh snow that Colorado has to offer.
Other Great Outdoor Related Articles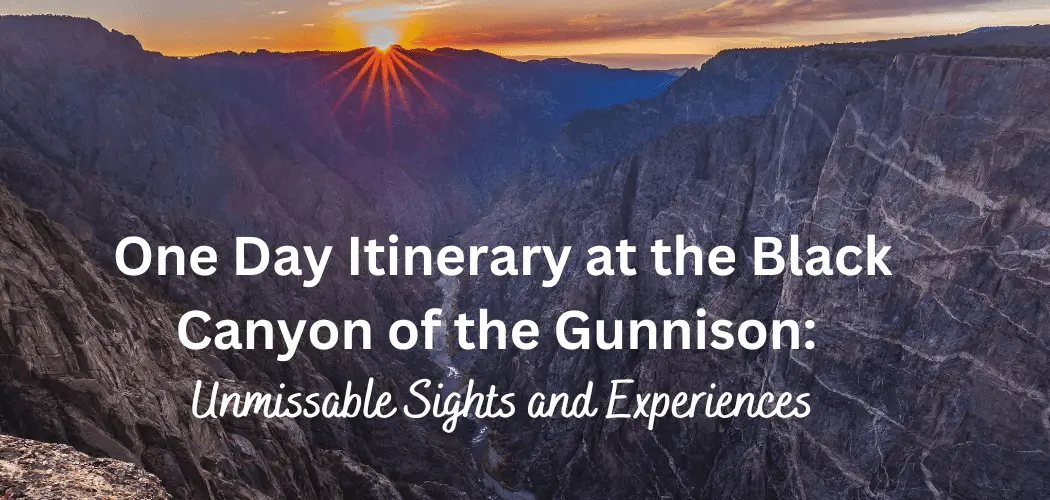 The Black Canyon of the Gunnison National Park, located in Montrose, Colorado, offers breathtaking views and unique geographical features that attract visitors worldwide. This awe-inspiring ...