If you are looking for the perfect, scenic getaway for your next family vacation, look no further! Estes Park in Colorado features some of the most breathtaking views in the nation.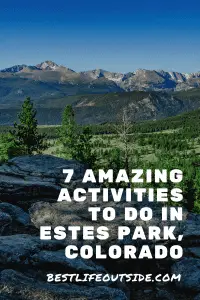 Estes Park sits nestled in the mountains at the entrance of the famed Rocky Mountain National Park. It's surrounded by mountains to the west and it is a 1-1.5 hour drive from downtown Denver to the south-east. The proximity to the mountains, city life, and unique location make it a great destination for all types of people.
There is so much to do in this beautiful and adventurous city that the list goes on and on. To help you plan your fantasy trip to Estes Park, we have outlined the best activities to do during your visit to Estes Park, Colorado.
Rocky Mountain National Park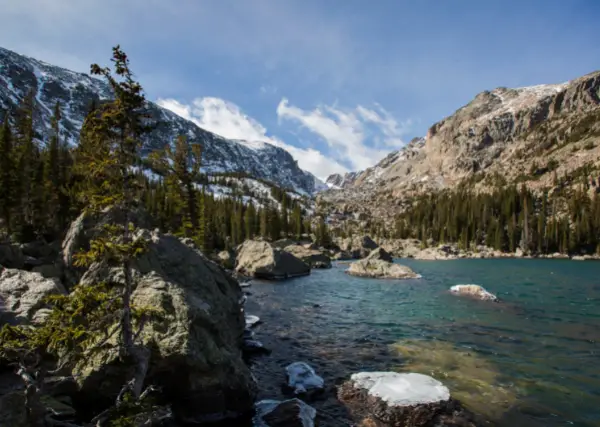 Rocky Mountain National Park offers 415 square miles of breathtaking views with mountains, wildlife, and wildflowers for visitors. The park features over 300 miles of hiking trails for those looking for physical activity.
You can embark on the Trail Ridge Road, located 12,000 feet above ground level and features beautiful views of the Rocky Mountains.
Our favorite hiking trail at Rocky Mountain National Park is the Black Lake trail. The Black Lake Trail is 9.7 miles long and heavily trafficked. It is rated as a difficult trail, so be ready for a challenge if you are not an avid hiker. You can also cool off by the lake along the way.
Along with hiking, people also commonly use the trail for bird watching and viewing deer and other wildlife.
The pristine mountain tops are enjoyable year-round with summer being the most popular time to visit the park, however, our personal favorite is during the fall when the leaves are changing, the temperatures drop, and the crowds start to thin out.
Spend a Day at Lake Estes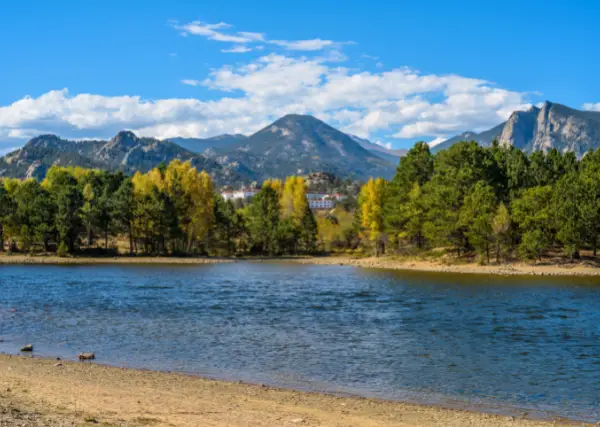 If you have a full day to dedicate to Lake Estes, we can guarantee that you won't run out of fun and exciting activities to take part in!
Lake Estes is a beautiful reservoir located in Estes Park, Colorado. The Olympus Dam sits on the east side of the lake.
The reservoir is located on the Big Thompson River and has a total surface area of 185 acres. The shoreline of the lake covers four miles.
There are many fun activities to do during your day here, including kayaking, fishing, and boating. You can rent kayaks, pontoon boats, or paddleboards at the Lake Estes Marina.
After getting on the water in the boats, you will be amazed by the astonishing views of mountains and scenery around you. You can even go for a swim in the lake to cool off.
Truly, visiting Lake Estes during your visit to Colorado will be well worth your time.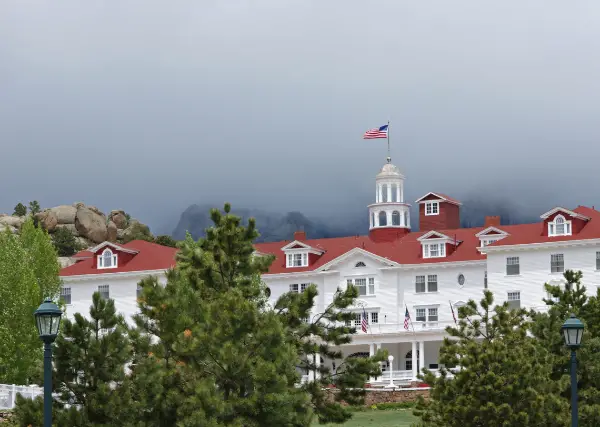 The Stanley Hotel is one of the most popular and iconic tourist attractions, and visitor stays in Estes Park, Colorado.
Learn all about the rich history of the Stanley Hotel with a day or night tour of the large, beautiful, and ancient building. The tour is 60 minutes long, and you will learn all about Mr. F.O. Stanley and his family.
The luxurious hotel offers historically themed hotel rooms with classic furniture. Those who love a little spook enjoy their stay here due to all the hotel's attention for paranormal activity inside the hotel.
The rooms offer beautiful views of the Rocky Mountains or courtyard. There are four different hotel types to choose from at the Stanley hotel.
You can select the Stanley (traditional historic hotel rooms)m the Lodge (updated boutique-like rooms), Aspire (modern style rooms), or Residences (fully equipped 1-3 bedroom residences).
The Stanley Hotel is famous in pop culture for being the inspiration for Stephen King's The Shining.
Rent an ATV In Estes Park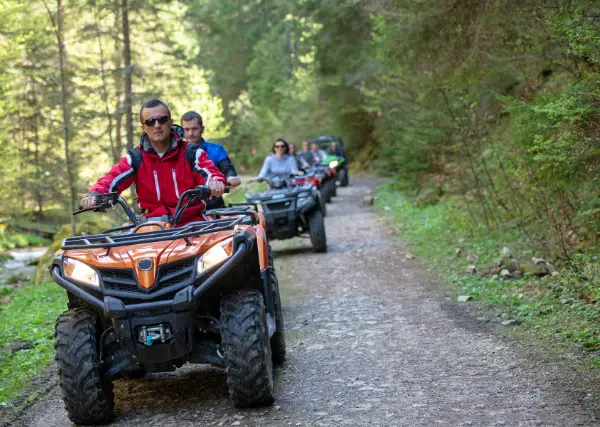 If you visit Estes Park for some adventure, you will love riding around in all-terrain vehicles(ATVs).
Exploring the mountains in an ATV can give you a unique experience because you will be able to reach areas of the park that would be hard to access if you were in a traditional vehicle.
Backbone Adventures is a great place to rent ATVs in Estes Park, Colorado. They are a family-owned and operated practice that rents out high-quality jeeps, scooters, ATVs, and snow sleds to accommodate visitors during all seasons of the year.
Try the Open Air Adventure Park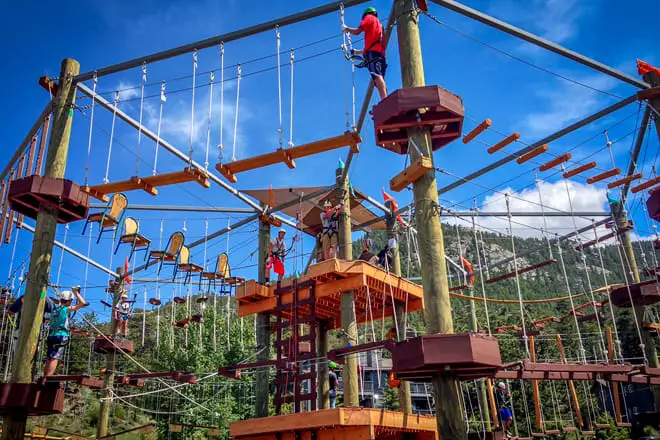 The Open Air Adventure Park offers a unique, challenging, and exciting experience that you will not find anywhere else.
The park offers 32 incredible challenges at 21 and 11 feet above air for visitors to participate in. Some of the many challenge options include ziplining using an air-board, climbing overhanging chairs, or stretching challenge using Pirates Crossing. Almost all challenges have different difficulty levels to accommodate all ages and people who might have specific disabilities.
This aerial park is unique because you do not have to be tied down to a particular route or direction. Once you get entry into the park, you are free to do whatever you want to do. If you have one adventure you love, you can do it as many times as you wish. You can also skip any challenges you are not interested in.
The park also offers ax-throwing lanes for those looking for some extra adventure. You will get to experience all of these exciting activities while enjoying breathtaking views of the Colorado mountains.
Visit the Riverwalk and Downtown Estes Park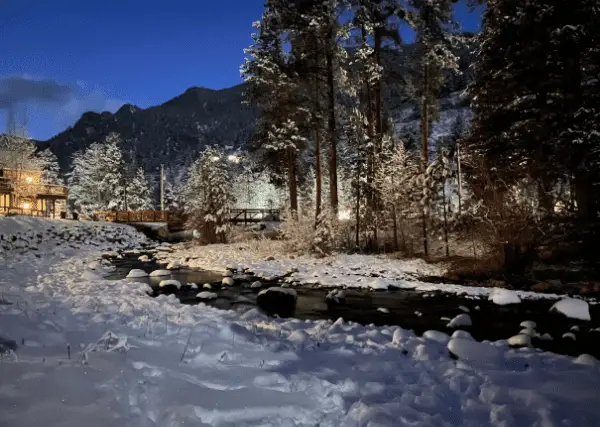 Downtown Estes Park is a vibrant part of the town that features a beautiful riverwalk where you enjoy an evening stroll with loved ones.
The river walk starts at the Visitor Center and follows the Big Thompson/Fall River through Downtown. Along the way, you can stop by for some delicious coffee at Inkwell and Brew.
The beautiful scenery surrounding you can also serve as the perfect backdrop for your next Instagram post! If you are looking for some entertainment, there is usually a live band playing at the George Hix Riverside Plaza during Summertime. 
Get Adventurous with Kent Mountain Adventure Center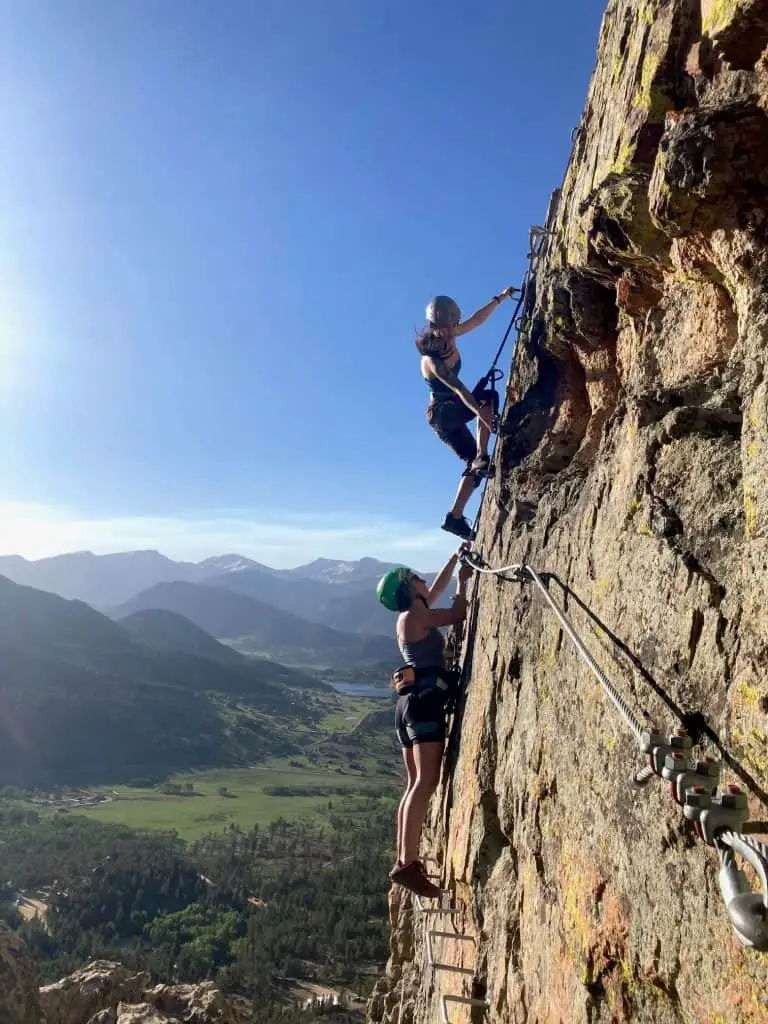 If you dare to try rock climbing, then Kent Mountain Adventure Center is the right place for you. The Kent Mountain Adventure Center is a rock climbing school in Estes Park that includes fun activities for the whole family.
Your kids will absolutely love it as they get to participate in an activity that is both physically and mentally stimulating.
One of the most popular courses among customers is the introduction to rock climbing course that lasts about six hours. More experienced individuals can opt for the full-day rock climbing option.
In this hiking trip, you will get to experience some of the best climbing areas, such as Deville Rocks and The Crags on Twin Sisters.  
Truly, if you love the outdoors, then you must put Estes Park, Colorado, on your bucket list. From everything to rock climbing to amusement parks to historic hotels, you will not be disappointed by visiting some of our recommended spots during your visit to the beautiful city. 
Other Outdoor Adventure Articles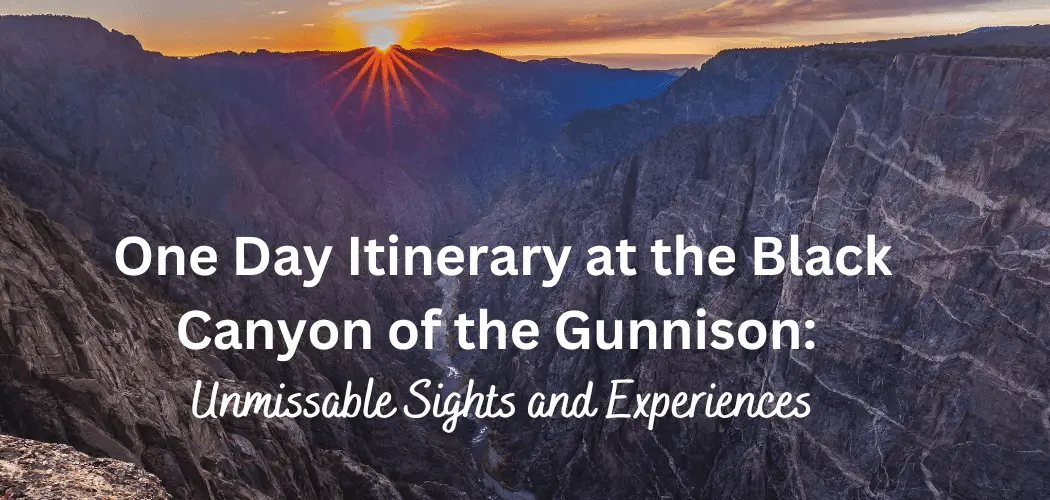 The Black Canyon of the Gunnison National Park, located in Montrose, Colorado, offers breathtaking views and unique geographical features that attract visitors worldwide. This awe-inspiring …