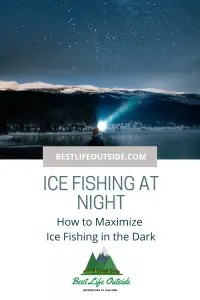 Who doesn't love fishing at night? Night fishing is so popular they even wrote a song about it. 
So if you are one of the many who enjoys the magic of fishing in the dark, you may be wondering how to catch more fish while everyone else is catching some Zs. This article will give you tips and tricks to help improve your nighttime ice fishing game. 
To be successful while ice fishing at night, you must first decide what types of fish you are going after. Knowing a particular fish's likes, dislikes, and hangout spots will give you an advantage and save time by eliminating much of the guesswork. Once you know what you are going after you can find the perfect location and set up camp. 
If you are passionate about ice fishing and would like to know more about catching fish at night, continue reading this article for some helpful information.
Get to Know Your Quarry and the Landscape of the Lake
As briefly mentioned at the beginning of this article, it is super helpful if you have a plan before you randomly set your gear up on the ice at night. 
For a higher success rate, you need to do a little research about the lake you intend on fishing as well as the kinds of fish you plan on targeting.  
If you understand the behavior of each fish, you will be able to locate them with less effort and spend more time enjoying the stillness of the night. 
Continue reading to learn about four popular fish that night fishermen tend to set their sights on.
Common Targets for Night Fishing
If you study the behavior of these fish and where they spend their time during the dark hours, you will have an edge on many other fishermen who prefer to call it quits when the sun goes down for the day.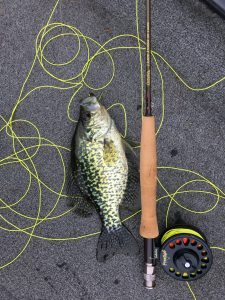 If your goal is to catch crappie at night, you need to remember that they like to eat plankton and other smaller baitfish. 
Live bait is effective where legal. If you are going with artificial lures, try something highly visible. If possible, try something that glows. 
If you use a small, green light in the shallower waters, this will attract plankton and other baitfish. These will lure more crappie to your area. 
If you are a beginner, or perhaps are bringing younger children with you on your nighttime fishing expedition, crappie is a good target as they are fairly easy to catch.
When ice fishing for northern pike at night, it is best to go right when the sun sets or right before it rises. The time in the middle is not as productive. 
That is not to say you won't be successful if you go during those hours, but you may need to be a little more strategic with your hole drilling. When jigging with artificial lures, spoons, spinners, and swimbaits tend to be the most effective.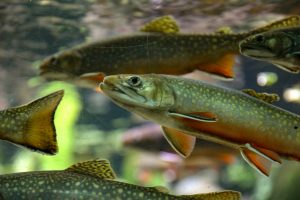 Slow and steady wins the race when trying to catch trout through the ice at night. Try to stay near the shallower waters where the crawfish and worms tend to make their homes. Using waxworms and highly visible lures will draw the trout in and keep them interested. When jigging for trout you need to be slightly methodical. 
Fast erratic movements can scare the trout and cause them to move away. If you want to attract and keep their attention it is best to drop your line slowly, give a few jigs and let it sink. Repeat this motion until you get a bite.
If you are going for walleye, it is unlikely that you will leave empty-handed. You can similarly approach the walleye game as crappie. These fish have great eyesight and can spot their prey long before the prey can spot them. 
It is best to use highly visible lures and rattle baits when fishing for walleye. Avoid making erratic movements while jigging. Instead, try to create a sort of vibration with the lure. The fish can feel the vibrations through the water, especially if you are using a rattle bait. 
Now that you know more about the fish that anglers target at night, you can continue reading for tips on how to catch those fish and maximize your nighttime fishing experience.
Ice Fishing For Crappie at Night
5 Tips for Getting the Most Out of Your Night Fishing Trip
These five tips should give you an advantage over other anglers and give you the productive night fishing experience you have been looking for.
Stick to Shallower Waters
When ice fishing at night, you will typically have the best luck if you stick to shallower waters. Keep your bait and lures closer to the surface if you are sitting above a deeper area of the lake. 
If you're in the right spot and have the right gear, but you're still not having any luck, try reeling your line in a bit. You'll probably see an increase in bites.  
Variety is the Spice of Life - And the Best Way to Catch Fish
As the old saying goes, variety is the spice of life. That holds for fishing as well. When doing any kind of fishing, it is always smart to keep a wide variety of artificial lures on hand in case your fish are in a finicky mood. 
What works well for you on one day may produce diddly squat the next time you hit the ice. Keeping a smorgasbord of lures will ensure that you are always prepared for whatever the fish are craving. 
Another popular method is to combine live bait with artificial lures. This can drive the fish crazy and fill your fish basket before you know it.
Strategic Ice Fishing Hole Placement is Key
Having the right number of holes in all the right spots is important. This is where learning the layout of the lake's bottom and where the fish like to hang out will help you. 
Using a GPS, fishfinder, and/or topographical maps gives you an edge over other anglers who may not be taking advantage of such technology. 
Since most of the fish mentioned in this article are fairly active, you must rotate around your holes so you can stay on top of the game and keep the fish interested. Sitting in one location and hoping the fish will come to you rarely works in this case.
Eliminate or Reduce Bright Lights
Believe it or not, if you have a bright light set up around your fishing area it can affect the fish. It may even stop them from entering the waters beneath you. 
To be on the safe side, many anglers use a headlamp or other portable light with a green or red bulb. This way you can still see what you are doing, but the fish are not bothered by a bright white light.
Get a Head Start on Setting Up Your Ice Fishing Spot
The sound of dragging gear over the ice and drilling multiple holes with an auger can somewhat deter fish.  It is best if you can set up as much of your equipment as possible during the day or at least a little before dark so you won't have to do as much when the sun goes down.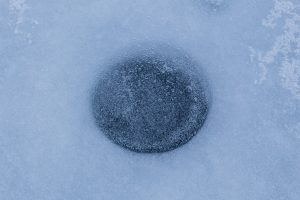 Not only will you not have to do as much in the dark, but the fish will have forgotten about the noise intrusion and come back to where you have set up your camp. Of course, the only issue with setting up ahead of time is your ice holes may freeze over.
There are ways of combating that issue, however. You can try covering each hole with a piece of rubber, like that of a mudflap from a truck or a scrap of plywood. This method may not be 100% effective, but it does help and will minimize the amount of skimming and re-drilling that you would have to do. 
For a quick list of things to keep you safe and comfortable keep reading.
Safety and Comfort Go a Long Way
Although your safety and comfort will not affect how the fish are biting on a particular evening, it can mean the difference between a good experience and a nightmare. 
Always be sure to bring a friend with you when ice fishing, especially at night. 

Always bring plenty of food, water, and warm beverages.

Always check the ice to be sure it is safe before venturing too far out. 

Always dress appropriately and bring extra clothing in case you get wet or too cold. 

Don't forget extra batteries or a charging station for your devices. 

Having a portable shelter can help tremendously to warm you up and store your gear.
Give Ice Fishing at Night A try
Other Great Outdoor Related Articles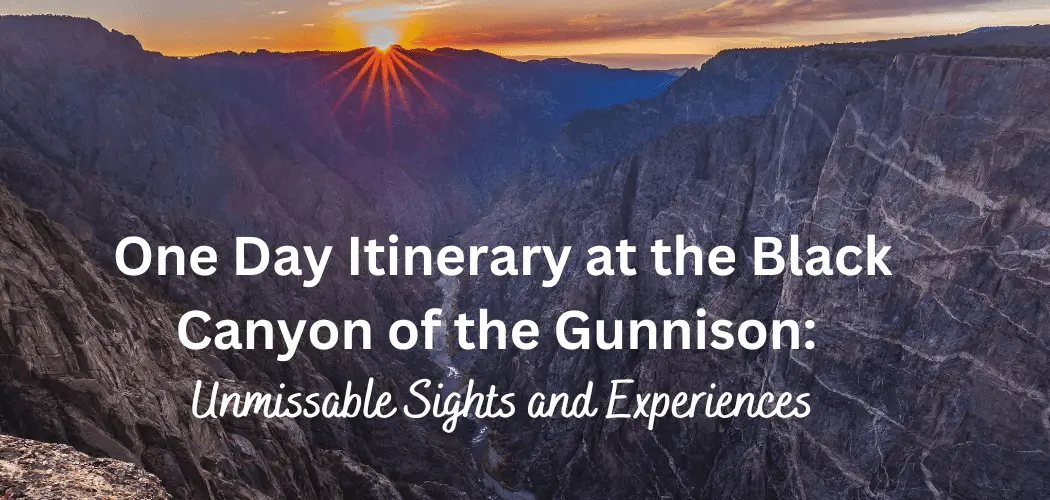 The Black Canyon of the Gunnison National Park, located in Montrose, Colorado, offers breathtaking views and unique geographical features that attract visitors worldwide. This awe-inspiring …