Welcome to Wisconsin, a state well known for its dairy, lumber, and beer. What you may not know is how many anglers flock to this state every year to experience some of the best ice fishing in the country. 
If you're planning your next ice fishing trip to Wisconsin, let us save you the time and hassle it takes to research the best lakes to fish. We've compiled a list of our favorite lakes in Wisconsin for ice fishing, including all the details you'll need about them.
There is plenty of room for everyone on this 7,000 plus acre lake. While it has the reputation for being difficult to ice fish, Big Green Lake has a lot to offer the savvy angler. 
This lake has abundant schools of panfish that allow any patient angler to catch their limit. Before hitting the lake, study the layout of the lake's bottom as well as the behavior of the fish you're targeting to ensure success. 
If you go to the right areas of the lake, you're sure to catch some whoppers. The Northern Pike in this lake are an average of 12 pounds.  The Largemouth bass are big, too. According to locals, anything under 15 pounds is considered small. 
If you're after a trophy fish, do your homework before hitting Big Green Lake and make sure you have the right gear for the fish you're after.
Fish that you will likely catch while on Big Green Lake are:
Bluegill

Catfish

Crappie

Northern Pike

Perch

Small and Largemouth Bass

Walleye

White Bass
Ice Fishing Big Green Lake
While nowhere near the size of Big Green Lake, this lake offers a little over 500 acres of prime ice fishing real estate during the winter months. Anglers can easily access the ice from the public boat ramp. 
At its deepest point, Black Oak Lake is around 85 feet and boasts a nice variety of fish to keep any avid angler on their toes. 
It has been said that this lake has very clear water. This is good if you are using highly visible or shiny lures, as they will reflect the light better and attract the attention of more hungry fish.
Fish that you will likely catch while on Black Oak Lake are:
Bluegill

Crappie

Muskie

Northern Pike

Panfish

Small and Largemouth Bass

Trout

Walleye
Dairyland Reservoir is part of the Flambeau River. It is just shy of 2,000 acres and is around 70 feet at its deepest point. This lake is easily accessed by the public boat ramp. It's a very popular ice fishing destination.  
Many anglers who frequent this area have reported this lake to be a highly productive area for fishing. This lake is one of the most popular in the state because of its wide variety of fish. It's great if you're after a trophy fish or if you're looking to fill your fish basket for a hearty meal. 
If you prefer a relaxing day of ice fishing, this isn't the lake for you. The activity on this lake will keep you running from hole to hole with little relaxation time in between. There are many resorts and accommodations for those who come to take advantage of the ice fishing on this lake.
Fish that you will likely catch while on Dairyland Reservoir are:
Catfish

Muskie

Northern Pike

Panfish

Small and Largemouth Bass

Sturgeon

Walleye
At nearly 1500 acres, this lake offers plenty of surface area for ice fishing. However, it is on the shallow side.
Lake Alice's deepest point reaches just around 32 feet. This is not necessarily a bad thing though. If you know anything about ice fishing, you know that great success can be had in the shallows when proper techniques are applied. 
Due to the brackish water that Lake Alice hosts, brightly colored lures and rattle baits are the most effective types of lures to utilize. This lake is littered with stumps which make for great hangout spots for many fish.
Fish that you will likely catch while on Lake Alice are:
Muskies

Northern Pike

Panfish

Small and Largemouth Bass

Walleye
The Madison Chain is comprised of five lakes: 
Lake Kegonsa

Lake Mendota 

Lake Monona

Lake Waubesa

Lake Wingra
These lakes are wildly popular year-round for fishing of all kinds. In warmer months, they're also great for water sports and relaxing. 
With Lake Mendota being the largest at over 9,000 acres, there is no shortage of space and opportunities for fun while ice fishing or doing any water activity while visiting this area. 
Fish that you will likely catch while on the Madison Chain of Lakes are:
Muskies

Panfish

Small and Largemouth Bass

Northern Pike

Walleye

Sturgeon

Catfish
Never Ending Ice Fishing in Wisconsin
With over 15,000 lakes, it would be impossible to discuss them all in one article. Hopefully, we have given you a good starting point for your next ice fishing expedition. This breathtaking state attracts thousands of anglers every year, so be sure to join the fun and make Wisconsin the next dot on your map. 
Sources: 
(https://www.bing.com/search?q=what+is+wisconsin+best+known+for&elv=AXXfrEiqqD9r3GuelwApuloIyGDe0S3bVmr3lF*tuTTSE7wJzkzTfjOB4JY5jXEGzSLX!9mk5qs6iMhIQCeZn!kTY!lmgNFRXLJ2avRq2tiU), 
(https://www.travelwisconsin.com/things-to-do/outdoor-fun/winter-activities/ice-fishing), 
(https://gofreshwaterfishing.com/ice-fishing-wisconsin/), 
(http://www.sunrisepm.com/fishing/fishingbgl.html), 
(https://dnr.wi.gov/lakes/lakepages/lakedetail.aspx?wbic=1630100), 
(https://www.hookandbullet.com/fishing-black-oak-lake-eagle-river-wi/), 
(https://dnr.wi.gov/lakes/lakepages/LakeDetail.aspx?wbic=2229200), 
(https://witravelbestbets.com/three-top-notch-ice-fishing-lakes/), 
(https://www.outdoorscult.com/ice-fishing-wisconsin-wi-map/), 
(https://www.edinarealty.com/real-estate-advice/best-ice-fishing-lakes-in-minnesota), 
(https://dnr.wi.gov/lakes/lakepages/LakeDetail.aspx?wbic=1555900), 
(https://dnr.wisconsin.gov/topic/Lakes#:~:text=It's%20easy%20to%20fall%20in%20love%20with%20Wisconsin's%2015%2C000%20lakes.), 
Other Great Outdoor Related Articles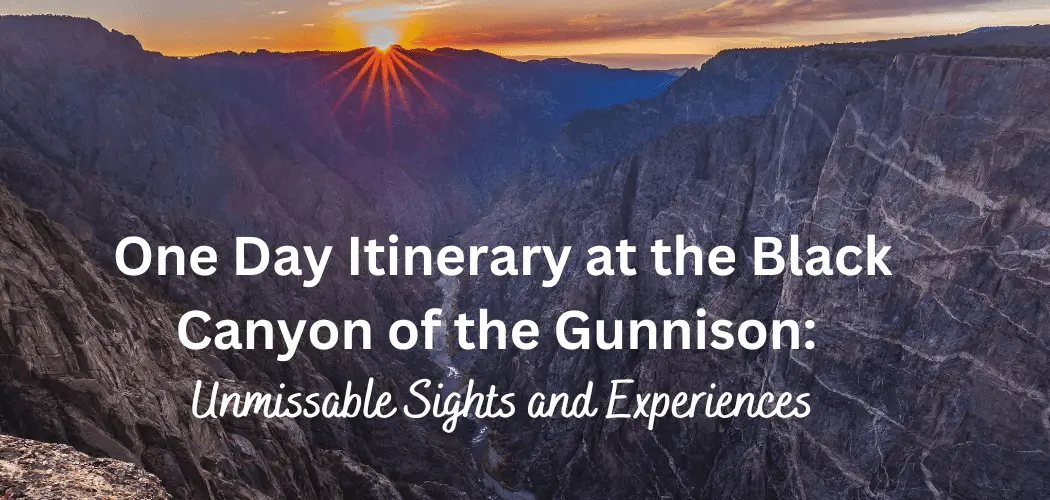 The Black Canyon of the Gunnison National Park, located in Montrose, Colorado, offers breathtaking views and unique geographical features that attract visitors worldwide. This awe-inspiring …