Welcome to Telluride Colorado, a beautiful mountain town in southern Colorado. The Telluride summer is the perfect time of year for outdoor activities and exploration. Whether you're visiting Telluride as a tourist or one of the many new "locals", there are plenty of must-do summer activities that await you!
In this article we will discuss 7 summer activities that should be on your Telluride bucket list: riding the gondola, biking the ski resort, hiking to Bear Creek Falls, exploring Mountain Village, hiking to Bridal Veil Falls, and attending one of the year's summer festivals!
Free Gondola Ride to the Top of Mountain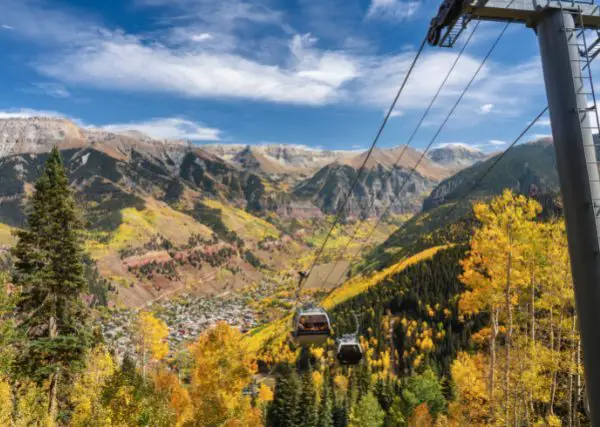 The first on our list of must-do summer activities in Telluride is the free gondola ride. This scenic Gondola can be boarded at any one of the three stations and provides a great view over historic downtown Telluride as it transports you up to Mountain Village where many Telluride hotels are located.
There is free parking at both ends of the Gondola. In town, you can park at the free parking lot next to Lift 7 and follow the gorgeous path through town. The path follows a meandering creek and leads to the gondola.
Starting from town the Gondola takes you up to ski resort at an elevation of 10,535 ft. During the ascent, you get amazing views of the box canyon, the San Juan Mountains, and Imogene Pass.
You can take the gondola all the way over to Mountain Village, explore the ski resort, and take the gondola back down to town for dinner.
The other free parking lot is located on the ski resort in the parking garage off lift 10. This is sometimes easier for people to in the town of Mountain Village and you can still easily go into the town of Telluride.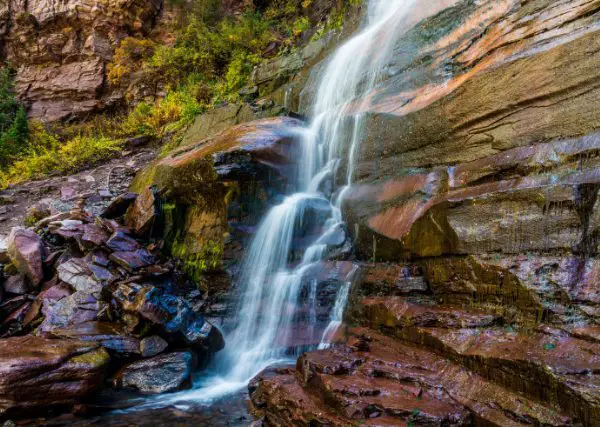 One of the best summer activities to do is also the easiest to get to from town. You get start from the brewery and end up at a gorgeous high mountain waterfall within an hour or two.
Access to the Bear Creek Trail is off of South Pine Rd however, there is no designated parking lot for the trail.
The trail is a 4.6-mile roundtrip hike that gains over 1,100 ft of elevation gain as you make your way to the bottom of the falls. As you're walking on the trail, you'll be surrounded by aspen groves that are a Telluride summer must-see and a perfect place to have a picnic along the way.
Once you're done hiking, we recommend stopping in at Smugglers Brewery which is right at the bottom of the trail and offers delicious wings and refreshing craft beer.
Telluride has many amazing hikes within a short distance of town. To see our favorite hikes around Telluride view our recent review here.
Mountain Bike Down Telluride Ski Resort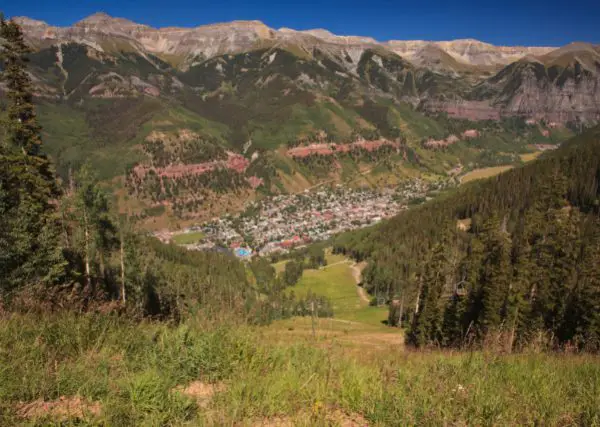 If you're planning on Telluride summer activities that are a bit more extreme, mountain biking Telluride Ski Resort might be for you.
The Gondola will take you to the top which is where you can rent full suspension mountain bikes in Mountain Village and get detailed directions to find the trail that matches best your skill level.
There are some great options to choose from including a downhill bike park with Gondola access to carry your bike back to the top of the hill. Just as a note you do have to purchase a bike park pass from 9-5 pm which can be done onsite or even online at https://tellurideskiresort.com/bike-park/.
There are also beginner trails that traverse the bottom of the ski resort and there is even trail one that finishes at Telluride Brewing Company.
Finally, our personal favorite is the cross-country trail called Prospect Trail. The trail is 8.4 miles long has the absolute most stunning views of any trail around. It has an awesome flow-ey downhill section through the trees that makes the initial climb worth every minute.
Explore Mountain Village and Downtown Telluride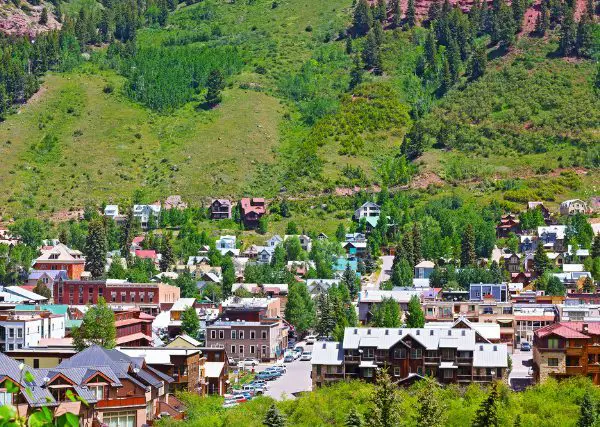 One summer activity that everyone seems to love is taking time to explore the town of Mountain Village and downtown Telluride.
Gondola rides are great for getting from the town of Telluride to Mountain Village so you can easily explore both on the same day and see what's going on down in historic Telluride's town!
Mountain Village is one Telluride summer activity that we highly recommend doing. It gives such an amazing perspective on what skiing in Telluride is like in the winter. There is plenty of opportunities for eating and shopping at the base of the mountain and there is even some free concerts from time to time.
The town of Telluride is lined with plenty of shops to fulfill everyone's needs for shopping. This includes high-end shops, outdoor-related gear stores, and places to hop in for a quick bite to eat with cold drinks.
Hiking to Bridal Veil Falls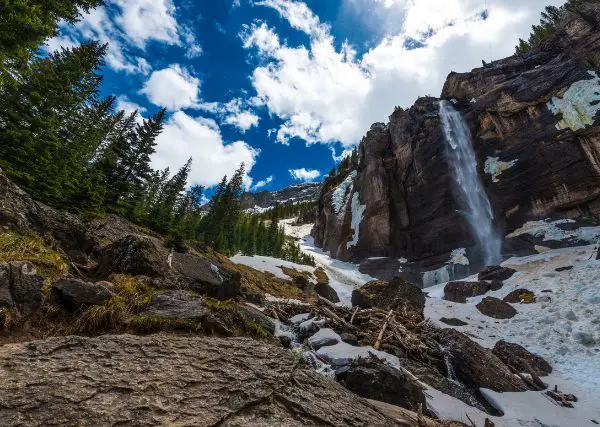 Another great summer activity is hiking to Bridal Veil Falls. Nestled at the back of the end of the canyon that surrounds Telluride, Bridal Veil Falls is the tallest waterfall in all of Colorado.
The trail begins at an unmarked parking lot about 2 miles past the end of town. The trail is about 4 miles round trip and quickly gains elevation on the way to falls. The trail gains a total of 1,300ft in total. The falls itself plunges nearly 365 ft from just below the old power plant.
Along the hike, you'll get sweeping views of Telluride with plenty of opportunities to snap some pictures along the way. Be sure to pack plenty of water and plan you take your time as the trail starts can be strenuous for those that aren't used to being at elevation.
Attend a Summer Festival in Telluride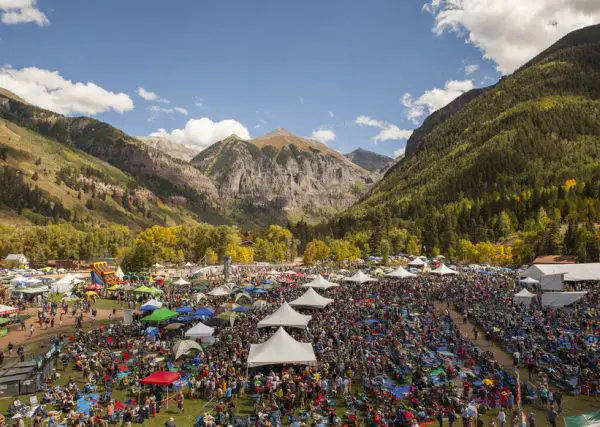 Summer festivals are a great telluride summer activity for those that love to take in the local culture. There is plenty of music and art around Telluride, so you'll have no shortage of options when it comes time to choose an event!
One festival we always make sure to attend every year is the Telluride Blue Grass Festival at Town Park. Town Park is centrally located off the main street of Telluride at the end of town surrounded by the towering mountain overhead.
The Blue Grass Festival always brings in some pretty awesome talent and sells out within minutes of the tickets going on sale.
Our other favorite summer festival is the Telluride Blues and Brews Festival. This is a great telluride summer activity for those that love to sample some cold craft beer and listen to live blues music.
If you are one that likes to avoid crowds instead of joining in on the fun then we recommend avoiding these two summer weekends. The town of Telluride is busy and vacation rentals can be difficult to find for those popular weekends.
Hike to Hope Lake on Top of Lizard Head Pass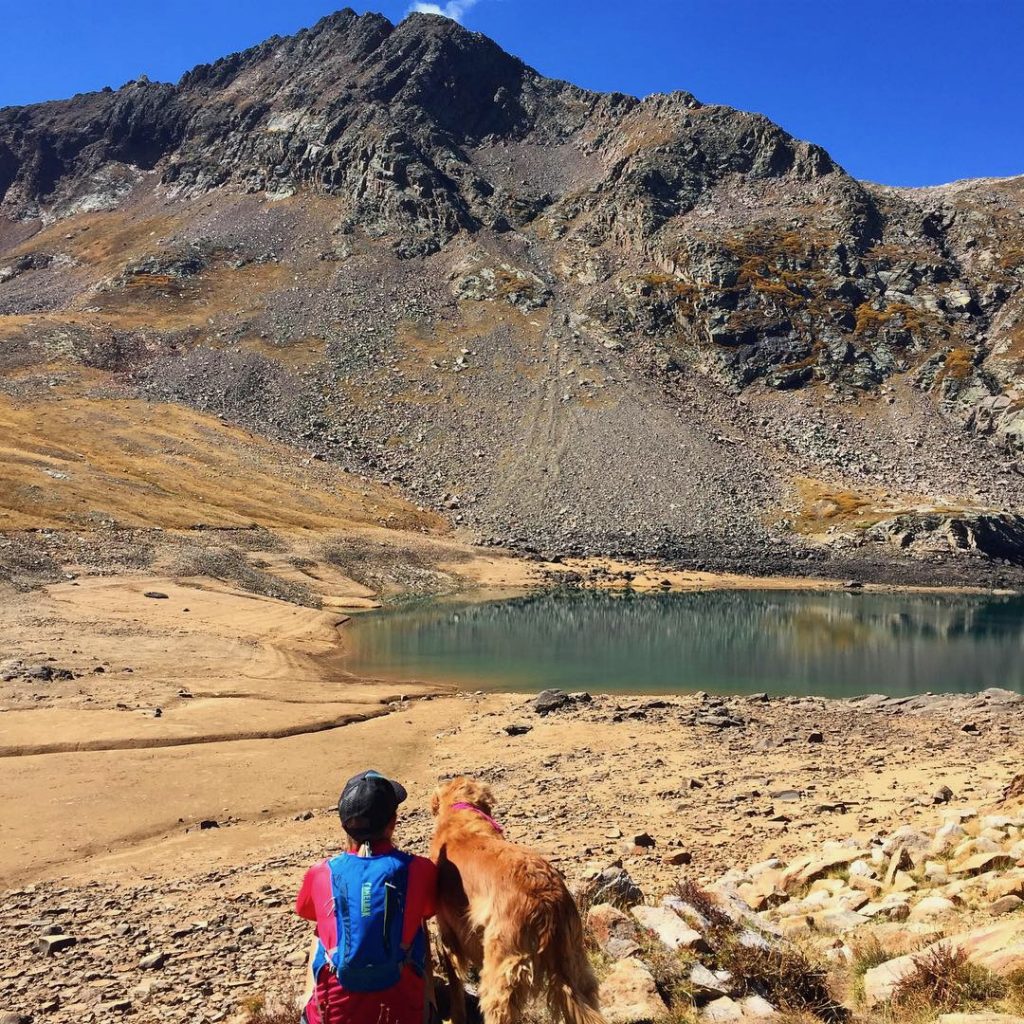 If you want to get out of town for a day then we recommend heading to the top of Lizard Head Pass to hike to the alpine lake called Hope Lake.
Lizard Head pass is a gorgeous alpine mountain pass that tops out at 10,246 ft and is surrounded by some of the most breathtaking mountains in all of Colorado.
Before getting to the top of Lizard Head Pass, is a picture book-looking large lake called Trout Lake. This is the beginning of the hike to Hope Lake.
We do recommend having a high clearance vehicle and it's best not to travel when it's raining or snowing.
Hope Lake is about 20 minutes from the town of Telluride. It's a 5.3-mile round trip hike that starts in a sub-alpine climate and quickly moves above timberline and overlooks the houses on Trout Lake. You'll quickly gain elevation with multiple switchbacks before finally coming to the awe-inspiring alpine lake. Be sure to bring plenty of water and pack a lunch because you won't want to leave once you get there.
Pro Tip: Be sure to start your hike early. Afternoon thunderstorms are common in this area and can be dangerous to be above treeline without shelter in a lightning storm.
Conclusion
The intent of this article is to highlight telluride summer activities that you'll want to add to your vacation bucket list! The town of Telluride is famous for it's winter skiing but it has so much to offer during the summer. Once you experience it in the summer, you'll want to come back each year.
We recommend starting off with exploring Mountain Village, hiking to Bridal Veil Falls, attending a festival such as Blue Grass Festival or Telluride Blues and Brews Festival, and hiking to Hope Lake on top of Lizard Head Pass!
Other Great Outdoor Related Articles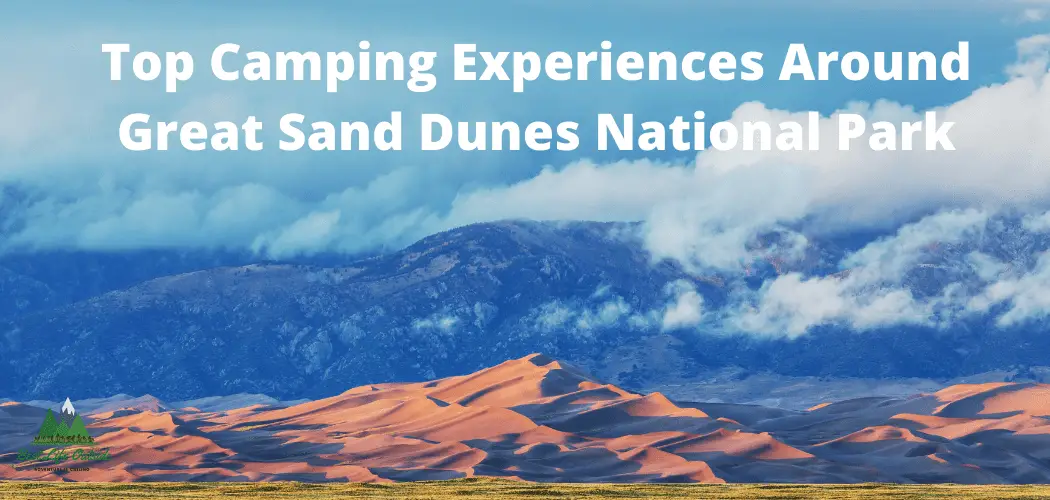 Many people think to see breathtaking wonders they must travel abroad when all they really need to do is explore the land in front of …