Nothing is worse than being cold while you are out on the ice. Not only is it uncomfortable, but it can be dangerous. Rather than catching fish, you have the potential to catch some frostbite instead. 
There are better ways to keep warm than sticking your hands in your armpits or hopping around from foot to foot. This article will give you some tips and tricks for keeping your body warm while ice fishing. 
Start By keeping Your Feet Warm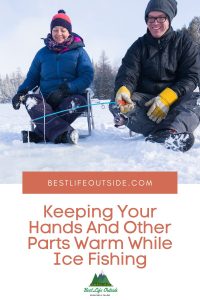 When you are building a house you begin with the foundation and work your way up; you need to think the same way when you are getting layered up for your big ice fishing expedition. 
Start with your feet; protect those piggies! Be sure that you have the right kind of socks on your feet. Having the wrong kind can not only shorten your trip, but it can put you in danger of frostbite or hypothermia. It is also a good idea to wear two pairs of socks. 
Begin with a thin pair of socks made of wool or some sort of wool blend. Next, top it off with a thicker sock of the same material to keep the heat in and the moisture out. 
Avoid wearing cotton materials because they can hold moisture in and will not insulate your body like wool will which will result in some cold piggies and possibly cut your trip short. 
Pro Tip: Pack at least one extra pair of socks in your gear, in the event that your socks become wet you can change them and continue on your merry way.  
The following items may help your feet stay toasty and dry. 
If you really want to be sure your feet stay warm you can use these rechargeable heated insoles in your boots. Just be sure you don't get too warm. You don't want to sweat. They will last for hours and you can reuse them. 
Another great way to keep those tootsies from freezing. These rechargeable insulated warming socks will last for hours. 
Old Fashion Tip for Keeping Your Feet Warm and Dry
This may sound crazy, but start saving your plastic shopping bags and/or bread bags. They make excellent waterproofers. 
Simply put your socks on and before you slip into your boots put a plastic bag on your foot. It may sound silly, but it works. Bags help keep snow and moisture from getting in your socks. 
To keep your bags from slipping down you can use a large rubber band or something similar around your ankles to secure them in place. 
Layering Your Core Properly for Ice Fishing
When you become "cold to the core", it's time to get off of the ice and someplace warm. To prevent having to leave early, you must layer your clothing accordingly and with purpose. Begin with thin insulating layers and work your way out with thicker layers. 
Remember it is always better to have too many layers than not enough. You can always take some layers off if needed, which brings us to the next point. You will need to take layers off from time to time. Why you ask? Believe it or not, there is some exercise involved with ice fishing.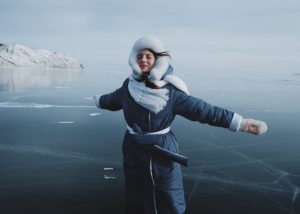 You will have to walk or sometimes run from hole to hole. In some situations that can be quite a hike. Walking or running all of that way will get your blood pumping and eventually you will begin to sweat. 
Sweat and cold temperatures do not mix. If you are going to be trekking from hole to hole, using an auger, or doing any other activity that may cause you to sweat it is highly recommended that you shed some of your top layers until you are done and cooled off again. 
You may be cool for a moment when you first de-layer, but that moment will dissipate quickly once you get moving. 
Pro Tip: This is a MUST! Be sure to have a waterproof outer layer especially your pants because you will inevitably have to kneel on the ice at one point or another. If you are not wearing some sort of waterproof outer layer the snow and slush will wick through the layers that are supposed to be keeping you warm. 
It's great to have shorts and other long underwear options underneath but if you don't have that waterproof barrier then you are in trouble. We recommend these Free Soldier Fleece Lined Waterproof Pants as the outer layer. They are inexpensive, waterproof, and easy to clean if you get fish guts on them.
Keep Your Head Covered When Ice FIshing
We can all remember our mothers yelling after us as we bolted for the door as the first snow fell for the season, "Put a hat on! You're going to get sick, you lose half your heat from your head". 
Well, that has since been scientifically disproven; however, that is not to say that your mother wasn't right about wearing a hat when it's cold outside.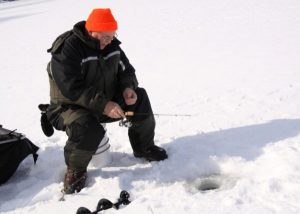 It's just good practice and it will keep your head and ears protected from the cold and sometimes harsh weather conditions you may encounter whilst mingling with mother nature and the fish. 
The following product may help combat extreme cold temperatures while out on the ice. 
Rechargeable Heated Winter Hat
For extra cold climates and rough winter conditions try this rechargeable heated winter hat. It is sure to keep your body warm even in the coldest of temperatures. 
Keeping Your Hands Warm While Ice fishing
Finally, once you have the rest of your body adequately covered it is time to protect your hands. It's pretty hard to pull a fish in or operate any kind of equipment if your fingers are frozen. 
Keeping your hands warm and dry is key. It is almost impossible to avoid getting your hands wet from time to time so be prepared by keeping extra gloves and mittens packed in your gear.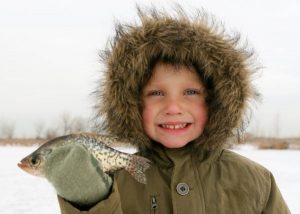 In addition to wearing gloves and/or mittens, there are other ways to keep your fingers and toes warm while out on the ice. The next section will give you some examples of products that will keep you toasty while you are trying to catch the next "big one". 
Cold Weather PVC Coated Gloves
These are great for pulling your fish out of the water or skimming your ice holes. They will ensure that your hands stay dry. 
Convertible Ice Fishing Gloves
These are awesome examples of what you should be wearing while you are out on the ice. These highly insulated gloves can be worn as mittens and easily flip back so that you can use your fingers without having to deglove them every time. They are a little bit pricy; however, they are worth every penny if they keep your hands warm, dry, and functional.
Handheld Rechargeable Hand/Body Warmer
These are also a great portable option if you need to warm your hands or other body parts up in a flash. They are rechargeable and will last for hours to ensure you stay warm and toasty. You can drop these in your pocket and quickly warm your hands. 
If you were born before the year 2000 you probably remember the infamous fanny pack that has been the center of many jokes over the years. This product resembles the design of a fanny pack; it allows you to slide your hands into the sealed pouch and get warm. It is rechargeable so you can take it on the ice and use it for hours. 
Traditional Disposable Hand/Body Warmers
Of course, we are all familiar with disposable hand/body warmers. They are great in a pinch and last for several hours. The only drawback to this product is that they are disposable so you will have to keep paying for them. 
Other Tips for Staying Warm While Ice Fishing
Here are a few other suggestions for staying warm while you are out on the ice. 
Keep a Barrier Between Your Feet and the Ice
If you are ice fishing and your boots are making direct contact with the ice you are losing valuable heat. To combat this issue it is recommended that you bring something you can lay on the ice to create a barrier. 
Some items that work well and are easy to transport are: 
Doormats

Foam mats

Scrap pieces of carpet

Scrap pieces of plywood 
It really doesn't matter what you use, as long as you are creating a separation between your feet and the ice. 
Pro Tip: You don't have to have a huge piece, just enough to stand on and keep a layer of insulation between you and the ice. 
Invest in a Portable Heater
For days when the weather is so cold that your boogers freeze you may need a little extra heat. 
Mr.Heater™ Portable Gas Heater
This is one example of a portable gas heater that is easy to use and carry. There are multitudes of options when it comes to portable heaters, so if this isn't your style look around and you are sure to find something that works for your situation. 
Build a Small Fire
If you are a true rugged outdoorsman or woman you can stick to your roots and do what they did in the old days; build a small fire. You can easily make a small fire pit out of a large coffee can or something similar.
Other Great Outdoor Related Articles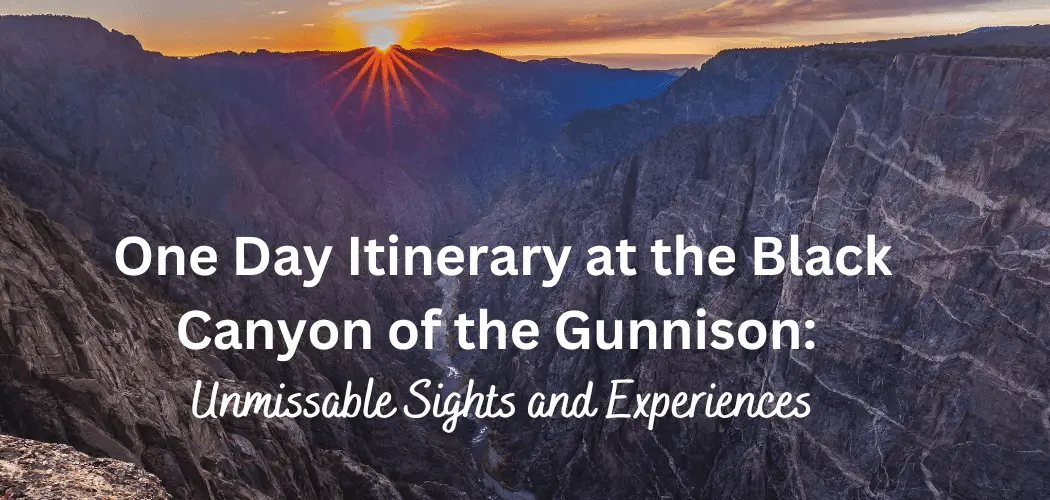 The Black Canyon of the Gunnison National Park, located in Montrose, Colorado, offers breathtaking views and unique geographical features that attract visitors worldwide. This awe-inspiring …