You can build up an appetite after a day spent on the trails. Your body has burned numerous calories and depleted its glycogen levels. Packing an intelligent, well-balanced lunch can be quickly done with a bit of planning. Chances are, things you already have at home will work great for an on-the-go lunch.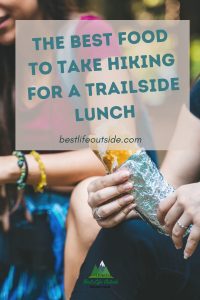 There are a few things to consider before you get started packing. You want the foods you choose to bring to be pretty lightweight. You don't want any options that are going to weigh your pack down substantially. You also want to shoot for shelf-stable foods that don't require any ice packs to keep them cool. 
Protein and carbohydrate-rich foods will give you an energy boost for the last leg of your hike, as well as give your muscles essential nutrients to help them recover. Healthy fats are essential to include as they provide fuel for your body and help to store energy. 
Here are some ideas to get you started!
Take Sandwich Wraps Hiking
Instead of a traditional sandwich where bread will get smushed around in your backpack, opt for a sandwich wrap made with a tortilla. Tortillas are a great source of carbs, and you can fill them with whatever option you dream up. 
Some good filling options include:
Peanut butter and honey

Hard meats and cheeses such as salami/ summer sausage and Parmesan/ Asiago/ Romano cheese

Pouches of tuna, chicken, or salmon

Peanut butter and sliced bananas or apples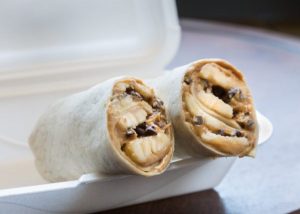 All of the options above are a great source of protein to keep you feeling full and help revive your energy. A good tip is to use condiment packets to dress your wraps in mayo, mustard, or barbecue sauce. Those packets weigh very little and require no refrigeration.
Protein Bars Make a Great Hiking Food
Protein bars are a great option to pack for lunch. They require no prep, and there is a multitude of different flavors available. Aim for a protein bar with at least 10 grams of protein and less than 25 grams of carbohydrates. 
We personally have boxes of Cliff bars in the closet right next to the door to quickly grab and through in the pack before heading for the trail. You might try a variety pack first to see which flavor you like best before ordering more.
Trail Mix is Perfect for Hiking
The sky's the limit when it comes to your options for trail mix. You can buy it prepackaged from the store or make your own version to suit your taste.
Nuts: Almonds, cashews, peanuts, and walnuts make an excellent base for a trail mix.
Seeds: Sunflower and pumpkin seeds can be added for a boost of vitamins and minerals.
Dried fruits: Raisins, cranberries, apples, mangoes, or coconut flakes provide even more nutrients and give a nice flavor.
Candy: M&M's, milk, dark, or white chocolate chips- because we all need chocolate.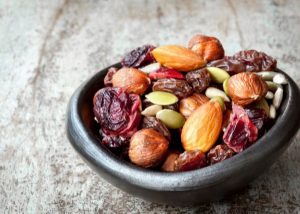 Mix a concoction of any of the above ingredients for your homemade version. Or check out these great store-bought options.
Peanut or Nut Butters Are Easy Hiking Snacks
Peanut butter is an excellent source of protein and healthy fats. Almond butter and sunflower butter are other terrific options as well. Buy the nut butter already prepackaged in cups or pouches for easy transporting and either eat plain or use it as a dip for things like pretzels, apple slices, or banana slices. Crackers can be a good source of carbs to eat with peanut butter, but you may have to get creative during transport to make sure they don't get crushed. 
Tuna, chicken, or salmon pouches make a great option to take on your hike. Eat them plain or add in some condiment packets to make your tuna salad. Some pouches even come with a prepackaged fork for your convenience. Eat with crackers, stuff in a tortilla, or use as a dip for veggie slices. You can get these pouches plain or get ones with added flavorings. 
Personally, I love taking a pouch of Cholula hot sauce and mix it up inside the pouch for a spicy snack.
Fresh Fruit Provides Instant Energy for Hiking
Fresh fruit like bananas, apples, grapefruit, and oranges can be excellent grab-and-go options for hiking. They require no refrigeration, zero prep and can be a great side item to help round out your lunch. Not to mention these fruits are loaded with vitamins, folate, and antioxidants to help you replenish those tired muscles you've been working so hard on.
Additionally, the way that the body processes and digests fruits helps give you instant energy without the serious crash after.
Beef Jerky Is a Must Hiking Food
Individual packages of beef jerky are handy to keep around for a convenient lunch. This workhorse of a snack checks all the boxes as it's lightweight, portable, and packed with protein.
Jerky is also loaded with other good vitamins and minerals and is a popular post-workout snack for athletes. Pair with some almonds, a banana, and some hard cheese for a well-rounded meal.
Hydration Options for Hiking
Don't forget a drink! You will have your water source, of course, but you may want a different option for lunch.
Chances are you will need some extra energy after a long morning hike or may just want to taste something different.
The little packets of water flavorings are a great option to bring along, and some even contain caffeine for an added energy boost. Just mix them in your water bottle and enjoy. A small bottle of a sports replenishment drink to enjoy with your lunch may be worth the added weight. 
We typically look for flavoring that has electrolytes included to have a great taste and replenish any key nutrients that have been lost with sweating.
Think About The Trash and Leave No Trace with Food Wrappers
One often overlooked aspect of eating your lunch out in the great outdoors is where you will dispose of your trash.
Well, populated trails will likely have trash cans strategically placed along trails for just this reason. However, more out-of-the-way locales won't have this option.
Tuck a reusable sandwich bag in your pack to corral all your trash and tie it on the exterior of your backpack until you can find a proper place to dispose of it.
What are the Worst foods to Take Hiking?
Now that you know what food you should take hiking, let's quickly review some of the foods that you should avoid taking hiking.
Any food that requires refrigeration – think yogurt, chicken, eggs, etc. The last thing that you want is to get some form of food poisoning while your hiking. If the food it perishable, be sure to each it early in your adventure.
Any food that is sticky and messy – think pizza slices in a plastic bag or or honey glazed anything. It's impossible the get clean on the trail eating something stick.
Soups and water heavy meals – Even though soups are tasty they are bound to spill in your pack no matter how hard you try. Plus, it's a heavy food in that it is mostly water. The trade off of nutrients vs weight is near the bottom compared to other food.
Other Great Outdoor Related Articles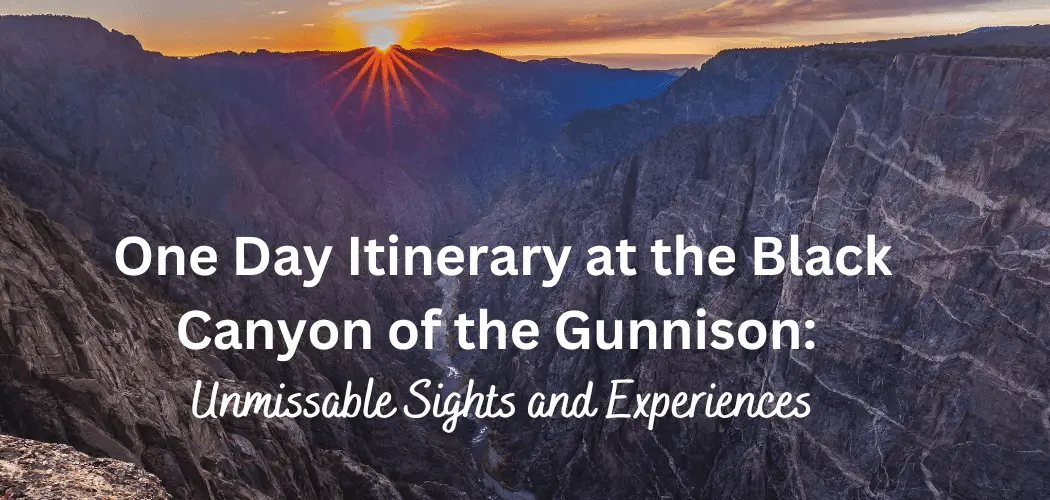 The Black Canyon of the Gunnison National Park, located in Montrose, Colorado, offers breathtaking views and unique geographical features that attract visitors worldwide. This awe-inspiring ...