Unless you live near the beach year-round, you may be unaware of a fifth season many New Englanders loathingly call mud season. Mud season is a natural phenomenon occurring at the end of winter in late March and continuing until May.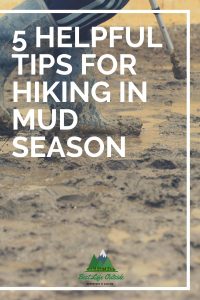 It results from a combination of thawing snow and frequent spring rains, producing an abundance of moisture that the ground cannot absorb, creating mud.
Due to the harsh weather in these climates, the soil freezes during winter and thaws first at the top layers. The excess moisture gets trapped above the remaining frozen ground, becoming a sodden and saturated mud bath.
So what does this mean for hiking? Well, here are a few tips to help you navigate the trails during this season of muck and mire.
Coordinate your hikes with the Weather
During mud season, it's not uncommon for temperatures and weather patterns to fluctuate from day to day. One day might sunny and 55 degrees while the next day is in the 30's and snowy. Anytime you can hike when the temperatures are around freezing (32 degrees or lower) is ideal, even better if the ground is covered in snow. 
Hiking in early spring snow is one of the best times because the ground is still frozen but the views are starting to open up and the temperatures are getting warmer.
The moisture sitting on top of the ground creating the mud will freeze over, giving you a solid surface to walk on. Even on the warmer 55 degree days, you should start your hike first thing in the morning before the temperature has a chance to rise and while the ground is still frozen from the overnight lows. This will allow you to enjoy trails that you typically wouldn't be able to during mud season.
Be mindful of Destroying Trails
Hikers inexperienced in mud season may unwittingly cause damage to trails by attempting to bypass muddy areas of trails by walking around them.
While it may save your shoes from getting dirty, this causes the trails to widen over time and negatively impact soil and vegetation.
It may go against your instincts, but the best thing you can do for trail preservation is to plow on through the muddy areas. Trekking poles can come in handy to help you navigate these slippery and messy areas, as well as wearing the right kind of boot.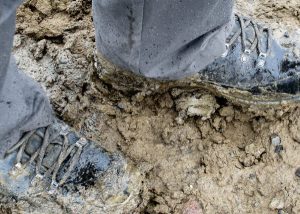 Other ways to avoid damaging trails are to stick to lower elevation trails (less than 1,000 feet) that can remain dry and firm even when higher elevation trails are covered in moisture from melted snow.
Paved trails, gravel trails, and dirt roads are also good choices for alternate routes. Avoid trails with steep slopes as your feet are more likely to lose traction on this type of terrain, and the force of gravity can cause even more damage to the soil.
Check with state parks and hiking organizations in your area to see if there are any trail closures due to harmful conditions.
The last thing you want is to find out when you arrive at your destination that you will have to come up with a change of plans.
Usually, you can find recommendations for alternate routes that will be better suited for hiking excursions.
Remember that these closures are sometimes necessary to ensure the trail remains intact and that nearby vegetation is protected. 
You can also check some of the hiking apps that help notify hikers of recent closures. We recommend Hiking Project from REI as other hikers updated trail conditions daily.
Wear the Appropriate Footwear
Muddy conditions require a little extra planning and forethought than a hike during normal conditions.
Your feet will likely be exposed to moisture for long periods of time. And, let's not forget the lack of traction available, especially on sloped trails. Compensate for this by wearing a shoe with a good grip.
Anything that helps your feet find a little more purchase and can be easily cleaned is a good choice.
Now, what kind of material is best for your shoe?
You have the option of choosing either a waterproof shoe to keep water out or a well-ventilated shoe to allow moisture to evaporate and dry quickly.
What option you choose will likely depend on the temperature. For temps at around freezing (32 degrees) or below, a waterproof shoe may be your best bet.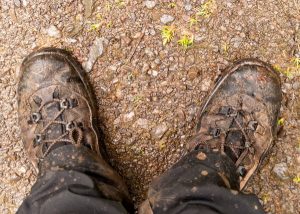 Even well-ventilated shoes won't work optimally in freezing temperatures to remove moisture, and your feet will remain wet and cold.
For temps above freezing, go with well-ventilated shoes. These shoes may allow some moisture and mud to seep into your boots, but the water will dry out quickly.
With waterproof shoes, you aren't guaranteed that mud won't seep in through the tops of your boots. Once the moisture gets into waterproof shoes, it is now trapped, and you will be walking around with wet feet for the remainder of your hike. Likewise, warm temperatures where your feet are likely to sweat, and the moisture is then trapped.
Wearing thin, moisture-wicking socks on hikes is always a good idea, and muddy conditions are no exception. You can also apply a skin barrier cream to your feet such as Vaseline, Aquaphor, or Gold Bond to help prevent chafing and blisters.
If you wear a unique sole in your shoe, don't forget to check to see how it does in soggy conditions. A sole that absorbs and retains water will quickly add weight to your boots in muddy conditions.
Bring Extra Clothing and a Few Reusable Plastic Bags
Bringing some extra clothing along on your hike is a necessity in muddy conditions. Possibly a couple of pairs of moisture-wicking socks and maybe even an extra pair of shoes would be a good idea along with an extra pair of pants and shirt. Even if you make it through the hike without switching clothes, you are going to want to be cleaned up before you get back in your vehicle or to your campsite. In extreme conditions, a towel or two would also be handy. Don't forget to bring a plastic bag to stow your muddy boots in the car as well. 
Other Great Outdoor Related Articles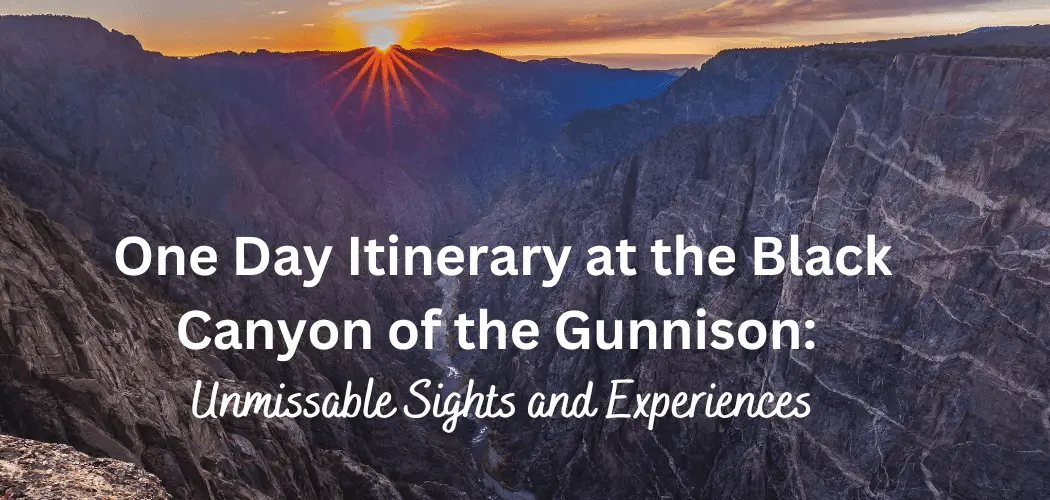 The Black Canyon of the Gunnison National Park, located in Montrose, Colorado, offers breathtaking views and unique geographical features that attract visitors worldwide. This awe-inspiring …