Imagine crisp blue skies atop pristine blankets of white snow. Feel the chill of your breath in the air, red-tipped cheeks, and nose, miles of undisturbed Mother Nature in all her glory as far as the eye can see. Trails are not only less crowded, but they're also practically empty. This is your chance to get a glimpse of nature, undisturbed. It's no wonder a snow-covered hike can be so popular. However, it may take a little more planning than your regular hike, though, before you go traipsing off through the snowdrifts.
Plan your hike during the warmest time of the day
The days are short during the winter months, so appropriate planning is critical for a successful hike. If a short hike is all you are after, you can plan your hike for the warmest couple of hours during the day. A longer hike may need to start as soon as the sun is up to ensure you are finished well before the sun goes down. A hike that usually takes you 1-2 hours during normal conditions will take significantly longer in the snow. It's important to factor in this extra time as already low temperatures can plummet once the sun drops.
At no other time during the year is wearing proper footwear more important than when hiking in the winter. It's important to wear shoes with adequate traction, warmth, and that is waterproof.
Getting wet feet or socks is the quickest way to potential hypothermia or other issues. We always recommend wearing a good pair of waterproof hiking boots and even potentially gaiters to keep the snow out.
If you don't have waterproof hiking boots then you can make them waterproof with an inexpensive spray.
Dress warmly and bring extra layers
Cold winter temperatures require that you dress in layers, especially in snowy conditions. The idea is not only to stay warm but dry as well. Hypothermia can set in quickly in cold temperatures and is brought on even faster when you get chilled from wearing wet clothing. 
Start with a base layer made of a wicking material to help keep your skin dry and sweat-free. Next is the mid-layer, which is the insulating layer. This layer will add the bulk of your warmth. The top layer is called the shell layer, which repels elements such as wind and moisture. Choose clothes that are made of synthetic blends or wool and avoid cotton at all costs.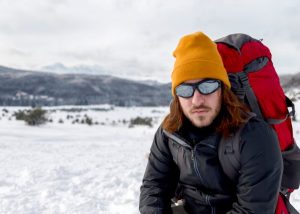 You will probably want to wear a more fitted pair of gloves first, then double up with an insulated pair. Doubling up on socks, as long as you can walk comfortably, is a good idea as well. Always carry extra pairs of gloves and socks as those are usually the first items to become wet from snow.
Don't forget to cover your head, face, and ears. There are many different styles of winter headwear to choose from, so just find what works best for you. Anything that can help protect your exposed skin from the elements will do the job. You can always remove layers as needed throughout your hike. 
Call ahead to make sure there are no park closures
If you're hiking a trail in a public or state park, it's always a good idea to call ahead. Sometimes parks can close or open on a delay in hazardous or inclement weather. Finding that information out ahead of time can save a lot of grief and frustration and allow you to make alternate plans.
Some trails and BLM areas will close seasonally for different animal migration patterns or other reasons so it's best not to assume any trail is open.
Bring a GPS and/ or map and know how to use them
We are all guilty of relying on our trusted cell phones to get us through every situation, or at least I am. During a remote hike in the middle of nowhere with snow on the ground is not the time, however, to solely rely on your cell phone for navigation. Bring a GPS device, map, and/ or compass to help.
The fallen snow will obliterate trail signs and markers, making navigating your way that much harder. Pay attention to where you are and how you got there at all times. Bring back up batteries for the GPS, just in case.
It's especially important to avoid solo hikes in inclement weather. You can depend on a partner to help you navigate the way. Using the buddy system ensures that if something were to happen to one of you, the other would get help. 
There are downed trees, slippery rocks, and more opportunities for injury on a snowy trail so it's best to have a friend or spouse go with you. You're time to wait for a rescue is greatly reduced in the winter.
Stay hydrated and well-nourished
Staying well-hydrated is still important even when it's cold. You will have to make sure your water container doesn't freeze. We love to use an insulated tube for our Camelbak to make sure the water doesn't freeze.
Bringing along a warm beverage or soup broth in an insulated thermos is a good idea as well. Your body will enjoy the warmth, and it will help keep your core body temperature up. We tend to always pack hot chocolate to enjoy at the hiking destination.
Dehydration is common for hikers in the winter because they think they don't need as much water. This is false. You need just as much water if not more to help your body stay warm.
You will want to bring food along as well. Quick, easy-to-eat foods are best. You don't want to slow down or take an extended break when the temperature is so cold.
Know the signs of hypothermia
Hypothermia is the loss of body temperature due to prolonged exposure to cold temperatures. While it usually occurs in cold climates, it can also occur in temperatures above forty degrees if you become wet from rain, sweat, or submersion in cold water. This means a hike in the snow requires extra precautions to make sure your clothing helps expel your sweat and that you wear clothing that will repel the moisture from the snow.
Here are some symptoms to watch out for:
Shivering

Exhaustion

Confusion

Fumbling hands

Memory loss

Slurred speech

Drowsiness
Hypothermia requires prompt medical attention. Until help arrives, try to warm the person up by removing any wet clothing. Skin-to-skin contact can warm up core body temperatures, and warm drinks such as tea, cider, or coffee can also work to elevate body temperature. 
Pack a surplus of emergency supplies
Sometimes even the best-laid plans can get waylaid. If something occurs and leaves you out in the elements longer than anticipated, you'll be glad you brought these extra supplies along. 
A headlamp, set of matches or lighter, pocket knife, extra food and water than what you'll need, compact sleeping mat, emergency flares, hand and feet warmers, and an emergency shelter will carry you through almost any situation.
Other Great Outdoor Related Articles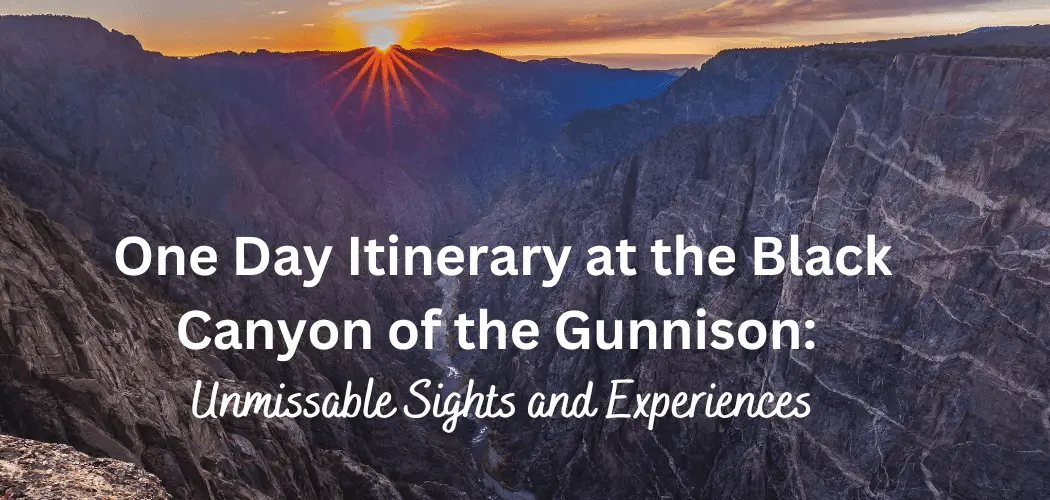 The Black Canyon of the Gunnison National Park, located in Montrose, Colorado, offers breathtaking views and unique geographical features that attract visitors worldwide. This awe-inspiring ...