Colorado is easily one of the most popular hiking destinations in the US. It has 58 mountains that have an elevation of 14,000 feet or higher. These mountains are part of a group dubbed as the 14ers. With trails fit for hikers of any experience level, it's no wonder that this range of mountains is so popular among outdoor enthusiasts.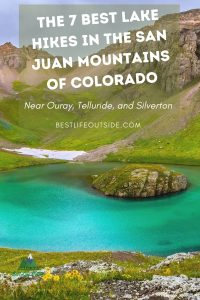 The San Juan mountain range has 13 peaks that are over 14,000 feet in elevation. With so much natural beauty to explore, it's difficult to choose which hike to take first. Picturesque mountain towns of Ouray, Telluride, and Silverton sit in the shadows of the massive peaks and act as a gateway to the adventure.
We can help you decide which hike is best for you, your family, and your four-legged companions. Each trail has something different to offer. Wherever you begin, you'll surely end up with a hike filled with adventure and breath-taking views.
Safety is always the number one priority. Be sure to check with the local forestry department to keep up-to-date with changing weather conditions and pertinent trail information.
Ice Lake and Island Lake, Silverton Colorado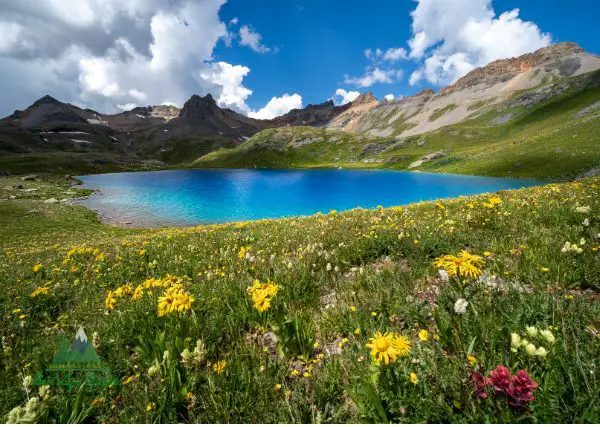 Start: Trailhead begins across from South Mineral Campground
Distance: Approximately 8 miles. Roughly 2 miles into your hike you'll come to a fork in the trail. If you continue to the left you'll make it to Ice Lake.
Difficulty: Moderately difficult
Hike Time: Roughly 6-8 hours depending on your abilities and how many stops are made along the way. 
Water: Beautiful water access via both trails.
Dog Friendly: Pet friendly and suitable for horseback riders as well.
Summary: This hike is epic and one of the best hikes in the country. That's right, possibly the best hike in the entire country. Starting across from South mineral campground you'll quickly rise out of the valley through an aspen forest through multiple switchbacks.
Once you emerge out of the trees be sure to take time to enjoy the wild flowers near the end of July and early August. As you continue you'll head back into the trees and quickly gain elevation. Be sure to take breaks and stay hydrated as there is a great tree to sit and take a quick snack break at in this section. At around the 2 mile mark, you'll begin to enter the lower basin at 11,400 ft where you'll be greeted with more stunning wild flowers.
Continue for another 3/4 of a mile and you'll start up the last pitch to the upper Ice Lake Basin. Follow the trail as it flattens out to the unbelievably blue water water of Ice Lake. Ice lake is surrounded by multiple 13er's, has multiple gorgeous stream crossings, and offers once in a lifetime views. For those wanting to do an epic day, consider climbing to the top of Golden Horn Peak.
Before heading down, look to the right (north) of the trail as you come up to the lake and notice a trail the heads around the corner. Take the extra time and hike 0.5 miles and extra 250 ft of elevation gain you Island Lake. Island lake is famous for the turquoise green water and the prominent island in the middle.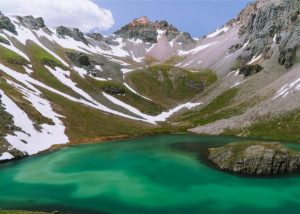 To head back down to the trailhead you have two options. You can return the same way that you can (we recommend this as you get to see Ice lake from above) or there is a trail that skirts underneath Ice Lake back to the trail. Be wary, the trail down is steep and can be slippery so be sure to stay focused and avoid slipping.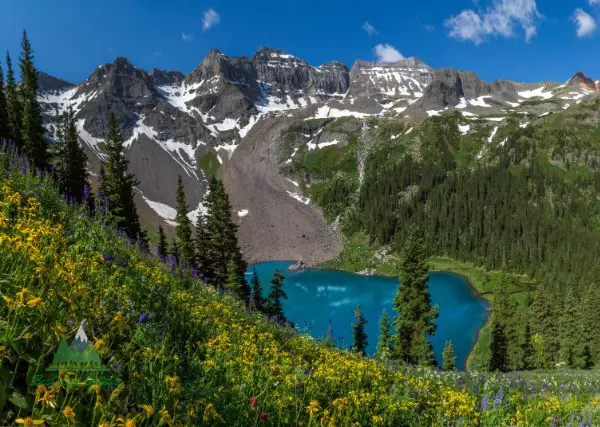 Start: Blue Lake trailhead off of County Road #7 
Distance: 3 miles to the first lake – 13 miles round-trip for all
Difficulty: Moderate
Hike Time: Day hike
Water: Yes
Dog Friendly: Leashed dogs are welcome. 
Summary: If you're looking for a hike that it can be done without taking the whole day, this trail is for you. Blue Lakes is a popular trail so you will want to be sure to get started early or you might have a hard time finding parking and the trail can be busy.
This hike offers beautiful trails through fields filled with wildflowers and spectacular views of three different lakes. As you start from the trailhead be ready to go as you can over a 1,000 ft of elevation in the first mile to 1.5 miles. The trail is through a forest with a gorgeous stream below you on the left. There are multiple stream crossing for dogs and water refills if needed. As you are hiking be sure to keep looking to your left as Mount Sneffels becomes more easily views. Sitting at 14,150 feet tall, she is known as the Queen of the San Juan Mountains.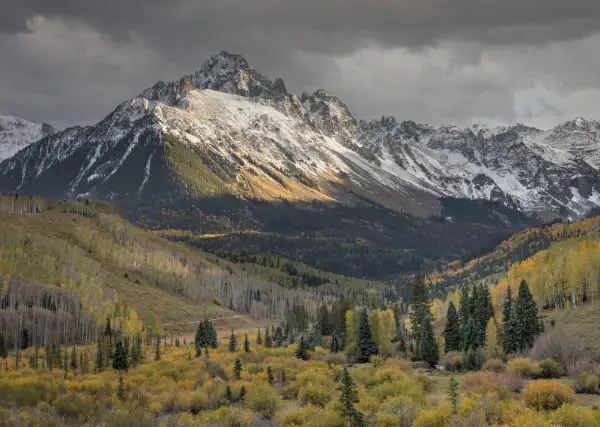 Once you make it to the lake feel free to walk the edges and explore. You may even think about taking a fly rod and trying a few casts for some high mountain lake trout.
Locals Tip: Before heading back down be sure to hike beyond the first lake up the hill to a look out. You'll to get the most spectacular view of the first blue lake just like in the picture above.
To continue on to the 2nd and 3rd Blue lakes cross the stream and look for a trail skirting the side of the hill. The elevation gain is once again pretty significant but once you reach the top of this hill, your elevation gaining begins to mellow out.
There are campsites available along the shorelines for those who wish to explore these beautiful mountain ranges for more than a day. 
Columbine Lake, Silverton Colorado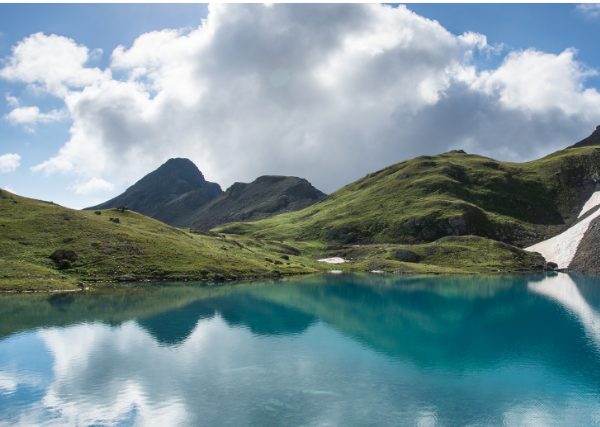 Start: Located off Ophir Pass. Take your first right after the stream cross on Ophir Pass on a 4 wheel-drive trail.
Distance: Roughly 8 miles round-trip 
Difficulty: Very difficult
Hike Time: Minimum of 4 hours
Water: Yes, but only at the lake.
Dog Friendly: Yes, have a leash readily available.
Summary: For those of you wanting an epic hike but without the crowds of Blue Lakes and Ice Lakes, Columbine Lake is a great alternative option. This awesome hike is better reserved for more experienced hikers. The effort to get to the top is well worth it. 
Starting off immediately with switchbacks through the forest you better be ready to go. You gain 1,000 ft of elevation gain in less than a mile and will need to plan to take multiple breaks. Once you get to the edge of forest you see the trail head straight up the valley. Follow it and be sure to be on the watch for wildlflowers if you are in early August. 
The trail will skirt around a small basin and begin to level out around a corner as you make your way yo Columbine Lake. Be sure to check the weather report before going as there is significant exposure from this point on.  
Crystal blue waters mimic those of Ice Lake. There are multiple large rocks that make a perfect lunch spot. Be sure to the look to your south for the multiple 13,000 ft peaks surrounding Silverton and you can even see the Grenadier Range near Durango.
Before heading down, consider continuing your hike up the scree field to the top fo Columbine Pass. From here you'll be able to see Mount Sneffels, Lewis Lake and Mine, as well the the rest of the San Juan Mountain Range.
The lake is accessible via snowshoe year-round, but be sure to check with the local forest service before heading out as there is a high risk of avalanche in the winter months.
Hiking Silverton, Colorado
Hope Lake, Telluride Colorado
Start: Trailhead is located on Forest Service Road #627. It's recommended that you take a vehicle with higher clearance to get there. 
Distance: 6 miles round-trip
Difficulty: Moderately difficult
Hike Time: Minimum of 4 ½ hours
Water: Yes
Dog Friendly: Yes
Summary: This is a highly traveled trail that features a beautiful lake close to Telluride. Four-legged friends are welcome to come along. The start to this lake is above the gorgeous Trout Lake which will have you wanting to put your house up for sale and move to as fast as you can. We do recommend having a higher clearance 4-wheel drive vehicle to get to the trail head. We love to trail run this trail but is also a great hike.
The first part of the hike goes through a forest and alternating scree fields. Be sure to watch your step. After a "relatively" flat section you'll begin switchbacks that are steep and numerous but provide an amazing view. 
As you come up to the lake be sure to stop and look behind you at Trout Lake and Lizard Head Pass off in the distance. You can walk around the lake to the dam or continue on the left side of the lake up to the top of the pass. We highly recommend going up to the pass if you have time for the views but it is another 600-1,000 feet of elevation gain. Return the same way that you came up.
The best times to visit this trail are between March and October.
Highland Mary's Lake, Silverton Colorado
Start: Located near Cunningham Gulch off of Route 110 in Silverton. 
Distance: Approximately 5 miles round-trip
Difficulty: Moderate to Difficult 
Hike Time: Depending on your skill and amount of stops made you can hike this trail in a minimum of 4 ½ hours. 
Water: Yes
Dog Friendly: Yes
Summary: This trail offers a series of high-altitude lakes and awe-inspiring views without intense elevation gain.
Depending on the snow year previous you may have to park before the creek crossing, which we have had to do many times and it only adds a few hundred yards.  Considered to be a moderate to difficult hike.
The trail starts at a moderate elevation gain through a beautiful forest. Be sure to watch your step because the rocks on the trail can be slippery.
After the second creek crossing, the elevation gain begins to mellow out. Once you make the final crest to the lakes the landscape is relatively flat. Be sure to follow the trail past the first lake and explore the alpine tundra.
This an excellent hike for a family picnic. Be sure your four-legged friends are up for the task. Depending on the weekend, it can be crowded so we recommend going early. For the avid angler, head past the first couple of lakes and over the crest to Lost Lake which has huge trout eager to take a fly.
The best times to visit this trail are from June to October.
Crater Lake, Silverton Colorado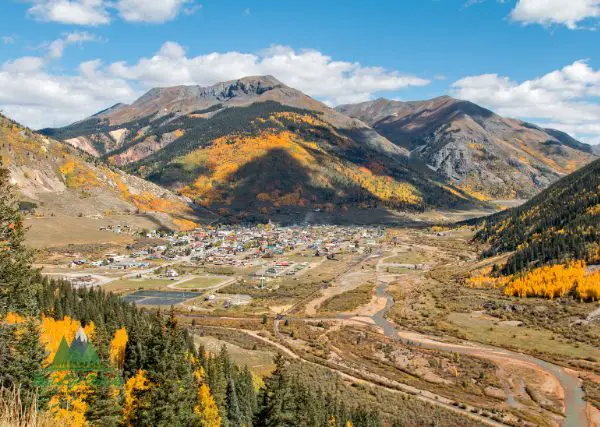 Start: Andrew's Lake Road, at Andrew's Lake
Distance: Approximately 11 miles round-trip
Difficulty: Moderately difficult 
Hike Time: Minimum of 5 hours depending on skill level and how many stops you make. 
Water: Yes
Dog Friendly: Yes
Summary: This trail offers a variety of sceneries that will keep your interests engaged while hiking without much difficulty.
The trail starts at Andrew's Lake which is a gorgeous alpine lake off of highway 550. You'll go to the right of the lake and head off to start on switchbacks. 
You'll alternate between alpine forests and meadows for the 5.5-mile trail. Be sure you enjoy the meadows with views of the San Juan Mountains all the way south to Durang, CO.
Crater Lake sits at the base of Twilight Peak. It's a great lake for a quick swim before heading back the same way.
The trail is not heavily trafficked and ends on a beautiful lake. This is a great trail for those who are new to hiking but be sure to start early and plan for a long day. Bring lots of food and water.
Navajo Lake, Telluride Colorado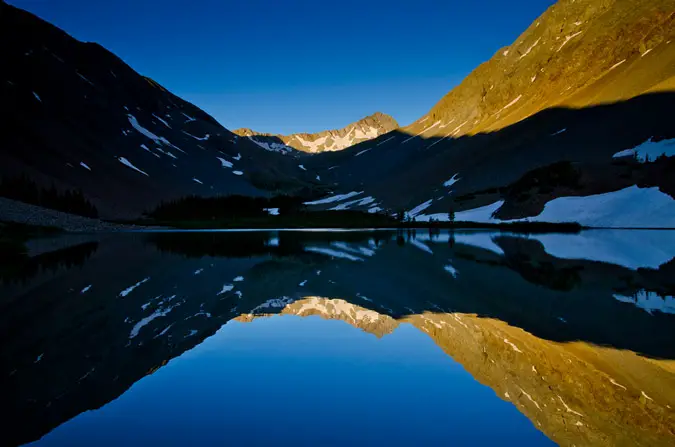 Start: Off Colorado highway 145 –  Forest service road 535A 
Distance: Approximately 9 miles round-trip
Difficulty: Moderate
Hike Time: 4-6 hours depending on skill level and how many stops you make. 
Water: Yes
Dog Friendly: Yes, pet friendly and suitable for horseback riders as well.
Summary: This trail puts you at an alpine mountain lake that sits between 4 14,000 foot peaks. 
To start drive 5.1 miles south of Telluride and then 5 more miles once you turn on 535. Go past the Kilpacker Trailhead by 0.3 miles to the Navajo Lake Trailhead.
Soon after you being you'll want to stay right at the groundhog trail junction. This will lead you through a few meadows and forest groves. At near 10,700 ft you begin switchbacks to above 11,000 feet where you'll meet Wood Lake Trail. You'll want to stay right again and only 0.5 miles later you'll reach Navajo Lake.
Popular for nature hikes, horseback riding, and family outings. You will not be disappointed when you reach the crystal clear, ice-cold lake at the end of the trail.
There are a few great camping sites for backpacking or for any peak baggers. To continue on to the 14er's stay to the left of the lake through the scree field. You'll see El Diente Peak (14,165 ft) on your right. The trail continues up to 2 more miles to the Rock of Ages saddle (13,000 ft). Wilson Peak trail takes off to your right and Silver Peak Trail dives off to the left. 
Pro Tip: Navajo Lake and the surrounded mountains can have weather systems come in quickly! We recommend getting start early and if you are planning to hike the 14ers try and break it up into at least one but likely two night trip.
By following this guide, you and your hiking companions are bound to have an excellent experience on whichever path you decide to travel. Awe-inspiring scenery and serene mountain lake views make an enjoyable experience for anyone who loves to bond with nature and explore this awesome country that we live in. 
Works Referenced:
(https://www.colorado.com/articles/what-are-14ers#:~:text=Colorado%20has%2058%20mountain%20peaks,scenery%2C%20wildlife%20and%20rugged%20beauty.), 
(https://coloradoencyclopedia.org/article/san-juan-mountains#:~:text=The%20San%20Juans%20contain%20some,9%2C000%20feet%20and%20thirteen%20Fourteeners.), 
(https://www.outdoorproject.com/united-states/colorado/ice-lake-island-lake-hike), 
(https://www.alltrails.com/trail/us/colorado/mount-sneffels-via-blue-lakes-trail#:~:text=Mount%20Sneffels%20via%20Blue%20Lakes%20Trail%20is%20a%2013%20mile,must%20be%20kept%20on%20leash.) 
(https://www.alltrails.com/trail/us/colorado/columbine-lake-trail), 
(https://www.thepackablelife.com/hiking/guides/columbine-lake#:~:text=Day%20hiking%20the%20Columbine%20Lake,least%20two%20liters%20of%20water.), 
(https://www.alltrails.com/trail/us/colorado/hope-lake-trail–5),
(https://www.telluride.com/play/activities/hope-lake/),  
(https://www.alltrails.com/trail/us/colorado/highland-mary-lake-trail), 
(https://adventurepro.us/crater-lake/#:~:text=Runners%20make%20it%20out%20and,exploration%20of%20Rocky%20Mountain%20wilderness.), (https://www.alltrails.com/trail/us/colorado/navajo-lake-trail),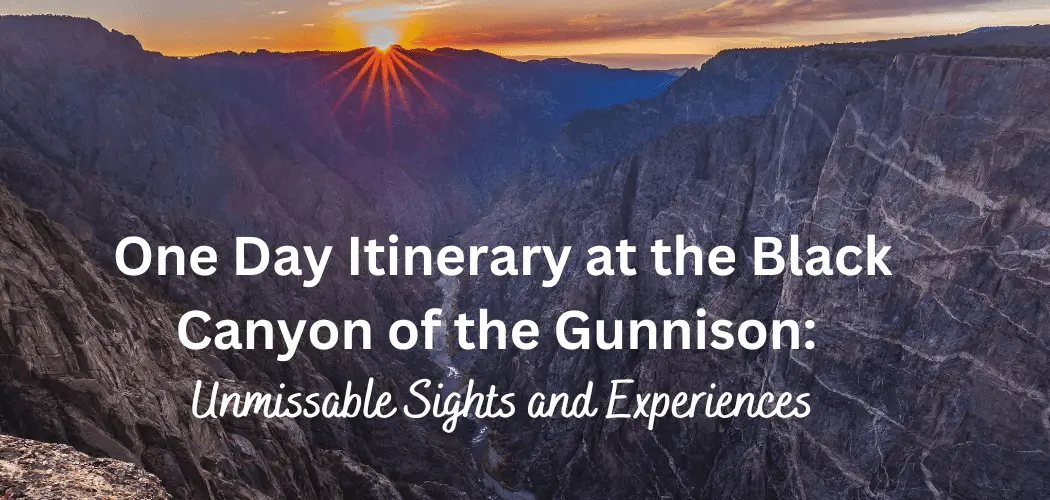 The Black Canyon of the Gunnison National Park, located in Montrose, Colorado, offers breathtaking views and unique geographical features that attract visitors worldwide. This awe-inspiring ...